---
Q: What are the best virtual office apps? Can I integrate these tools into my existing virtual office?
A: The best virtual office applications depend on your business's goals. Integration depends on your provider, but Alliance's Virtual Offices can easily integrate with any apps you may encounter.
---
---
Before the pandemic, remote work was gaining a bit of traction, but nothing like what occurred when the government issued shelter-in-place orders and businesses were forced to shut their doors.
Non-essential small businesses and family-owned companies took the brunt of the damage, as many of these companies were unable to serve their customers remotely.
Amid these changes, some economists and forecasters looked at the influx of remote work and told themselves that it'd never last. At the time, this didn't seem unrealistic – of the workers who could work remotely, almost 70% of them were doing so in 2020, so a return to the mean didn't seem impossible.
The idea was that after the pandemic, employers would call back the cavalry, and everything would return to normal.
Somehow, this hasn't been the case.
Partially due to the absurdly high quit rates seen in 2021 and 2022, employers don't have the same iron grip over their employees that was the norm for so long. The Great Resignation showed workers and businesses alike that company loyalty had to be earned, not expected.
Now, as the pandemic winds down and the Great Resignation loses some of its popular steam, workers are transitioning into hybrid workstyles rather than fully-remote positions.
The number of Americans working fully remotely has slightly declined, though still exponentially higher than pre-pandemic numbers. Similarly, entirely onsite work continues to decline.
However, hybrid workstyles are quickly becoming Americans' preferred work method. More than 50% of remote-capable workers enjoyed hybrid positions in 2022, and that number is expected to continue increasing.
Along with this influx of hybrid workers, there have been several technological advancements designed to help business owners and entrepreneurs handle a future where people work from anywhere.
In this article, we'll look at the best virtual office app for your particular operations. First, we'll look at virtual office apps for accounting, then we'll explore applications for credit building and marketing, and finally, we'll cover how you can customize your virtual office.
So, if you've ever found yourself using a cellphone or tablet to search for "virtual office app 8×8," you are in the right place.
---
---
The best virtual office apps for accounting
Finding the best virtual office app won't mean much if you've been unable to secure a professional virtual office that can handle integration with the tools you're interested in using.
Before looking at a specific virtual address app, let's define a virtual office.
---
Read more: What is a Virtual Office and How Does It Work?
---
Essentially, a virtual office is a service that provides entrepreneurs and businesses with a business address that can be used for business registration, expansion, and much more, without forcing these individuals to secure physical office space.
Granted, there are many kinds of virtual offices, and not all were created equally. We've compiled a small list of the amenities and benefits you should look for in an office to get the most out of any virtual office application you choose.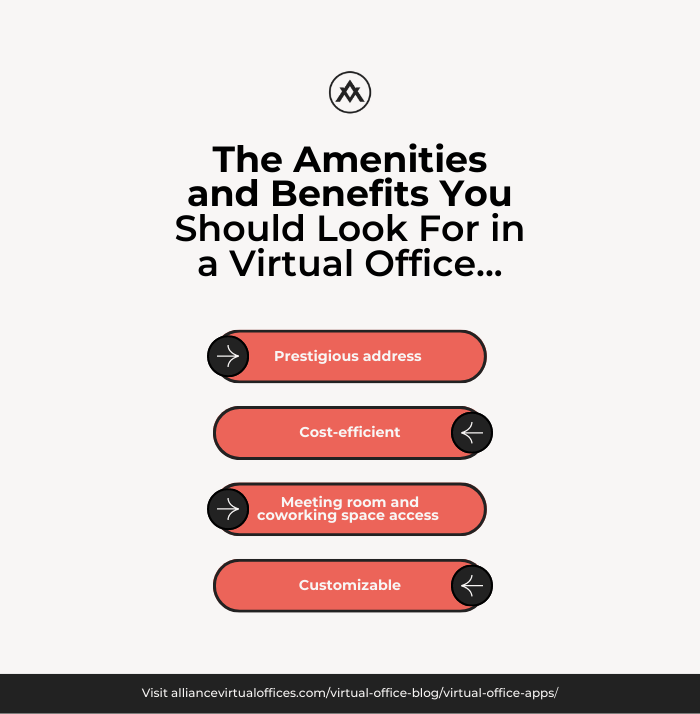 Prestigious address
Cost-efficient
Meeting room and coworking space access
Customizable
Prestigious address
When you're hunting for a virtual office, appearance is important. With the sheer number of bad actors and scam businesses circling unknowing consumers, anything you can do to set your business aside from the competition is a plus.
You want to find a virtual office that allows you to register your business in the heart of bustling central business districts. You want a business address that tells possible consumers you're serious about your operations.
Even if you're an existing business owner using your virtual office as a satellite office to help you achieve quicker growth, using a prestigious address allows you to make a better impression on the new market and will help you attract customers and employees alike.
Your satellite office acts as a centralized hub in the new location, so using a prestigious address shows locals and potential customers that you're at least tangentially familiar with the city you're located in.
Customers like feeling kinship with the brands they frequent. Using a prestigious address in the area you're expanding to helps cultivate this communication and create an image that consumers feel comfortable shopping with.
---
Read more: Satellite Office: Your Complete Guide
---
Additionally, the virtual office support in these higher-quality offices is worlds apart from its lower-quality counterpart.
Cost-efficient
Being cost-efficient doesn't mean searching for the cheapest virtual office available. If you do that, you'll wind up with a glorified PO box that won't allow you to register your LLC or provide you with any amenities.
Instead, you need to find a virtual office that provides the most value for the money spent.
Typically, this looks like finding a virtual office provider that doesn't charge flat rates for their services. You want a virtual office provider that offers a reasonable monthly fee while allowing you to pay for what you need when you need it.
Meeting room and coworking space access
As a virtual or physical business owner, meetings are a part of the job description. Virtual or in-person, it doesn't matter, you'll need a place to host these meetings.
Hosting virtual meetings from a coffee shop is bad practice because it's unsafe and too public. Hosting them from home is bad practice because of the possible distractions and an unprofessional image.
You can't host physical meetings in coffee shops for similar reasons, and you can't use your home because that's even more unprofessional. You're out of luck unless you get lucky enough to find a decently priced hotel conference room without a virtual office that provides access to meeting rooms.
Similarly, working from home can get very old very quickly. Working in the same location you already spend your time can feel exhausting and might lead to job burnout.
With access to coworking spaces, you've got a private and professional place to visit when you want to relax, recharge, or refocus on your daily operations.
As hybrid workstyles continue to gain traction, access to coworking spaces and meeting rooms will grow infinitely more necessary.
Customizable
One of the biggest aspects of running a successful modern business is having a hub for your company's operations that works for you.
Switching to a digital business model is enough to handle. With a customizable virtual office, you can make the transition so much smoother.
---
Read more: Actionable Tips to Transform Your Business to a Digital-First Model
---
You need to find a virtual office that allows you to customize your plan depending on your company's needs. Don't get stuck in an unchangeable virtual office app for iPad that doesn't allow you to make any changes.
The key is finding a virtual office that allows you to customize your plan while guaranteeing the same flexibility virtual addresses are known for.
So, now that you know what kind of virtual office to search for, let's look at some accounting applications.
Apps for Accounting
When running a remote business, it can be particularly tedious to keep track of expenses.
You often have to buy software and random odds and ends while working from home or on the go, which makes it difficult to keep track of how and when money is being spent.
Good accounting apps or software can help simplify the process, saving you time and stress and keeping you from making a mistake on taxes that could cost you.
The best virtual office applications are Mazuma and QuickBooks.
Mazuma
Mazuma is an accounting, tax, and bookkeeping service that caters specifically to small businesses. The plans are cost-effective, especially when you consider the costs of hiring an accountant or bookkeeper.
Even better, if you're looking for a virtual office app for Android, you should be able to download Mazuma onto your handheld device.
Starting at $120 per month, Mazuma makes it easy for business owners to stay on top of quarterly reports and tax returns while also offering secondary accounting support and advice.
Launched in 2011, Mazuma has lasted over a decade at this point and serves more than 10,000 small businesses across the country.
QuickBooks
QuickBooks has a public face that is more accounting-focused than its competition, but QuickBooks offers several different accounting services and tools for entrepreneurs and small businesses.
The accounting software that QuickBooks employs makes it a great choice for a virtual office app and the market agrees.
Currently, QuickBooks has a monopoly on accounting services for small businesses, with over 7 million customers and more than 80% of the market share.
To find out the best virtual office app for accounting, check out both of these options before making a decision!
The best virtual office apps for credit building
One common misconception among consumers is that digital business owners only sell virtual products.
As you know, this isn't the case, but there is a huge market for these digital services that hasn't been sated at all.
---
Read more: What Are Digital Products? Your Guide to Creating and Selling
---
Regardless of the products or services you're selling, you'll need solid business credit to effectively scale and attract new customers.
An often-overlooked aspect of business success is your ability to get funds when you need them.
While it's great to avoid debt, sometimes taking out a loan or line of credit is the best way to quickly get the funds you need to capitalize on an opportunity.
---
Read more: Payroll Loans for Small Business: Why Your Business Credit is Crucial
---
For a standard loan, you'll typically begin your payment plan as soon as the loan is finalized, but with a line of credit, you can leave the line open and only borrow money when it's necessary.
In the modern market, flexibility is everything. The companies that can react quickly and concisely to shifts in the market are the companies that will be positioned for continued growth and long-term success.
Unfortunately, many business owners don't think to build credit until it's too late.
They end up unable to take out a loan or with terrible loan terms that hurt them in the long run. To avoid predatory lenders, unfavorable terms, or the inability to access capital, you need to start building your business credit as soon as possible.
Some of the best virtual office applications for bolstering business credit are CreditSuite, eCredable, and Nav.
CreditSuite
CreditSuite is a company that launched in 2014 after one of the founders nearly lost everything in the 2008 crisis.
Since its launch, CreditSuite has served well over 30,000 small businesses and has even started offering tools, like their Fundability rating, that help small businesses determine how likely they are to receive outside funding.
eCredable
Another company formed during the aftermath of 2008, eCredable is a virtual office app that helps business owners increase business credit.
One nice aspect of eCredable is that the business focuses on helping those without credit start to build it. eCredable starts small, using utility payments and other required bills to slowly build business credit from the ground up.
Even better, eCredable's services are incredibly cost-efficient compared to some of its competitors.
For instance, the eCredable Lift plan is only $24.95 per year and is specifically designed to help individuals and businesses with little to no credit. Alternatively, eCredable's LiftLocker plan starts at $9.95 per month and is designed for business owners who want to hit the ground running and start optimizing cash flow while building credit.
Nav
Nav positions itself a little differently. Nav isn't a lender as much as it is an aggregator.
Considering that Nav has helped more than 350,000 small businesses throughout their existence, the aggregation approach seems to be working.
Essentially, Nav will discuss your lending terms with your business and look at how fundable your business is. Then, it'll use its network of over 200 lenders to determine whether or not they can find you capital for the terms you've provided.
As you can see, several different methods are available for building your business credit. The key is finding the right virtual office app that meshes with your office.
The best virtual office apps for marketing
Even before the widespread transition to remote and hybrid workstyles began, marketing has always been a key aspect of a successful business. Every business owner knows how critical marketing is, especially in today's attention-driven economy.
Considering recent leaps forward in robotics, artificial intelligence, and Cathie Wood's claims of robot-filled Amazon warehouses, anything business owners can do to solidify their operations and cultivate a robust business infrastructure should be done.
Often, business owners just don't have the time or resources to make the most of their marketing, especially in the digital space.
Good marketing apps help bridge the gap so small business owners can get more done without having to learn an entirely new skill set.
For branding specifically, AWeber is a great virtual office app.
AWeber
AWeber allows business owners to create email marketing campaigns, landing pages for new product or service launches, email automation, and more.
With automation, AWeber can handle a sizable amount of the work of finding new email recipients and building out marketing strategies that increase brand loyalty.
Even better, AWeber offers some free services for newer businesses just getting their feet wet in the world of digital marketing.
Marketing campaigns are significant, but without a proper website, marketing efforts are wasted.
Two websites that help you create fully functioning websites are HostPapa and Webflow.
HostPapa
Based in Canada and founded in 2006, HostPapa offers shared hosting and WordPress hosting, each for under $3.00 per month.
With HostPapa's website builder, you can easily drag and drop the perfect website for your business and integrate an online store with ease. In addition, having access to reasonably priced hosting from the same provider is a huge benefit.
Webflow
Webflow is a website builder that focuses more on the actual customization of the website than the hosting services provided. Granted, Webflow does offer web-hosting services through AWS, they just focus more on the website building and design process.
This makes sense, as over 1.7 million customers have used Webflow to help create no-code websites.
Outside of website building, Webflow has an easy-to-use ecommerce addon that can be added to your website, preventing you from needing to know anything coding. Similarly, they have growth tools like an in-app editor and SEO controls.
Now that you've looked at a few virtual office applications, let's see what kind of office would work best for your business.
Customizing your Alliance Virtual Office
Your virtual office is the foundation for your business. By combining that foundation with the right virtual office apps, you can quickly grow your business and simplify your workflow.
Alliance Virtual Offices provides that foundation.
With Alliance, your virtual office is completely customizable. Our plans start as low as $49 per month, but we don't charge you for anything that you don't use.
Other providers try and charge a flat rate that assumes you'll use one service or another, but at Alliance, we let our partners tell us what they need instead of doing it the other way around.
Outside of our flexible plans and logistic customization, our virtual offices are built to integrate with any software or applications you need for your business. We even have additional services under our suite of products that you can easily set up with your virtual office.
With one of our Live Receptionists, business owners can stop worrying about trying to answer every incoming phone call to the detriment of their operations.
Our friendly and professional receptionists will personally screen and answer every call, ensuring that you don't miss a thing and allowing you to focus on the more nuanced aspects of running a business.
With our Virtual Phone, you can keep your work and personal life completely separate. You have the prestigious address already, but now you need a prestigious phone number to round the equation off.
In addition, our virtual phone numbers use a powerful cloud-based system that allows for unlimited extensions. So, onboarding new team members has never been easier.
Independently of the tools and applications you want to use for your business, Alliance Virtual Offices provides a robust framework that can handle any customization you think of.
---
Further reading
---
Alliance Virtual Offices provides virtual office services to established entrepreneurs, new business owners, individuals, and everyone in between.
Don't spend too long searching for the best virtual office app and forget to secure a virtual office that can handle the applications you need.
Contact us today to see how Alliance's Virtual Offices can handle any kind of virtual office application, and be sure to check our Virtual Office Blog for more helpful information!