---
---
Q: How do you create a digital product?
A: Creating a digital product is arguably much easier than creating a physical product. You don't need a factory or raw materials – you just need a great idea and a digital platform. Examples of digital products include eBooks, SaaS, online courses, subscription services, and many others.
---
The SaaS industry has gone through phenomenal growth over the past seven years, skyrocketing from about $30 billion to well over $170 billion.
Saas – otherwise known as "Software as a Service," is a solid example of a digital product.
Popular forms of SaaS include Dropbox, MailChimp, Gmail, and Slack.
You probably use SaaS and other digital products throughout the day without even fully realizing it.
But wait for a second…
What are digital products, anyway?
As an ever evolving entrepreneur, this is a question you're going to have to answer at some point – especially since digital products are proving to be some of the most profitable things that have ever existed.
But not all digital products are created equal, so you'll need to approach this new frontier carefully if you want to experience the same profitability as the major tech companies.
Here's how to take advantage of this opportunity:
---
---

What are digital products?
First, let's break down the question that is on everyone's minds:
What are digital products?
Digital products exist entirely in the virtual world. When someone buys a virtual product, they purchase something that exists entirely on their computer or smartphone. Often, this product is only accessible with an internet connection.
But why would anyone want to purchase a digital version of something when they could get a physical copy instead?
At the end of the day, it comes down to convenience. If you're asking yourself: "What are digital products?", you need to back up and consider how much easier life has become with many of these products.
For example, a digital product allows you to get what you need with just a few clicks, while you'd need to visit a store in your neighborhood to get a hold of a physical product.
Physical products can degrade or break over time, while digital products remain in the same state for the foreseeable future.
Digital products also perform roles that physical products cannot. For example, you cannot transport 1 million vinyl records and listen to them during your morning commute to work. However, you can do this with a digital product like an MP3 album or Spotify.
With that said, digital products may compromise quality in exchange for additional convenience. A vinyl record might not be as portable as an MP3 album, but the sound quality is certainly higher.
The same products may exist both in digital and physical form. A novelist might write a book and publish both Kindle and paperback copies.
For the most part, however, digital products perform very specific roles on the internet that physical products cannot.
What are some examples of digital products?
We've given you a few examples already, but here are a few more:
Streaming videos
Fonts
Subscription services
Software
Mobile apps
SaaS
Cloud-based products
Online games
Online courses
Webinars
Tutorials
Website themes
Streaming music
Recipes
Licensed photos
Online planners
Digital magazines
eBooks
When you consider the endless possibilities of the internet, it's clear that there are many other examples of digital products. This list would be endless if we listed every single possibility, and some digital products may have layers upon layers of internal marketplaces.
For example, many popular video games today have internal economies. Players may create and sell a range of items and services within this marketplace, such as cosmetic items and tutorials.
The game itself is a digital product – and players sell digital products within that ecosphere. This is just one example of how digital products can spiral inwards and create internal economies.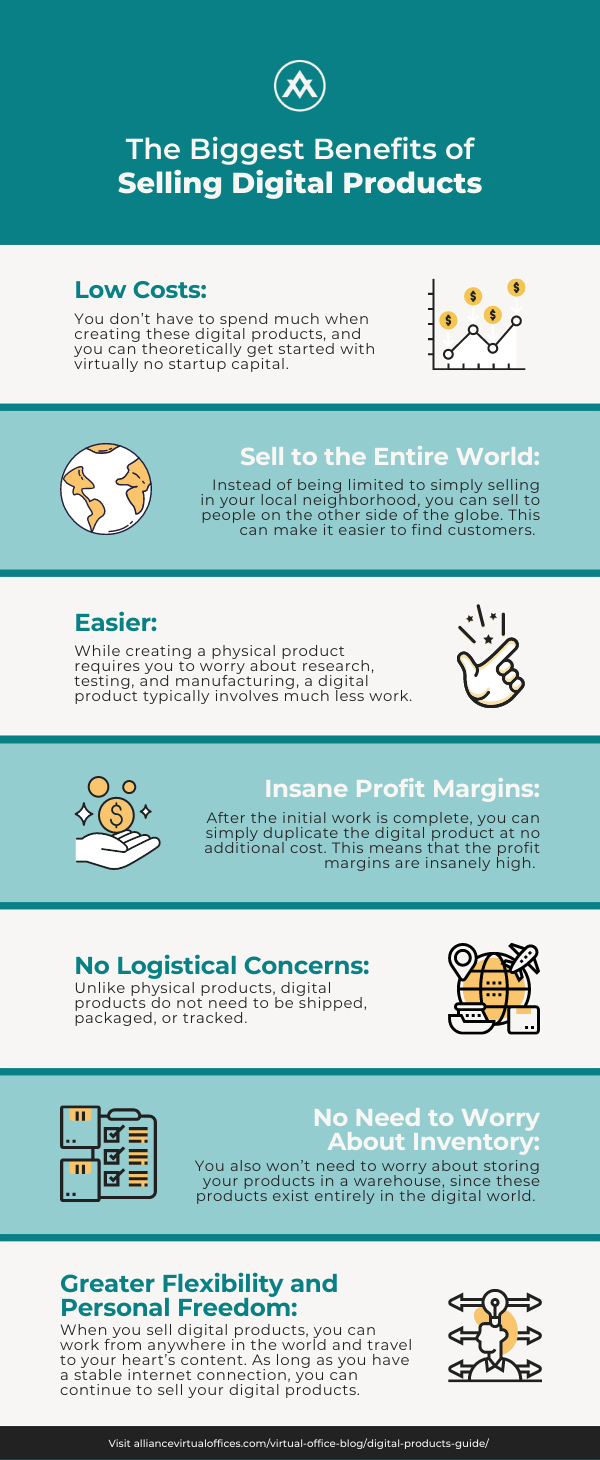 Benefits of selling digital products
Instead of asking "What are digital products?", perhaps the real question you should be asking is "Why should I even sell digital products in the first place?"
As it turns out, there are several notable benefits:
Low Costs: Perhaps the most obvious benefit of selling digital products is the low barrier to entry. You don't have to spend much when creating these digital products, and you can theoretically get started with virtually no startup capital. Even better, it doesn't cost a dime to duplicate existing digital products – giving you an endless supply of products to sell for no additional fees.
Sell to the Entire World: When you sell digital products, your marketplace becomes the entire planet. Instead of being limited to simply selling in your local neighborhood, you can sell to people on the other side of the globe. This can make it easier to find customers.
Easier: While creating a physical product requires you to worry about research, testing, and manufacturing, a digital product typically involves much less work. Not only are these products cheaper to produce, but they also involve less stress.
Insane Profit Margins: After the initial work is complete, you can simply duplicate the digital product at no additional cost. This means that the profit margins are insanely high.
No Logistical Concerns: Unlike physical products, digital products do not need to be shipped, packaged, or tracked. This means that you don't have to worry about logistics when you sell digital products.
No Need to Worry About Inventory: You also won't need to worry about storing your products in a warehouse, since these products exist entirely in the digital world. Again, this lowers costs and eliminates fees that would normally pay for warehouse storage.
Greater Flexibility and Personal Freedom: If you're the type who prioritizes flexibility and freedom, digital products can allow you to pursue your personal goals. When you sell digital products, you can work from anywhere in the world and travel to your heart's content. As long as you have a stable internet connection, you can continue to sell your digital products.
---

Can your business sell digital products?
If you've been asking yourself: "What are digital products?", you now have a solid idea of what this concept is all about.
Now there's only one question that remains:
How can your business sell digital products?
First of all, think about what type of business you run. Some businesses are better suited to digital products than others. For example, if you run a software company and you're already selling physical copies of your software, you might find it very easy to transition to a SaaS business model.
Even though physical software might sound ancient, this is still a thing in the modern era. Vice reported that 33% of all software sales were made with physical copies. In 2022, Microsoft released physical copies of Windows 11.
Other businesses may find it more difficult to transition to digital products. For example, a company whose entire business model is based around physical products may struggle to figure out how to take advantage of this opportunity.
Let's say you run a business selling custom-made wooden furniture. Well, you can't exactly sell people virtual tables and cabinets, can you?
Unless you get creative and start selling NFT versions of your furniture, you're probably going to have to think outside the box to switch from physical to digital products.
This can be very difficult for some companies – but it's not impossible.
We know what you're thinking: "What are some digital products in the real world?"
Here are a few examples:
You might decide to sell a PDF guide on how to build tables at home. At first, this might sound like a great way to throw away business. After all, who's going to buy your physical tables if everyone simply uses your online guide to build their own?
But the truth is that a digital product like an online tutorial can be much more profitable than a physical product-based business. Even though your simple PDF might only cost five dollars, it could become immensely popular among amateur carpenters.
Soon enough, you might sell a million of these PDFs – giving you $5 million in sales. This might be far more than you could ever hope to achieve with your furniture business – all because you spent a few hours creating a simple PDF guide.
Now let's take a real-world example:
During the pandemic, a company called Games Workshop experienced a massive increase in popularity. This company sells small plastic miniatures that hobbyists assemble and paint.
With so many people turning to new hobbies during the lockdowns, Games Workshop stock rose dramatically.
The company then invested these profits into an entirely new venture:
An online subscription service.
Customers who signed up for this service received free miniatures and vouchers for GW's online store. The service also included access to plenty of online products, including animations, virtual magazines, and tutorials.
While the service is still new, this illustrates that even businesses that are completely geared toward selling physical products can shift toward digital products with enough creativity.
Anyone can create digital products.
Just make sure that your new digital products match the theme, niche, and branding of your existing company.
Or why not create a completely new company geared toward digital products? The point is to get something out there – because you never know how successful a digital product might become.
And with the minimal startup costs, you're not risking anything when you start selling electronic products. Even if your new venture falls flat on its face, it's not like you'll lose millions of dollars.

How to make your digital products more effective
Now that we've fully answered the question: "What are digital products?", it's time to cover some actionable tips to make this new venture even more effective:
Don't Get De-Platformed: When businesses sell digital products, they often become highly reliant on platforms like Amazon, YouTube, Etsy, and so on. This is all well and good, but what happens if you get de-platformed? Suddenly, you're no longer able to sell your products. This is why it might be a good idea to set up contingencies or sell your products on multiple platforms. The best option is to simply create a platform yourself.
Protect Against Cyber Attacks: As a digital product seller, you are especially vulnerable to cyber-attacks and various forms of online fraud. Aside from hackers targeting your operations, you may also struggle with people selling unlicensed copies of your digital products. This is something you need to address as early as possible.
Hire the Right Experts: If you're making the transition from physical products to digital products, it's important to hire the right experts. Even though you might have no idea how to start selling in the digital world, you can rely on technical experts to get you there. Don't simply try to figure this out on your own.
Remember Your Target Audience: As a general rule for all online businesses, it's always a good idea to remember your target audience. Figure out what kind of person wants your digital product, and it will become much easier to market that product.
Solve a Problem: The best digital products solve problems for consumers. Think about what kind of problem you might solve with a new digital product.
Consider Offering Digital Products for Free: Although it might seem a little counterintuitive, selling digital products for free can be more profitable in the long run. You can earn income from other sources, such as advertising. For example, a podcast could earn income from advertising instead of charging people to listen. You might also offer multiple levels of subscription, giving people the ability to experience a basic form of your product for free while charging individuals for more advanced features.
Marketing your digital products
You're probably asking: "What are digital products to sell?". Well, you might want to figure out how you're going to sell these products.
Because you're saving so much money with digital products, you can invest more heavily in marketing.
Even though digital products might not cost as much to produce as physical products, you still need to market them effectively and attract plenty of online leads.
The good news is that you can take all the money you would have spent on manufacturing, shipping, and storage, and spend that money on high-performance marketing strategies.
Perhaps the most obvious strategy is to simply use an existing platform to market and sell your digital products.
"What are digital products on Amazon?"
A clear example of one of these platforms is Amazon's Kindle, which hosts countless eBooks from a variety of authors.
You might also be asking yourself: "What are digital products on Etsy?"
Yes, that's right – Etsy sells a surprising amount of digital products – although it has a reputation for selling handcrafted goods.
Using existing marketplaces is a concept you might want to check out if you're selling digital products.
If your existing business is gearing up to sell digital products for the first time, don't be afraid to build up some hype. Let your current customers know that you're launching an entirely digital service, and be sure to spread the message on social media.
Don't underestimate the power of landing pages and sales pages. Instead of keeping your digital products tucked away on an obscure corner of your website, consider creating an entirely different page for your new digital products venture.
---

How a flexible workstyle supports digital product sales
So what are digital products really about?
In many ways, they represent your ticket to a more flexible, independent work-life balance.
Selling digital products becomes much easier when you adopt a more flexible work style. For example, working remotely eliminates the need for a daily commute, allowing you to spend a few more minutes or hours developing your digital products.
You might also choose to take advantage of a Virtual Office with a virtual address, allowing you to choose a business address that meshes with your niche perfectly.
For example, you might choose to live in Puerto Rico and enjoy plenty of sunshine all year round while you sell your products. But if you want to cultivate a sense of trustworthiness in your company, you probably want to register your business somewhere like New York or Los Angeles.
With a Virtual Office, you can register your business in one state and live in an entirely different location. This allows you to fully enjoy the flexibility offered by selling digital products while maintaining professionalism and prestige.
Even if you wish to constantly travel the globe as you sell your digital products, you can easily receive business-related mail with a mail-forwarding service.
The best providers of Virtual Offices offer these mail-forwarding services. You can either have your mail sent directly to your current location or you can pick it up when you return from your working vacation.
Either way, a remote lifestyle is perfectly suited to a business focused on selling digital products.
Check out Alliance Virtual Offices if you'd like to explore your options for Virtual Offices in greater depth. As one of the most reputable service providers in the industry, Alliance offers virtual addresses in almost every major US city imaginable.
Even better, Alliance offers flexible physical office space if you ever need to book a conference room for a meeting with employees, clients, or investors.
This can also serve as an excellent meeting place for your team as you plan out your next move, celebrate your recent success, or hire new employees with face-to-face interviews.
---

What are digital products? Anything you want them to be
What are digital products?
Anything you want them to be.
One of the best things about digital products is that they are extremely varied and versatile. People are constantly coming up with new ideas for digital products, pushing this market further and further each day.
The best digital products result from simple but innovative ideas. If you're planning on selling digital products, one of the most important ingredients is creativity.
Sometimes, it just doesn't make sense to follow the crowd. Don't be afraid to dance to the beat of your drum and sell a digital product that no one has even considered before.
---
Further Reading
---
Alliance Virtual Offices is here to support you as you transition to digital products with a range of effective online resources. With digital products and Alliance Virtual Offices' high-quality services, flexibility has never been easier to achieve. Check out Alliance's services today.