---
---
Q: Should I make the switch to a remote workspace? How would I go about making such a sweeping change to my business?
A: Yes, switching to a remote workspace provides countless benefits to the entrepreneur willing to put in the work. Making the change isn't too difficult and requires nothing more than tweaking your existing operations and shifting your focus.
---
Although the widespread shift to remote work was on its way before the pandemic, Covid-19 managed to accelerate this shift much faster than anyone thought possible.
Approximately 1 in 4 Americans, more than a quarter of the nation's workforce, continued to work from home throughout 2021.
Like it or not, switching to a remote workspace is quickly becoming the norm. With multiple studies showing an increase in productivity and even employee happiness, the transition to remote work seems more permanent than ever.
---
Read more: As telework continues for many U.S. workers, no sign of widespread 'Zoom fatigue'
---
Despite there being some jobs that don't work in a work-from-home environment, small business owners should feel excited about this recent transition.
Not only does a remote workspace provide entrepreneurs with a way to save heaps of money on traditional business expenses like rent and office supplies, but the flexibility of a company that employs remote workers positions preps it for growth, expansion, and scalability.
As a small business owner, the cost of renting a traditional office space in conjunction with the operating costs of keeping this space stocked and functioning properly for your employees will likely be one of the biggest expenses each year.
Fortunately, with the rise in remote work, entrepreneurs can forego these prohibitively expensive operational costs by registering their business with a virtual office. 
A virtual office is a physical location that you can rent exponentially cheaper than a standard office building.
While some virtual offices serve as just digital mailing systems or P.O. boxes, a good virtual office plan comes with:
A physical business address
Access to a physical, fully equipped workspace,
A streamlined mail forwarding system
Below, we'll explain why making the switch to remote work is beneficial. We'll explore how you can go about switching your business model to an online one, then we'll examine what makes a remote workspace a good investment.
---
---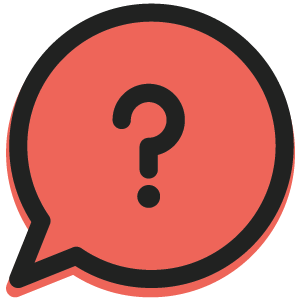 Why should you switch to remote work?
The pandemic saw an astronomical rise in e-commerce demand, namely due to the various lockdown measures in place for the better part of a year. This rise in demand for e-commerce solutions has created an environment wherein using a remote workspace is expected.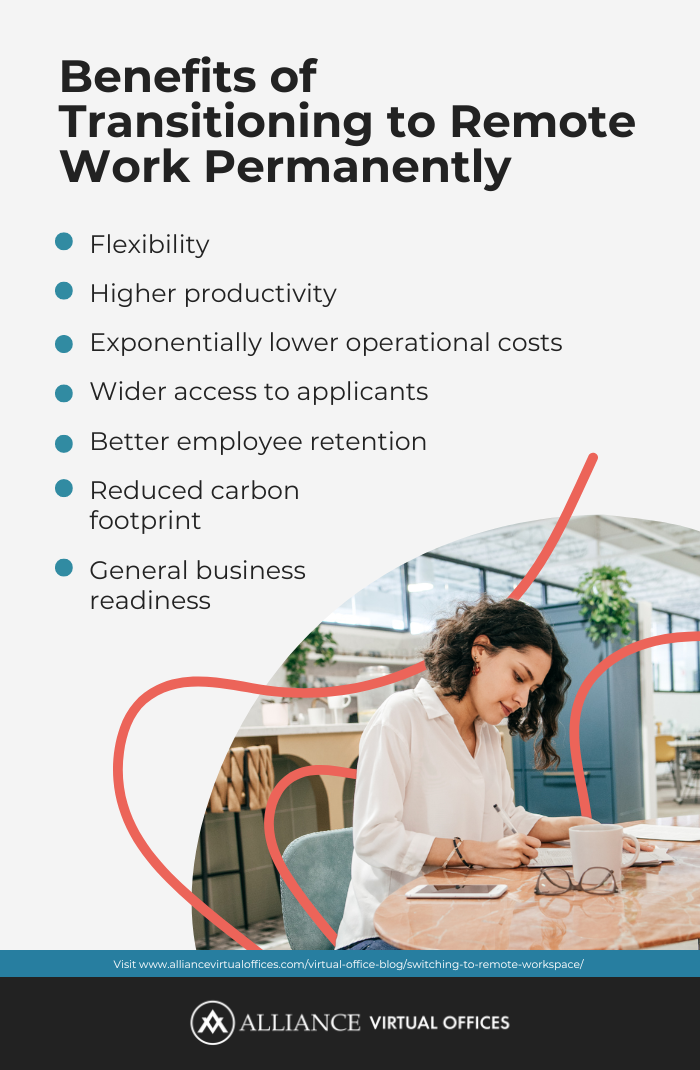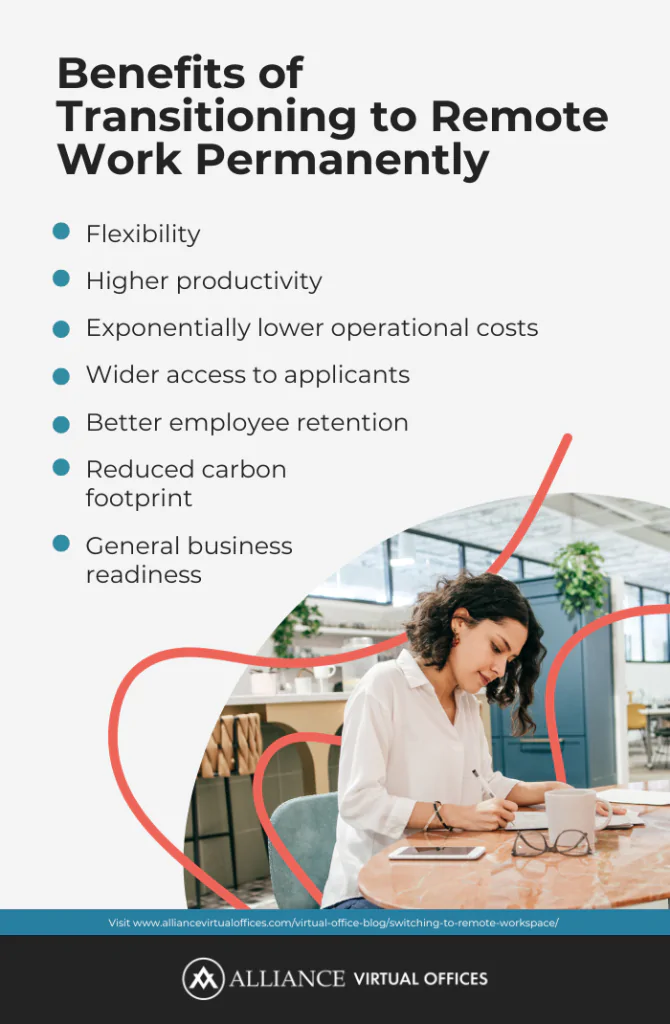 Below, we've listed some of the benefits you can expect to see when transitioning to a remote work model of operations, including:
Flexibility
Higher productivity
Exponentially lower operational costs
Wider access to applicants
Better employee retention
Reduced carbon footprint
General business readiness
---
Read more: Why Remote Work Isn't Only Beneficial For Employees
---
Flexibility
Remote work gives small business owners the chance to work more flexibly than ever before. You can work from anywhere you'd like, meaning you can cut down on commutes and have more time to handle the numerous important business functions that are on your plate.
This flexibility also better positions your business for expansion.
Operating primarily online opens you up to countless markets across the country, allowing you to connect with new customers and effectively raise profits.
Higher productivity
According to Stanford economist Nicholas Bloom, remote workers are 13% more productive than their traditional in-office counterparts. While this is sometimes debated, the consensus is that working from home does marginally increase productivity.
The lack of commutes is likely tied to this increase, as the US. Census Bureau has stated that before the pandemic, the average commute time was approximately half an hour.
This means utilizing a remote workspace can eliminate an entire hour of wasted time in a workday. If you're saving an hour a day, five days a week, it's easy to see where the increase in productivity comes from.
Exponentially lower operational costs
The barrier for entry into a traditional office space is often too much for many entrepreneurs to handle. Operating a virtual workspace allows you to eliminate many of these costs and gives you the chance to funnel that reserved money back into the business.
In addition to saving money, a high-quality remote office workspace can also give you access to a physical workspace. This means that even after saving money by not getting a traditional rental, you'll still have a place where you can go to work.
Wider access to applicants
No matter where you live, finding qualified employees isn't as easy as it sounds, particularly during the ongoing labor shortage.
However, with a virtual office, you can hire employees from anywhere you'd like, provided they have the necessary equipment and fit any remote workspace requirements.
Such a wide applicant pool means that finding employees for remote work will be far less time-consuming – especially when you consider the ease of remote interviews.
Better employee retention
On the topic of employees, a remote workspace has shown itself to be much more effective in terms of employee retention. The national turnover rate continues to rise, and hiring new employees is expensive and time-consuming.
Many studies have shown the efficacy of providing remote work solutions for your employees.
A study from the College and University Professional Association showed that "almost two-thirds of respondents were unhappy with their current work arrangements, especially in regard to the ability to work-from-home at least sometimes."
Reduced carbon footprint
Science continues to support that the world is experiencing the impact of climate change, and public consciousness is shifting towards preparing for a green future.
Keeping up with these changes in public perception is part of being a business owner, and reducing your carbon footprint can do just that.
By opting for a virtual office, your reduced commute times and traditional energy usage can enhance your company's public reputation and help it go greener.
General business readiness
During Covid-19, small businesses had it tough. Despite PPP loans saving the day for many businesses, the lockdowns made life very difficult for several entrepreneurs.
By transitioning to a remote workspace, you're setting yourself up to be prepared for anything to come.
If you have remote workspace software in place and other systems to allow you to function from wherever then you're already prepared to run your business completely from the comfort of your own home.
As you can see, there are several worthwhile reasons to make the transition to a remote workspace. These benefits go to show that the switch is not only convenient but lucrative as well.
---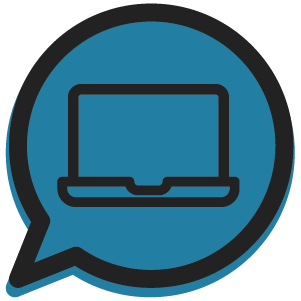 How can you switch to remote work?
Switching to remote work is easier than it sounds. Similar to how you have to work nearly every day to further your traditional business's success, you'll have to do the same thing virtually, but with a different approach.
Below, we've put together a step-by-step list of the measures necessary for you to switch to remote work.
First, you'll need to build a strong online presence, meaning you'll need to have a way to offer your products or services online.
This is an area you'll likely have to outsource, but a basic website that accepts payment and showcases your offerings won't be too big of an expense.
Independently of your website, build a social media presence. Social media is an excellent way to build brand awareness and connect with customers.
Don't feel like you need to have a wildly successful social media presence before making the switch to a virtual workspace. Using it as a tool to connect with customers opens another avenue of contact.
After your website is operational, make sure you have a way to organize the workflow and manage employees.
Applications like Slack, Microsoft Teams, and Asana are all great examples of remote workspace software that will help you streamline this process.
Because you're going to be working online, you have the distinct pleasure of automating a majority of the more tedious aspects of your business.
Take advantage of this automation with any of these apps. Doing so helps set clear expectations, gives you the ability to play to your employees' advantages, and overall, makes your life remarkably easier.
Now that your website is operational and your team is functioning well, it's time to consider focusing on moving your most profitable products.
You can offer promotional advertisements on your website for items that have the highest profit margin.
Finally, it's time to change your business's address and secure a remote workspace.
Technically, you're able to use your home address when registering your business, but doing so isn't advisable as it compromises your personal privacy by making your home address public domain.
The process for changing your address differs by state, but we'll take a look at some of the various forms and how you can find them below.
The actual transition will take a bit of time and effort, but once you have the hang of operating from a remote workspace, it'll be well worth it.
Choosing the right virtual office to use for the registration of your business is important. If the virtual office you choose to use doesn't have a physical address or is only using a P.O. box, you won't be able to use it for the address change.
The actual forms you'll need to fill in differ from state to state. Here are some examples:
In New York, you'll need to fill out the form DTF-96. Fortunately, New York allows you to fill the form out online for a quicker turnaround.
California requires business owners to fill out the form FTB 3533-B and mail it to the State of California Franchise Tax Board in Sacramento.
The state of New Jersey asks you to fill out form L-122 before mailing it to the New Jersey Department of Treasury's Division of Revenue. In addition to traditional mailing, New Jersey also allows entrepreneurs to fill out the form in person.
North Carolina's form is called Agents Statement of Change of Registered Office Address and can be filled out online, by mail, or in person.
To find your state's rules, you can Google the state your business is registered in and a question about changing your business address.
Now that you know how to make the switch and you're ready to change your address to a remote workspace, it's time to figure out how you can know whether your virtual office is a good investment.
---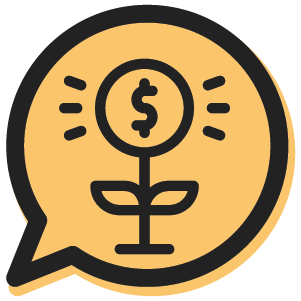 How do you know if a remote workspace is a good investment?
The best choice for remote work is a virtual office. Unfortunately, not all virtual offices are created equal.
Before we look at the things you should be looking for, let's look at the things you should make a point to avoid.
Platforms that are entirely virtual without any kind of physical address
When you're searching for a remote workspace, you'll regularly run into virtual offices that are nothing more than online platforms. Sure, you might be able to use them to host and connect to online meetings, but they don't provide any value.
These online platforms don't have physical addresses, making them difficult or impossible to use as a mail forwarding system. Without a physical address or a working mailing system, these platforms are essentially just a waste of money.
Virtual offices that are only attached to a P.O. box
Another virtual office you'll run into are those operating only with a P.O. box.
Although this model might run a better mail forwarding system than their wholly virtual counterparts, a majority of states won't allow you to register your business with just a P.O. box.
In addition to the inability to use the P.O. box-based virtual offices for your address change or registration, these virtual offices don't provide access to meeting rooms or give you a place to work should you need a break from the office.
---
Read more: The Remote Work Software Helping Small Businesses Grow Faster Than Ever
---
The ideal virtual office needs to have a physical address, access to a physical workspace, and a robust mailing system. Alliance Virtual Offices provides each of these amenities and has remote workspaces available in every state.
Having offices available in each state means that you no longer need to ask the question: "Is there a remote workspace near me?"
Alliance Virtual Offices makes landing a virtual office as simple as navigating the website, no matter what state you're living in.
When selecting an office through Alliance Virtual Offices, the process is quite simple. All you'll need to do is visit the Virtual Office tab on the homepage of the website.
From here, just search for the state where you're hoping to find a remote workspace. After you've searched for a particular area, just follow the instructions given by the website to pick your plan before checking out.
In addition to offering a physical address, physical workspace, and an impressive mailing system, Alliance Virtual Offices has remote workspace policies in place that ensure the physical workspace is professional and comfortable.
Another benefit of the virtual offices provided by Alliance is the access to meeting rooms.
One of the few pitfalls to operating from a remote workspace is the lack of a good area to handle meetings or presentations. With Alliance Virtual Office's plans, you can make sure that the virtual office you're selecting has this access to keep your business as professional as possible.
---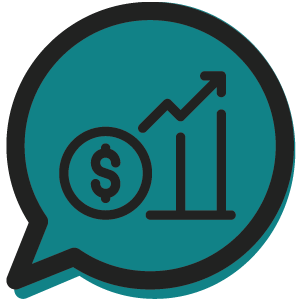 Sustaining growth in your remote workspace
Making the switch to a remote workspace can often seem more difficult than it is, but the benefits are clear. The switch can help you scale and attract top talent, all while saving money.
In reality, making the transition is easy and requires little more than a few tweaks to some of your existing operations.
When you're choosing a remote workspace, it's important to choose one that offers meeting rooms, a physical address, a competent mail forwarding system, and a functioning office to make the most of your money.
Having access to meeting rooms and mail forwarding available gives you all the benefits of a traditional office at just a fraction of the cost.
As evidenced above, the switch to remote work is more than just a passing fad, so it makes sense to transition now to set your business up for success.
A fully functional virtual office is the perfect way to get your virtual business started, but there is several other remote workspace software available that can help your business continue to grow.
From Live Receptionists to virtual phones, coworking spaces to meeting rooms, Alliance Virtual Offices offers several solutions for any of your online business needs.
A Live Receptionist provides a friendly and professional receptionist that will screen your calls. Instead of multitasking and potentially upsetting customers, you're able to ensure that your customers' first point of contact is friendly and ready to help.
Virtual phones protect your personal phone number and effortlessly connect with your team.
This way, you don't have to keep all your business contacts mixed with your personal ones. There's no better way to ensure you're keeping a good work-life balance than separating your cellphone from the inner workings of your business.
Coworking spaces give you access to a professionally managed space. These spaces are a lifesaver when you're traveling and can be used to easily meet with remote workers that are living in different states.
Provided you've picked a good virtual office, meeting rooms will usually be included in the cost of the rent.
However, if you're traveling to make a presentation or meet with investors, a meeting room is cheap and can be rented by the hour, half day, or day. Rather than wasting time in a coffee shop or hotel lobby, showcase your business's professionalism by using one of these spaces for any of your important conferences.
Each of these solutions can be easily found on the Alliance Virtual Office homepage. Take the time to scan through the numerous benefits associated with each feature to see just how much any of these programs can help your business grow.
---
Further reading
---
At Alliance Virtual Offices, we provide numerous virtual offices available for rent in every one of the fifty states.
Making the switch to a remote workspace might seem scary, but in reality, it's just as straightforward as running your business the way you're currently doing so.
Whether you're looking to transition to a more virtual business or hoping to start one yourself, contact us today to see how we can help you move your business forward.