---
---
Q: What are some examples of automation?
A: There is a wide range of automated business solutions available to modern business owners. Business tools such as accounting software and payroll management are among the most common, but there are services available that can help with nearly every aspect of your business. This article explores why these tools are so valuable and how to choose the right tools for your business needs.
---
In many ways, the future of business is already here.
Automated business solutions have been steadily improving efficiency and ease of operation across the country for years now. It's rare to find a business that doesn't rely on automation to some degree.
Automation has empowered entrepreneurs across the country to start and grow their businesses.
It reduces the initial capital needed to run a business while also helping business owners manage their businesses more efficiently.
The proliferation of automated business systems is likely to continue. In fact, 82 percent of Americans think it likely that work will be mostly automated by 2050.
This has a few logical consequences:
Businesses will continue to thrive thanks to the increased efficiency and effectiveness brought in by automation.
Automation will become even more important to business owners.
If your competition is benefiting from automation, you need to keep up.
Given this increased prevalence and importance, it's a good idea to understand automation in the business world. This article is here to walk you through it.
---
---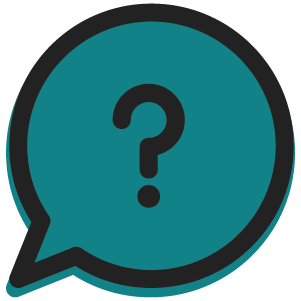 What Are Automated Business Solutions?
Automated business ideas are endless. When people hear the word "automation," they picture everything from fully robotic businesses to simple business software solutions.
Both of these can technically be classified as business automation, but for most business owners, automation is going to be software-based.
While automation is quickly finding a home in every aspect of society, the hardware aspects still tend to be very expensive.
This means that automated business solutions aimed at small and medium-sized businesses typically involve apps or software instead.
These software-based solutions can automate the calculations or data-planning involved in the key operations usually performed by the business owner.
The business owner can then use this software to radically reduce their workload.
---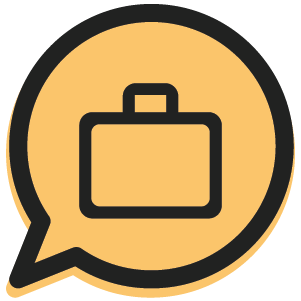 The Unexpected Labor of Small Business Ownership
Many entrepreneurs are blindsided when they realize how much effort goes into managing a business.
Running a business is far more complex than simply developing a product and marketing it.
Business owners also have to handle their accounting, registration, websites, payroll, and a long list of other tasks they may not have anticipated.
You may be able to handle your phones on your own at first, but when you start expanding into multiple states, the sheer volume of incoming calls can be dizzying.
Your accounting may also be quite manageable when your sales are lower, but as your profits increase, bookkeeping becomes much more complex.
This can quickly leave ambitious, highly-successful business owners at a loss — feeling completely overwhelmed by the constant influx of disparate tasks they have to handle on their own.
And it only gets worse as you grow.
When you turn your sights on expansion, you can expect even more work.
Without automation, these tasks can seem impossible.
---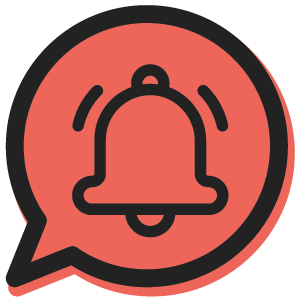 How Overwhelm Hurts Your Business
As a business owner, you simply can't function at your peak when you're drowning in work.
When you have to handle everything on your own, you're jumping from task to task constantly throughout the day.
You can't bring your A-game when you are constantly being interrupted and pulled towards other duties.
As a result, you face the very real danger of stagnation. This occurs when you get trapped in the same routine of doing things just well enough to get by – then you're rushing off to handle the next item on your overstuffed to-do list.
This prevents you from innovating and expanding your business, keeping you in a rut that holds you back from your full potential as a business owner.
Additionally, the resulting stress can easily lead to burnout. You end up with so much work that you can't take the time and space you need to refresh.
This can not only hurt your business, but it can also make you feel apathetic even in the face of success. Burnout numbs you and leaves you completely drained, to the point where success becomes meaningless.
Finally, an intense workload makes you more likely to make mistakes.
When you have to pull 12-hour days involving completely separate skillsets, it's hard not to miss a detail here or there.
While completely understandable on a human level, these mistakes can have big consequences for your business.
You may misfile your taxes or underpay an employee, leading to fines and legal action taken against you.
The more ambitious you are, the more these things can impact you.
---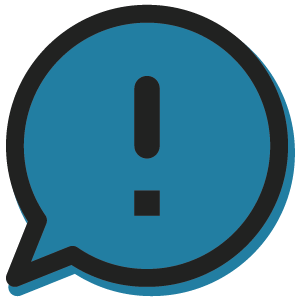 How Overwhelm Complicates Scaling
Scaling becomes particularly challenging when you're already drowning in work.
For starters, it's difficult to come up with an innovative growth strategy when you're lacking focus and energy.
If you're already overwhelmed, you can't think clearly when identifying new markets and outlining marketing strategies.
This can hold you back as you try to expand.
But even if you are successful, you might come to regret vigorous growth if you don't take advantage of automation.
With growth comes more bookkeeping, payroll management, marketing, and phone calls.
You may have raised your business's profit – but you're not going to have much time to celebrate without automation.
---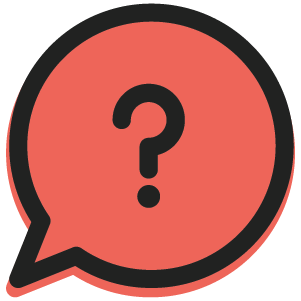 Why Not Hire More Employees?
The obvious answer is to hire more employees to manage the various aspects of your business that require additional attention.
While this is certainly a great way to handle your various business responsibilities, it isn't always the best choice for small and medium-sized businesses.
For one, coordinating an expansive team of people carries its own set of challenges.
You may find that your skills as a manager aren't strong enough to make the trade-off worth it.
If you aren't already skilled at hiring, training, and managing, you might end up with just as much work as you try to explain to your employees how you'd like things done.
Additionally, employees are expensive. Hiring full-time accountants, receptionists, marketing managers, website developers, and any other skilled workers can be too expensive for smaller businesses.
Down the road, you may be able to add these people to your payroll. But first, you need to grow.
Luckily, there are automated business solutions in just about every field that can help you do just that.
---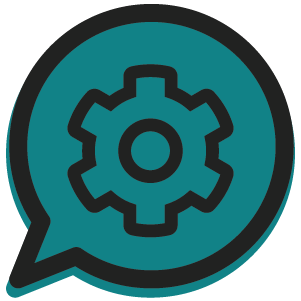 How Automated Business Solutions Empower You
Automated business designs can dramatically improve your work-life balance.
When you add software into the mix, you can eliminate hours of work. These automated solutions can handle everything from accounting to marketing and anything in between. This leaves you with far more time for life outside of work.
Automated business solutions can save you from the most tedious tasks.
Software is particularly adept at handling calculations or high-volume data input. While exceptionally important, these tend to be quite repetitive and mind-numbing when you do them yourself.
Tedious and repetitive tasks are also the ones we tend to slip up on. We can easily fall into a lull while putting our expenses into a spreadsheet, for instance.
Automating these things frees up time and energy you can use in other areas of your life and business.
But automated business models don't just improve your subjective well-being…
---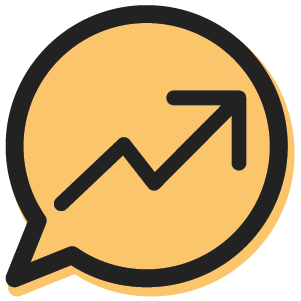 How Automated Business Solutions Encourage Growth
On top of supporting you on a personal level, automated business solutions also make business growth easier.
As we've mentioned, having more time and energy to focus on your business can help you bring better products to market. This alone can give you a competitive edge, driving your profits up.
On top of that, having more mental clarity to plan your expansion makes you far more likely to succeed.
With automation, it's easier to thoroughly understand the market, figure out the best way to angle your business, and develop a strong marketing plan.
By freeing you up to focus on these things, business software makes growing far easier.
Automated business solutions also help you after this expansion is complete. By automating things like bookkeeping or payroll, the software makes it easy to adapt to your growth.
Your processes stay virtually the same as you scale, meaning you can establish yourself quicker and turn your eyes towards even more growth.
But not every automated business solution is equally fit for the task. You need to emphasize quality when adding anything to your business operations.
---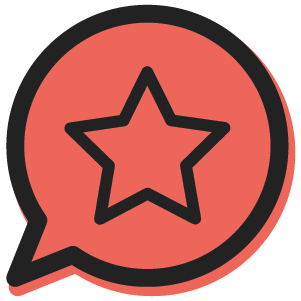 The Best Automated Business Solutions
Live Receptionist
A live receptionist plan from Alliance Virtual Offices is one of the easiest ways to automate your business.
Live receptionist plans connect your business phones to a professionally-trained, remote receptionist who will answer any incoming calls for you.
Not only does this free you from handling all your calls yourself, but it also adds an element of professionalism to your business.
A live receptionist plan is an affordable way to automate your phones while improving your customer service.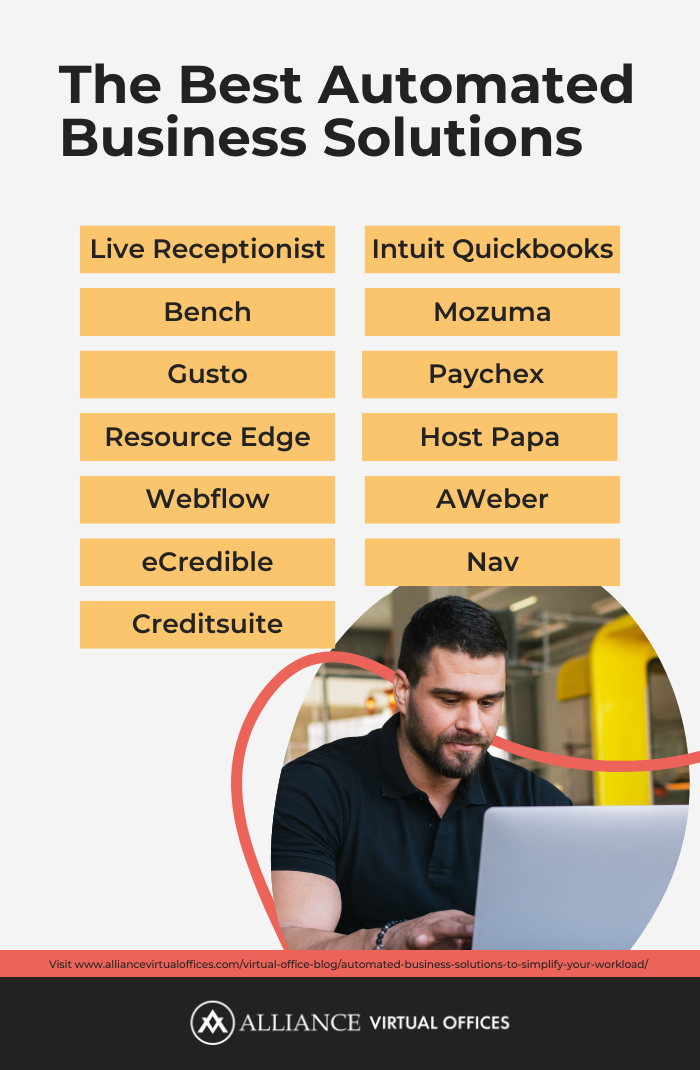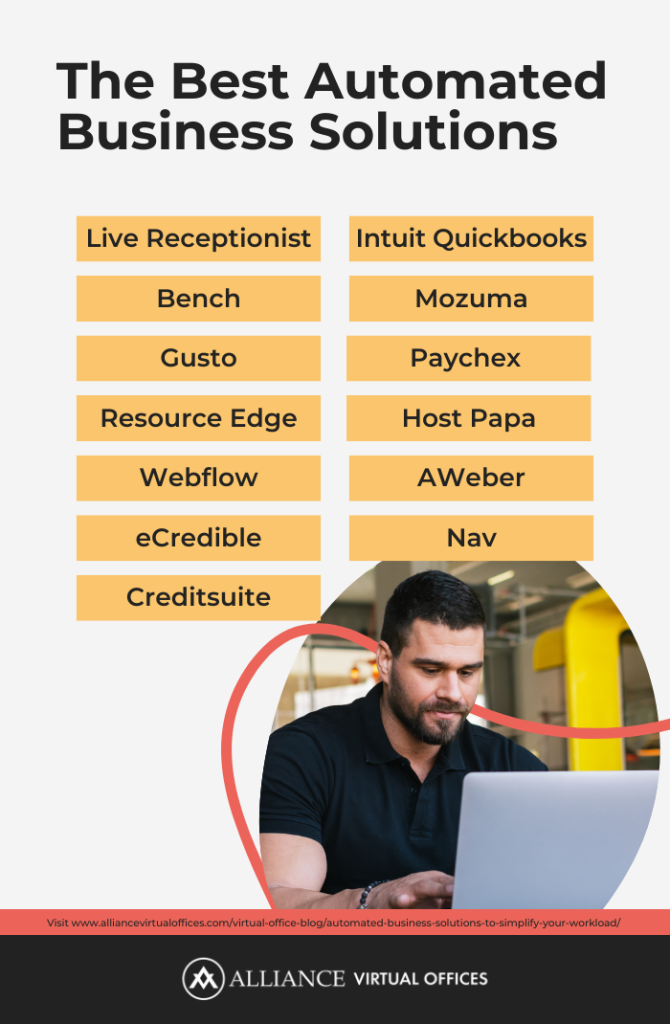 Intuit Quickbooks
Handling your bookkeeping yourself can quickly become overwhelming and monotonous. Luckily, there's an easy solution.
Intuit Quickbooks is among the world's best bookkeeping software. Quickbooks connects directly to your accounts, fully automating your bookkeeping.
Information about your business's finances are available in simple, easy-to-understand displays.
When it comes time to file taxes, Quickbooks simplifies the process by providing you the exact payment you need to make. All you have to do is hit submit.
Bench
Another fantastic automated business solution for your bookkeeping is Bench.
Like Quickbooks, Bench connects directly to your business's bank account. From there, Bench compiles all your information automatically, making it available to you in a user-friendly dashboard.
When tax season comes around, Bench automatically tells you exactly how much you should send to the IRS. Bench simplifies every aspect of your bookkeeping so you can focus on more pressing things.
Mozuma
Mozuma is the final entry for bookkeeping software.
Mozuma is a minimalist's dream. It connects directly to your accounts, monitors incoming transactions and outbound expenses, complies all this information, and makes it accessible to you whenever you need it.
The dashboard makes the information easy to grasp, empowering business owners regardless of their level of accounting knowledge.
Like the other two bookkeeping softwares on this list, Mozuma gives you an estimated tax payment each quarter.
All you have to do is link Mozuma to your account. Mozuma automates the rest.
Gusto
Accounting isn't the only part of your business that can benefit from automation. Payroll can also eat up your time and energy.
Enter Gusto.
Gusto is an automated payroll software that makes payroll a breeze.
Rather than calculate each employee's hours and subtract their withholdings by hand, Gusto handles all of this for you.
You save time and effort while ensuring against issues with payroll.
Paychex
Another great solution for your business's payroll is Paychex.
Paychex is trusted by over 650,000 businesses to automate their payroll. With Paychex, you free yourself from tedious calculations and guarantee each employee receives exactly what they should.
Paychex is a great way to simplify your day-to-day business operations.
Resource Edge
Resource Edge can help your business automate everything from payroll to HR.
Resource Edge is a leading provider of human capital. They allow businesses to handle payroll, train new employees, manage their teams, and handle benefit coordination.
If you're looking to automate any aspect of HR, Resource Edge is ready to help.
Host Papa
A crucial part of any successful business is having a strong website. That said, learning to code and create a website from scratch can be enormously burdensome on a busy business owner.
But with Host Papa, you don't need to learn code to have a sleek, professional website.
Host Papa offers VPS hosting that enables website building while supporting apps for anything you might need.
Host Papa is a simple way to automate the technical aspects of website building so you can focus on the content and conversions.
Webflow
If you're looking for an extremely simple, easy-to-use website builder, Webflow deserves your attention.
Webflow is an all-in-one website builder focused on making website building seamless.
By automating all coding and allowing you to select from various sleek templates, Webflow allows you to build your dream website without hassle.
AWeber
Email marketing is a vital part of a successful growth strategy. Unfortunately, managing your email lists manually can take hours each week.
AWeber simplifies this process.
With AWeber, you can build email campaigns, manage recipients, and gain valuable insights into your metrics without having to manually compile data or create new lists each time you send an email.
Simply create your emails and AWeber automates the rest.
eCredible
One of the often overlooked but crucial elements of a successful business is having strong business credit.
Unfortunately, business owners often ignore building their credit due to the tedious process of searching and applying for credit cards and loans.
eCredible simplifies the process.
Rather than rely on loans or lines of credit, eCredible works by reporting some of your business expenses to credit unions.
All you have to do is connect eCredible to your accounts and you'll automatically build credit without changing a thing.
Nav
Another fantastic credit-building solution is Nav.
Nav connects to your business accounts and keeps track of any payments you make. When possible, Nav automatically reports those expenses to credit bureaus, allowing you to build your credit without taking a loan.
Build your credit without any extra effort with Nav.
Creditsuite
Want to build credit for your business without needing a credit check? Creditsuite has you covered.
Creditsuite automatically records your business transactions, reporting any that may be applicable to credit bureaus.
This shows the bureaus that your business is reliable, helping you build credit without needing a loan or credit card.
Automate your business credit with Creditsuite.
---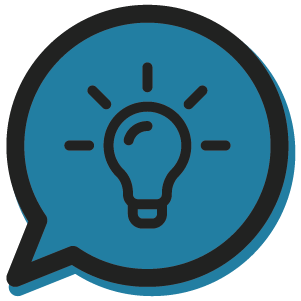 Key Takeaways about Automated Business Solutions
Automated business solutions are the way of the future.
Not only do automated business tools support your growth, but they also reduce the stress and pressure placed on you as a business owner.
---
Further Reading
---
While there are plenty of options on the market, not all business software is created equal.
If you're looking to automate your business, use one of the top-rated tools from the list above.
Not only will this help you build your business, but it will make the adjustment seamless as you continue to grow into the future.