---
---
When you start a business, you want it to have a professional image. That means a proper business address and phone number in an area that is well-respected.
Lots of new business owners think that in order to give their start up a corporate image, they need to break the bank by leasing fancy offices in the best part of town.
But this doesn't have to be the case.
With a virtual office, you can get the professional image your new business needs without having to lease or buy expensive office space. You can rest easy knowing that you don't need to hire a fulltime receptionist, buy brand new office equipment, and get a separate phone line either, because a virtual office can do all of this and more.
---
---
How To Register An LLC With A Virtual Address
Claim Your Virtual Address at www.AllianceVirtualOffices.com
Pick the Right Plan for your needs
Use Your New Virtual Address on your Articles of Organization.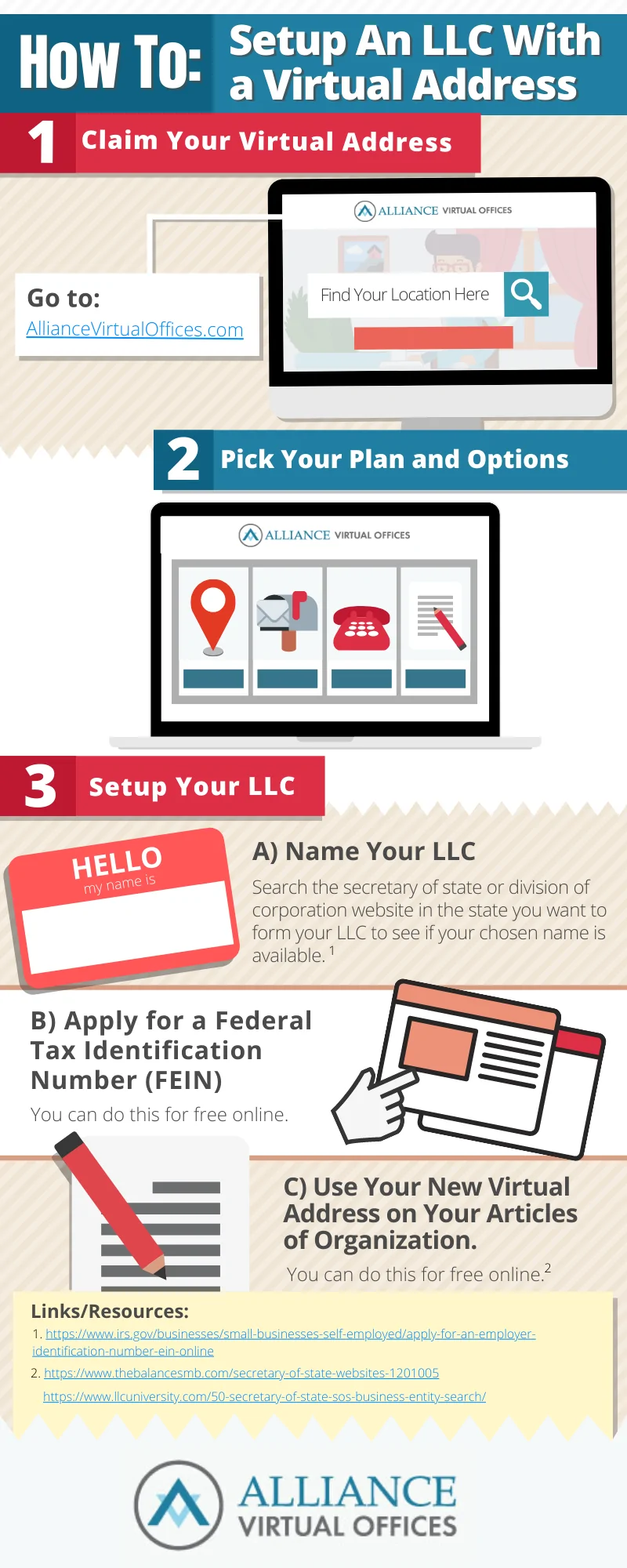 ---
---
Getting Your Head Around LLCs and Entity Setup
---
What is a Business Entity?
There are different levels of entities, starting with sole proprietorship – which is not actually a legal entity – and moving up to corporation level. The entity you decide on will be determined by the kind of business you run and whether you want to keep your business separate from your personal assets and personal taxes.
---
Sole Proprietorship
Unlike an LLC, corporation or other entity, a sole proprietorship does not separate you — the person, the taxpayer — from your business. This is why it increases risk for businesses to be a sole proprietorship.
Why do people do it then? Because it's easy. You just start selling and operating your business, then file your individual taxes as normal. There's no cost to starting it, and no administrative work.
A kid selling lemonade on a corner is a sole proprietorship; a service provider working as a one-man-show is a sole proprietorship if no legal entity is created first.
Sounds simple and like the easiest option, right?
Except with a sole proprietorship your personal assets aren't protected, and if you are sued or become unable to pay business debts, you are personally liable, and you and your business are considered as one when it comes to paying taxes.
Limited Liability Company (LLC)
An LLC is the most common form of business entity. It protects everyone in your business, from your members to your managers and everyone else in between.
The most beneficial thing about registering your business as an LLC is that your personal property is well-protected (unlike in a sole proprietorship) as it is separate from your business, given you follow certain guidelines of keeping your business separate from your personal.
With an LLC, yours and any partner's property is considered completely separate from your business and is treated as such when it comes to tax, legal processes and business debt.
Some states allow single-member LLCs, which means you are considered the one and only owner of your business. However, it's often a better idea to get a partner on-board for liability purposes. This doesn't mean giving up a large chunk of the profit pie, though; a partner can simply own 1-2% of your business and it can be someone like a family member or a close friend.
---
How to Register Your Business as an LLC
Step 1: Choose your LLC name (to do this, you'll need to search the secretary of state or division of corporation website in the state you want to form your LLC in to see if your chosen name is available first)
Step 2: Apply for a Federal Tax Identification Number (FEIN) with the IRS (you can do this online for free. The IRS have a detailed guide.)
Step 3: Complete and file your forms and pay registration fees (the forms are often called the articles of organization)
You can easily do this all online with your Secretary of State or Division of Corporations.
When registering your company, you will be asked to name a registered agent and registered agent address. This is an important decision. You may want to choose an address that is not your home address. In the case of legal proceeding, a clever opposing lawyer may be able to prove that your LLC is not sufficiently separate from your personal assets, and despite your effort to set up an LLC, they may be able to reach into your personal assets, often referred to as "piercing the corporate veil."
---
Corporations
Registering your business as a corporation is like leveling-up from an LLC. Corporations are completely unique entities, making your business decidedly separate from you in every way possible. This means that if your business is a corporation, you also have to adhere to a different tax structure.
The tax for these entities is charged at a corporate tax rate rather than a personal one, and is based on the profits made rather than a business's gross income.
Using a Virtual Office as a Registered Agent Address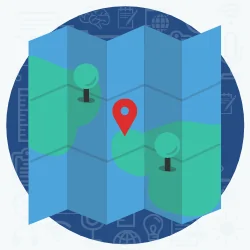 What is a Registered Agent?
A registered agent is a third party with the authority to receive service of process notices, and other official documents on behalf of a business.
Using a virtual office as a registered agent address can be tricky, depending on how you set it up. Many virtual office providers offer the registered agent option as an additional service because "service of process" mail (SOP) and mail from the secretary of state must be handled differently than commercial mail.
For example, many virtual office clients may have their commercial mail forwarded once per month. If they register their LLC using that virtual office address without setting up a way to handle SOP and other entity documents, they may not receive important notices in a timely manner. Many recommend a more frequent forwarding at the least, or best, set up the option with your virtual office provider to handle SOP separately from commercial mail. This usually comes at a slightly higher fee.
---
How Much Does a Registered Agent Cost
If you're setting up a business as an LLC, partnership, or corporation, then having a registered agent is required by law. So you may be wondering how much will a registered agent cost you. Though registered agent costs vary by location and basic services offer, they typically don't represent a significant cost to businesses.
---
Benefits of a Registered Agent
Organizations can expect to pay between $120 to $500 a year for basic registered agent services. Even if you're not forming a business entity that requires a registered agent by law, there are benefits to hiring one vs serving as your own. Some of these benefits include personal security, flexibility, time savings, better business image, and peace of mind. You can read more about these benefits here.
Registered agents serve as the point-of-contact between your business and the state. Having a registered agent can save your business thousands of dollars on fees and fines by ensuring that your service of process mail and official mail are taken care of and responded in a timely manner.
Registered agents are required by law for certain legal entities, and even though you can serve as your own registered agent in some cases, this is not recommended for business owners.
Hiring a registered agent service offers various benefits and typically this service doesn't represent a significant cost for businesses. Below you will find a shortlist of the top benefits registered agents offers:
They provide businesses with flexibility. Registered agents are required by law to operate during regular business hours. Hiring a registered agent means that you can operate your business when it's most convenient/profitable to you and if your business requires you to travel frequently, then you won't have to worry about traveling and not being in the office.
They provide you as a business owner with privacy. The address of a registered agent is a matter of public record; if you decide to serve as your own registered agent and operate your business from home, then it means that your home address will be available to the public. Sidenote: P.O. Box addresses are not accepted as registered agent addresses.
They can improve your business image. Having a third-party registered agents means that you will receive receipts of lawsuits and other legal documents in a private manner, meaning that your customers won't witness any service of process notifications being served to you or your business.
They make it easier to grow your business out of state. Businesses are required to have a registered agent in all states in which they operate. Hiring a registered agent service means you won't have to deal with separate registered agents and it will make it easier for you to grow your business into other states.
They keep all important documents in one place. Registered agents not only received official mail, but they also store it for as long as it is necessary. This makes it easier for you to track and sort through important mail when necessary.
They provide business owners with peace of mind. By hiring a registered agent service you can be sure that all-important mail is addressed in a timely manner, which can avoid the risk of non-compliance and avoid fees and fines.
---
Legal Requirements of a Registered Agent
The legal requirements of registered agents vary by state, however, there are few minimum qualifications that all states agree on.
Here are 5 basic legal requirements for a registered agent:
The registered agent must be a resident in the place the legal entity is incorporated.
The registered agent must have an in-state physical address in all states in which a business operates.
The registered agent should be at least 18 years old (though some states don't mention an age requirement, it is advised that organizations hire a registered agent that's familiar with the serious nature of their responsibilities).
The registered agent needs to be physically available during standard business hours.
The registered agent must be able to receive official mail and service of process notification.
Bear in mind that in most cases, states require that you have a physical address as well as a registered agent in order to set up an LLC.
To make it easier, we've partnered with Anderson Advisors' Registered Agent Services to couple Registered Agent solutions with your virtual office
---
What is a Business License?
Once you've registered your new business as an entity, it's time to start thinking about business licenses.
Simply put, these are permits that are issued by specific government agencies that allow you to run your business in a certain location.
There are two kinds of business license: federal and local. The type you need will depend entirely on the kind of business you're running and the activities you plan on carrying out. Each type monitors a different range of activities, so it's worth checking your government's website to find out where your business falls.
Federal Business Licenses
Federal licenses are mandatory if you're carrying out activities that are regulated by a federal agency. This includes things like agriculture, fishing, mining, and broadcasting.
Permits are issued by different governing bodies depending on the type of activity. For example, if your business is in the broadcasting industry, you need to get in touch with the Federal Communications Commission.
Here is a guide to the different kinds of business activities that require federal licenses and the governing body that controls them.
---
Local Business Licenses
Local business licenses are supplied by your state or city and are determined by local laws. Where federal licenses pertain to certain kinds of business activities, a local business license means adhering to your state's specific business regulations.
In order to set up your business license, you often have to have a commercial address that has to be a licensed business as well. You increase your chances of getting rejected if you use a non-licensed business as your address.
If your business requires a local business license, it is advisable to work with your virtual office provider to put the right business address and its associated business license information when you fill out forms for your license. Many virtual office providers like Alliance Virtual Offices are service companies and are not required to have a business license, but can advise you of the proper address and entity to put on your forms.
---
Establishing Business Credit With a Bank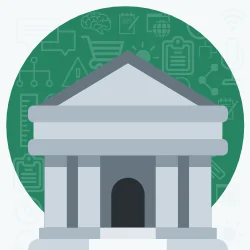 All new small businesses need to establish business credit in order to maintain a credit history that's separate from the owner's personal credit history.
Building up business credit with the banks will mean you'll reap the benefits of having a good credit history.
Some states do not allow businesses to use a virtual address for LLC formation.
Be sure to check with your secretary of state or local Chamber of Commerce to be aware of any local policies and regulations that apply in your case.
---
Here's how you can go about getting business credit:
Step 1: Incorporate your business. We mentioned this earlier, but in order to get a separate credit history for your business, it needs to be registered as an LLC or a corporation.
Step 2: Get a federal tax identification number (EIN). You'll need this number for all federal tax filings and to open a business bank account in the first place.
Step 3: Build credibility. According to Credit Suite, there are a number of boxes that need to be ticked before you can start building business credit. They include:

Using your full legal business name on all documentation
Having a corporate business address and a landline phone number (you can't use your personal address or cell number). Use your virtual office address and your VOIP number that's listed in the 411 directory, as having a commercial address and a local phone number that's not a cell will increase your chances of getting approved for credit.
Keeping your public records clean
Branding your business with an operational website, email address, and a business fax number

Step 4: Open a business bank account. Make sure you open it in your business's legal name and remember to steer any transactions for your business through this account.
Step 5: Get a business credit card. You'll need at least one business credit card to start building credit on. Choose a card company that reports to the credit reporting agencies.
Step 6: Nurture vendor relationships. Nav says that one of the easiest ways to build business credit quickly is to maintain and nurture great relationships with your suppliers and vendors. Work with 3-5 industry-relevant vendors to establish a positive line of credit to begin with.
Step 7: Keep your information up-to-date. Make sure you regularly update the major credit bureaus (Dun & Bradstreet, Experian, and Equifax) with your latest information.
Step 8: Pay your bills on time. This goes without saying, but in order to start and maintain good business credit, you need to pay your bills when they're due – if you don't, it will have negative impacts on your credit rating.
---
Building Business Credibility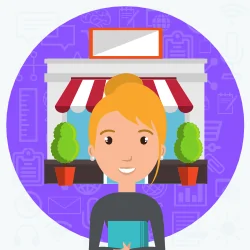 One of the hardest things new businesses face is building trust with potential customers. When there's the option of going with a more established brand that has years of history behind it, smaller businesses often get overlooked.
But building trust in the early stages is important if you want to win the business of prospective buyers. Your credibility stretches across your brand, your products and services, and everything else you do, and affects how your brand is seen by the public and your competitors.
Part of this is ensuring your business looks credible from the outside. This means having a proper business address and a proper telephone number. However, for small businesses and those just starting out, it's not always financially viable to get an independent office space – and this is even more the case when you're running an online business.
You might think that a home office is the best option financially and logistically, but it doesn't always send out the right impression to potential customers.
---
Think about it this way:
Are you more likely to purchase from a brand that has a business address in an area you know and is prestigious, or from a brand that has an address in a run-down area that you're not familiar with?
Remember here that your first communications with a prospective customer or client will determine the future of your relationship with them, and you want to do everything you can to make sure they trust you and view your business as credible.
This is where a virtual office space can come in handy. You get a legitimate business address you can put on your website and stationary and a place to get your mail sent to.
Add your virtual office address and 411 registered VOIP number to everything. Put it on your contact page on your website, in the footer of your website, on your business cards, and on your signature line in your emails.
This is good marketing so people know how to reach you, but it also shows that you're organized and gives your business more credibility.
---
Get Efficient and Delegate
When you first start a business, it can feel like there's a never-ending list of things to do. Getting set up is a lengthy process that takes time, but there are ways you can make things easier by delegating tasks that can be given to someone else.
While the thought of outsourcing tasks might make your eyes widen and your wallet quiver, it doesn't have to be incredibly costly.
In fact, as well as providing you with a professional address and phone number, a virtual office also offers services that can make your life much easier as a new business owner.
For example, the vast majority of virtual offices have a live receptionist on-site for all their clients. This means that when a potential prospect calls up they'll reach the receptionist who can then take a message for you, saving you wasted time on any unnecessary calls.
This service can save you unnecessary time and costs by:
Turning voice messages into transcripts so you can quickly scan any incoming messages
Scheduling appointments so you never miss a client meeting
Screening out spam calls so you can avoid wasting time on the phone with telemarketers
Providing you with a local and toll-free number so you can get a local and professional presence
Providing a great first impression with a friendly and personal touch, helping you to capture every possible lead
---
New Business + Virtual Office = Match Made in Heaven?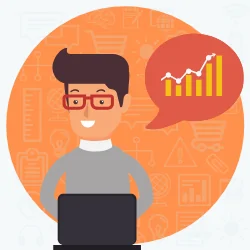 When starting a new business, money is going to be at the front of your mind and it's likely you'll be snowed under with a to-do list longer than your arm.
But it's important that you set your business up legally and in the right way. That means registering as an LLC, getting any business licenses you might need, and taking the necessary steps to start building business credit.
After that, you can focus on nurturing the credibility of your business and delegating tasks to make that never-ending to-do list a little more manageable.
With a virtual office, you can get the professional look of a physical address and phone number without having to pay an arm and a leg for an independent office space. If you're just starting out, this might be the perfect solution to give your business the foundation it needs to grow and thrive.
---
All 50 Secretary of State Websites and Business Entity Search
Further reading and resources: