>> Related: Quickly View All Coworking Spaces Near You
TABLE OF CONTENTS
---
Who should read this guide?
Anyone who is interested in coworking. Whether you are part of the fan club, an active coworking user, someone who's looking for the right coworking space, part of the HR department of a large or small company, or if you're just curious as to what all the fuss is about, this guide is for you.
Why did we write this guide?
Coworking has exploded over the past couple of years, and along the way it has redefined what the workplace is and what it should look like.
By 2022, 5.1 million people will be coworking; by 2030, 30% of corporate portfolios will be comprised of coworking or some other form of flexible workspace; in the next few years, coworking will represent between 5%-10% of office inventory in various markets; and coworking will grow in retail space at a rate of 25% annually through 2023. There are hundreds of stats out there that prove coworking's success; and though many still believe it's a bubble, the recent entrance of property groups and landlords into the playing field is a key indicator that coworking is here to stay.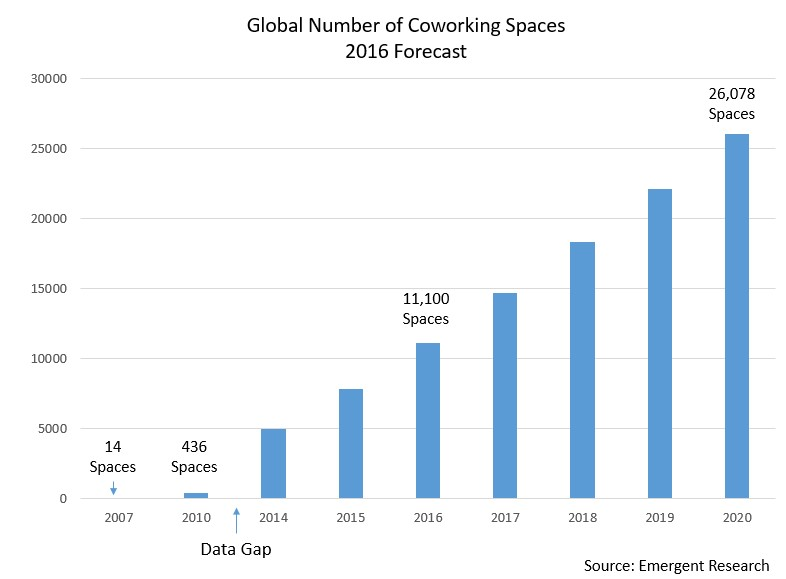 So we created this guide to help people understand what coworking is, what it has to offer, and how individuals and companies are leveraging coworking to improve productivity, combat loneliness, have flexibility, address wellness, and expand their networks; we wrote it to help companies and individuals figure out whether coworking is the right choice for them.
---
What is Coworking?
According to the Oxford English Dictionary, coworking is: "The use of an office or other working environment by people who are self-employed or working for different employers, typically so as to share equipment, ideas, and knowledge."
In its early days, this definition would have sufficed. However, over the past 10+ years, coworking spaces have evolved into more. Coworking isn't only for freelancers, startups, or entrepreneurs. Companies of all sizes are now also leveraging coworking; Facebook, Spotify, Pandora, Accenture, Expedia, Samsung, IBM, the list goes on.
Truth be told, there exists some disparity among expert's definition of coworking. (We suggest you read the following posts: Why Coworking Needs a new Definition; Coworking does not Need a New Definition; Coworking might not Need a new Definition, but It Needs to Broaden the One It Has.)
For the purpose of this guide, we will stick to the following definition:
"Coworking is a hospitality-driven and flexible working environment that has revolutionized how people experience real estate, that allows for diverse groups of people to work together, and that centers around the principles of community, openness, collaboration, accessibility, and sustainability."
[custom_block description='Tired of working alone? Choose a local
Coworking
center and work in a friendly business community with like-minded professionals. Flexible, low-cost and affordable.' image='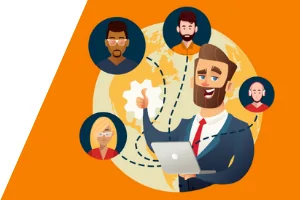 ' link='
Get started here
']
---
A Brief History of Modern Coworking
The first official modern day coworking space (we say modern day because the concept of coworking has been around for centuries now)  was opened in San Francisco by Brad Neuberg back in 2005. The first Impact Hub was also established in 2005; Impact Hub has grown to a global network of coworking spaces with presence in over 50 countries.  
However, it wasn't until 2008, in the midst of the financial crisis, that coworking began to take off and mushroom across different cities and markets. By then, there were around 75 coworking spaces in the US.
Why 2008? Economic and technology developments. 2007 marked the year a lot of tech companies and products were born, however widespread adoption began to intensify in 2008. This was the year people began to use technologies that empowered them to work from anywhere, anytime.
2008 was also when the worst financial crisis since the Great Depression of the 1930s took place. It led to high unemployment rates, which in turn spurred entrepreneurship levels. A lot of people were looking for a place to work that offered flexible terms and short leases; startups, entrepreneurs, and freelancers were the early adopters of coworking.
In 2008: the coworking visa was created; the first unofficial coworking conference took place during South by Southwest (SXSW), which eventually evolved into the Global Coworking Unconference Conference (GCUC); coworking began to get some media attention; coworking spaces were mostly open space.
From then on, year after year, coworking has grown and evolved.
In 2009 the first coworking book was published, in 2010 WeWork — the largest coworking brand, which operates over 540 locations– was founded and the first coworking conference in Europe took place. Since 2010, up until 2017, coworking grew at an average annual rate of 23%.
In 2011, Deskmag conducted the first ever global coworking survey.  In 2012, the first GCUC conference took place in Austin, TX. By 2013, established serviced office and business center operators were also offering coworking space as part of their workspace offerings. In 2014, Regus bought the Netherlands-based coworking company, Spaces, which it has now grown to over 180 locations worldwide.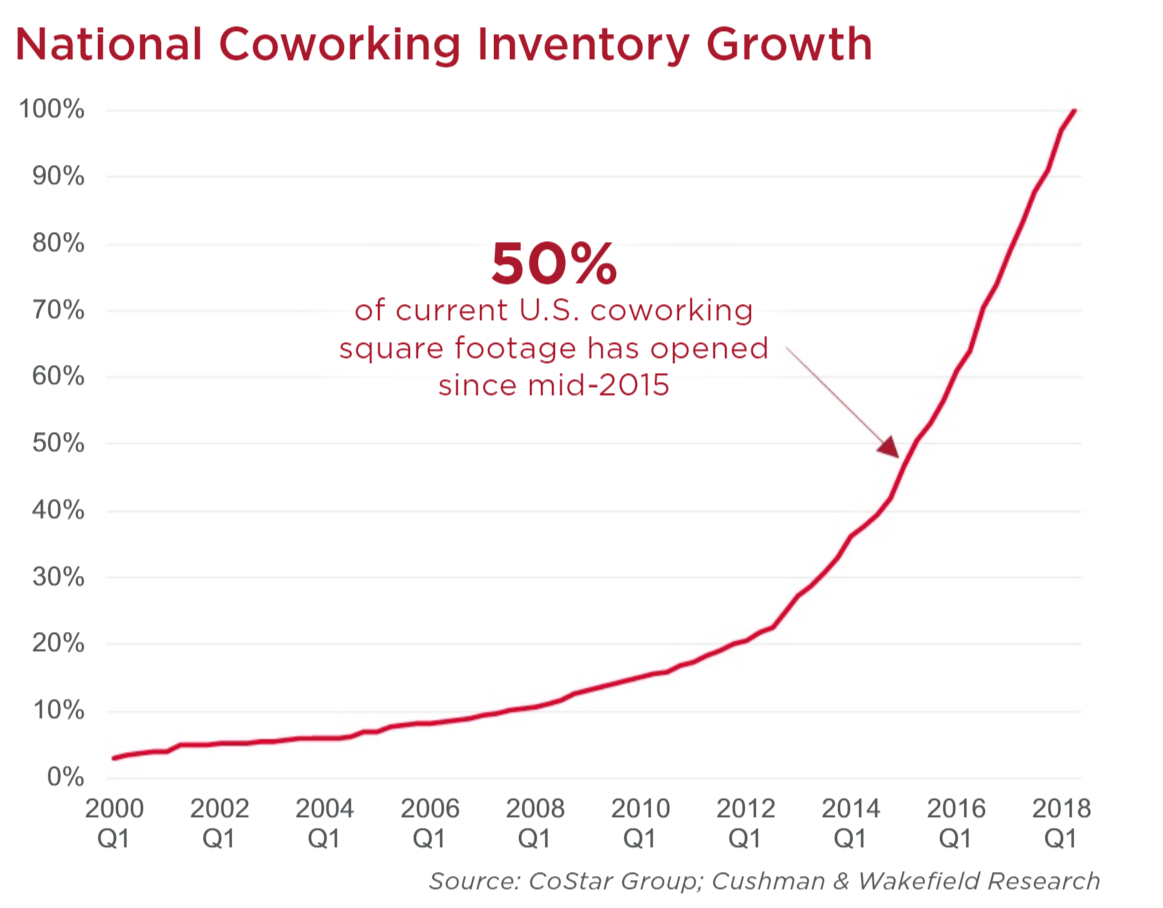 Fast forward to 2019 and there are now over over 14,000 coworking spaces across the world. Coworking has gone from trend to mainstream and it's revolutionized the way people experience the workplace. While in the beginning coworking was mostly open, shared workspaces; most coworking operators today offer a variety of open and private space, as well as other informal work areas.
Coworking hasn't just evolved in terms of design; it's also evolved in terms of whom it caters to. While formerly the vast majority of coworking members were freelancers, entrepreneurs, and startups; today SMEs and large corporates are all leveraging coworking in order to attract and retain talent, as well as to connect their businesses with the larger community.
---
Who Uses Coworking Spaces?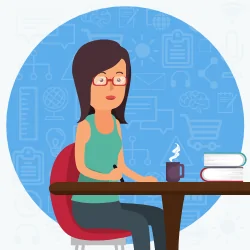 Freelancers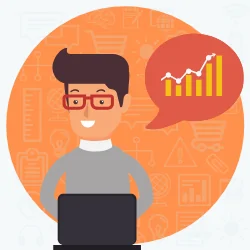 Entrepreneurs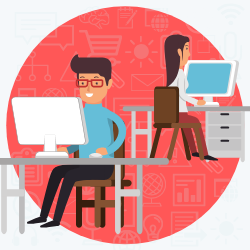 Startups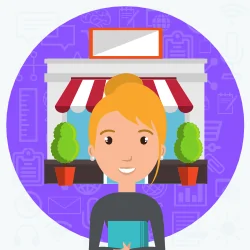 SMEs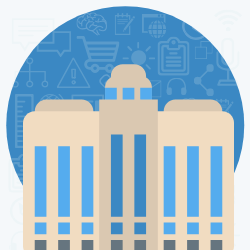 Large companies
---
Basic Coworking Amenities
Though each coworking space is unique in it's own way (design, niche, location, etc.), there are some basic amenities that you can find in most, if not all, coworking spaces.
WiFi and ethernet connection
Hot-desking and dedicated desk areas
Coffee + tea
Events and networking opportunities
Conference and meeting rooms
Quiet areas
Printing
Parking space
Kitchen area
Some coworking spaces also offer specialized or unique amenities, some are included as part of the membership and others come at an additional cost.
Concierge services
Virtual office services
Snacks and refreshments
Beer
On-site massage sessions
Yoga and meditation classes
Sit-stand desks
24/7 access
Wellness stations or rooms
Outdoor working space
Pet-friendly
Childcare
---
Types of coworking memberships
When modern day coworking began back in 2005, most coworking spaces were open and shared workspaces. For various years, people believed coworking was synonymous with open space. This isn't the case, at least not anymore. Open space can facilitate collaboration and interactions; however too much of it can be counter-productive.
As a response to market needs and demands, from 2010 onwards many coworking operators began to incorporate private and quiet areas to their coworking spaces. In order to cater to the growing market of coworking users, coworking spaces today offer different types and lengths of memberships.  Here is quick overview of the ones most operators offer:
Community or hot desking membership
This type of membership allows individuals to use all of the community areas and to choose a desk on a first come first serve basis.
Dedicated desk membership
Dedicated desks are typically found in the shared workspace area and it differentiates from hot desking in that people will have their own personal desk, which typically also includes some sort of storage area.
Private office membership
Private offices are enclosed and in a different area or floor from common areas. It provides users with extra privacy, more space, and additional amenities (extra meeting room hours and printing, for example).
Team office membership
The same as private offices, but can accommodate (depending on the space) anywhere from 2 to 10+ individuals.
Day passes
For people who aren't ready to commit to one single location or who travel a lot for work. Day pass holders can use the hot desking area on a first come, first serve basis.
Virtual offices and conference rooms
For those who aren't looking for workspace but would still benefit from having a professional address, mail handling, and access to meeting and conference rooms. You can learn more about virtual offices here.
---
How to choose the right coworking space
There are several things that you need to think about when choosing a coworking space. For starters, think about location; you'll want a coworking space that easy to get to and that offers parking space. You should also consider the surrounding area, is the space surrounded by other local businesses, by restaurants, and shops?
Once you've found a location that will work for you, you have to start thinking about the tools and resources that you want to have access to. Depending on your line of work, you'll also need to think about what type of workspace best suits your professional needs: hot desking, dedicated desk, private office, or team office.
Then look at the amenities, both those included with a membership and those that come at an additional cost. Pick out a few coworking spaces that seem to suit your needs, then schedule a visit and a tour of the space. Touring the space will allow you to take in the look and feel of the space and its community. While touring, make sure you try out a couple of the chairs and desks available to check if they are comfortable and ergonomic. Take some time to analyze if the space will provide you with enough natural light and different work environments; it's also super important that you measure noise levels.
Here's what you need to think about:
Location

Community

Overall work environment

Comfort (furniture, lighting, noise)

Amenities

Types of memberships and their length

Cost

Community
---
The benefits of coworking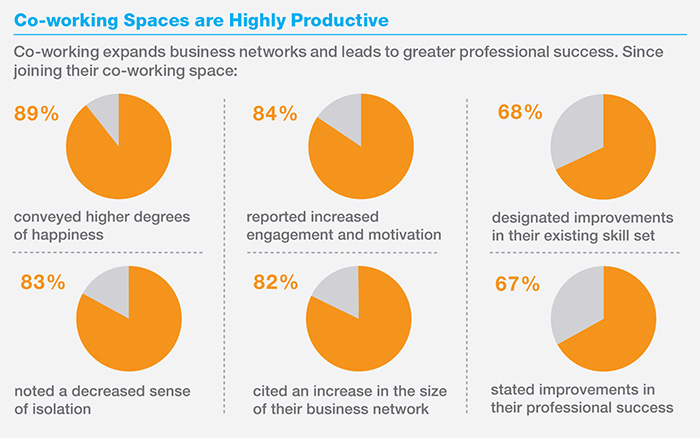 For freelancers, startups, entrepreneurs, and SMEs
One of the biggest benefits of coworking for freelancers and startups is flexibility and accessibility. Freelancers, startups, SMEs, and entrepreneurs don't always have the available cash flow to rent office space. Coworking spaces provide them with the necessary office infrastructure with the added benefit of flexibility; they can grow or contract the amount of space they use based on current needs. Since coworking spaces offer all of the real estate and facility management basics (electricity, water, cleaning, reception area, IT infrastructure, etc.) it allows users to focus on their work instead of being caught up with back office issues.
Coworking spaces also provide those in this group  with plenty of networking and collaboration opportunities. It provides individuals with access to a vibrant community, which can help reduce loneliness, especially among freelancers and home workers. Coworking users also report being more productive working from a coworking space than working from home or a coffee shop.
Coworking also offers entrepreneurs, freelancers, startups, and SMEs with access to new resources and talent. Given coworking's nature, professionals from different fields are all working together in one space; those in this group can find a potential client, partner, or vendor for a specific project within the coworking space.
For large companies
For starters, coworking can help large companies keep their balance sheets on the positive side due to their short lease nature. New lease accounting standards require companies to show long or new leases on their balance sheets, leases shorter than 12 months are exempt from this provision.
More importantly, however, coworking can help large companies attract and retain talent. The nature of coworking spaces, its design and amenities contribute to a better workplace experience, one that speaks to younger workforce generations. Moreover, coworking spaces have been proven to improve motivation and productivity levels among employees.
Large companies are also tapping into coworking in order to drive innovation and collaboration within their organization. Using a coworking space puts corporates in the same area where a lot of startups are; where new ideas are coming into life. Large companies also greatly benefit from the flexibility that coworking offers; it's a cost-effective resource  that corporates can use to enter new markets and grow and downsize teams as needed.
---
Coworking etiquette
Part of the beauty of coworking is that you are sharing space and resources with everyone. This means that in order for the experience to be pleasant for those involved, you have to mind the right coworking etiquette.
null
Don't take loud calls in shared workspace areas

Don't listen to music, videos or podcasts on speakers (wear earphones)

Clean after yourself (your desk and in the kitchen)

Make more coffee if there's none or if you took the last of it

Be nice and cordial, say hello and offer a smile

Introduce yourself to others

Before you take someone else's time, ask if they have a moment

Book meeting rooms in advance, respect your meeting room time and don't overstay

Be mindful of the food you put in the microwave

Don't leave leftovers in the fridge for a long time (if you're not going to eat it, toss it away yourself)

Use professional and friendly language
Have any tips or suggestions that you think we can add to this guide? Reach out and let us know. If you'd like more information about coworking or flexible workspaces overall, sign up to our newsletter!