---
Q: Is California a good state to register an LLC in? How can I find a professional address without breaking the bank in California?
A: California is known for its flexible ownership and the fact that running an LLC isn't just limited liability, but pass-through taxation as well. To find a secure, professional address in California without becoming susceptible to California rent, consider using one of Alliance's Virtual Offices.
---
In the modern, digital-first labor market, the companies that can adapt quickly enough are the businesses that will see continued success.
One of these adaptations is providing hybrid workstyles that allow those who want to work in the office to do so while simultaneously allowing the remote workers to feel connected and not left out.
According to a recent Gallup poll, more than half of American workers can work remotely, and half of these employees are already working in hybrid positions.
In the direct aftermath of the pandemic, many corporations thought they could easily coral their workers into returning to the office. However, The Great Resignation that began in 2021 showed that this wasn't going to be the case.
Now, regardless of what economists and experts predicted, remote and hybrid workstyles are here to stay.
Remote work has seemingly plateaued but at a percentage considerably higher than pre-pandemic numbers, and hybrid work continues to grow in popularity.
Thanks to the influx of flexible work options that have inundated the market, entrepreneurs can now start businesses anywhere they want through a process that's easier than ever.
With the introduction of Virtual Offices and other remote and hybrid tools, business owners can incorporate LLCs in cities nationwide. For example, many business owners are now looking to start a California LLC to assist in ventures, new and old.
Despite an approximate 30% drop in tech stocks in 2022, the sheer number of technological advancements in recent months has venture capital firms and consumers alike patiently awaiting "the next big thing." Businesses looking to capture some of this speculation, land on the cutting edge of new technologies, or make a name for themselves in the world of startups are incorporating California LLCs.
In this article, we'll explain the basic LLC registration process, how LLC registration is different in California, the best address to use during your California LLC registration, and finally, how Alliance can help you find a high-quality Virtual Office in California.
So, if you're desperately trying to find the California LLC registration fee or googling "how to register for an LLC in California" – you're in the right place. Keep reading for an easy guide to creating a California LLC for your business.
---
---
What is the basic LLC registration process?
Before we dive into the California business LLC registration process, let's take a moment to explain the LLC process in general.
Keep in mind, this process varies by state, and different states have different rules and regulations, but overall, this short guide will give you an easy idea of the steps you need to take to properly incorporate your LLC.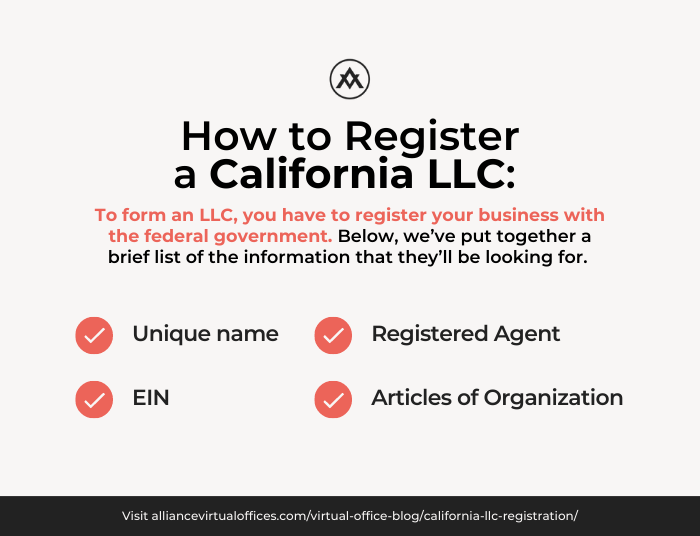 To form an LLC, you have to register your business with the federal government. Below, we've put together a brief list of the information that they'll be looking for.
Unique name 
Registered Agent 
Articles of Organization 
EIN 
Unique name
The first step for any individual hoping to start a business is to come up with a unique name that hasn't already been registered as an LLC.
Unfortunately, there's more to keep in mind than simply ensuring that your business name is different from any other business in operation.
First, you'll likely need to include the phrase "limited liability company" in your filing documents. This doesn't mean that you have to include "LLC" on every piece of branding for your company, but it does mean that you'll need to clarify the type of entity for the government when filing. 
This is likely to ease confusion and give federal and state workers an easy method of categorizing your business. 
Next, you can't mislead customers with your name. 
This is as simple as keeping other entity types out of your business name. For example, you can't start a Limited Liability Company that has 'corporation' or 'corp' in the name. 
Similarly, you can't add words like 'city' or 'federal' to your business's name. Unless you're in these respective industries, you can't include words that would lead consumers to believe your business is in a different industry, like 'bank' or 'insurer.' 
Finally, you can't create an obscene business name.
This rule, like the others, varies slightly from state to state, but a good rule of thumb is that you shouldn't include words you'd be embarrassed to say in public in your business's name. 
Generally, you don't want to include swear words or words known to induce indecency.
That said, it's hard to imagine naming an LLC with swear words and expecting consumers to feel interested in your products or services. 
Instead of finding a name with shock value, find something that's memorable, gives you something to grow into, and informs consumers about what your company is trying to do.
Registered Agent 
Regardless of the state you decide to register an LLC in, you'll need a registered agent. 
---
Read more: Finding a Registered Agent: A Business Owner's Guide 
---
This is someone you choose to designate as your business's representative. In most instances, this person needs to be within the state the LLC is registered in. 
Because the rules for registered agents vary so much by state, we'll look more at the ins and outs of how to secure the proper registered agent for your operations soon.
One thing to keep in mind is that you generally shouldn't act as the registered agent for your LLC. There's simply too much that could go wrong.
Articles of Organization
Your articles of organization is a legally binding document that establishes your LLC. 
The articles of organization include a variety of information that you'll be required to fill out before you're able to go through with registration. 
Here's a quick list of some information you might need to include when filing your articles of organization.
LLC name 
LLC address and principal place of business 
Nature of your LLC 
Registered agent name and address 
The names of any applicable members, managers, or directors 
 
Independently, each state may have slightly different requirements for the information you need to provide in your articles of organization.
You can typically find the articles of information in a specific state by visiting the Secretary of State's website, and the entire process can often be handled through the same website. 
Articles of organization are, at their core, documents that explain how the LLC will be managed.
EIN
Your EIN, or employer identification number, allows you to build business credit and file annual reports in the future. 
If you want to open a business bank account for your LLC and ensure that you're staying compliant with statewide policies, you should get your employer identification number as quickly as possible. 
To get an EIN, you'll just need to visit the IRS website to apply for an employer identification number, regardless of whether or not you're securing a California LLC.
How is LLC registration different in California?
For the most part, LLC registration in California is much the same as it would be anywhere else.
Entrepreneurs looking to register their LLC remotely in California will have to take the same steps as everyone else, but thankfully, there are countless remote work tools that you have access to that can make the process smoother.
---
Read more: The Best Work from Home Tools for Entrepreneurs
---
That said, if your business originated in a different state, you'd need to take the steps required for California foreign LLC registration, which just means that you're registering the business as an out-of-state entity that's doing business in CA. 
For more information about registering a foreign LLC in California, check out this Forbes guide.
Below, we've put together a step-by-step guide of what you'll need to do to handle the state of California LLC registration process.
Choosing a business name 
Appointing a registered agent 
Articles of Organization 
Operating Agreement 
EIN 
Business name
The first step is to choose a business name. As you know, any LLC must include "LLC" in the business's official name.
Naming your business keeps the same rules that were mentioned above, but now that you're trying to incorporate specifically in California, you're able to use the resources that the state provides to make the process more straightforward.
Once you've thought of a unique name that isn't profane or misleading, head to the California Secretary of State's website and use this page to search for similarly named businesses.
Due to the sheer number of registered LLCs, there's a good chance that the name you were thrilled to have come up with is already in use. 
If this is the case, try to switch the name around a bit without being too close to the existing LLCs. You can also prepare a list of alternative names in the event your first choice is unavailable.
Once you've created a unique name that includes "LLC" in the business name and isn't intentionally offputting or profane, you're ready to search for a registered agent.
Registered Agent 
The next step is appointing a registered agent. The registered agent needs to be a California resident or a business with permission to operate in California.
This means that even if you don't know anyone in California that you're comfortable with asking to act as your registered agent, you can use one of the many businesses that provide the service.
In addition to being an individual living in the state or a business that's able to operate in the state, your registered agent needs to be over 18 years old, needs to have a physical address in the state, and needs to be readily available during regular business hours to receive legal documents or official correspondences addressed to your LLC.
Essentially, your registered agent acts as a go-between for important and time-sensitive documents and your business. This is why you shouldn't ever act as your company's registered agent.
If you get sued, subpoenaed, or sent another time-sensitive kind of official document, the burden is entirely on your shoulders if something gets misplaced.
Even if you know no one in California, you'd be much better served using one of the services that appoint you a registered agent rather than trying to handle all the important documents yourself.
Not to mention, you will have to disclose the address of your registered agent. If you're working from home, you don't want to put your personal information into the public domain if you can help it.
With a third-party professional service, you get an added layer of privacy and protection for your personal and business information while ensuring that all relevant documents make it to your desk on time.
Articles of Organization
You will then need to create your LLC's articles of organization.
This document can be found here and includes all of the aforementioned information about your LLC, like the name of your business, the duration of the business, its address, the registered agent's name and address, whether the LLC will be member or manager-managed, whether the LLC will provide professional services or not, the name and address of each organizer, and the name and address of at least one managing member. 
You can submit this document along with the $100 fee via mail or electronically.
If you're sending the document by mail or by person, the articles will go to this address:
1500 11th St, 6th Floor.
Sacramento, CA 95814
Alternatively, if you want to submit the document electronically, you can use the Secretary of State's website to file.
That page can be found here.
Operating Agreement
After you've completed your articles of organization, you should create an operating agreement. This isn't required but is a good idea, nonetheless.
This agreement lays out how the company will operate, keeping you from running into problems down the line. 
Starting a business is exciting, especially if you're doing so with your friends, family, or other business partners.
Despite the excitement of starting a business, you don't want to find your business in a position a few months down the road where disagreements are unable to be settled amicably. Although this may not happen to everyone, an operating agreement helps prevent such issues.
An operating agreement is a legally binding document in California, and it outlines your LLC's ownership and management structure. Not to mention, it includes the rights and responsibilities of all members.
Ironing out the logistics, like how the business will be run, the profit and losses distribution, and how the LLC might be dissolved or sold aren't fun conversations, but they're better to have sooner rather than later.
Keeping an operating agreement in place will allow your business to avoid disputes and misunderstandings by keeping everyone honest and your LLC compliant with a legally binding document that perfectly lays out the functions of your organization.
You can find copies of mock-operating agreements online without any trouble, but you can also write your operating agreement yourself or as a team.
EIN
The final step is to obtain an EIN by filing on the IRS website. This can be done for free.
The form you'll need to file for a California LLC EIN is called a Form SS-4, which can be found here. 
Before the pandemic, businesses were forced to handle Form SS-4 by mail, but now, you can file this form electronically too. 
Once you've completed all these steps, you're ready to start your LLC in California. 
Remember, if you're the sole member of the Employer Identification Number and don't want to be taxed as a corporation, you don't even need to obtain an EIN. 
That said, it's still highly advised that you do, as you'll need an EIN for things like business banking.
What is the best address for your California LLC registration?
Whether registering an LLC in California as a local or from another location, using a Virtual Office is the best way to approach it. 
A Virtual Office is a service that allows businesses to register for an LLC without securing physical space in the state.
With a high-quality Virtual Office, like the ones Alliance provides in all fifty states, you'll have access to physical workspaces, meeting rooms, mail forwarding add-ons, virtual receptionists, and more.
According to CNBC, California is one of the best states in terms of access to capital, so there is plenty of money to go around for businesses in the state.  
The key is determining how to access these funds. It's easy to start a digital business, but difficult to do it effectively. 
---
Read more: Actionable Tips to Transition Your Business to a Digital First Model
---
A Virtual Office saves you money compared to a traditional office. This makes it easier for you to grow your business by giving you more capital to invest in other areas, like your business infrastructure. 
A Virtual Office also makes it easy to protect your privacy by keeping your home address out of the public domain. 
When you register an LLC, all of the information is added to the public domain. So, if you use your home, your address is easily accessible to anyone who feels inclined to look.
In addition, a Virtual Office allows you to register and operate from anywhere. You can work remotely from home or from halfway across the globe. 
All your mail can be forwarded to you, so you never miss out on key communications. 
For existing businesses looking to expand to California, you can also use one of Alliance's Virtual Offices as a satellite location to help you corner new markets for a fraction of the cost of physical office space. 
---
Read more: Satellite Office: Your Complete Guide 
---
Another benefit of using Alliance's Virtual Offices is the easy access you have to on and off-site support. Should you have any questions or run into any problems, your Virtual Office staff are ready to provide friendly and attentive care. 
Best of all, you have access to on-demand meeting spaces you can use when you need somewhere to host meetings. 
This simplifies your virtual operations and adds a layer of professionalism to your business.
Using Alliance's Virtual Offices for your California LLC
Filing an LLC is a straightforward process that can be done from the comfort of your home. 
In the past, starting a business required finding a reasonable location that would entice customers, and paying the lofty lease fees, monthly rent, utilities, and general upkeep. However, entrepreneurs now have a streamlined method of registering an LLC that takes only minutes. 
Choose a business name, designate a registered agent, submit your articles of organization and operating agreement, obtain an EIN, and you're ready to do business in California!
Alliance's Virtual Offices are the best way to register because they protect your personal information and solidify your business's reputation, all while supporting your remote or hybrid workstyles.
---
Further reading:
---
Alliance offers Virtual Office services and several other tools to entrepreneurs and business owners alike. 
If you're hoping to find a California LLC, consider using one of Alliance's Virtual Offices to allow you to secure a prestigious address in the heart of a central business district. 
Contact us today for more information about starting an LLC in California, and be sure to check out our Virtual Office Blog for more information!