---
Q: What is the best address for my virtual business? What should I look for in a virtual office provider?
A: The best address for your business depends on the services or products you hope to provide. You should look for high-quality providers that are transparent and honest about pricing and support. Alliance Virtual Offices provides highly professional and well-known business addresses that will boost your company's legitimacy.
---
Modern businesses are worlds apart from companies that launched even a few years ago, and the way we work looks completely different too. 
In the past, owning a business was an expensive venture that required entrepreneurs to take serious risks to get started effectively. Now, as modern technology continues to advance, this couldn't be further from the truth. 
Historically, the concept of shopping from home was when consumers would use catalogs to mail in their orders before waiting several business days for the package to arrive. The concept of consumers being able to make purchases that arrive in 24 hours was unrealistic.
Thanks to the influx of digital businesses, advanced smartphones, and a culture of convenience and accessibility, 76% of American adults now shop online from their cell phones. Surprisingly, this is more than the percentage of Americans using a desktop, laptop, or tablet for their online shopping.
In our increasingly digital world, entrepreneurs and business owners need to take advantage of the tools and services they have available. 
One of these tools is a virtual business office address – or, even better, a virtual office. 
With a high-quality virtual office, business owners can take advantage of the benefits associated with traditional office space without sacrificing the flexibility and decentralization of remote and hybrid workstyles. 
In this article, we'll explore why virtual businesses need flexibility, why they need to have access to space, and why Alliance is the best virtual business office address available. 
So, if you've ever searched for office space in different cities, like a Singapore virtual business office address, you're in the right place.  
Keep reading for more information about using a virtual business office address! 
---
---
Why virtual businesses need flexibility
When the pandemic was at its worst and workers were flooding into remote work because of government shutdowns and national shelter-in-place ordinances, many experts and economists thought it wouldn't last.
The idea of abandoning the traditional style of working was too much for some individuals to imagine. It just didn't seem possible.
Now, as the pandemic continues to wind down, remote and hybrid workstyles have been cemented into the public consciousness and become a vital part of the modern labor market.
In the past, businesses used authoritarian management styles to interact with their employees.
This typically included one manager for a given team dealing with delegations and communications. The authoritarian management style encouraged workers to keep their heads down and deal with problems independently. 
Workers were expected to deal with one particular individual, and going above that individual's head to speak with their boss was seen as rude, sneaky, and punishable.
Unsurprisingly, these authoritarian management styles cultivated toxic, unforgiving, and stressful workplaces.
With the influx of remote and hybrid workstyles, flexibility, collaboration, and decentralization are replacing the older, less forgiving workstyles.
Where traditional businesses valued one point of contact for as many workers as possible, modern businesses are spreading these points of contact around. This allows remote workers to always have someone to talk to, and if that point of contact isn't helpful, they know exactly where to go next.
Authoritarian workstyles focus on the individual, whereas collaborative workstyles focus on the team.
Authoritarian workstyles pushed the idea that you should live to work and work to live, that you were only as good as the accomplishments you'd achieved for the business. But collaborative workstyles acknowledge the need for a healthy work-life balance and employee wellness.
To keep up with this rapidly changing environment, businesses need the flexibility and convenience of a virtual business office address that provides them with physical workspaces and other amenities.
Sure, having mail forwarding is fine, but to succeed in the fast-paced modern environment, business owners and entrepreneurs alike need to utilize virtual offices that provide applicable services and tools for scalability.
---
Read more: Virtual Office Services MUST Include These Key Features
---
So, considering these changes, why do virtual businesses need flexibility?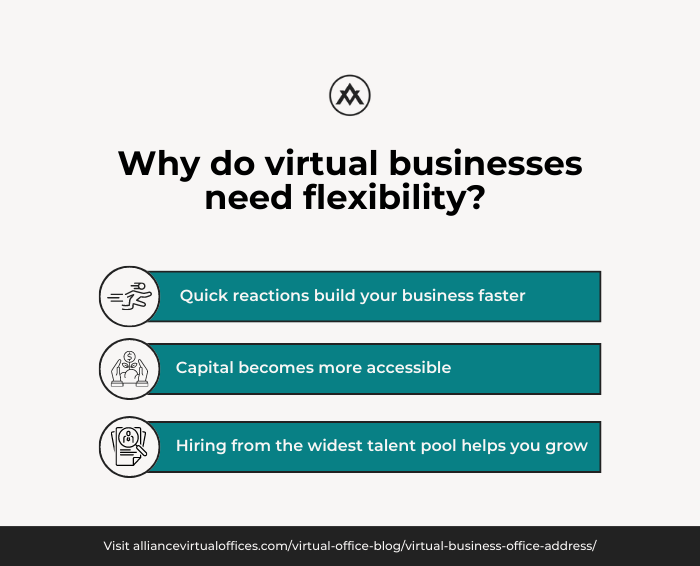 Well, the reasons are as follows.
Quick reactions 
Accessible capital 
Hiring  
Quick reactions
A virtual business needs to be able to strike fast. It needs to stay nimble to move with the market and outmaneuver the competition. 
Because the modern market is shifting so often and with so much volatility, the best thing virtual businesses can do is stay on top of the news and current economic outlook to make quick, reasonable decisions when the iron is hot. 
In today's economy, the businesses that can react to these vicissitudes in the labor market are the businesses that are setting themselves up for long-term success. 
Accessible capital
Outside of the need to strike while the iron's hot, virtual businesses need to stay flexible to have funds available when necessary. 
Part of being flexible is spending money on what your business needs and uses and nothing more. 
In the past, traditional business ownership was an expensive process requiring sizable deposits at various stages of creating a company.  
First, you had to find a worthwhile location within your budget and close enough to the audience you wanted to reach. Next, you were responsible for paying a hefty security deposit, monthly rent, monthly utilities, and constant office upkeep.
Now, with the right virtual office or virtual business mailing address, businesses don't have to spend big chunks of capital at various points in the process of creating a business. 
Where traditional office space was prohibitively expensive and untenable for many individuals, virtual offices give entrepreneurs a low-risk way to start a business without paying exorbitant sums in business registration and securing space. 
Virtual businesses need to optimize spending to reach new people and generate new sales. Flexibility allows these businesses to make the best use possible of the money saved via virtual office registration.
Hiring
Finally, virtual businesses need to be flexible for the sake of their hiring pool.
One of the nicest aspects of running a virtual business that employs hybrid or remote workstyles is how wide the hiring pool becomes. When you're flexible, you can draw from a wider talent pool while working from anywhere. 
Traditionally, you needed to find capable employees within a 60-mile radius of your business. Otherwise, you were stuck using lower-quality laborers or trying to incentivize employees from other areas to move to your business. 
With remote and hybrid workstyles, you can hire anyone, anywhere, so long as they have a computer and internet access, allowing you access to the best talent available.
Flexibility allows virtual businesses to take full advantage of the services and tools at their disposal. Not to mention, a flexible business is a business that can make necessary changes and tweaks to its business model in real-time as situations change.
Why virtual businesses need access to space
Remote work is great, but working from where you eat, sleep, and relax can be exhausting.
According to Pew Research Center, remote work has slightly decreased since its peak during the pandemic, but hybrid workstyles have increased in popularity. 
Thanks to the Great Resignation that began during the tumult of Covid19, employers are in a unique position where the best way to decrease turnover and keep employees content is by offering remote or hybrid workstyles.
Entrepreneurs, especially small business owners, can take advantage of this position by utilizing a high-quality virtual office to allow employees to work from home or in a coworking space when necessary.
Sometimes, even having the option to work in a different location is enough to motivate workers and stave off burnout. 
Before we explore why virtual businesses need access to physical space, let's take a moment to define virtual offices. 
A virtual office is a service that allows entrepreneurs and business owners to run a business and register an LLC without securing physical office space. 
---
Read more: What is a Virtual Office and How Does it Work? 
---
Virtual offices give businesses a physical location to use as their business address. High-quality virtual offices have several other amenities and services that help individuals curate successful and scalable companies.
Conversely, a virtual business mailing address is a service that provides businesses with a mail forwarding address. Think of it this way: a virtual business address and post office function in similar ways. 
When you consider the differences between a virtual business mailing address and a virtual office, the easiest way to differentiate between the two is that virtual offices come with access to physical space, while virtual addresses are usually just glorified PO boxes.
So, knowing this, let's explore a few reasons why virtual businesses need access to space.
Some things require space
Mental well-being
Privacy and safety
Meetings
Space is required
Sure, working remotely is a huge part of your life as a virtual business owner, but some things require physical work and meeting space. 
Even if your entire business is operable online, that doesn't mean you won't encounter situations that would be markedly easier if you had access to physical space.
With a high-quality virtual office, you aren't committing to or paying for the right to use your office's physical space any more often than necessary.
Contrary to the traditional way of doing business, modern business owners pay for what they need, when they need it.
Having access to physical space and not needing it is a much better position to find yourself in than needing physical space and having no idea how to access it.
Mental well-being
Sometimes you need the office environment to bring your best to work. 
Job burnout is real and can have long-lasting effects if ignored.
Whether it's distractions at home preventing you from doing your best work or simple mental fatigue, knowing you have somewhere quiet and professional to work is important for optimizing your workflow and staying productive. 
Not to mention, paying attention to your and your employees' mental well-being shows that you care about your workers and sympathize with them. Both of which will lead to increased employee retention and higher productivity.
Privacy and safety
Having a physical address to register your business is important for your privacy. 
When you register a business, that business's address is immediately added to the public domain.  
Many business owners don't realize this and are taken aback by the sheer amount of spam mail and scam messages they receive after using their homes to register their businesses. 
Keep in mind, this doesn't mean that you can't work from home, not in the slightest, just that you should use a virtual office to register your business to keep your private information as safe as possible.
Nothing is worse than feeling like you can't avoid work when trying to relax. 
When you use your home address, your work and home life aren't separated at all. Not to mention, you don't want your home address showing up on every business registry.
Outside of your privacy, using virtual office space is typically safer than working from home. 
---
Read more: Working from Home Increases Cyberattack Frequency by 238% 
---
Unfortunately, the rise of digital business has introduced a slew of scams and bad actors that were previously unknown.  
High-quality virtual offices have secure networks that protect you from these kinds of scams, and considering the alternative, there's no reason not to use these networks.
Meetings
Finally, you need somewhere to meet and present. For in-person and virtual meetings, business owners need a quiet and professional location to host meetings for investors, clients, or team members.
If you've ever tried to host a meeting in a coffee shop or hotel conference room, you understand how frustrating it can be to host a meeting in public and how expensive it can be to secure a hotel conference room without excessive notice. 
When it's time to talk business, your home office won't cut it either. You need a consistent go-to meeting spot so you can schedule meetings stress-free.
You can use a virtual business mailing address in Atlanta if you'd like, or you can use a virtual business office address in London if that sounds better, but without physical space, it doesn't matter what location you choose. 
Virtual businesses need space for scalability and positioning. Sometimes, just having access to this space is equally important as the benefits you'll see from using it.
How Alliance provides both
The differences between a virtual business office address and a virtual office might seem inconsequential, but with the right virtual office provider, you can get all of the benefits of a virtual address, all the benefits of a virtual office, and all of the important benefits of traditional office space. 
Alliance Virtual Offices offers virtual business owners the best of both worlds. 
Below, we've created a list of how Alliance supports modern businesses.
Fully supported remote work
Mail forwarding add-ons
Access to coworking spaces and meeting rooms
Secure virtual offices
Fully supported remote work
Alliance fully supports your remote work.  
Not only do you gain access to a prestigious business address you can use to register your business and solidify your reputation, but you also are allowed to work from anywhere in the world.

Alliance Virtual Offices has locations in every state and almost every city, so you can register your business wherever you'd like and, with the mail forwarding add-on, get your mail forwarded anywhere you'd like.
Mail forwarding add-ons
You also get mail forwarding at whatever frequency best suits your needs. You can work from anywhere, safe in the knowledge that all your mail will r
At Alliance, we've created four separate tiers for your mail forwarding needs, depending on how much business mail you receive. Keep in mind, these prices might vary by location. 
Once monthly mail forwarding for $10.00 per month
This option is best for new businesses and companies just starting. If you're not receiving much business mail, you won't need to get it forwarded often.
That said, this first option isn't regular enough to keep you fully up-to-date on important government correspondences or other time-sensitive documents. 
Nevertheless, the monthly mail forwarding option is a great way to get a feel for Alliance's mail forwarding while keeping your mail safe and secure.
Twice monthly, or biweekly, mail forwarding for $20.00
Biweekly mail forwarding is similar to the first tier in the sense that it isn't frequent enough to keep you fully up-to-date with potentially time-sensitive documents or other correspondences, but it's not as seldom as once-monthly forwarding. 
This tier is also best for newer businesses, businesses going through a lull in incoming mail, or businesses taking some time off and just wanting occasional mail forwarding while they're away from the office. 
Weekly mail forwarding for $40.00 per month
Weekly mail forwarding is when your business is heating up. The weekly option will keep you mostly up-to-date on important documents and won't ever get your business more than a week behind on incoming mail.

The weekly tier is best for businesses that are seeing an increase in volume, both in revenue and incoming mail, but are unwilling to move to the daily option.
Daily mail forwarding for $70.00 per month
Daily forwarding is best for businesses that are successfully handling a substantial amount of business, and therefore, incoming mail. 
The daily option will keep you completely up-to-date on any important documents your business might receive and ensure you stay caught up on business mail. 
In addition, the daily forwarding option is the best value for your money.
The first two options cost about $10 per mail forwarded, the third tier costs about $7.50 each time your mail is forwarded, but the fourth, daily option only costs between $3.11-$3.69 each time your mail gets forwarded.
Access to coworking spaces and meeting rooms
Sometimes, you need a place to host meetings. Other times, you need a quiet and professional place to work.
With Alliance, you have access to both. All of our virtual offices come with access to meeting rooms and coworking spaces, so you're never without the space you need. 
Even better, Alliance doesn't charge you for preemptive use of our meeting rooms or coworking spaces like other virtual office providers do. 
Instead, we only charge you for what you use, when you use it, saving you a considerable amount of money over time.
Secure virtual offices
Alliance Virtual Offices uses a two-step verification process to keep our virtual offices safe from scammers. 
---
Read more: Scammers Hate Us: Only Legitimate Businesses Use Our Virtual Offices 
---
Unfortunately, one of the risks of using a lower-quality virtual office provider is the chance that one of the other businesses using the service is a bad actor or scam business. 
If this is the case, any other business using the space will instantly be affected by negative consumer sentiment and the association with a scam business.
At Alliance, we use a 2-step verification process to ensure no scam businesses use our services. 
We want our partners to use our services to scale their businesses and create robust business infrastructures that will last years into the future. We wouldn't be able to see this through if our virtual offices were inundated with scam businesses, so we take the necessary steps to avoid scenarios like this.
Alliance's additional amenities
Virtual business owners need a business address that supports their flexible workstyle while also providing space when they need it most. 
Alliance Virtual Offices does both, offering plans that you can customize to make the most of your business.
Whether you're using Alliance's Live Receptionist services to help you keep up with incoming phone calls without losing focus on the more nuanced aspects of your business, or using our Virtual Phone Number to further increase your business's legitimacy, there are always tools available to help your business grow.
---
Further reading
---
Alliance Virtual Offices provides virtual office services and a whole suite of other tools and services businesses can use to position themselves for the future.
With a virtual business office address from Alliance, you're getting access to physical space while retaining the flexibility that virtual offices are known for. 
Don't hesitate to contact us to see what Alliance Virtual Offices can do for your business, and don't forget to check out our Virtual Office Blog for more helpful information!