---
Q: Do virtual offices come with access to workspaces if I want to work away from home? Who provides the best virtual office space?
A: Not all virtual offices provide access to space, but the high-quality ones do. Alliance's Virtual Offices all come fully equipped with access to coworking spaces and meeting rooms, regardless of where your virtual office is located.
---
If you asked economists and industry professionals about the future of remote work during the Covid-19 pandemic, a surprising number of them would've said that it was just a fad and that work would return to normal when shelter-in-place orders were lifted. 
As you know, this hasn't been the case.
Though remote work has slightly decreased since its peak during the pandemic, hybrid work is increasing and quickly becoming the most attractive workstyle available.
A recent Gallup survey shows that nearly 53% of American workers will enjoy hybrid workstyles moving forward. Only 24% of workers work exclusively remotely, and an even smaller percentage work entirely onsite. 
For larger businesses, this can create a frustrating situation wherein they're expected to provide in-office space, coworking spaces, and the option to work from home.
However, for small business owners and entrepreneurs, the increase in hybrid workstyles and the continued prominence of these remote workstyles present unique opportunities to use modern virtual solutions to get the best of in-person and virtual work.
One of these modern solutions is virtual office space.
With virtual office space, you can take advantage of the benefits associated with modern, remote work while retaining the amenities associated with traditional business ownership. 
In this article, we'll determine whether or not all virtual offices provide space, whether all virtual office spaces are the same, where to find the best virtual office space for your particular business, and how to move forward with your Alliance Virtual Office. 
So, if you're busily looking for things like "virtual office space for rent near me" – you're in the right place. Keep reading for more on how to find the best virtual office space rental!
---
---
Do all virtual offices have space?
Before we dive into whether or not all virtual offices have space, let's take a moment to define a virtual office. 
---
Read more: What is a Virtual Office and How Does it Work? 
---
A virtual office is a service that gives businesses and individuals an address that can be used for business registration without requiring these businesses and individuals to secure physical office space. 
With that in mind, there are several different amenities that you should look for when securing a virtual office. At its core, a virtual office is a service for business registration and expansion. 
One of the amenities business owners need to include in their virtual office plans is access to physical space.
Unfortunately, not all virtual offices provide space.
In fact, many "virtual offices" are nothing more than apps or platforms. They are effectively glorified calendars that help you keep track of your files. 
Sometimes these "virtual offices" will incentivize business owners by claiming they're offering virtual office space free of charge. Unsurprisingly, however, nothing that's free will provide your business with the level of service as higher-quality, paid providers.
The free and lower-quality virtual offices that are nothing more than tracking devices and calendars are frustrating in several ways. One of the worst things about using these providers is that they can't provide you with virtual office space for LLC registration.
While these virtual offices may be helpful to businesses that have registered from home, which in itself is a bad idea, they don't provide much value. 
Some business owners don't realize that when you register a business, the business address is added to the public domain. So, when you register with your home, your personal information is added to the public domain, accessible to anyone willing to look for it.
The sheer amount of spam messages and attempted scams you'll receive make a compelling argument for why you shouldn't use your home, but if you need further motivation, disgruntled ex-employees, angry customers, or anyone else with nefarious intentions having access to where you live is something that should be avoided at all costs.
If free and cheap virtual office spaces don't provide you with an address or a place to work or meet, what are they good for?
If you've previously registered with your home address, they may add a bit of value in a strictly organizational sense, but you shouldn't register with your home address in the first place. 
Even if you aren't using your virtual office space, it's something that your provider needs to guarantee. Truthfully, though virtual offices are considered solutions for digital businesses, they are excellent solutions for any company that doesn't need excessive storage or onsite duties. 
---
Read more: The Most Convenient and Efficient Office Space for Small Business 
---
Contrary to traditional business ownership, modern entrepreneurs can pay for exactly what they need, when they need it. For this reason alone, there's virtually no reason not to ensure that you have access to virtual office space. 
Think about it this way – you aren't spending money on space unless you need it, so why risk landing in a position where you desperately need access to space but are unable to find anything? 
Instead, you can use a high-quality virtual office with access to private, professional, and easily-reservable coworking spaces and meeting rooms. This way, when you find yourself in a situation that calls for office space, you're able to quickly secure the location. 
Even better, the higher-quality virtual office providers have locations all over the country, so you'll never find yourself searching for "virtual office space near me."
Remember, the world of digital-first businesses has provided endless services and solutions for business owners, like project management software, payroll automation, and online bookkeeping services, to name a few. But none of these services or software provide you with a real business infrastructure.
Your virtual office space should act as a centralized hub for your company's operations. Without this hub, the extra bells and whistles won't be enough to help you position your company for long-term success and scalability.
Are all virtual office spaces created equal?
Now that you know that some virtual offices come with space and some virtual office spaces are nothing more than empty promises, the answer should be obvious.
No, not all virtual office spaces are created equal, and using lower-quality virtual office providers can be disastrous for your business. Below, we've listed some issues that can arise while using cheap virtual office providers.
PO boxes 
No space 
Unsafe 
No support 
PO boxes
Some are nothing more than kitschy PO boxes, and some are actual PO boxes. They may offer an address for your business, but anyone searching for the address will see a storefront that doesn't match your company. 
Unsurprisingly, this isn't a great way to bring in business in a landscape that is rife with scam businesses and consumers who have been scammed or know someone who's been scammed.
The sheer number of options the modern consumer has at their fingertips means that individuals will decide against a purchase at the first sign of anything that looks amiss. Similarly, these consumers will decide against purchases at the first sign of any inconvenience.
So, unless you're providing a product or service that is wholly unparalleled that would cause consumers to happily shrug off any red flags, you shouldn't use virtual offices that give your company an unprofessional address.
Not to mention, using a virtual office space that is a PO box may prevent you from registering your business at all.
Most states require a legitimate physical address and prohibit entrepreneurs from registering a business with fake virtual addresses and PO boxes.
If you can't use your virtual office space to register an LLC, then what's the point?
No space
These cheaper providers also fail to offer any kind of coworking spaces or meeting rooms.
As a business owner, you will have to host some meetings, likely both in-person and virtual. Regardless of the meeting style you're hosting, you need a professional and private place to do so.
Some business owners think they can get away with using their home offices for virtual meetings, and in some cases, they probably can. However, hosting important meetings with investors and potential clients and risking at-home distractions or the unprofessionalism of a homely backdrop just isn't worth it.
You want to wow investors and inspire confidence in potential clients. Without access to physical space, you'll be forced to pay for an expensive hotel conference room or other cost-prohibitive location.
Working from home is productive and enjoyable for many, but it doesn't come without issues, either. Spending so much time in one place may blur your work-life balance and lead you to experience job burnout.
Without access to coworking space, you have nowhere to go to relieve the frustrations of working from home for extended periods.
Unsafe
The virtual office providers that offer PO boxes and shady storefronts aren't worried about protecting your business.
If another business using the provider is outed as a scam, it will have lasting effects on all of the other companies using the service, including yours.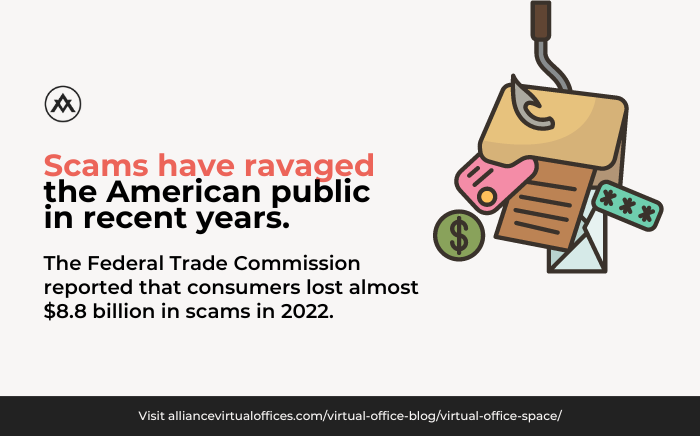 Scams have ravaged the American public in recent years. The Federal Trade Commission reported that consumers lost almost $8.8 billion in scams in 2022, so you can imagine why many individuals hesitate to purchase from companies with poor reputations or illegitimate addresses.
No support
It doesn't matter how up-to-date you are with the latest technologies and digital gadgets – there's a good chance you'll run into an issue or two while using a virtual office.
This is why IT support is such a blossoming sector and why so many businesses rely entirely on their technical support to continue operations as expected.
---
Read more: Outstanding Small Business IT Support Resources 
---
The virtual office providers who are trying to sell you the lower-quality spaces aren't concerned with helping business owners find a fix for technical issues. They're focused exclusively on making the next sale.
Without technical support, you're at the whim of your virtual office and your abilities and nothing else.
Using lower-quality virtual office space might save you money in the short-term, but the problems associated with these spaces and the damage using a cheaper virtual office can have on your reputation isn't worth the risk. Instead, you can easily find a better virtual office space available that's cost-efficient and provides safety, flexibility, and professionality.
The best virtual office space
Despite the problems with low-quality virtual office space, there is an alternative.
Alliance Virtual Offices provides the best virtual office space imaginable. Not only do our virtual offices help you cultivate a robust business infrastructure, but they also provide you with all the amenities associated with traditional office space.
Additionally, with fears of an economic recession looming and businesses trying their hardest to prepare for the financial fallout that could ensue, one of Alliance's Virtual Offices is an excellent way to save capital and prepare for any kind of economic future. 
---
Read more: What Does a Recession Mean for Me and My Business?
---
Outside of preparing business owners for a recession, Alliance was designed to help businesses prepare for long-term growth and easy remote or hybrid work.
Here are some reasons why Alliance's Virtual Offices stand out against our competition.
Prestigious locations 
Coworking spaces and meeting rooms 
On and offsite support 
Safe and secure 
Mail forwarding 
Fully customizable 
Prestigious locations
All of our centers are located in prestigious business districts, helping you solidify your reputation and build trust with leads, potential investors, clients, and team members.
In opposition to the way consumers are wary of using companies that look unprofessional or raise other red flags online, using a high-quality virtual office to boost your company's image is a great way to help consumers feel comfortable and willing to use your products or services.
Put yourself in the consumer's shoes for a moment.
You're looking for a particular product, and you've found two businesses that offer it. Both businesses are relatively new, out-of-state, and offer the product at the same price. 
The only meaningful difference you can identify between the businesses is the addresses.
One of the companies is registered to an address in a small town you've never heard of. It shares the building with an office supply store, and the more you look into this address, the more unrelated businesses you find that share the same space.
The other location is registered to an address in a familiar city, to an address you've heard of before. When you search for this business, you're immediately struck by the quality of the businesses it's surrounding itself with. 
Unsurprisingly, you're going to choose the company that appears the most professional.
This is why utilizing your company's prestigious and professional virtual office addresses is so important. You want to bolster your business's legitimacy, not detract from it.
Coworking spaces and meeting rooms
Alliance's Virtual Office centers have on-demand workspaces and meeting rooms.
Sometimes, all you need to avoid job burnout is another option. There's no better way to break the monotony of extended periods of working from home than utilizing a private, professional coworking space to recharge, refresh, and refocus.
Similarly, as a business owner, you're will host some meetings. Virtual and in-person, large and small, you can't avoid the meetings.
With access to Alliance's meeting rooms, you can host meetings of any size without securing a hotel conference room or risking hosting a meeting in a public place or at home. 
Meetings are an opportunity to show potential investors and clients how serious you are about your company. If you're hosting these meetings, virtual or otherwise, in an unkempt area loaded with distractions, it doesn't paint a very positive picture for your attendees.
All of Alliance's Virtual Offices come with access to easily-reservable meeting rooms and coworking spaces so you always have somewhere to go when necessary.
The best part is that you only pay for these spaces when you use them. Some providers try and charge a flat rate, but at Alliance, we know that some businesses won't need these services every month. 
That's why our partners only pay for what they need when they need it.
On and offsite support
Alliance's Virtual Office space comes with a friendly and professional onsite staff that can help you with any technical difficulties that you may experience. 
Whether you have questions about your virtual office itself, help with the provided amenities or other questions, you have someone you can immediately reach out to for help with whatever you're experiencing when you're in the center. 
We provide excellent offsite support too. Our helplines are available to call or email, should you encounter a remote issue with your virtual office.
Providing both options of contact allows individuals that don't want to speak on the phone a comfortable way to get help, and our support staff is ready to get back to you as quickly as possible.
Safe and secure
Alliance's Virtual Offices utilize a two-step verification process to ensure that all our partners are safe while using our services.
To avoid a situation where a scam business could harm the reputation of the companies using Alliance's services, we use this verification process to keep bad actors away from Alliance and out of our offices.
By collecting information and verifying addresses, we can sift through the individuals with poor intentions by collecting more information than they're willing to give.
We want the companies using our services to continue doing so, so we do everything in our power to keep bad actors and scam businesses out.
Mail forwarding
One of Alliance's most useful add-ons is mail forwarding. 
Unlike other providers, our mail forwarding is optional, allowing us to keep our prices cost-efficient and reasonable. 
We have four separate tiers, and while the prices of these tiers might vary slightly by location, we've put a small list together to help you know what to expect.
Once monthly mail forwarding for $10.00 per month
This option is best for new businesses.
Receiving your mail once per month isn't enough to stay on top of important correspondences. For businesses receiving any real volume of mail, you'll likely have to compensate with secondary visits to your virtual office center.
Twice monthly mail forwarding for $20.00 per month
Biweekly mail forwarding is best for businesses receiving slightly more mail but not enough to justify weekly or daily forwarding. Biweekly forwarding will help you keep better track of your mail but may not be enough to keep you in the loop without secondary visits to your center to pick up extraneous mail.
Weekly mail forwarding for $30.00 per month
The third option, weekly mail forwarding, is for when your business sees a higher volume of incoming mail or a higher volume of incoming revenue. However, you're still not ready to switch to daily forwarding. Weekly forwarding will keep you relatively up-to-date with your business mail and shouldn't require you to make any secondary trips to your virtual office center.
Daily Mail forwarding for $70.00 per month 
Finally, daily mail forwarding is for businesses receiving a lot of mail. This tier will prevent you from ever missing more than a business day's worth of incoming mail and will help you stay up-to-date with any important documents you may receive. 
As you can imagine, the daily option is the best value for your money.
The first three options only provide once-monthly, twice-monthly, and four-times monthly mail forwarding for $10 per forward, $10 per forward, and $7.50 per forward respectively. Daily forwarding, however, ensures that you'll receive your mail 18-22 times, depending on the number of business days in the month, for less than $4.00 per forward.
Fully customizable
Outside of Alliance's tools and services, your virtual office is fully customizable, and your plan can be catered to your business's specific needs. 
Don't use a virtual office provider that wants you to pay for services you don't need. Use a virtual office from Alliance to pay exclusively for the services and tools you need, and only when needed.
Customizing your Alliance Virtual Office
The real estate market is looking shaky, economists are terrified about a coming recession, and business owners are in a position that requires capital protection and optimized business expenses. 
Typically, this comes in the form of virtual office space. 
Not all virtual offices have space, and not all that offer space give you access to meeting rooms and coworking spaces. 
Alliance Virtual Offices does it all, helping you grow your reputation and supporting your remote workstyle. 
With tools like Live Receptionists and Virtual Phone Numbers, business owners can focus on the nuanced aspects of their business while using our virtual number to improve their professionality further. 
There are countless tools outside the ones Alliance provides to integrate with your virtual office.
---
Further reading
---
Alliance Virtual Offices provides virtual office, live receptionists, and more to established entrepreneurs, fledgling business owners, and everyone in between. 
We don't care what kind of virtual office space you're looking for; we're ready to help your business position itself for long-term success.
Contact us today to see how Alliance's Virtual Office space can benefit your company, and check out our Virtual Office Blog for more useful info.