---
---
Q: What does digital first mean? How can I transition my business to a digital-first mindset?
A: Digital first is a strategy that focuses almost exclusively on digital marketing and other online operations. To effectively transition your business to a digital-first mindset, you'll need to create a strong web presence, engage with customers on social media, allocate resources to digital marketing initiatives, and focus on online operations rather than traditional ones.
---
Technological advancement is never-ending, and as technology becomes more advanced, our inclination to immerse ourselves completely only grows.
According to this study by Pew Research Center, 85% of adult Americans go online once a day, and 31% of adult Americans are online almost constantly.
Businesses are making the transition too. The pandemic forced everyone inside and small business owners and corporations alike to realize how much money there was to be made through virtual operations.
Taking a digital-first approach to this increasingly virtual world is the best way for your business to take advantage of this constantly improving landscape. 
Before we explain how to do this, we first need to look at what a digital-first mindset is and how your business can make the transition.
Outside of simply becoming an online business, you'll have to maintain enough of a personal touch to force your business to stand out.
Competition is fierce, and a digital-first approach alone won't cut it. You need to use the virtual landscape to give your company a voice.
---
---

What Does "Digital First" Mean?
Digital-first is a strategy employed by media and business operations.
In our increasingly virtual world, being digital first is simply meeting consumers where they spend the most time: online.
The main idea of the digital-first model is that businesses need to prioritize online and digital platforms rather than focusing on traditional forms of media and connection.
Brick-and-mortar storefronts are struggling. Ecommerce sales continue to boom, health hazards continue to incentivize consumers to shop online, and these trends don't seem to be going anywhere.
The digital-first world continues to grow, and as more businesses adopt this strategy, it becomes less of an extracurricular aspect of business and becomes more of a prerequisite.
The digital-first strategy applies to several different aspects of business operations.
To help you stand out among the various businesses taking this approach, we've listed the areas where a digital-first mindset is the biggest benefit to your company and detailed how you can employ these strategies.
Advertising
Online shopping
Social media
Logistics
Advertising
One of the most obvious areas. Digital-first advertisements are everywhere.
Whether it be before your YouTube videos or as you're scrolling through feeds, digital-first advertisements are ubiquitous.
The only way to avoid advertisements is via popup blockers or paying for the countless free service platforms that generate revenue solely through subscription plans to remove advertisements, or by selling ad space itself.
Needless to say, you can't adopt a digital-first mindset without focusing on advertising.
Since so much of our data is being collected, advertisements are increasingly targeting individuals on whom the ads will have the greatest effect.
Traditional advertisements rely on the target customer being in the right place at the right time.
A digital-first approach allows you to deliver content to your target audience where you know they will see it.
Online Shopping
Independent of shelter-in-place orders, online shopping is convenient.
With a digital-first mindset, your business must focus on eCommerce.
According to Barron's, Americans are on track to spend over a trillion dollars this year on online shopping.
So many individuals are now shopping online that even the most basic website builders are providing easy implementation of eCommerce services. There's just no reason to adopt a digital-first mindset without focusing on online shopping.
Social Media
Any respectable digital-first business is going to have a social media presence.
Regardless of your personal feelings on the matter, the digital-first model certainly requires some use of social media to connect with consumers.
95% of teenagers are using some form of social media, and with so much competition, a personable presence on these sites is an excellent way to help your business stand out.
Growing a following on social media can take a lot of work and can be very counterintuitive.
You can hire professional social media managers to create your presence for you, and if you're struggling that might not be a bad idea.
That said, being yourself online and creating a following through your interactions will give your company an independent and personal touch that helps you connect with consumers on a deeper level.
Regardless of the path you choose, any digital business needs to be active on social media.
Logistics
If your business is adopting a digital-first mindset, there's virtually no reason not to use the various online business tools you have at your disposal.
Whether it's one of Alliance's virtual office plans or their live receptionist, there are countless digital tools available that can help your business make a name for itself in the digital landscape.
From payroll processing to automated tax filing, there are several tools available that will make the logistics of operating your business almost inconsequential.
With a digital-first mindset, you can automate all the logistics and spend more time focusing on the core operations of your business.
---

How Can You Transition Your Business into the Digital First World?
Bringing a traditional business into the future means that your first step is adopting a digital-first mindset.
This might sound difficult, but there are simple and easy ways for your business to make the switch.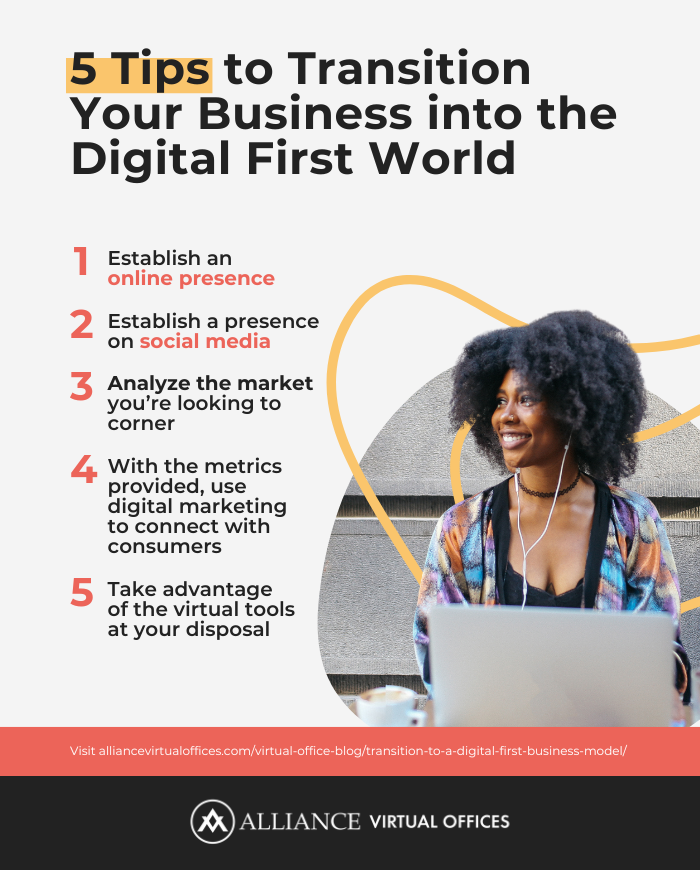 Below, we've detailed five actionable steps that you can take to help bring your business to the forefront of the digital marketplace.
Establish an online presence
Establish a presence on social media
Analyze the market you're looking to corner
With the metrics provided, use digital marketing to connect with consumers
Take advantage of the virtual tools at your disposal
Establishing an Online Presence
Establishing an online presence is key to your business's transition. If you don't have a website, that should be your primary concern moving forward.
Without a website, customers are relying on third-party information from other customers to hear about your business, or worse, not hearing about your business at all.
There are several kinds of website builders and website hosting platforms that will guide you through the process of building a website.
Sites like HostPapa offer website hosting and website building that require no programming knowledge at all.
With the available tools, you don't need to know a single thing about coding to effectively build a website. Additionally, these website builders typically provide an easy way to turn your website into an online store.
Establishing a Presence on Social Media
A strong presence on social media is a must in our increasingly digital first world.
With so many individuals using social media, building accounts on various platforms is a perfect way to interact and connect with customers on a more personal level.
Remember, outside of being inflammatory, rude, or political, there's no wrong way to use social media. You want to connect with consumers, so as long as you're building connections, you can post almost anything.
Look at the Twitter accounts of brands like Wendy's, Denny's, Netflix, or Old Spice for some examples of how brands are using social media to expand their following without conforming to older and tamer social media practices.
Essentially, it doesn't matter how you're building a presence on social media – all that matters is that you're doing something.
Analyzing the Market You're Hoping to Corner
This is just as important for a digital business as it is for a traditional one.
Analyzing the market and determining what applications your target demographic is using is the best way to learn where you should be allocating your resources.
If you're trying to market to a younger demographic, a Facebook account likely wouldn't be the best place to try and build a following. Similarly, if you're hoping to connect with an older generation, you probably wouldn't want to start running ads on Tik Tok.
A proper analysis of the market and understanding of where your potential customers are spending their time is invaluable for your transition to a digital-first business.
Using Digital Marketing to Connect with Consumers
Digital marketing is another crucial element of a strong digital-first strategy.
Digital marketing allows you to meet consumers in the environments where they spend the most time. Once you've properly analyzed the market, you'll have a deeper understanding of where your target demographic is spending their time online.
Armed with this knowledge, you know exactly where you'll have the most success with your digital marketing efforts.
Running social media or search engine ads, email campaigns, and using content marketing are extremely powerful strategies that will lead your business to success in the digital market.
Taking Advantage of the Tools at Your Disposal
One of the greatest aspects of running an online business is how cost-effective it is in comparison to running a traditional one.
Keeping a traditional office for an online business might be necessary if you're running an incredibly specific or inventory-heavy kind of business, but for most entrepreneurs, a virtual office will provide you with all of the amenities you need while being considerably more cost-effective.
Alliance Virtual Offices provides 6-month virtual office plans that will eliminate the need for a traditional office.
Our offices are tied to professional and well-known addresses, they come with access to a physical workspace, and our friendly onsite staff is available to help you through any technical difficulties you might come across.
With one of Alliance's virtual offices, you can save money while curating a professional hub from where you run your online operations.
That said, the virtual tools at your disposal go far beyond virtual offices. Remember, your competition is going to be using these tools, so the deeper your understanding of these solutions goes, the better chance you have to stand out.
---
Read more: Direct Competitors Are Your Key to Winning New Markets – Here's How
---
You can automate payroll with companies like Gusto or Paychex.
Intuit QuickBooks make bookkeeping a breeze compared to traditional methods.
Website hosting, website building, and marketing can be done with the use of companies like Webflow or AWeber too.
These are just a couple of examples, but there is a virtual solution to almost any problem your digital business may or may not come across.
Use the tools that are available to you to make your transition as seamless as possible, there's no reason not to take advantage of these solutions while transitioning to a digital-first business.
---

Maintaining a Personal Touch in the Digital First World
While digital-first strategies are undoubtedly the way of the future, human connection is still highly valued and sought-after.
The best digital businesses maintain a personal touch that reminds their customers that they're supporting and interacting with human beings.
Maintaining this personal touch takes a bit of work. Effectively reminding consumers that there are people behind the accounts and websites is very important, but to do so, you'll need to make an effort.
Below, we'll look at three ways for your digital-first business to curate this personal touch.
Include pictures of yourself and your employees on your platforms
Post conversationally on social media
Maintain a professional business image in the real world
Include Pictures of Yourself on Your Platforms
This is a simple way to remind customers that there are people behind the accounts they're interacting with.
Having a picture of yourself along with a short description on your business's website helps people associate you with your business.
This helps eliminate the feeling that they may or may not be interacting with digital-first AI.
Additionally, if your employees are willing, posting their pictures alongside short descriptions gives your business even more of a personality.
The more your business feels like a family, the more potential customers will relate to your brand.
You want customers to feel familiar with your business, and showing these customers the individuals behind the websites allows them to feel a closeness that is unattainable when they think of your business in terms of 1s and 0s.
Post Conversationally on Social Media
Posting conversationally on social media is a great way to show your personality while boosting engagement.
Fostering discussion and interacting with potential customers allows your business to become connected on a level much deeper than the standard employee-customer relationship.
Open-ended questions, asking for feedback, and incentivizing users to engage with your posts are great ways to foster a relationship with consumers while giving your brand a bigger audience.
Creating an emotional connection with a brand is difficult, but when that brand is interacting with posts, creating discussions, and regularly being active, it's easier to form this connection.
Similarly, this regular activity gives customers the impression that your brand is easy to contact, something that other companies are almost always trying to combat.
Maintaining a Real-World Professional Image
A professional business image in the real world backs your online efforts and builds respect and legitimacy for your business.
The best way to do this is by registering your business with an Alliance Virtual Office.
Our virtual offices provide access to on-demand meeting spaces and give you a professional business address you can use to support your remote work while safeguarding your professional credibility.
It doesn't matter how active and engaged you are on social media; people are always going to search for your business. By using an Alliance virtual office, you're giving your business an address that is recognized and lends legitimacy to your operations.
More than anything, maintaining a personal touch for your digital first operations requires you to familiarize yourself with the customers you're interacting with.
In that sense, the more you try and show your business's personality online, the more your personality will shine through.
This might be a demoralizing step because of how many businesses you have to compete with, but the more you post and engage on these apps, the more consumers will relate to your business.
Remember, this technology is constantly advancing. With a professional real-world image of your business, you're giving yourself a bit of a safety net to help ensure that you have the time and resources to keep up with these changes.
---

Virtual Offices Within Your Digital First Approach
The modern market is heavily digital-first oriented.
Businesses that succeed do so by transitioning to the online space while also maintaining their sense of humanness. A virtual office from Alliance supports your online operations while maintaining your business's local presence.
Without a virtual office, you're only dipping your toes in a digital-first approach.
If your digital business hopes to corner new markets and expand, a virtual office allows you to expand to new areas without having to make prohibitively expensive investments in the areas you're hoping to explore.
A virtual office allows you to save money on traditional business expenses while allocating these saved resources to serve your virtual needs more effectively.
---
Further Reading
---
An Alliance virtual office gives entrepreneurs a cost-effective way to transition to a digital-first mindset without giving up any of the benefits afforded them by traditional office spaces.
Access to physical workspaces, easily reservable meeting rooms, professional addresses in well-known locations, friendly and helpful onsite staff, and a robust mail forwarding system are just a few of the benefits associated with an Alliance virtual office.
Independently, Alliance's live receptionist is another digital tool for established entrepreneurs to utilize during their digital-first transition.
With a live receptionist, you don't need to worry about answering every phone call your business receives or hiring someone full-time to handle that task for you.
Don't ruin your chances with a potential customer because you're trying to do too many things at once, and don't force yourself to hire a full-time employee just to screen your phone calls.
Our live receptionists personally screen every call received, which amounts to fewer distractions for you and more time that you can spend focused on the core operations of your business.
Whether you're an established entrepreneur hoping to transition your business to a digital first mindset, or a new business owner hoping to create a successful digital business, we've got you covered.
Contact us today to see how we can help your business be a formidable contender in the digital first marketplace.