---
---
Q: What is a satellite office? How can a satellite office help my business grow?
A: A satellite office is any office located outside your business's headquarters. With a satellite office, you can attack new markets, target new demographics, and remain as flexible as possible.
---
Last year, the Great Resignation showed countless business owners that employees aren't willing to stay with companies they don't connect with.
As ecommerce numbers continue to boom, quickly scaling to react to shifts in the market while remaining flexible enough to attract new employees is a delicate process.
The most effective way to handle this process is by using one or more carefully placed satellite offices.
These offices give your business a cost-efficient way to explore new markets without disconnecting your team.
Contrary to popular belief, America has spent the past few decades becoming 253% more productive. This increase in productivity results from several technological advancements and a modern, streamlined approach to labor.
By using satellite office locations, your business can take advantage of this increased productivity.
In this article, we'll be exploring the satellite office definition, the benefits associated with using a satellite office, how your business can use a business outpost to scale, and how Virtual Offices and other digital tools are perfect for a satellite office.
So, if you've been googling "satellite office near me" – you're in luck.
Keep reading for a detailed guide about satellite offices, their place in the modern labor market, and more information about the steps you'll need to take to effectively scale your business.
---
---

What is a satellite office?
The meaning of a satellite office is simple. A satellite office is an office that is separate from your business's primary location.
For example, if your business's headquarters is in New York City, you might have a satellite office in LA.
Below, we've listed some of the most noticeable aspects of using a satellite office.
Bring teams together
Retain flexibility
Build legitimacy
Bring teams together
Big businesses often use satellite offices to help bring their teams together and establish consistency.
In the virtual market, connecting with your employees is paramount to the success of your operations.
According to a recent study covered by Forbes, employees need to have relationships with at least five friendly coworkers to feel connected and seven friendly coworkers to truly feel like they belong.
Cultivating a space that encourages these connections is key to creating a collaborative work environment.
With a satellite office, you can easily foster a greater sense of collaboration with your team or bring teams that previously worked separately together.
Big or expanding businesses will often focus growth on singular locations.
You can do the same with a satellite office, focusing your company's growth on one specific area.
Using a satellite office, you can focus this growth while hiring people familiar with the area, giving you an edge over your competition and familiarizing yourself with the location.
Retain flexibility
Smaller businesses also use satellite offices to stay nimble while building a solid foundation.
Rather than paying for expensive traditional office rentals, smaller businesses can rent several satellite offices wherever necessary.
In the modern market, flexibility could be the single most important aspect of running a successful digital business.
A satellite office is the pinnacle of flexibility.
Your market research has shown you a new, untapped market with ample room for growth?
Easily set up a satellite Virtual Office in the location you're hoping to tackle.
Are you hoping to scout out real-estate investments in an up-and-coming city?
As you scout out properties, a satellite office can work as your centralized hub.
It doesn't matter what you're hoping to accomplish. A satellite office provides a flexible way for your business to scale.
---
Read more: The Ultimate Guide to Virtual Offices
---
Cost efficient
The price of a traditional commercial office lease is prohibitively expensive.
Not only is it expensive, but the minimum length of time for most leases is also a whopping three years.
Needless to say, most business owners are using up most of their mental bandwidth on getting to the next quarter – leases that stick you into a three-year contract aren't exactly conducive to the ebbs and flows of running a business.
A satellite office isn't going to give you the same frustrations.
Conversely, Alliance's Virtual Office plans start at a minimum of 6 months, a much more manageable amount of time for small business owners.
The right satellite office is cost-efficient, flexible, and collaborative.
---

What are the benefits of using a satellite office?
As you can see, several benefits are associated with using a satellite office or business outpost.
One benefit to using a satellite office is the speed with which you can react to the market. However, outside of this flexibility, there are numerous other benefits.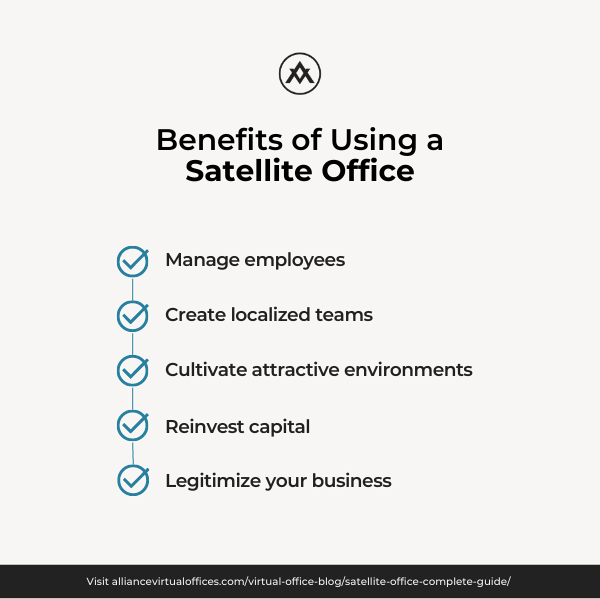 In all reality, this flexibility is possibly the most widespread benefit associated with a satellite office. Without a flexible business model, modern business expansion is almost unattainable.
---
Read more: How to Stay Flexible Through Your Business Expansion
---
Below, we've touched on some of these benefits and explained what business owners can expect when they use a business outpost.
Manage employees
Create localized teams
Cultivate attractive environments
Reinvest capital
Legitimize your business
Manage employees
For bigger businesses, satellite offices make it easier to manage employees and ensure they have everything they need.
That isn't to say that smaller businesses can't do the same, but typically a smaller business expanding to a brand-new area would require hiring some new employees.
Regardless of whether or not you'll need to hire new employees, a satellite office will make managing these employees a breeze.
While running a fully work-from-home team is possible, this can lead to a feeling of disorganization.
Most employees generally want to work from home, especially if the job permits them to do so.
That said, some employees may not want to work from home and may need dedicated workspaces, regardless of where they are.
With a satellite office, you make it easier for managers to provide for and connect with their teams.
Create localized teams
Satellite offices allow businesses to create local teams rather than remote individuals.
A team is always going to be more productive than an individual. Once that team is well-connected and well-versed in collaboration, the sky is the limit.
Employees experiencing connection and working for organizations that cultivate a collaborative culture are two times as likely to showcase productivity.
Remote work allows business owners to easily connect with employees from all over the world.
Say you're setting up a satellite office in a state you're unfamiliar with. You're hoping to sell products to consumers in this market, but you don't know how to connect with them.
While several well-connected remote employees could help you determine an approach to this new market, hiring individuals familiar with the area would immediately give your business an edge.
Having a central location in a new city that can be used for meetings by local team members makes it easier for your employees to coordinate and bond, helping businesses get more out of their teams.
Cultivate attractive environment
Satellite offices can help businesses of all sizes become more attractive to valuable employees.
Thanks to the Great Resignation that took place in 2021, we're well aware that workers are no longer willing to work for organizations they're not happy with.
Many workers are switching occupations to make more money, but toxic work culture is the number one factor in motivating employees to resign.
With a satellite office, you can cultivate an attractive work culture that incentivizes innovation, strengthens connections, and keeps your employees happy.
Extensive research shows that happy employees are inherently more productive.
Thankfully, the flexibility that satellite offices are known for plays an important part in helping cultivate an attractive work environment.
The low overhead and simple registration process mean you can quickly make changes within the workplace.
More than anything, employees want to feel heard and recognized, and with a satellite office, you can easily focus on employee happiness and scaling your business.
Reinvest capital
A high-quality Virtual Office is considerably more cost-effective than its traditional counterpart.
In a traditional office, the startup fees are astronomical.
You've got the deposit and two months' rent just to get the lease started, and that's not even considering your utilities. In addition, you're responsible for keeping the office stocked each month, ensuring that you never run out of paper, ink, or any other standard office supplies.
With a Virtual Office, you're not responsible for monthly upkeep, you're not responsible for monthly utilities, and you're not responsible for a five-figure deposit just to get your business going.
All of these savings can easily be reinvested into your business.
In the past, exploring a new market was risky and costly.
Business owners had to spend months doing the necessary research before opening a new satellite office, and once that decision was made, there were few options to back out.
However, with the savings introduced by Virtual Offices and other modern satellite offices, business owners can focus on expansion with considerably less risk.
What once was a sizable business decision that required months of budgeting and risk management can now be done for a fraction of the cost and time, meaning tackling new markets and exploring new areas is easier than ever.
Legitimize your business
Anything that can be done to add legitimacy to your business should be done, especially in the early stages, when something as silly as one bad review can have a lasting effect on your operations.
Using a Virtual Office for your satellite office shows the outside world you're serious about your operations. Similarly, using a Virtual Office to register your business in the first place gives that same impression.
Your satellite office is an extension of your business.
If you're using someone's home or a random PO box, your business isn't going to look nearly as legitimate as it would if you were using an accepted business outpost address.
Anytime you interact with a new customer, team member, or investor, you're making a first impression.
Often, these first impressions set the tone for the rest of your business relationship with these individuals.
A satellite office helps you make positive first impressions.
It shows your customers that you're serious about expansion, shows potential team members that you're providing for your employees, and shows investors that you take your image seriously.
Now that we've explained the positives associated with using a satellite office, we can dig into satellite office solutions and the best way to procure a business outpost.
Keep reading for more!
---

What is the best way to get a satellite office?
In case you missed it, purchasing a Virtual Office plan is the best way to get a satellite office.
We've already covered a majority of the satellite office benefits, but below, we'll be comparing a Virtual Office to traditional office rentals.
Cost-effective
Space-backed
Multiple locations
Easy setup
Cost-effective
Virtual Office plans are far cheaper than traditional office rentals.
This means that small businesses can afford them, and big businesses can maintain higher margins.
If you're hoping to set up a satellite office in Silicon Valley, a traditional office will break the bank.
For reference, a commercial lease in Silicon Valley will cost you almost $6 a square foot, an astronomical price to pay for any property.
On the flip side, a Virtual Office in the Silicon Valley Business Center will only cost you $78 per month.
The two prices aren't even in the same ballpark. With a Virtual Office, you can expand to new locations without decimating your savings.
Space-backed
Virtual Offices allow for on-demand meeting room access.
While working from home continues to be the preferred method for most American workers, having the option to work from a designated workspace is invaluable to your business's collaborative environment.
Burnout is a genuine threat that countless work-from-home employees are facing.
Especially when working from home, the continued monotony associated with working from the same place you eat and sleep, day after day, can quickly become unmanageable.
Sure, a designated workspace or home office can help to quell these feelings of burnout, but occasionally, working from a designated office is necessary.
All of Alliance's Virtual Offices come with access to physical workspaces and meeting rooms.
This means that local managers always have a place to plan and coordinate with their teams.
Hosting meetings is an important aspect of any successful business, namely during times of expansion or onboarding.
During an investor or client meeting, you want to show the other party how serious you are about your business.
If you're hosting a meeting from a crowded coffee shop or the comfort of your home, the other party will likely have a tough time taking you seriously.
Thankfully, the easily reservable meeting rooms you can access through your Virtual Office provide the perfect location for business meetings.
Additionally, you're not going to need a meeting room or physical workspace every day.
With a traditional lease, you're paying for that space regardless of whether or not you need it.
With a Virtual Office, you're only paying for the space you use, when you use it.
Multiple locations
Alliance Virtual Offices has locations throughout the United States, making it easy to find the right satellite office for your business, no matter the goal.
Traditionally, expansion was a slower process and considerably more expensive.
The process was more complex, and business owners were restricted by the commercial properties they could find in the areas they hoped to corner.
If a business owner decided on a location they wanted to expand into, they still were required to find a commercial property that was available to rent that perfectly fit their varying needs.
Alliance has offices in every state, in a majority of popular cities.
Easy setup
The setup process for one of Alliance's Virtual Offices is incredibly straightforward.
First, head to Alliance Virtual Offices' website.
Next, you simply need to click on Virtual Offices.
Now, you can easily search for the state or city where you'd like to set up a Virtual Office.
For this guide, we've searched for an office in Los Angeles.
Now that we're on the Los Angeles locations page, we can scroll through the various offices Alliance offers before deciding on an address.
Finally, we'll pick a location on Sunset Blvd – all that's left is to fill out our payment information!
As you can see, setting up a Virtual Office is considerably more straightforward than the process required to procure a traditional lease.
---

Virtual Offices, satellite offices, and other modern digital tools
Satellite offices are a powerful way for businesses to grow while staying flexible.
Satellite offices help businesses stay connected and coordinated over large geographic distances.
The best way to get a satellite office for your business is with Alliance Virtual Offices.
Using a Virtual Office as a business outpost perfectly blends the ease and convenience of a digital address with the forward-thinking and expansive nature of satellite offices.
Not to mention, Alliance offers other tools that mesh well with your satellite Virtual Office.
With a Live Receptionist, you can leave our receptionists to strengthen your customer call experience while you focus on expansion and other day-to-day operations.
Spending all day on the phone is distracting and leads to miscommunication. Don't risk upsetting a potential customer because you're trying to do too many things at once.
With our Live Receptionists, you can focus on your core operations while ensuring that your calls are personally answered and screened.
Similarly, our Virtual Phone offers your team a unique, streamlined way to stay connected.
Having a reserved business number is a great way to show investors and consumers alike that you're serious about your business. In addition, using the business phone number allows you and your employees to keep your phone numbers private.
In conjunction with the added privacy, unlimited extensions mean you can easily add new team members and create individual numbers seamlessly.
Live Receptionists and our Virtual Phone Numbers are just a couple of Alliance Virtual Offices' services.
Check out our website for more information about these services and our Virtual Offices!
---
Further reading:
---
Alliance Virtual Offices provides a modern way to take advantage of the benefits associated with using a satellite office.
Our Virtual Offices are widely available, professional, and well-known.
Using one of our offices as a satellite office allows you to quickly reach new markets and create a centralized hub for local team members in these new locations.
Don't miss out on the innumerable benefits your business can access through a satellite office.
Contact us today to see what Alliance Virtual Offices can do for your business!