---
Q: What is virtual office software? Should I secure software or a real virtual office?
A: Virtual office software is nothing more than a kind of software designed to support remote work. You should secure a real virtual office because of the associated amenities and other benefits you receive through a high-quality provider.
---
Owning a business today looks worlds different than owning a business even ten years ago. 
Before the pandemic, remote work was gaining traction but was still largely unutilized in the United States. Sure, consumers were shopping online, but they were using laptops and computers and shopping with popular brands.
Then, when the pandemic hit, the government-imposed business shutdowns and shelter-in-place orders caused remote work to explode.
At the time, some economists assumed that the explosion of interest in remote work would fade, and that Americans would return to the office as soon as possible.
Thanks in part to the Great Resignation, which brought quit rates unseen in decades, and employers realizing that they needed to keep workers happy to reduce turnover, those economists were incorrect. 
Now, remote and hybrid workstyles are the norm. Consumers are still shopping online, but instead of using laptops or desktops, they're using cell phones.
Convenience is the name of the game; working remotely is less of an extracurricular and more of a prerequisite. Countless virtual solutions are available to help business owners make the most of this increasingly digital-first world.
Unfortunately, with the introduction of impressive new virtual services and technologies comes the introduction of imitative services that provide a worse version of those same services.
One recent dichotomy is the relationship between a high-quality virtual office and virtual office software. 
In this article, we'll be exploring what virtual office software is, whether all virtual offices are the same, whether you should rely on virtual office software or a real virtual office, and finally, we'll close with a look at Alliance's Virtual Offices and how to integrate other software.
If you've ever found yourself searching for things like, "virtual office software avatar" or even "virtual office software download free," – don't worry, you're in the right place.
Keep reading to understand the difference between virtual office business software and a genuine virtual office.
---
---
What is virtual office software?
Explaining virtual office software without covering virtual offices themselves is difficult, so let's look at what a virtual office is. 
---
Read more: What is a Virtual Office and How Does it Work? 
---
A virtual office is a service businesses or individuals use to secure a physical business address without paying the excessive costs of landing a physical office space. 
Most virtual offices, especially from high-quality providers, offer several other tools and services for business owners to utilize, but at its base, a virtual office is a great way to register new businesses or expand existing ones.
The modern labor market is very saturated and very unforgiving. Some business owners look at expansion as something high-risk and complicated; many even opt to focus on their primary location rather than dealing with the headache of rapid growth.
In the past, securing a satellite office required a few key things.
First, you needed a working knowledge or to have hired someone with a working knowledge of the new location you want to expand to. Then, you needed to find office space in this new city that was in a good location, had a fair price, and was close enough to your target audience.
Next, after ironing out those details, you were responsible for hiring employees in the area or incentivizing existing employees to travel to your new location. After that was said and done, you still had to determine how to bring in new customers and get them to buy things.
Thankfully, expansion doesn't have to look like this anymore. With a virtual office, you have a low-risk method of expanding that doesn't require sizable capital.
In addition, the influx of remote and hybrid workstyles has created opportunities for businesses to utilize employees that don't live anywhere close to the office.
Now your business has access to the broadest hiring pool ever and a cost-efficient expansion method. All that's left is modifying your mindset to mesh with the modern labor market.
---
Read more: This Mindset in Business Can Double Your Success 
---
With the right mindset, your virtual office will quickly become a key tool in your business infrastructure and growth plan.
So, knowing what a virtual office is and what sets it apart from its traditional counterparts, let's look at virtual office software. 
Virtual office software is a category of software designed to support remote work. 
This software typically involves some kind of workflow organizing. Usually, this looks like the coordination of various tasks, organizational efficiency recommendations, methods of driving profitability, and so on.
It also tends to include communication platforms and video meeting software. 
Communication platforms are nice, and the more ways to interact with your team, the better, but is it worth securing virtual office software just for communication? Similarly, video meeting software is helpful, but why use virtual office software when free applications are available for you to use without requiring any upfront payment or user costs?
Essentially, virtual office software may make working from home a bit more comfortable. It may help organize your workflows and provide you with communication platforms that allow you to better connect with team members.
All of these are inherently positive things that the software provides, but it begs the question: is it worth paying for virtual office software?
Before we answer, let's look at how virtual office software is limited.
The limitations of virtual office software
According to a study covered by Forbes, the number of software developers around the globe is expected to crest 28.7 million individuals in 2024. 3.2 million more than in 2020.
This influx of developers is a response to the changing working climate. The more digital businesses that continue cropping up, the more virtual tools and services those new businesses will need. 
Similarly, as more and more economists warn of a coming recession, business owners are in a position where they need to take the most cost-efficient steps possible to weather any financial downturn.

The best way to prepare for financial stress or a recession is by creating as many sustainable streams of revenue as possible. Unfortunately, this is easier said than done, and some businesses will only be able to cut operational costs and strengthen their business infrastructure in preparation. 
---
Read more: The Key to a Recession-Proof Business? More Revenue Streams 
---
Virtual office software is occasionally touted as a way for businesses to save more money, but let's take a moment to explore some of the limitations of virtual office software.
Sure, virtual office software might make working from home a little bit easier, but it's very limited and not that useful outside of some specific situations.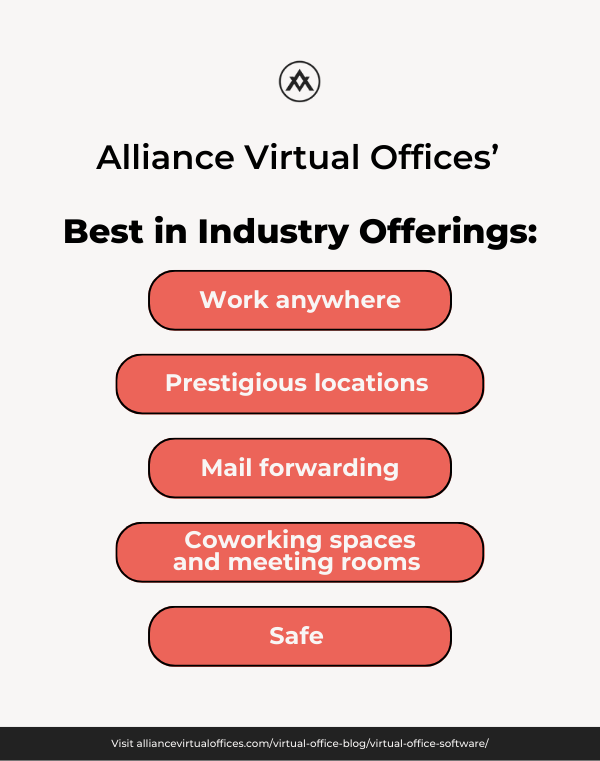 No privacy
No credibility
No workspace
No meeting spaces
Unsafe
No privacy
Some business owners don't realize this, but when you register for an LLC, your business address is added to the public domain.
This means that if you use your home address to register your business, your personal information is being added to the public domain, available for anyone who feels like looking. 
When your home is in the public domain, you're going to receive a high volume of scam messages and spam mailers, not to mention, you'll be on the mailing list of countless businesses that secure mailing lists online.
With virtual office software, you aren't getting access to physical space. Most virtual office software won't even provide an address that you can use for LLC registration.
This means you'll be forced to register with your home, which is a terrible idea. 
Outside of the scam and spam, using your home to register is generally unsafe. There's no reason to have your personal information so easily accessible for anyone who wants to look.
No credibility
Virtual office software doesn't help you establish your business's credibility.
Online businesses need an extra push to help legitimize their efforts to consumers wary about dealing exclusively with online companies.
With virtual office software, you aren't given an address to use for registration, so you aren't given a professional address to use on branding materials either.
Sure, your business needs to build credibility on its own, and in due time it will. Regardless, new companies need all the help they can get to establish a professional and legitimate public face, especially at the beginning when these newer companies are first getting started.
Image is essential in the modern market. If you can't incentivize consumers with your brand, image, or mission, you'd better have products or services they can't find anywhere else.
No workspace
Because virtual office software is software, it's unable to offer workspaces for you and your business. 
Working from home is thought of as more productive than in-person work, but there are some issues with working remotely too. 
Sure, employees are more productive at home, but working from the same place where you spend all of your relaxation time is a quick way to experience job burnout and blurred lines between work and life.
Without access to workspaces, you don't have many options. A home office can be helpful for a time, but it won't keep the burnout feelings at bay forever. 
Sometimes, just having access to a coworking space is enough to quell the feelings of stress and anxiety inside you. Unfortunately, virtual office software just can't offer physical space.
No meeting spaces
As a business owner, you are going to host meetings. 
Some of these meetings will be in-person, and some of them will be virtual. Regardless of which medium the meetings utilize, you need a place to host them.
Hosting in-person meetings at home, in crowded coffee shops, or hotel conference rooms comes with several issues.
At home, you're at the whims of any distractions in your area. Not only is it unprofessional to bring clients or investors you've just met to your home, but your meeting is at the mercy of anything that may or may not happen at your house.
In crowded coffee shops, you're very unsafe. Public Wi-Fi and public discussions about company proprietary information are quick ways to put yourself and your attendees in harm's way. 
Hotel conference rooms aren't as bad for in-person meetings, but they're prohibitively expensive and require a lengthy reservation period. 
Virtual meetings are very similar.
Hosting them at home is unprofessional and leaves you at the whim of anything that happens in your house. Using virtual office backgrounds isn't a great look either, so at home, you need to find a clean, single-color background that isn't distracting.
Coffee shops are terrible for virtual meetings because of the public wifi. Even if you're using a hotspot, speaking about business terms and finances in public is typically a bad idea.
Using a hotel conference room for a virtual meeting is expensive and fairly pointless.
Instead of using virtual office software and trying to find meeting rooms, you need a virtual office that provides space.
Unsafe
This isn't to say that the virtual office software itself is unsafe, although it definitely could be. Virtual office software, open source or not, isn't something that can protect your company.
Scams are ubiquitous. Most people in the country have been scammed or know someone who's been scammed.
This is obvious when you consider that the cybersecurity sector is more robust than ever.
With that in mind, it only makes sense that consumers are wary about using unfamiliar businesses.
Virtual office software isn't going to protect your business from scam businesses, and it isn't going to protect your business from the reputational damage that would be done if a different company at your address was outed as a scam. 
Thankfully, there are options outside of virtual office software that provides all the amenities of the software and all the benefits of traditional office space.
Why you should get one of Alliance's Virtual Offices instead
Alliance Virtual Offices provides the best virtual offices in the industry. 
Instead of using virtual office software that provides your business with nothing outside of organizational skills, consider the benefits of Alliance's offices. 
Below, we've compiled a list of how Alliance provides the best virtual offices in the industry and what these offices offer.
Work anywhere 
Prestigious locations 
Mail forwarding 
Coworking spaces and meeting rooms 
Safe 
Work anywhere
We have professional addresses in all fifty states and almost every city.
Each of our centers is located in a thriving business district, helping you build and establish your reputation. As you know, your reputation is important, especially when you're near your company's launch.
Alliance gives you a positive reputation regardless of where you're working. With so many locations, you can start a business anywhere you'd like.
Then, you can work from anywhere you can imagine too. Alliance's offices are wholly flexible and perfectly suited to traveling entrepreneurs or business owners.
Prestigious locations
A prestigious location is important. You want consumers to feel an immediate kinship or safety when looking at your business.
If they search for your company and see an address in a small city in Oklahoma they're unfamiliar with, they will start asking questions. Then, once they see that your company is sharing an address with a retail store in a shopping mall, they will be rightfully confused. 
Occasionally, this disconnect between consumers and where your business is located is enough to convince them to decide against purchasing from your company.
Alternatively, if consumers search for your business, see an address they're familiar with, and see other companies they know, they're immediately at ease. 
Business owners need to take the steps they have at their disposal to keep their business image as professional and legitimate as possible.
Mail forwarding
Some virtual office providers try to charge a flat rate for entrepreneurs using their services, regardless of whether or not you need mail forwarding. 
At Alliance, our mail forwarding isn't included at all. This allows us to offer cost-efficient plans for entrepreneurs that don't need mail forwarding while allowing those who need the service to pay for only what they need.
Not to mention, we have four tiers that businesses can cycle through depending on how much mail they're receiving. Keep in mind, these prices might vary slightly. 
Once monthly forwarding, $10.00 per month
Once monthly mail forwarding is for new companies that aren't receiving much mail yet. This isn't often enough to keep your business up to date on important documents or government correspondence, but it is a great way to familiarize your business with our mail forwarding services. 
Twice monthly forwarding, $20.00 per month
This option is better suited for newer businesses too. Biweekly mail forwarding will help you keep slightly better track of important mail, but likely still isn't enough to stay wholly on top of the correspondence you're receiving and sending out. 
Weekly forwarding, $30.00
Weekly mail forwarding is for when your business is picking up steam. You won't ever go longer than a week without missing mail, so you'll be able to keep decent track of any government correspondence and important documents. 
This tier is best for businesses receiving a high volume of incoming mail but still unwilling to try the daily option.
Daily forwarding is the top-of-the-line tier and will keep you fully up to date on any important documents your business receives. With this tier, you won't miss anything. 
Additionally, daily mail forwarding is the best value available. 
The first two tiers, monthly and biweekly, charge you about $10 per forward, while the weekly tier charges you about $7.50 per forward. The daily tier arrives 19-22 times a month and costs less than $4 per forward.
Coworking spaces and meeting rooms
Our centers have on-demand work and meeting spaces, so you never have to scramble to find accommodations. 
The issues associated with virtual office software are nowhere to be found when dealing with Alliance. Even better, you never pay for anything you don't need. 
Traditionally, if you rented office space, you paid for office space. Regardless of how many days you spent using the space. 
Now, modern entrepreneurs only pay for what they need – when they need it.
If you don't need to use the coworking spaces or meeting rooms associated with your virtual office, then don't! You won't be charged if you don't use the services.
Safe
With the influx of scams and scammers, Alliance tries to keep our partners safe. 
We do this by using high-quality virtual office centers that keep your business mail protected. The only individuals who can access your mail are you and individuals you've previously okayed. 
Outside of physical safety, Alliance takes steps to protect your business reputationally too. 
---
Read more: Scammers Hate Us: Only Legitimate Businesses Use Our Virtual Offices 
---
With our two-step verification process, we make sure that scammers are unable to use our services. 
We're shutting scammers out by asking for personal information and verifying an address. Too many virtual office software and cheap providers are available to allow scammers to get office space anonymously for them to bother with our verification and identification process. 
This keeps your business safe from in-person attacks and from the fallout of sharing an address with a scam business.
Alliance's Virtual Office software
Virtual office software is no replacement for a real virtual office. 
Alliance Virtual Offices provides everything you need to grow your business while protecting your privacy and your home address.
Alliance's offices can easily integrate with other automation software and digital services too, making your virtual office fully customizable.
---
Further reading
---
Alliance Virtual Offices provides services and tools for established entrepreneurs and new business owners.
Don't risk using virtual office software when virtual offices are right there. 
Contact us today for more about virtual office software to avoid and check out our Virtual Office Blog for more useful information.