---
Q: What is an online virtual office? Is an online virtual office comparable to a real virtual office?
A: An online virtual office is essentially an online platform. No, an online virtual office doesn't provide anywhere near the same benefits associated with a real virtual office.
---
Over the past couple of years, hybrid work has quickly become the go-to style of work for employers, employees, and anyone else who's able to work remotely. 
According to a recent Gallup article, approximately 50% of full-time American employees who can work remotely want hybrid workstyles. 
When you add in the additional 20% of American workers looking for exclusively remote positions, it's easy to see why flexibility in the workplace is so important.
The benefits of working remotely are clear. Working in an office is soul-crushing, there's no guarantee you'll get along with any of your coworkers, and it allows you to eliminate your commute – and that's just for workers! 
Small business owners are also taking advantage of the opportunities presented by hybrid workstyles.
In the past, owning a business had a sizable barrier to entry. First, business owners needed to find a worthwhile location, then pay a hefty security deposit, followed by monthly rent payments, utilities, and other general upkeep costs. 
Now, through the use of virtual offices and other digital tools, business owners can start a company from the comfort of their own home, for a fraction of the price, anywhere in the world.
Naturally, some virtual offices are better than others, and the influx of these tools and services has brought some less-than-useful additions to the public consciousness. 
One of these lower-quality tools is an online virtual office. 
Today, we'll look at what an online virtual office is and whether or not an online address is right for your business. Then, we'll look at some alternatives before ending with ways you can scale your Alliance Virtual Office.
So, if you've ever found yourself searching for a "free online virtual office," hold the phone – after this article, you'll know what to avoid.
---
---
What is an online virtual office?
An online virtual office can be a few different things, so before we dive into the problems with online virtual office space – or lack thereof – let's take a moment to look at what a real Virtual Office is. 
---
Read more: What is a Virtual Office and How Does It Work? 
---
Virtual offices are a service used by individuals or businesses that provide a business address that can be used for LLC registration, scalability, and a central hub for operations.
As you can imagine, many different kinds of virtual offices are available, and you must choose the right provider to help your business effectively scale.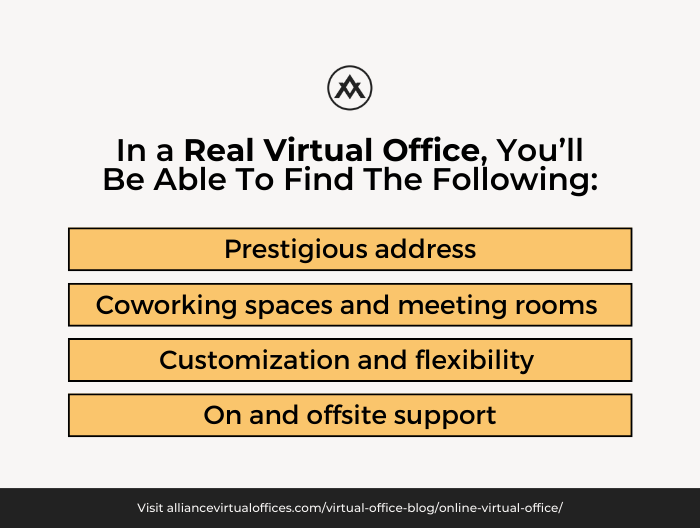 In a real virtual office, you'll be able to find the following:
Prestigious address
Coworking spaces and meeting rooms
Customization and flexibility
On and offsite support
Prestigious address 
As a virtual business owner, a prestigious address is one of the most important things you can provide for your business. 
According to the FTC, Americans lost almost $4 billion in 2022 to a variety of scams. 
Understandably, this causes consumers to act cautiously when looking for new products and services. With a virtual office, you should be able to register your business at a well-known and professional address in any state you'd like.
Using a central business district and situating your business in the heart of a well-known area is a great way to convince consumers, potential investors, and clients that you're serious about your operations. 
Don't risk losing valuable customers because of a low-quality address. If your business is surrounded by other companies of lower quality, you're only setting yourself up for failure.
Coworking spaces and meeting rooms
With hybrid workstyles overtaking entirely remote and in-person positions, having an "in-office" space to work is paramount to your long-term success. 
Your virtual office should come with access to coworking spaces for when working remotely gets too taxing. The benefits of remote work are clear, but working from the same place you already spend so much time can get very frustrating, very quickly.
Whether it's cabin fever or another kind of work-related stress that crops up at home, the best way to avoid it is to get out of the house and work somewhere different. That's why your virtual office needs to have access to workspaces that aren't in your home. 
There's no better way to recharge your batteries and look at your work with renewed interest than using coworking spaces to help break the monotony of working exclusively from home. 
For meeting rooms, the usefulness is clear, as hosting meetings is something that all business owners have to do. In-person and virtual meetings can feel daunting, and regardless of the style you're hosting, you need a professional and private place to do so. 
When your virtual office has access to meeting rooms, you have a quiet spot that doesn't require gaudy backgrounds to film in, and when you need to host an in-person meeting, you can secure rooms of varying sizes, depending on how many attendees are scheduled to arrive. 
This flexibility and customization don't only refer to the way your company operates. Realistically, you need a virtual office provider that offers other services and tools to easily integrate with your office. 
Keep in mind, access to meeting rooms and coworking spaces is different from providing meeting rooms and coworking spaces that you pay for regardless of use. 
High-quality virtual offices will offer these amenities but only require payment on use.
Customization and flexibility
Customization and flexibility are the names of the game in the modern labor market. The businesses that react swiftly to the vicissitudes of the market are the businesses that will be positioned for continued success.
That's why you need a virtual office that's flexible. You should be able to work from anywhere in the world without worrying that your office won't support your efforts. 
Similarly, this is why you need a virtual office that you can customize.
Your virtual office acts as the centralized hub for your company's operations. If you can't build a virtual office that caters specifically to your business's needs, then what's the point?
On and offsite support
Even if you're a technical wizard that's been programming since you were a child, chances are high that you still occasionally run into technical issues that give you pause. 
If you're using the right virtual office, you'll have access to onsite and offsite support that will help you through any problems you might face in your virtual office setup.
As a small business, you may not have an IT department yet, and that's okay. As long as you know where to go for IT support and other resources, you can continue moving forward.
---
Read more: Outstanding Small Business IT Support Resources 
---
With an idea of what a virtual office should look like – let's look at an online virtual office.
The term "online virtual office" is somewhat nebulous. Some individuals use "online virtual office" or "online virtual office address" interchangeably, but they're very different. 
One version of an online virtual office is simply a PO box. It's a "virtual office" you never visit; you only interact with it online. 
The second kind of online virtual office is a workflow platform. These aren't offices at all, but platforms that try to help you stay connected with your team and organize files. 
You can think of this kind of online virtual office as almost like a calendar or workflow management application. 
Now that you understand what online virtual offices are, let's look at some limitations.
The limitations of an online virtual office
Between 2019 and 2021, a whopping 17.9% of American workers transitioned to remote work. During this period, the use of online virtual offices and other work-management applications were likely somewhat useful tools – especially considering the fears of interacting with others during the pandemic. 
Now, as employees look for something different than entirely remote work, online virtual offices just cannot provide any way to accommodate these hybrid workstyles. 
Unfortunately, online virtual offices aren't real virtual offices. They are simply coopting the language to make it appear like they're a suitable replacement or substitute. 
To register an LLC in most states, you need a physical business address. You don't have to have an office at this location, but you need to have a genuine building with a real, verifiable address. 
This is why the PO box online virtual offices are so useless.
First, they don't help you solidify your business's reputation. 
You need to have a professional public face for your brand. You can have the best products and services imaginable, but if people are too frightened to give your services a chance, that won't matter. 
Think about it this way: two companies, both with the same staff, same product, and same age. Both of these companies are digital businesses, relatively new, and haven't had the opportunity to make a name for themselves. 
The only noticeable difference between the businesses is the address. 
One is located in New York City, in the heart of Manhattan's Financial District. It's surrounded by other prestigious businesses and located in a building everyone has heard of. 
Alternatively, the other business is located in a city that no one is familiar with. It shares an address with a retail store and when you search for this business, you're bombarded with warnings and claims of malfeasance from the same address. 
Unsurprisingly, most consumers are going to pick the first company because it doesn't look nefarious. 
When potential consumers or possible investors search for a business that's using an online virtual office, they're going to see either a USPS office or a retail store.
If you're using an online address that's been used by bad actors, that will be readily available too.
An online virtual office that's just software might be nice to have during situations like the pandemic where you're forced to stay at home for extended periods, but it doesn't have anything to do with an office.
You can't register your business with it, and typically, there are better apps for the same purpose.
Some of these applications that provide similar services to an online virtual office are Asana, Slack, and Microsoft Teams. 
Asana is a work management tool companies can use to streamline workflows and cultivate a collaborative working environment. In addition, Asana is easy to use, so business owners can easily control permissions and sensitive data users have access to.
Slack plays a similar role, serving as a messaging platform that helps businesses decentralize communication and delegation. Slack uses channels to organize information and keep projects easy to understand and accomplish.
Microsoft Teams is closer to Slack than Asana but serves the same purpose. Teams provides channeled communications and easy sharing between team members.
Feel free to use any of these applications rather than playing online virtual office games and getting stuck with an unusable service.
Both styles of online virtual offices fail to provide coworking spaces or meeting rooms.
Thankfully, there are other options.
Why Alliance is a better option
An Alliance Virtual Office is the better choice for your remote business. 
You might be able to find a free Regus virtual online office or a similar service that uses a PO box or other fake address, but none of those options will provide the same value as Alliance. 
Here's what you can expect with one of Alliance's Virtual Offices. 
Mail forwarding
Prestigious address
Access to coworking rooms and meeting spaces
Privacy and security
Mail forwarding
Alliance doesn't make its partners pay for anything they don't need. This is why our mail forwarding add-on is optional and customizable. 
We take pride in our mail forwarding system because it allows business owners to determine how often and where they want their mail. 
---
Read more: Why Our Premium Mail Forwarding Is Standard
---
At Alliance, we have four separate tiers depending on how much mail your company is receiving. Keep in mind, these prices might vary by location. 
$10 per month – once monthly mail forwarding
The once-monthly mail forwarding option is best for new companies that are just getting started. It's not often enough to stay on top of important documents or other mail, but it is a great way to get used to the forwarding system without committing too much. 
$20 per month – twice monthly mail forwarding
The biweekly mail forwarding option is also for newer businesses or companies taking an extended leave of absence.
Unfortunately, biweekly forwarding isn't enough to stay on top of the business mail that your company is receiving. Any important documents or time-sensitive correspondence may be late unless you're making trips to pick up mail at your virtual office center to compensate. 
$30 per month – weekly mail forwarding
Weekly forwarding is for when your business is picking up steam. You're securing more customers and, therefore, a higher volume of incoming business mail.
The weekly option will allow you to stay mostly up to date with any important documents, as nothing you receive will be more than 5-6 business days old.
$70 per month – daily mail forwarding
Daily forwarding is reserved for companies that are doing a lot of business. You're receiving a ton of incoming mail, and waiting longer than a day to parse through that mail makes the situation untenable. 
With daily mail forwarding, you're also getting the best value for the money spent.
The first two tiers cost about $10 per forward, while the third costs about $7.50. The fourth tier only charges between $3.21-$3.69 each time the mail is forwarded.
Prestigious address
Every Alliance Virtual Office is located within a prestigious business center, helping you solidify your reputation and gain consumer trust.
Alliance has offices in every state and in almost every city. Using these high-quality, professional, and well-known virtual office addresses shows potential investors and clients that you're serious about your operations and planning for the future.

At the beginning of your business's journey, or even at the beginning of your business's online journey, you need to focus on your image. Using a prestigious address immediately shows a certain attention to detail that speaks volumes about what kind of company you run.
Coworking spaces and meeting rooms
Alliance provides access to work and meeting space so you can embrace a hybrid workstyle without worry. 
We don't charge a flat fee for our offices, so if you don't need any access for a particular month – that's okay. Conversely, if you know you're going to be using the facilities regularly, we have a Platinum Plus Virtual Office plan that provides you with constant access at a better price. 
In Alliance's coworking spaces, you'll be in a private and professional location with other peers that are equally as motivated as you are. There's no better way to beat feelings of despondence than the motivation of working with others. 
Alliance's meeting rooms come in a variety of sizes to meet whatever needs you might have. 
If you're hosting a virtual meeting, you can easily reserve a small meeting room, completely free from distractions, to use while the meeting is ongoing. 
For in-person meetings, your virtual office center has a variety of rooms that can make whatever accommodations are necessary. 
Don't allow yourself to fall into the dreary routines and frustrating thought loops associated with working exclusively from home. 
Instead, go with Alliance's Virtual Offices to ensure you have regular access to private and professional workspaces and meeting rooms.
Privacy and security
An Alliance Virtual Office protects your home address, solidifies your reputation, and helps you make more money. 
There's nothing wrong with running a business from home. The issue arises when you register that business with your home address. 
When businesses are registered, their information is added to the public domain. So, when you use your home to register an LLC, your personal information is immediately added to a publicly accessible database that anyone can get their hands on. 
Using one of Alliance's Offices keeps your personal information out of the public domain and free from harm. 
Outside of the privacy benefits, Alliance provides security for our partners too.
As you know, being associated with a scam business can be a death sentence in the modern workforce. Consumers are unwilling to trust, second chances don't come easy, and individuals always assume the worst.
Fortunately, Alliance has created a 2-step verification process that allows us to keep scammers and bad actors out of our virtual offices.
---
Read more: Scammers Hate Us: Only Legitimate Businesses Use Our Virtual Offices
---
The first step of the process is verifying an address. We have anyone that wants to use our services give us an address where they can be contacted before doing anything else. 
Next, we use that address for another form of verification. 
By having our partners give us an address, then prove that they have access to that address, along with other bits of information, we're able to keep scammers and bad actors out. 
The best part of using one of Alliance's Virtual Offices is the ease with which you can scale your operations.
Scaling your Alliance Virtual Office
Changing habits is tough, especially if you've been doing things the same way for a long time. That's why it's difficult to fault entrepreneurs and business owners for being misled into using an online virtual office or other, equally useless tool.
Online virtual offices aren't virtual offices at all. They won't help you build your reputation and don't offer work or meeting spaces.
As you can imagine, access to coworking spaces and meeting rooms is the single most important amenity in our hybrid-driven labor market.
One of Alliance's Virtual Offices is the better choice.
---
Further reading
---
Alliance Virtual Offices provides digital tools and services for established entrepreneurs and business owners transitioning to digital-first operations. 
Don't risk using an online virtual office that causes you more of a headache than it's worth. Instead, look into the services and amenities you'd like in a real virtual office.
Contact us today to see how Alliance's Virtual Offices can help your company position itself for long-term success, and check out our Virtual Office Blog for more information!