---
Q: What kind of costs are associated with a virtual office? Will I save money with a virtual office instead of a traditional office space?
A: The costs vary depending on your provider, but expect to pay a monthly fee for your plan and the amenities used throughout the month. Yes, even if you get an extremely nice Virtual Office, you'll save money compared to securing traditional office space.
---
In the past, starting a business was an expensive and high-risk endeavor.
First, entrepreneurs were responsible for finding a good location. This is easier said than done because when you rely on physical office space to act as your business's hub, location matters more than almost anything else.
Then, entrepreneurs typically paid large security deposits and the first and last month's rent, and that's not even accounting for monthly rent payments, utility bills, and other general upkeep.
Finally, if the business didn't work out, you might be protected by your LLC if you borrowed money using exclusively business credit, but historically, many entrepreneurs got their start using hard-earned money they'd been saving for years. When a project like that fails, it will hurt more than just the pocketbook.
Starting a business is more streamlined than ever. With remote and hybrid workstyles being the preferred method of employment for nearly 70% of American workers, business owners have more opportunities to start low-risk and cost-efficient companies than ever before.
One of these opportunities is using one of Alliance's high-quality Virtual Offices to establish your business and prepare for growth.
Thankfully, the Virtual Office cost is considerably lower than securing traditional office space.
In this article, we'll explore the features that a Virtual Office can support, how these features add value to the money you're spending, how a complete Virtual Office supports you, and finally, how to reinvest the savings seen with a Virtual Office into your business infrastructure.
Remember, no matter how you do it, the Virtual Office price will be much more manageable than traditional space.
So, if you've ever searched for "virtual office cost meaning" or the virtual office cost in Dubai, take a moment and keep reading.
---
What features can your Virtual Office support?
How do these features increase the value of your dollar?
How a complete Virtual Office supports you
Reinvestment opportunities with your Alliance Virtual Office
---
What features can your Virtual Office support?
Before diving into Virtual Office costs per month and other virtual office cost examples, let's look at the features that Alliance's Virtual Offices provide.
---
Read more: Virtual Office Prices | How Much Does A Virtual Office Cost?
---
Below, we've put together a list of some of the benefits and amenities that Alliance's Virtual Offices provide.
Prestigious business address
Access to meeting rooms and coworking spaces
Mail forwarding options
Live receptionists and virtual phones
Platinum plus plans
Security
Prestigious address
Alliance has offices in every state and almost every city. In addition, we only add the highest-quality virtual office centers to our ever-expanding network.
Through Alliance, you can secure a Virtual Office with a professional and well-known address to register your business.
In today's attention-driven and highly fraudulent market, consumers are attracted to what they recognize and are opposed to what they don't.
Using a low-quality virtual address can put you in a position where you're unable to secure new customers because they search for your business and are greeted with questionable metrics, like sharing an address with a storefront and other lower-quality businesses.
Alternatively, when you use one of Alliance's Virtual Offices, consumers searching for your operations are greeted by a well-known address in a professional location, helping ease tensions and leading to more sales.
Outside of the customers you want to attract with a prestigious address, potential clients and investors will also appreciate a professional address. There's no better way to show that you're serious about your operations than using a Virtual Office address in the heart of a bustling central business district.
Not to mention, other virtual addresses use PO boxes and other illegitimate addresses that can't be used for LLC registration.
Meeting rooms and coworking spaces
During the pandemic and thanks to government shutdowns and stay-at-home orders, remote work quickly became the preferred method of employment for almost 70% of Americans.
Economists and other professionals thought remote work was a fad and that Americans would return to in-office work as soon as possible. Unsurprisingly, this hasn't been the case.
As Covid-19 restrictions continue to ease, remote work has fallen in popularity, but it's been replaced by hybrid workstyles.
Working exclusively from home is exhausting and can lead to job burnout, especially over long periods. Conversely, in-office work culture can be frustrating, and traveling to and from the office daily is time-consuming and expensive.
This is why Alliance provides easily reservable coworking spaces and meeting rooms for individuals and businesses using our services.
As a business owner, hosting meetings, virtual or in-person, is simply part of the job description.
Whether you're hosting potential investors, possible clients, or new team members, you need a place to host these meetings that is free from distraction, quiet, and professional.
Alliance's meeting rooms come in a variety of different sizes – so for in-person meetings, regardless of the number of attendees, you can always find a room that meets your needs.
For virtual meetings, we provide smaller meeting rooms that provide the perfect backdrop for your video calls. There's nothing worse than using a virtual background or hosting the meeting from home, so the meeting room acts as a small, well-lit studio for you to host from.
Workers might generally feel more productive when working from home, but that doesn't mean there aren't other problems that arise from spending so much time inside.
Alliance's coworking spaces allow you to take a break from the monotony of working remotely. Instead of spending all day cooped up inside, you can use our coworking rooms to interact with your peers and other like-minded business owners.
Mail forwarding
Some providers include a mail forwarding clause in each virtual office cost per month, but this creates situations where people aren't getting enough mail forwarding or are paying for services they don't use.
At Alliance, our mail forwarding is curated to meet your individual needs.
---
Read more: Why Our Premium Mail Forwarding Is Standard
---
We've created four separate tiers that business owners can use depending on how much incoming mail they receive.
$10 per month for monthly mail forwarding
The $10 option and our first tier are for companies that aren't receiving much mail at all. These businesses are either brand new or experiencing a lull in volume.
Unfortunately, the monthly mail forwarding option isn't frequent enough for you to stay on top of your important correspondences and time-sensitive documents. However, you can always make trips to the virtual office center to pick up other mail to compensate.
$20 per month for twice-monthly mail forwarding
Biweekly mail forwarding is another tier that's best for newer businesses or companies taking an extended leave of absence. These companies aren't receiving a ton of mail, but need more regular forwarding than once per month.
This tier is too infrequent to manage important documents and correspondences effectively, but you can always compensate with other pickups.
$30 per month for weekly mail forwarding
Weekly forwarding is for businesses that are heating up. These companies are seeing a real increase in incoming mail, but don't want to risk springing for the daily mail forwarding option.
With the weekly tier, you'll be able to stay generally up-to-date with any time-sensitive documents and government correspondences, as you'll never miss more than 5-6 business days of mail.
$70 per month for daily mail forwarding
The fourth and final tier is reserved for businesses that are seeing a ton of incoming mail and are too busy to wait for weekly forwards. These businesses have a solid infrastructure built and are focused on continued growth.
Daily forwarding is the perfect way to stay on top of all your important incoming mail. You'll never miss government correspondences or important, time-sensitive documents because you're regularly getting mail forwarded.
Alliance's add-ons
Alliance focuses on providing Virtual Offices, but we have other add-ons and services you can integrate with your office too.
With a Live Receptionist, you don't have to worry about answering your phone and foregoing important business logistics.
With our Virtual Phone, you can get a professional phone number to match your prestigious business address.
Through Alliance, all our add-ons are pay-as-you-need, so you'll never find yourself paying for services or tools you haven't already used. Many providers try and charge flat rates, but we want our partners to cultivate Virtual Office plans specific to their operations.
Platinum plus plan
At Alliance, our base plans start at $49 per month and include no additional amenities. If you're just getting started, this allows you to create a Virtual Office that caters to your business's needs.
Alternatively, if you're trying to run a business offering hybrid work for your employees and yourself, we have a Platinum Plus plan that gives you unlimited work and meeting space access.
With the Platinum Plus plan, you pay a higher monthly Virtual Office cost which helps you save money on the price of using the spaces.
During the pandemic, when nearly 20% of Americans were working fully from home, needing a hybrid workspace didn't make much sense.
Now, as hybrid work continues gaining traction, it's wise to go ahead and carve out a space for your business instead of waiting until it's too late.
Security
Alliance's Virtual Offices are safe.
If you use a lower-quality provider, you're risking your personal information, your business, and your customers' information too.
Scammers are ubiquitous, and these bad actors use lower-quality virtual offices, among other tools, to give a false impression that they're a regular business.
---
Read more: Scammers Hate Us: Only Legitimate Businesses Use Our Virtual Offices
---
When you use a lower-quality provider, you put yourself at the whim of the other businesses using the same space. If a business using the same address as your business is outed as a scam company, all of the operations using that location will suffer.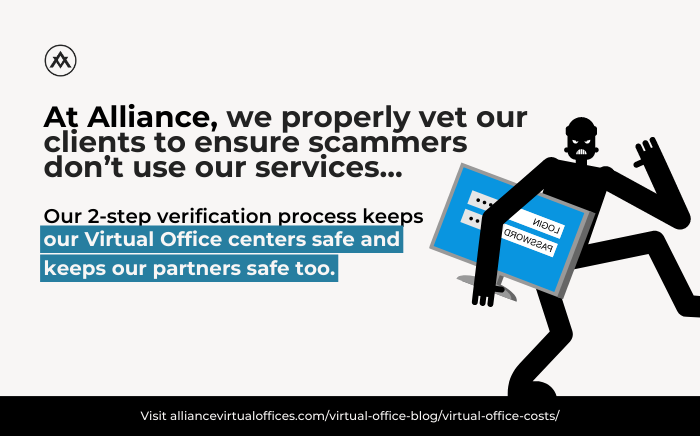 At Alliance, we properly vet our clients to ensure scammers don't use our services. Our 2-step verification process keeps our Virtual Office centers safe and keeps our partners safe too.
Now that you understand the various features a Virtual Office can support, let's look at how these features provide value and offset the Virtual Office cost.
How these additions add value
Each of these features allows you to get more from your Virtual Office.
They aren't just new expenditures. They actively increase the value of your dollars spent by exponentially stacking on one another.
This means that you aren't going to be penalized by your add-ons and other services not working together. If you're using one of Alliance's Live Receptionists, you won't have any issues incorporating a Virtual Phone Number too.
The idea is to cultivate a strong business infrastructure.
The more features you use, the more your business is streamlined, helping you get more done and grow faster. This means that each dollar spent brings in a higher ROI.
Working looks much different than it did even five years ago. Business myths of the past have been demystified, and moving forward, it's clear that the future is digital.
---
Read more: The Facts About Business: Busting Common Myths
---
Your Virtual Office is the hub of your business's activities, so the tools and services you add to your office need to make sense. The more additions and automated services that you integrate into your Virtual Office, the better your office functions.
Remember, saving money isn't always about finding the lowest virtual office price. Countless free virtual addresses may seem attractive, but as a business owner, you must consider the long-term effect on your operations from these 'free' services.
If you want to start a company in India, for example, you shouldn't just start searching for things like "virtual office cost in India" – instead, you should be trying to get the most value out of the money you're spending.
Think about it this way; you secure a free virtual address. In doing so, you save $49 per month that you would've spent on one of Alliance's Virtual Offices.
Sounds great, until you realize that you can't register your business, you don't have anywhere to accommodate hybrid workstyles, or you get caught in the crossfires of a scam business using the same provider.
You have to anticipate challenges before they happen.
Sure, saving $50 that first month might be nice, but it doesn't prepare your business for the future. It will likely hurt your business in the long term.
With one of Alliance's Virtual Offices, you still spend exponentially less than with a traditional business. This allows you to reinvest the savings back into your business to create a collaborative yet sustainable workplace.
Think in terms of years instead of always trying to retain as much capital as possible.
Why a complete Virtual Office is your best option
As the labor market continues to shift, CEOs of larger companies are focusing more on innovation, collaboration, and employee well-being.
To keep up with these changes, you need a Virtual Office that works for you.
A full Virtual Office is a Platinum Plus plan with daily mail forwarding and a Live Receptionist.
With this plan, your business has everything it needs to maximize its online and in-person presence.
You have access to meeting rooms and workspaces, a perfect way to keep up with your incoming business mail, and a helpful and friendly receptionist to help you worry about the more nuanced aspects of running your company.
Additionally, our Platinum Plus plan helps you get more out of your workday by freeing you from as many interruptions as possible.
If you've ever been in a position where you're in charge of operations while still trying to answer the phone, you understand how valuable this is.
There's nothing worse than potentially upsetting new customers by attempting to multitask while they're asking questions. Similarly, it's very easy to get distracted and miss out on an entire conversation because you're doing too much.
Thankfully, the tools Alliance provides for our Platinum Plus members prevent you from finding yourself in that situation.
Finally, a full Virtual Office gives you the maximum amount of privacy by keeping your phone number and address off of business registries.
Running your business from home isn't inherently bad, especially if you have access to other workspaces, but the problem arises when you try registering an LLC with that address.
Some business owners are unaware that business information is added to the public domain. This means that the address used for registration becomes accessible to anyone willing to look.
As you can imagine, the potential scammers, spam messengers, and other bad actors you'll start receiving mail from make this a particularly dangerous decision.
Low Virtual Office costs and how to reinvest them
Your Virtual Office is equipped to help you maximize your workday and build your business faster.

Full Virtual Offices don't just stack, they exponentially increase the value of your plan.

The phrase "it takes money to make money" exists for a reason. If you're spending all your time hunting for the best deal and trying to find the cheapest items, you'll drive yourself crazy and your business will have trouble succeeding.
As a business owner, you aren't looking for the cheapest option. You're looking for the best value.

You want to create a business infrastructure that allows you to handle more customers at once, quickly react to market shifts, and continue scaling without feeling like you've outgrown your Virtual Office.
Spending money now to continue making more money later is much wiser than trying to save as much as possible and being punished for it when true money-making opportunities present themselves later.
If you're looking to start a business in the UK, don't fall into the trap of searching for "lowest virtual office cost in UK." Understand that you should be searching for the greatest value over time rather than the lowest price short-term.

With the savings you see from using one of Alliance's Virtual Offices, you can easily reinvest in other areas of your company to bolster your business infrastructure.
Countless automation tools can help you stay on top of accounting, bookkeeping, taxes, payroll, and so much more.
Whether it's using an application that streamlines payroll or an application designed to boost your business credit, there's something for every kind of business imaginable.
Check out our Alliance Marketplace to see some of the tools and services you can easily integrate into the central hub of your company.
---
Further reading:
---
Alliance Virtual Offices provides Virtual Office services for businesses and individuals as well as several other tools built to help businesses scale.
Don't sweat the short-term virtual office costs in an attempt to find the cheapest virtual address. The benefits of using one of Alliance's Virtual Offices are clear and only stack over time.
Contact us today to see how Alliance can help you find adequate Virtual Office costs, and be sure to check out our Virtual Office Blog!