---
Q: How can I get a virtual business address for my LLC? Can I use a Virtual Office to register my business?
A: With a Virtual Office, you can easily register an LLC and secure a professional business address, all without needing physical space.
---
Owning a business is a lot of work, but starting or expanding an existing business has never been more straightforward. 
In the past, starting a business required serious start-up capital, an excellent location, and enough local talent or workers willing to move to fill positions.
Now, this isn't the case. 
The pandemic accelerated a trend that started decades ago: remote work.
At the height of Covid-19, industry experts and economists assumed that hybrid and remote workstyles would fade into obscurity as soon as the shelter-in-place orders were lifted. 
As you can tell, this hasn't been the case. 
What was originally seen as a lofty experiment is now the most sought-after style of work. 
Sure, there have been some slight changes, i.e., hybrid work replacing fully remote work as the style most workers seek, but the sentiment remains the same. Employees want non-traditional work styles that create a healthy work-life balance. 
So, how can you provide hybrid workstyles to your employees without springing for expensive commercial space? The answer is simple; with the right virtual business address for LLC, you can secure easily accessible meeting rooms and coworking spaces that keep your employees engaged and content. 
In this article, we'll look at how to set up a virtual business address for LLC, the best virtual address for business, and how the right address makes the setup process easier. Finally, we'll explore Alliance Virtual Office's scalability and setup. 
So, instead of trying state-specific searches like "virtual business address for LLC in Florida" or "virtual business address for LLC in Texas" – take a moment to keep reading to see why a Virtual Office is the right choice for your business.
---
---
How do you set up a virtual business address?
Traditionally, finding an adequate location for your business was the first step for any entrepreneur looking to start a company. 
As you can imagine, this was an expensive process. You had to pay a hefty security deposit, sometimes in addition to the first and last month's rent. You were then responsible for paying monthly utilities, rent, and other general office upkeep.
Add in that commercial leases typically lasted anywhere between 3-5 years, and it's easy to see why so many older business myths are still touted as fact. 
---
Read more: The Facts About Business: Busting Common Myths 
---
Thankfully, the process is much more straightforward now.
Business owners were once forced to search for location-specific offices that fulfilled the needs of each company.  
Now, there isn't even a reason to search for a "virtual business address for LLC near me" – the beauty of remote work is that with the right provider, you can work from anywhere. 
To set up a virtual business address for LLC in California or any other state, you don't need to worry about finding an adequate location. The first step is finding a high-quality address to use. 
The process of registering a business in the United States requires a physical address. Even if running a digital business, you'll have to secure a physical address.
This means that true virtual addresses won't work for registering your LLC because they lack physical space. 
Most virtual addresses are nothing more than PO boxes. In some cases, they're not even that; they're just phony addresses with no basis in reality.
This is what separates Virtual Offices from standard digital addresses.
---
Read more: What is a Virtual Office and How Does It Work? 
---
Using a Virtual Office as your virtual business address for LLC gives you the ability to choose a professional and prestigious address that comes with easily reservable access to meeting rooms, coworking spaces, and more.  
With these kinds of amenities, you can easily onboard team members while offering workstyles that potential employees will be interested in. 
Once you've secured a virtual business address for LLC, you're ready to go. 
If you're changing locations to a Virtual Office, you only need to submit a form 8822-B to make the change official. 
You'll also need to follow the setup protocol of your virtual address provider. If you're using one of Alliance's Virtual Offices as your address, the process is straightforward, and you have full support available throughout. 
Unfortunately, this isn't always the case. Some virtual business addresses for LLC providers have complex setups and insufficient service to answer questions or assist with technical problems adequately.
Why an Alliance Virtual Office is the best choice
To secure a legitimate virtual business address for LLC, the best choice is one of Alliance's Virtual Offices. 
If you're hoping to get the benefits of a particular state, such as the reduced regulations and lower taxes in Texas, you'll want to get a virtual business address for LLC in Texas.  
What's different now is that you don't have to worry about the specifics of the location. If the address exists, is prestigious, and isn't shared by bad actors, you don't have anything to worry about. 
Alliance's Virtual Offices are available in every state and almost every city. Each office has a well-known and professional address, so just pick a state and start! 
If you're looking for programs and resources for small businesses and a low, flat income tax, Alliance has a virtual business address for LLC in Georgia. 
These benefits aren't reserved solely for new businesses or companies changing addresses. There are also several advantages to using a Virtual Office as a satellite office. 
---
Read more: Satellite Mobile Office: Unleash Full Flexibility 
---
First, having immediate access to a private and professional location to meet with potential clients and investors in a new location is invaluable. 
Second, establishing a cost-efficient presence in any market you're hoping to corner allows you to move quicker than your competition.
With Alliance's Virtual Offices, you can create a network of satellite offices that helps you stand out, gain legitimacy and prestige, and react to shifts in the market at an unparalleled pace.
Below, we've listed additional reasons why Alliance's Virtual Offices are the best choice for your virtual business address for LLC.
Prestigious address for registration
Protects your privacy
Mail forwarding
Coworking spaces and meeting rooms
Prestige
Alliance gives you a prestigious business address for legal registration purposes. 
Registering your business is a big deal. When consumers search for your company, they're going to see the address you've used to register.
If you're using a low-quality provider for your virtual business address for LLC, you stand to scare off potential customers due to a widespread fear of being scammed. 
According to the FTC, almost $9 billion was stolen from unwitting consumers in 2022. Granted, there were half a million fewer fraud reports in 2022, but the actual amount increased by over 70% from 2021-2022.
Considering that online shopping scams increased by nearly 60% from 2021-2022, it stands to reason that most American consumers have either been scammed or know someone that's been scammed, likely online.
Understandably, this is going to cause a certain level of caution when individuals are purchasing from a company they're unfamiliar with. 
If you don't have a prestigious address, or worse, you're using a virtual business address for LLC provider that doesn't vet its clients, customers are far more likely to avoid purchasing. 
In addition, if scammers or bad actors use the same virtual address, your company will suffer from the bad actors' fallout. If you haven't been required to verify your personal information, neither have the other businesses using the provider. 
This can lead to a situation where all companies using a particular address are associated with a scam business, regardless of involvement. 
Alliance Virtual Offices uses prestigious addresses, but we also vet our partners to ensure no bad actors or scam businesses use our services.
Privacy
Using one of Alliance's Virtual Offices shields your home address and protects your privacy.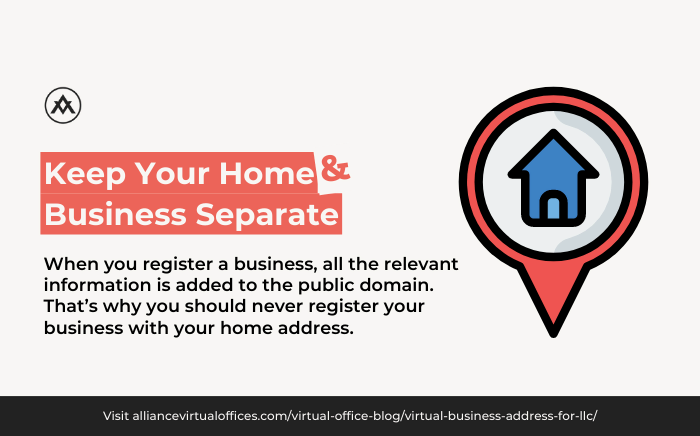 When you register a business, all the relevant information is added to the public domain. This is why you should never register your business with your home address.
Occasionally, you'll run into a virtual business address for LLC provider that wants you to register for an LLC from your home to use their services. These providers offer nothing more than software that streamlines the process of working from home.
This is disingenuous, and there's no reason to ever register an LLC with your home. 
There's nothing wrong with working from home, but once you add your home address to your LLC and file with the state government and IRS, anyone who wants to look can easily find out where you live. 
With Alliance's Virtual Offices, you register with a professional and well-known address, keeping your sensitive information out of the public domain.
Mail
We also offer mail forwarding on a variety of timelines to best suit your business's specific needs.
With four separate tiers, you can decide the number of times you want your mail delivered each month. In addition, the prestigious address you've secured makes for an excellent business reply mail return address. 
---
Read more: What Does Your Business Reply Mail Return Address Say About Your Business? 
---
Keep in mind, each of these tiers might vary in price depending on your location, but the particulars of each tier remain the same throughout.
The first tier is once-monthly mail forwarding and costs about $10 per month. This tier is great for brand-new businesses, but the mail forwarding isn't regular enough to keep you fully up to date on your incoming mail. That said, you can always travel to your Virtual Office center to pick up your mail to compensate.
The second tier is twice monthly, or biweekly, mail forwarding and costs about $20 per month. Like the first tier, this tier works best for newer businesses and businesses that aren't receiving enough mail to justify switching to the weekly option. 
Like the first tier, you may have to make additional trips to your center to pick up mail you don't want to miss.
The third tier is weekly mail forwarding which costs about $30 per month. Weekly mail forwarding is for businesses receiving a good deal of incoming mail, but are still hesitant to switch to the daily forwarding option. 
This tier is frequent enough to keep you relatively up to date on your incoming mail and will prevent you from ever getting more than a week behind on any time-sensitive or otherwise important documents.
The final tier is daily mail forwarding which costs around $70 per month. The daily mail forwarding option is reserved for businesses receiving a considerable amount of incoming mail.

With this tier, you'll never have to worry about missing important correspondence or government documents, as you'll be receiving mail every business day. Daily forwarding is the best value for your money too. 
The first two tiers cost about $10 per forward, and the third costs about $7.50 per forward. On the other hand, daily mail forwarding costs about $3.50 per forward but depends on the number of business days in each month.
Coworking spaces and meeting rooms
One of the best aspects of Alliance's Virtual Offices is access to easily reservable meeting rooms and coworking spaces. 
Not only are you able to register your LLC with a prestigious address, but you're also able to use physical spaces whenever necessary. 
Hosting meetings is part of owning a business. Whether virtual or physical, it doesn't matter. You'll still have to host them sometimes. 
Alliance gives you a variety of rooms to choose from.
If you need to host a few people for an hour or two in the morning, we've got you covered. If you need to host several people in a large room for the entire day, we can take care of that too.
For virtual meetings, you can reserve a small, private, and well-lit room that is free from distractions and prevents you from needing any unprofessional virtual office background.
Access to coworking space allows you to take a break anytime working from home feels like too much. It's stressful to spend so much of your time in the same place you live, so the chance for a change of scenery is always an excellent way to recharge and refresh and approach your work with renewed vigor.
What's best about Alliance's coworking spaces and meeting rooms is that you only pay for what you need.
Our plans start as low as $49 per month, and if you don't need mail forwarding, you don't have to pay for it. If you don't need to access meeting rooms or coworking spaces for the first month, you don't have to pay for them.
Alliance's Virtual Offices are fully customizable and allow you to build your business infrastructure in a way specific to your operations.
How Alliance makes setup easier
The setup for your virtual business address for LLC shouldn't be an impossible process. It also shouldn't be without support whenever necessary.
Alliance Virtual Office's setup is streamlined and easy to manage. 
We first do our two-step verification process to ensure we deal with legitimate entrepreneurs or businesses. This simple process of vetting our partners protects everyone using our services by keeping bad actors and scam businesses out. 
There are countless virtual business address for LLC providers that don't vet their customers at all, and when you're hoping to commit fraud online, you don't want to give out your information to anyone you aren't forced to. 
This is why adding a verification process is so effective. There are already unlimited opportunities for bad actors to access virtual addresses and PO boxes they can use to commit crimes, so verifying identities is the best way to keep our Virtual Office centers untarnished.
The first step in our process is verifying your address. All you need to do is provide us with an address, typically this is a home, but it doesn't have to be – it just has to be somewhere you can actively receive mail.
Then, once we've received the address, we send further verification to that address to first ensure that the address truly exists and is used, and finally to collect a bit more information. 
Vetting our potential partners keeps the rest of our clients as safe as possible. 
Once we've verified your address and identity, we can start the actual Virtual Office setup.
First, we send a test letter to the Virtual Office center to ensure your mailbox functions properly.
Other providers don't take this step, which can often lead to difficulties and delays, two things you can't afford in the early stages of your company.
After the test letter has been sent and we've interacted with the Virtual Office center specific to your business, we know that your mailbox is operational and that we have an open line of communication with the center for any possible issues. 
And that's all it takes. Once we've contacted the Virtual Office center about your mailbox, you're ready to get started. 
Keep in mind, this is just the bare minimum, but you can have as much help as you want. 
Alliance makes it easy to set up your Virtual Office to the fullest. 
We walk you through the process, helping you use your new address for everything from registration to bank accounts.
At Alliance Virtual Offices, we provide support from several angles. 
If you're in your Virtual Office center to use the coworking spaces and meeting rooms, or to pick up your mail, there is friendly and professional onsite staff available to help you with any issues, technical or otherwise, that may arise.
Outside of the onsite staff, Alliance has remote support available as well. 
We have a number you can call to speak with a representative who will walk you through any issues you're experiencing, but if you don't want to speak on the phone, we also have email support that you can easily communicate with too.
We help you get set up quickly and easily so you can focus exclusively on your business.
Using your Alliance virtual business address for LLC registration
Setting up a virtual business address for your LLC requires you to have a physical address.
Alliance Virtual Offices provides one and gives you all the support you need to make setup fast and easy. 
To use your virtual business address for LLC registration, you'll just need to visit the website of the state's Secretary of State, or equivalent agency. From there, the steps for LLC registration will be clear.
---
Further reading
---
Alliance Virtual Offices provides Virtual Office services and other tools for entrepreneurs and businesses to create successful companies. 
Using a Virtual Office for your virtual business address for LLC provides you with access to meeting rooms and coworking spaces, a prestigious address, and countless other amenities that were once only associated with traditional workspaces. 
Contact us today to see how Alliance can help your company position itself for success, and look at our Virtual Office Blog for more information and tips!