---
Q: What is a virtual business address? Will it save me more money than a virtual office?
A: A virtual business address is an address divorced from real physical space. A virtual address might save you money in the short term, but it will cost you time, effort, and money over time.
---
As a business owner, the desire to hoard capital can be overwhelming. 
Dealing with uncertain economic issues and a constantly changing landscape is frightening, and many individuals' initial reaction is to look for ways to save as much money as possible at every turn. 
No one is saying that you shouldn't try and save money. You should try to save capital as much as possible, but you should do so through long-term investments in your business and finding the best value for every dollar spent. 
In the past, this may have looked like the early adoption of computer technology or digital quality control measures. Now, owners of remote-capable businesses get the most value out of cultivating business infrastructure that allows for hybrid workstyles, flexibility, and collaboration.
More than half of American workers want some kind of hybrid arrangement. As an online business owner, the best way for you to increase employee engagement and retention is to use a business address that provides you with access to physical workspaces that you can use to accommodate your employees' requests. 
Since remote and hybrid work has exploded in popularity, the initial reaction for many business owners is to locate the cheapest virtual business address for digital-first operations. The thought is understandable, but using the cheapest virtual office will only cost you more money in the long run.
Today, we'll be looking at whether the cheapest virtual business address is the best for your finances, what you should consider when you try to optimize business spending, alternatives to the cheapest virtual office address, and finally, we'll look at how to integrate Alliance's Virtual Offices with other tools. 
Instead of trying to find the cheapest virtual business address and phone number, take a moment to keep reading and find a more cost-efficient way forward.
---
---
Why the cheapest virtual address is a poor choice
For most aspects of your business, going for the cheapest option without considering the value of the money you spend is rarely the right move. The same is true for your Virtual Office. 
Before we explain why you should avoid the cheapest virtual business address, let's look at the definition of a Virtual Office. 
---
Read more: What is a Virtual Office and How Does It Work? 
---
A Virtual Office is a service businesses and individuals use to register an LLC without securing a traditional commercial lease. 
As you can imagine, not all virtual offices are the same. Because of the varying quality of virtual offices and the amenities and benefits you risk losing should you choose the cheapest virtual business address, you'd be better served looking for an office that provides you with real value rather than using the office that saves you the most capital in the short term. 
Business owners need to provide hybrid work options to their workers for better employee retention and brand loyalty. Owners also need to host regular team meetings and other team-building activities to incentivize collaboration and cultivate a healthy workplace.
Similarly, business owners with digital-first operations need to utilize software that integrates with their Virtual Offices to provide information about important key performance indicators, or KPIs. 
With the cheapest virtual office, it's impossible to provide the same level of team-building, and it's impossible to integrate other services and tools into your virtual office.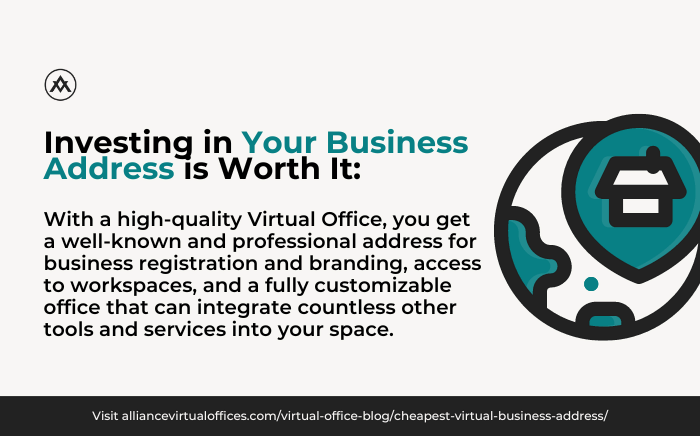 Through high-quality Virtual Offices, you get a well-known and professional address for business registration and branding, access to workspaces, and a fully customizable office that can integrate countless other tools and services into your space. 
With that in mind, let's look at the issues with using the cheapest virtual mailing address. 
The most damning aspect of using the cheapest virtual business address is that a lower-quality, completely digital address doesn't provide your business with an actual address.
Low-quality providers often try to sell software that might make business management more streamlined as a cheap virtual office, but this is misleading.
These cheap offices don't use real physical addresses, so using these services doesn't give you any benefits at all.
Most of the cheapest virtual office addresses are nothing more than software or applications that help you set your business up from your home.
You can't register your business with these addresses; they're not attached to physical space. Most states won't even allow you to register an LLC with a PO box, so it's even less likely that you'll be able to register with a cheap digital address. 
Some business owners feel they can use poor-quality virtual addresses because of their location. They figure that since they want to work in the area they're living in, they can just use their home to register for an LLC. 
This is a terrible decision.
It doesn't matter if you're based in the United Kingdom and come across the cheapest virtual business address in the UK – you should never register an LLC with your home.
When you register an LLC, all pertinent business information is added to the public domain. 
This means that if you use your home for business registration, it'll be added to a database that anyone can look through whenever they want.
As you can imagine, this isn't very secure – which is the next issue with using the cheapest virtual address.
What is the point if you're using a virtual address that doesn't even give you the benefit of protecting your privacy? Countless digital management applications are honest about their intentions and would better streamline your work-from-home process.
Remember, no one is telling you not to run your business from home. There's nothing wrong with using your hub as the location of your key operations. 
The issue arises solely when you use that address to register for an LLC.
Outside of the clear security problems and the lack of identifiable amenities, using the cheapest virtual address makes your business look woefully unprofessional.
Customers, clients, and investors alike are all going to google your company. 
When you're using a cheap virtual address, your business will appear to share an address with other businesses, or it won't show up at all. In the worst-case scenario, if you're using a provider that's allowed scam businesses to harm consumers, they'll see information about scams relevant to the address listed. 
Professionality is invaluable, especially when you're just getting your business off the ground. 
Consumers are rightfully worried about being scammed, and using a professional address helps ease some of the worries these individuals experience when deciding whether or not to use a company they're unfamiliar with. 
Even if your products and services are unmatched, the best in the business by a considerable margin, that won't matter if you can't convince potential customers to seal the deal. 
Suppose you're looking at two companies of the same age that offer the same product for the same price, with similar management and company ethics. The only difference between these two companies is the business address.
In that case, you'll always go with the more recognizable location.
If one of the companies is registered to an address you're familiar with and surrounded by businesses you're familiar with, and the other company is registered to an address that's unknown to you and surrounded by businesses you don't recognize, it's hard to imagine why you'd risk using a company that looks questionable when a professional option is available. 
Regardless of all the problems with using the cheapest virtual business address, the biggest reason to avoid it is that it's simply not cost-efficient. 
---
Read more: How to Run a More Cost-Efficient Business in 2023
---
Sure, you may save a few more dollars in the short term, but over time, the time, money, and effort you'll wind up expending to deal with the problems that crop up will vastly overtake the menial savings from your original purchase.
Realistically, there are much better methods of saving your business money. Typically, building a strong business infrastructure that can handle an increase in volume without stuttering is a far better investment than using the cheapest virtual business and hoping for the best.
How you should view your spending
The idea that every company purchase should be the cheapest possible is silly and isn't good advice if you want a long-lasting and scalable business. 
Thinking in terms of absolute costs is a quick way to obsess about meaningless purchases. It will typically leave you in a position where you're dealing with counterparties that don't have your best interests at heart. 
Yes, if you're making B2B sales or dealing with distributors and service providers, those companies want to make money. 
The difference, however, is that the cheapest providers aren't focused on building a good reputation and providing value to their customers. Instead, these lower-quality providers focus on extracting as much value as possible until the other shoe drops. 
Rather than thinking about your expenses in terms of absolute costs, you should pay attention to your return on investment, or ROI. 
It might be a silly aphorism, but the sentiment holds: it takes money to make money. 
If you spend $100 and make $200 – that is an objectively worse financial decision than spending $200 to make $1000.
Everything you do within your business will cost money – you just need to think about the kind of return you can expect. 
The situation is even direr when you're using the cheapest virtual business address. Typically, you're spending money that will lead to spending even more. 
In the modern labor market, employee retention is huge. The Great Resignation saw quit rates that haven't been seen in several decades, and workers are seeing higher wages by "job-shopping" than through company loyalty.
Cultivating a healthy workplace and offering hybrid or remote positions is an excellent way to bolster employee retention. With the cheapest virtual business address in Perth or any other city, you don't have this luxury.
The right business address is a massive decision. The right choice pays dividends. 
We've compiled a small list of concise ways your business should view its spending. With these tips, you'll stop focusing exclusively on absolute costs and instead understand how to focus on scalability and future growth rather than penny-pinching.
Evaluate your business 
Without proper evaluation, you won't know what areas of your business are worth investing in. Similarly, you'll have difficulty identifying areas where costs can be cut. 
Before you start trying to cut costs and save capital, you need to evaluate your business for strong and weak points. This is a situation where it's often beneficial to use the services of a third party to reduce any possible biases. 
Invest strategically 
Once you've evaluated your business, you can invest in the areas of your company that have the highest ROI. 
Some business owners neglect to evaluate and spend an absurd amount of time and money investing in parts of their business that aren't paying off. 
Value over price 
An excellent rule of thumb is to consider the value of a purchase rather than the price. 
When making an important – or expensive – decision, the initial reaction is often to go for the cheapest option, especially if you're saving a few thousand dollars or more. 
Instead, consider the value the purchase will bring to your company and customers. If the more expensive option provides better value, then that's the choice you should make. 
Always optimize 
Most importantly, your business needs to be flexible, and it needs to be constantly looking for ways to optimize your spending. 
You should regularly review your operations to identify weak points or areas where you're not getting the highest ROI possible. 
One aspect of business ownership that's changed in recent years is the need for flexibility. The businesses that are always evaluating and always ready to react to shifts in the market are the businesses that will last for years. 
With these tips in mind, let's look at an alternative to the cheapest virtual business address.
Why an Alliance Virtual Office is the best choice
Contrary to the cheapest virtual business address, Alliance's Virtual Offices are built with the modern entrepreneur in mind and have countless amenities that streamline business ownership.
Let's take a look at how Alliance's Virtual Offices stand out.
Prestigious and physical address 
Mail forwarding 
Work from anywhere with ample support 
Access to on-demand workspaces and meeting rooms 
Security 
Prestigious and physical address
Alliance's business addresses are all prestigious locations that customers will be happy to search for. In addition, Alliance Virtual Offices has professional business addresses available in every state and almost every city. 
Where the cheapest virtual business address doesn't provide you with a way to register your business, Alliance allows you to register an LLC in any state you want.
A prestigious address increases your business's legitimacy and shows potential clients and investors you're serious about your operations.
You don't want to risk losing out on business because of your proximity to bad actors or a lack of information, and through Alliance, you won't.
Mail forwarding
Some virtual office providers try and charge a flat rate fee that includes amenities that some business owners don't need. 
At Alliance, our plans are fully customizable. This means if you don't want to use mail forwarding, you don't have to. 
That said, for businesses that do need mail forwarding, Alliance has four separate tiers designed to accommodate the amount of mail you're receiving. 
---
Read more: Why Our Premium Mail Forwarding Is Standard 
---
Keep in mind, the prices of these tiers might vary slightly by location. 
Once monthly mail forwarding for $10 per month is the first tier of mail forwarding and is designed for new businesses that are just getting a feel for Alliance's mail forwarding options. 
The first tier isn't regular enough to help you stay fully up to date on your business mail, but it's a great way to identify how much mail forwarding your company truly needs. 
Twice monthly, or biweekly, mail forwarding for $20 per month is the second tier and is also designed for newer businesses that want their mail slightly more often. 
Biweekly forwarding isn't regular enough for you to stay fully up to date either, but it does provide a better chance than once-monthly forwarding. With biweekly mail forwarding, you might have to make occasional trips to your Virtual Office center to pick up mail, but less frequently than you would with the first tier. 
Four-times-monthly, or weekly, mail forwarding for $30 per month is the third tier of mail forwarding and is for when your business is picking up steam.
Weekly forwarding is for businesses seeing a higher volume of incoming mail but are still unwilling to try the daily option. This tier keeps you relatively up-to-date and requires very few compensating visits to the Virtual Office center to pick up your mail.
Daily mail forwarding for $70 per month is the fourth and final tier of mail forwarding and is designed for companies doing a lot of business. 
With daily forwarding, you'll never miss any important correspondence or time-sensitive government documents. This keeps you fully in the loop and prevents you from putting yourself in a situation where you've been subpoenaed and are unaware until it's too late.
Additionally, this is a great example of searching for value over absolute cost. 
The first tier is objectively less expensive than the others, but it and the biweekly option are the most expensive tiers of forwarding when you look at their value. 
With the first two options, you spend $10 every time your mail is forwarded. The third option is slightly better but still costs about $7.50 for every forward.
Alternatively, the daily forwarding option comes out to about $3.50 per forward, depending on the number of business days in the month.
As you can see, the daily forwarding option provides considerably higher value than the other tiers, despite costing slightly more in the short term.
Ample support
When using the cheapest virtual business address provider, the support you can access leaves much to be desired.

Through Alliance, you have support regardless of where you're working. 
If you're using our easily reservable meeting rooms or coworking spaces, you have access to friendly and professional onsite staff that can assist you with any technical difficulties and can point you to the various amenities in the space.
When you're working remotely, Alliance has a support line you can call, or if you're opposed to talking on the phone, a virtual support line you can email.
Alliance prides itself on providing high-quality spaces for our partners, and offering support is just one minor aspect of our operations.
Workspaces and meeting rooms
If you're using one of the cheapest virtual business addresses that don't come with a real address, what makes you think you'll have access to workspaces and meeting rooms? 
At Alliance, all our Virtual Offices come with access to easily reservable meeting rooms and coworking spaces – but we never include access unless you need it.
This allows us to keep our costs incredibly fair. By only charging our partners for the amenities they use, we're able to keep our simplest plans cost-efficient and attractive.
Working from home for an extended period can get frustrating. With access to coworking spaces, you have the perfect spot to decompress and recharge whenever you feel you're approaching burnout. 
As a business owner, you're guaranteed to host some meetings, virtual, in-person, or otherwise. To host these meetings, a quiet and professional space would make your life much easier. 
Alliance's meeting rooms come in a variety of sizes, so for physical meetings, you can choose a room that can accommodate whatever number of attendees you need to accommodate.  
For virtual meetings, Alliance has quiet and professional meeting rooms, preventing you from using an unprofessional virtual meeting background.
Security
Because we provide our partners with genuine physical space, Alliance keeps your private information out of the public domain. 
This means you don't have to worry about disgruntled customers or frustrated ex-employees having unfettered access to your information.
Outside of keeping your information safe, Alliance keeps you safe from the actions of scam businesses too.
---
Read more: Scammers Hate Us: Only Legitimate Businesses Use Our Virtual Offices 
---
One of the issues with so many scam businesses existing is the fallout from being associated with them.
When you're using the cheapest virtual business address, this is a very real possibility. 
Providers that are worried exclusively about their bottom line aren't concerned with your business's reputation. If you're using one of these providers and another business using the same provider is outed as a scam business, your business will suffer through sheer association. 
At Alliance, we've created an identity verification process that prevents scam companies from using our services. This helps keep your company safe.
Integrating your Alliance Virtual Office
The cheapest virtual business address isn't the best deal.
It can end up costing you opportunities. An Alliance Virtual Office is slightly more expensive but provides far more value per dollar.
Even better, Alliance's Virtual Offices are fully customizable and allow you to integrate countless different tools or services. 
From Alliance, you might consider using a Live Receptionist to help you deal with the frustrations of running a business and answering the phone without hiring another employee. 
Our friendly and professional receptionists personally screen and answer every call, allowing you to focus on the more nuanced aspects of your business.
Another service Alliance provides is a Virtual Phone.
You've already got a professional business address, so why not add a phone number that helps you keep your work and business lives separate? In addition, unlimited extensions make our Virtual Phone an easy way to onboard new team members.
Outside of Alliance's other services, there are several other kinds of tools and services that you can use in conjunction with your Virtual Office to create the healthiest business infrastructure imaginable.
---
Further reading
---
Alliance Virtual Offices provides professional-quality business addresses for individuals and companies hoping to register an LLC and effectively scale their operations.
Whether you're an established entrepreneur or just getting started, Alliance has the tools to help you succeed. 
Instead of trusting the cheapest virtual business address you can find, allow Alliance to provide your business with true value and scalability. 
Contact us today to see what Alliance can do for you – and be sure to check our Virtual Office Blog for more tips and information.