---
Q: What is a virtual address for business? Is a virtual address similar to a virtual office?
A: A virtual address is simply a digital address that doesn't correspond to any physical space. These addresses aren't like Virtual Offices because you can't register your LLC with them, and they don't provide access to coworking spaces or meeting rooms.
---
In recent years, technology has advanced rapidly, surprising industry experts and average individuals alike.
Computing power continues to grow, smart devices are getting smarter, and artificial intelligence is becoming more difficult to identify. Along with these leaps in technological capabilities, the way we work has advanced too. 
The pandemic created a perfect storm wherein advancing technologies and forced shelter-in-place orders caused countless individuals to begin working from home. Sure, remote work was around before the pandemic, but it wasn't nearly as popular. 
These changes in how we work have affected the process of owning a business too. 
In the past, business owners had to find a suitable location and get funding from banks or other lenders to secure that location. If they didn't have the capital, they had to continue paying exorbitant sums just to keep the business's doors open.
Now, this isn't the case. With Virtual Offices, business owners can register anywhere without securing physical office space. 
Unfortunately, other recent tools and services try and co-opt a Virtual Office's efficacy, but just aren't as useful. 
One example of this is a virtual address for business.
In this article, we'll define a virtual address for business, whether or not these addresses can be used for business, and why a Virtual Office is superior. Finally, we'll look at some of Alliance's Virtual Offices and their benefits. 
So, instead of searching for "virtual address for business near me" – keep reading. You'll know exactly what kind of virtual space to look for in no time.
---
---
What is a virtual address?
According to Gallup Research, a surprising 54% of office workers claim that they'd leave their current position for work that provides remote and hybrid workstyles. 
With over half of the surveyed office workers willing to leave their work for something remote, it makes sense that many business owners are focused on providing flexible work and other employee-centric amenities. 
Through Virtual Offices, business owners can do just that, and to effectively explain a virtual address for business, you first need to understand what a Virtual Office is. 
---
Read more: What is a Virtual Office and How Does It Work? 
---
At its most straightforward, a Virtual Office is a service that allows business owners to register an LLC without forcing these individuals to purchase or lease commercial office space. In addition to business registration, the higher-tier providers offer several other amenities and services designed to help businesses scale. 
High-quality Virtual Offices are attached to physical spaces you can be proud of. With the right Virtual Office, business owners can use a professionally recognizable address on their branding material and search results to give an air of legitimacy to their operations. 
However, not all Virtual Offices provide the same amenities. 
With a virtual address for business or another "digital address" style, you aren't getting access to physical space or a way to register your business.
Some lower-quality virtual office providers will slightly change the wording of their offerings to convince unsuspecting consumers or business owners to use their products. 
A virtual address for business is one of these tricky offerings.
Essentially, virtual addresses aren't addresses at all.
They're software-based solutions that don't provide any physical space, and the word "address" is included only to deceive you. 
Without providing you with an address, a virtual address is useless. 
Some business owners are under the impression that they can use a virtual address in state-specific situations such as satellite offices, but without the physical space, this is misguided.
---
Read more: Satellite Mobile Office: Unleash Full Flexibility 
---
A satellite office is a great way to corner new markets and with tools like virtual offices, business owners have a cost-efficient way to do this.
The key is ignoring the lower-quality providers and the virtual addresses that don't provide you with any value. 
Rather than searching for a state-specific virtual address for business in NJ or somewhere similar, you should try to find the best Virtual Office spaces you can and use those services instead of the phony addresses.
Can you register a business with a virtual address?
Before we look at whether or not you can register your LLC with a virtual address for business, let's look at some brief requirements for registration. 
Keep in mind, all states are different, so these requirements might vary slightly depending on where you're trying to register. 
According to the Small Business Administration, you'll need to register your LLC in a state where you're actively conducting business. Below are a couple of additional requirements you need to keep in mind within a given state.
Physical presence
Significant portion of revenue comes from the state

Hypothetically, you may register your business anywhere, but if you're conducting business in one state while registered in another, you could wind up paying double taxes. 
The SBA recommends registering your business in the state where most of your money is earned. Similarly, if you regularly meet with individuals or clients in a specific state (physically or digitally, it doesn't matter), that is where you should register. 
With this information in mind, let's look at how a virtual address would work for LLC registration.  
Unsurprisingly, it doesn't. You can't use a virtual address for business to register your LLC. 
One requirement that all states still have is the need for a physical presence in the state where you're registering. With a virtual address, you don't have that. 
Searching for a virtual address for business in PA won't help you if you don't have a Pennsylvania business address that you can use.
Most virtual addresses for business providers will use either a PO box, which also can't be used to register a business, or a phony address that doesn't exist. 
You might think you could use a virtual address to help you with collaboration and the struggles of onboarding remote employees, but you'd be better served using a legitimate Virtual Office to do so.
Sure, your business can use a virtual address, but that address won't be your business address. In addition, the virtual address for business in Delaware or any other state won't be professional or well-known, and you won't be able to use it for registration, so it won't be of any use for your branding materials. 
Typically, business owners stuck in this position will resort to using their home for the LLC registration address, but this is a terrible decision. 
Before we move on, let's examine why you should avoid using your home for LLC registration.
The first consideration you need to make is professionality.
When you use your home as your business address, you can't keep it hidden. 
It doesn't matter if you're living in California while using a virtual address for business in California; you won't be able to use the virtual California address to obscure your home address.
Anyone searching for your business will be immediately greeted by the information that your business uses a residential property as the hub for its operations.

Now, there's nothing wrong with using your home as the hub for your operations, but that doesn't mean it gives the kind of impression you should be looking to make. 
When you're meeting with potential investors or clients, you don't want these individuals to think you're "small-time" or a business owner just trying to earn some secondary income. Instead, you want them to think of you as an established entrepreneur that understands the importance of putting your best foot forward.
Outside of the harm done to your business's image, using your home to register your business is incredibly dangerous too. 
When an LLC is registered, all business information is quickly added to the public domain.

When something is in the public domain, it's accessible to anyone. 
Therefore, when you use your home to register your business, you're putting your sensitive information into a database the entire planet can access. 
This means that disgruntled ex-employees or frustrated consumers can easily search for your business and know exactly where you live in a matter of minutes. Sure, you might not be worried about individuals like that at the moment, but there's no guarantee this will always be the case. 
In addition to putting yourself in harm's way, the sheer volume of attempted scams and spam messages that you'll start to receive is enough to keep any reasonable individual from using their home for LLC registration. 
Finally, using your home address to register your business makes it almost impossible to maintain a healthy work-life balance. 
Working from home makes it difficult to separate work from leisure. Once you legally claim that the place you eat, sleep, drink, and relax in the same place you conduct business, this separation becomes unattainable. 
Thankfully, there is a better way.
Why you should use a Virtual Office instead
During the pandemic, industry experts and economists claimed that the influx of remote work was nothing more than an experiment.
These individuals thought that as stay-at-home orders lifted and businesses reopened their doors, employees would return to the office because they were told to or because they'd be sick of the isolation of remote work.
On both points, they were wrong. 
The Great Resignation that began in 2021 showed that workers were sick of toxic workplaces and employers that didn't consider their needs. Quit rates soared, employee retention was demolished, and, according to PEW Research, most of these workers changing jobs started making more money. 
Historically, the labor market always favored the employer. It still does, but some of that power is shifting. 
To be effective, see high employee retention, and cultivate a healthy and innovative working environment, business owners must provide hybrid work options.
This is why a high-quality Virtual Office is invaluable.
Below, we've put together a list of some key reasons you should use one of Alliance's Virtual Office rather than a virtual address for business.
Flexibility 
Security 
LLC registration with prestigious addresses 
Coworking rooms and meeting spaces 
Mail forwarding 
 
Flexibility
A Virtual Office from Alliance offers you all the freedom and flexibility of a virtual address while providing you with the amenities and benefits associated with traditional office space. 
As remote and hybrid workstyles continue to grow in popularity, an easy way to offer flexibility to your employees is invaluable.
Through Alliance's Virtual Offices, you can work from anywhere in the world. With locations available in every state and almost every city, Alliance ensures total flexibility both in the location you decide to register your LLC and the business you conduct once you've got your business off the ground. 
A virtual address for business doesn't give you that same registration flexibility and the flexibility it does provide is useless because you still aren't given a method of registering your LLC.
Remember, your business must have a physical location during LLC registration. Alliance's Virtual Offices provide this to all entrepreneurs using our services.
Security
The transition to digital-first operations and widespread remote and hybrid workstyles have brought along some bad actors. 
According to the Federal Trade Commission, or FTC, there were nearly 2.5 million reports of fraud in 2022 and a whopping $8.8 billion in consumer losses.
Scammers are online, and they're taking advantage of anyone they can manage. 
At Alliance, we've taken steps to protect our partners and consumers from these bad actors and scam businesses.
---
Read more: Scammers Hate Us: Only Legitimate Businesses Use Our Virtual Offices
---
We've created a two-step verification process that prevents scammers from using our services.
Due to the sheer number of virtual addresses for business providers and low-quality virtual office providers, scammers have ample methods of creating phony businesses. The key is to collect enough information that dissuades them from using our services.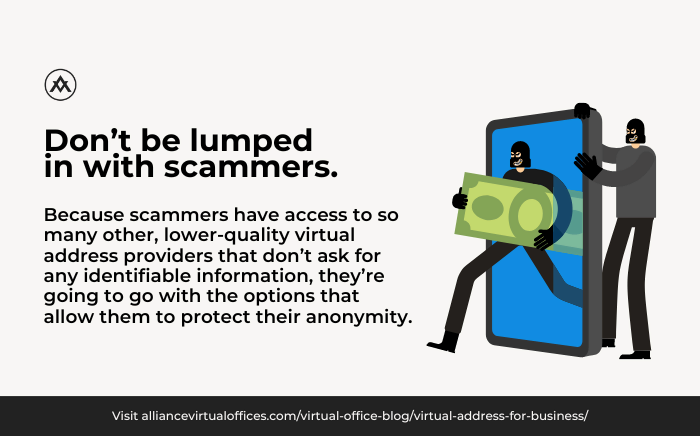 Because scammers have access to so many other, lower-quality providers that don't ask for any identifiable information, they're going to go with the options that allow them to protect their anonymity. 
Through our two-step process, we keep the scammers out by asking for just enough information. This keeps our existing partners safe from the fallout of being registered to the same address as a scam business and keeps consumers safe too. 
The first step is address verification. We collect an address from anyone who signs up to use our services and ensure that the address is usable and correctly registered.
Next, we focus on identification verification. 
Once our potential clients have sent an address, we send further verification directly to that address to gather a few additional details that verify the information we've previously received.
Not only does this protect consumers from the frustrations of getting scammed, but it keeps our existing partners safe too. 
With so many scams popping up, consumers are rightfully wary of new businesses, especially digital ones. 
If your LLC shares an address with a company that's been outed as a scam business, your operations will immediately suffer.
When consumers search for your business and notice that you share an address with scammers, they'll instantly feel opposed to using your services.
Whether or not that's fair is up for debate, but with Alliance, you don't have to worry about the conversation at all.
LLC registration with prestigious addresses
Contrary to a virtual address for business, Alliance's Virtual Offices allow you to register your LLC.
This is because all of Alliance's offices are attached to genuine physical space. Not to mention, Alliance only partners with high-quality providers, meaning every Virtual Office in our network is a well-known and professional address that you'd be proud to use on your branding.
Focusing on securing a professional and prestigious address might seem silly when you're talking about a Virtual Office, but taking the time to secure an easily recognizable address will pay dividends in customer loyalty and brand recognition. 
Think about it this way; two businesses are the same in every meaningful capacity. They're the same age, have similar leadership, offer the same products, and are both genuinely good businesses.
The only difference between these two companies is the address used for LLC registration.
One of the businesses is sharing an address with a retail store in a flyover state. When you search for this business, you're bombarded with questionable reviews about other companies from the same address and other less-than-positive feedback. 
The other business is located in Silicon Valley, at the heart of America's technology hub. When you search for this business, you're greeted with other successful businesses in the same area and generally positive feedback, save the occasional disgruntled customer. 
Unsurprisingly, the latter company would be easier to remember.
Coworking rooms and meeting spaces
One of the largest benefits of using Alliance's Virtual Offices is access to easily reservable meeting rooms and coworking spaces. 
With a virtual address for business, you won't be getting access to meeting rooms or coworking spaces because the address doesn't even exist. 
Through Alliance, however, you're able to host meetings, attend meetings, and work in an area separate from your home.
If you've ever spent any meaningful time working from home, you understand how important it is to have a location that you can use to break the monotony of remote work.
With coworking spaces, you're surrounded by other like-minded professionals that are focused on scaling their operations. 
With meeting rooms, you have a private and professional way to host any size meeting imaginable, virtual or in-person. 
Better yet, Alliance doesn't charge you for any amenities you don't use.
Some providers will include a flat rate fee for once-monthly use of these spaces rather than allowing business owners to decide how often they'd like to use the space. 
Through Alliance, our plans are customizable. If you don't need access to meeting rooms or coworking spaces, don't pay for them.
Mail forwarding
In addition to allowing our partners to customize their plans regarding coworking and meeting room use, we also have created four separate tiers of mail forwarding for our partners to try. 
---
Read more: Why Our Premium Mail Forwarding Is Standard 
---
Keep in mind, these tiers may vary slightly depending on where your Virtual Office is located. 
Once monthly mail forwarding for $10 per month
This first monthly tier is designed for new businesses that haven't found their footing yet. Once monthly forwarding isn't enough to keep you up to date on important documents, but it is enough to get you familiar with the mail forwarding system. 
Twice monthly mail forwarding for $20 per month
Similar to the once-monthly tier, twice-monthly is best for businesses that are still getting started. This tier isn't enough to keep you fully up to date either, but it'll keep you slightly more informed than the first tier. 
Four times monthly mail forwarding for $30 per month
This tier is for companies that are doing some real business. Weekly mail forwarding will allow you to stay relatively up to date with important documents, and anything that's missed can be compensated for with visits to your Virtual Office center. 
Daily mail forwarding for $70 per month
The daily tier of mail forwarding is for companies that are doing a lot of business. Daily forwarding will keep you as up to date as possible and will prevent you from missing any important documents or correspondence.
Not to mention, the daily tier is by far the best value for your money.
The first two tiers charge you about $10 per mail forward, and the third tier charges you about $7.50 per forward. Alternatively, the daily tier only costs about $3.30 each time your mail is sent your way.
As you can see, using one of Alliance's Virtual Offices comes with a whole slew of benefits that you can't find in a virtual address for business.
Alliance's Virtual Offices and their benefits
An Alliance Virtual Office is the best solution for your business.
Virtual addresses aren't addresses at all, at least not for business registration purposes. An Alliance Virtual Office, however, is the best choice. 
With one of Alliance's Virtual Offices, you can register your business from anywhere you want while keeping the flexibility associated with a virtual address. This means that you have a centralized hub to return to, complete with access to physical workspaces and mail forwarding.
Additionally, Alliance provides several other tools for entrepreneurs looking to effectively scale their businesses. 
With a Live Receptionist, you no longer need to worry about possibly upsetting potential clients or other callers. Instead, our professional receptionists will personally screen and answer every call, allowing you to focus on the more nuanced aspects of running your business. 
With a Virtual Phone, you can maintain a healthy work-life balance without falling victim to the struggle of trying to use the same number for everything. You already have a professional address – why not add a professional and dedicated phone number too?
---
Further reading
---
Alliance Virtual Offices provides Virtual Offices and a whole slew of other tools and services designed with established entrepreneurs in mind.
It doesn't matter if you're a new business owner or a 20-year veteran in your industry, Alliance has something for you and your operations. Instead of using a virtual address for business, allow Alliance to help you find the tools required to effectively scale your company. 
With a virtual address for business, you'll run into LLC registration issues, banking issues, and even legitimacy issues from consumers and investors alike.
Don't risk the countless negatives associated with using phony space. Contact us today to see what Alliance can do for your business, and check our Virtual Office Blog for more tips!