---
Q: Should I switch from a virtual address to a physical address? What kind of address would I use for a digital business?
A: Depending on the kind of company you're running, switching from a physical business to an online business is a great way to save money, retain flexibility, and scale more effectively. The best address for your digital-first company would be one of Alliance's Virtual Offices.
---
Despite the rise of remote workstyles, which have shown to be more productive than their entirely in-office counterparts, American worker engagement dropped severely in 2022 and continues to stagnant.
Combating this stagnation requires effort on the part of employers, as many of the workers experiencing this stagnation are doing so because of a disconnect between what employees think workers want and what workers actually want. 
According to a recently posted Forbes article, even larger companies are starting to notice the benefits of allowing employees to work where and how they want.  
In the article, the CIO and Head of CX at Logitech, Massimo Rapparini, explains that the future of work isn't one where people are working exclusively from home or exclusively from the office, but a hybrid setting where remote workers can seamlessly interact with office workers using video-calling technology and other communication tools.
This style of hybrid work allows employees to feel connected and prevents the team members that are working remotely from feeling left out of important meetings and decisions. 
In the past, an authoritarian style of management pervaded the labor market. Each team had one point of contact, a manager, who reported to another point of contact, and on and on. 
This led to workplace cultures that stifled innovation and rewarded task handling rather than genuine productivity. 
In the aftermath of the pandemic, however, a new kind of management invaded the public consciousness: collaboration. This management style decentralizes the decision-making power and results in lower turnover rates, especially when employees are content. 
Along with this transition to collaborative workstyles, there is an ongoing debate about switching from a virtual address to physical address for business owners. 
When remote work became the norm during the height of the pandemic, many business owners thought they could handle operations with a purely virtual address. Similarly, now that the benefits of hybrid workstyles have been made clear, some business owners feel they should invest in a physical address instead. 
In this article, we'll look at why you might switch from a virtual address, the pros and cons of using a physical address, and ways to get the best of both worlds. Finally, we'll close by exploring how Alliance allows you to make the switch from virtual address to physical address with ease.
So, if you've ever found yourself looking for ways to transition or searching online for "virtual address to physical address mapping" or another way of switching your workforce, take a minute and keep reading before you make any decisions.
---
---
Why switch from a virtual address to a physical address?
Unfortunately, there's no such thing as a virtual address to physical address converter. If you want to switch from one address to another, you'll have to take the required steps to do so.
Before we move on, let's take a quick moment to define some terms we'll use throughout this article.
Virtual address
Physical address
Virtual Office
Virtual address
With the influx of remote and hybrid workstyles, it isn't uncommon to see providers offering virtual addresses under the guise of offering virtual offices. 
Today, we'll use 'virtual address' to reference purely online addresses that may or may not physically exist.
A purely online virtual address is typically nothing more than software that makes it easier to work from home.  
With these lower-quality addresses, you aren't given a legitimate and professional address backed by physical space. Realistically, most virtual addresses are nothing more than PO boxes or fabricated addresses that don't exist. 
Even if you aren't interested in switching to physical space and are instead looking to transition to digital-first, remote operations, a virtual address isn't a good idea. 
---
Read more: Switching to Remote Work? Don't Settle with Your Remote Workspace 
---
First, you can't register a business with a purely virtual address. Registering a business requires a physical address; virtual addresses aren't associated with real locations. 
Next, a virtual address doesn't provide any hybrid work settings. Because they're not associated with an actual location, you aren't given access to easily reservable meeting rooms, making them wholly ineffective. 
The problems with a virtual address stem from the mislabeling of the service in conjunction with the fact that using these addresses doesn't provide your business with any real benefits.
Physical address
A physical address is what it sounds like, a physical office from which you can send and receive mail. 
Some businesses are simply incapable of operating remotely. If your business needs physical space, you don't have any options outside of securing a physical location. 
That said, most businesses don't need a physical location, and securing a physical office is, at times, prohibitively expensive. 
Keep in mind, the standard commercial lease length is between three and five years. This can lead to an expensive and frustrating situation if your business doesn't last that long.
Virtual Office
A virtual office is a service that allows individuals and businesses to register their LLCs without securing physical office space.  
---
Read more: What is a Virtual Office and How Does it Work? 
---
Additionally, high-quality Virtual Offices come with access to a slew of different benefits and amenities, from meeting rooms to live receptionists to mail forwarding add-ons.
The virtual address to physical address translation changes when you consider the possibilities of using a Virtual Office that allows hybrid workstyles to thrive. 
Now that we've looked at each kind of address, let's take a moment to consider why a business may be thinking about switching from a virtual address to physical address. 
First, you may need mail forwarding services that your purely virtual address doesn't provide.
Some business owners are under the impression that because they used a purely virtual address that doesn't provide mail forwarding, no virtual options provide the service. This leads to those individuals looking for physical space to avoid using a PO box or their home as their sole business address.

Next, you may just need more space to work. 
Unfortunately, the same phenomenon happens here too. Business owners are unimpressed by the lack of access to physical workspaces that come with a purely virtual address and start to look for a physical address that will allow for hybrid and in-office workstyles.
Finally, you may want a more professional business image.
A wholly virtual address doesn't look professional, especially when other unknown businesses or retail locations share the address. Again, some business owners are unaware of the possibilities provided by a Virtual Office address, so they search for physical space with a more legitimate address to help bolster their brand reputation. 
Before you go directly from a virtual address to physical address, let's take a moment to explore more pros and cons of using a virtual address vs physical one.
What are the pros and cons of a physical address vs a virtual address?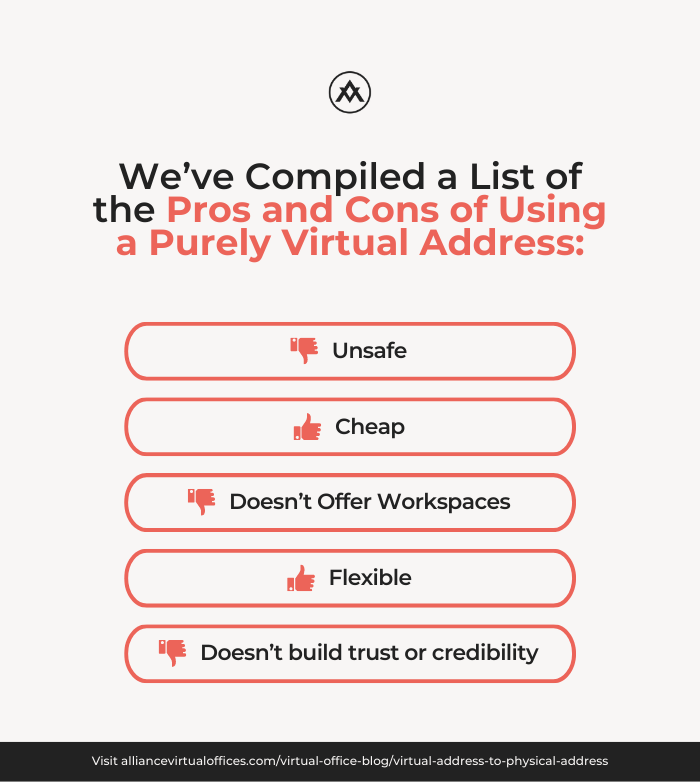 Below, we've compiled a list of the pros and cons of using a purely virtual address, and next, we'll look at the pros and cons of using a purely physical address.
Virtual address
Pros:
Cheap 

Despite the numerous problems with using a purely virtual address, no one can deny that they provide very cheap services. 
Unfortunately, that cheap price tag doesn't mean much when you aren't provided with any real benefits that you don't already have access to. 
Some business owners only concern themselves with how much money can be saved at every business decision. This is an example of how going for the cheaper option will eventually cost more in time, effort, and capital. 

Flexible 

A virtual address is flexible, but remote work is inherently flexible itself. 
It's nice to be able to work from anywhere, but you're already able to do that without shelling out for a purely virtual address. 
The flexibility isn't any better than the flexibility you already have access to. 
Cons:
Doesn't offer workspaces 

A purely virtual address doesn't come with access to coworking spaces or meeting rooms. 
With the increase in the popularity of hybrid workstyles, business owners want a place their employees can use when trying to break the monotony of working from home. 
Anyone who has worked remotely for an extended period knows that the stress of working from the same place you eat, sleep, and relax is very real. 
Without access to workspaces, there's no reason to utilize a virtual address.  

Doesn't build trust or credibility 

Scammers stole almost $9 billion in 2022. This number is astronomical and has several consumers feeling nervous about using new companies they're unfamiliar with online. 
Because of these incessant scams, using a purely virtual address that doesn't physically exist or uses a PO box will only serve to harm your company's credibility and legitimacy. 
You want consumers to search for your business and feel amazed. You don't want them searching for your business and feeling uneasy because they're bombarded with questionable businesses sharing the same address. 

Unsafe  

Virtual address providers rarely vet their customers. 
This leads to situations where your business is reputationally on the hook for anything the other businesses sharing the address may do. 
In addition, because you can't register your LLC with a purely virtual address, you'll likely have to register with your home address, which is never a good idea. 
For businesses operating remotely, there are several ways to grow and connect with other digital-first businesses and technically-sound consumers. 
Hashtags might be slowly declining in popularity, but they're still very worthwhile for small businesses hoping to grow. 
---
Read more: Small Business Hashtags to Connect and Grow 
---
Now, let's take a moment to look at the pros and cons of a physical address.
Physical address
Pros:
Prestigious 

There is no denying that a physical address has a certain prestige. 
Having a physical space that your business operates from and is easily searchable online does wonders for your business's image and brand reputation. 

Offers work and meeting space 

With a physical address, you're able to use the space for coworking opportunities and meeting rooms if necessary. 
In addition, you're already paying rent, so you don't have to reserve or pay an additional fee for the ability to use these spaces. 
Cons:
Extremely expensive 

A commercial lease is expensive. 
First, you're required to pay a hefty security deposit, sometimes in addition to paying the first and last month's rent. 
Then, you're responsible for countless monthly expenses, like rent, utilities, and regular upkeep. 
For newer businesses, spending too much on office space is a quick way to put yourself in an impossible position. 

Requires commuting 
Generally unnecessary 

A surprising number of businesses can operate remotely. 
Because of this, there's often no reason for you to secure a physical office. 
Sure, the space is nice, but spending the money to land a physical office could often be better spent on improving your business infrastructure and preparing to scale effectively. 

Not as much space as you need 

Despite having access to physical space, the price and decline in the size of commercial real estate mean you may not have access to the coworking spaces or meeting rooms you need. 
You don't want to risk leasing commercial space only to realize that the prohibitively expensive office you secured just won't cut it. 
Thankfully, there is a way to get the best of both worlds.
Is there a way to get the best of both worlds?
Yes, with one of Alliance's Virtual Offices, you can get access to the benefits of purely virtual addresses and the benefits of physical space without having to deal with the numerous negatives. There's no need to turn to Googling "virtual address to physical address in c" or "in os" – Alliance takes out all the guesswork!
Below, we've put together a brief list of the ways that Alliance's Virtual Offices provide you with all you could need to operate a successful and scalable business.
Affordable
Mail forwarding
On-demand workspaces and meeting rooms
Available everywhere
Safe
Affordable
Alliance's Virtual Offices are very affordable, especially in comparison to traditional space. 
Our plans start as low as $49 per month, which means you can secure a professional and prestigious address with access to meeting rooms and coworking spaces, along with countless other amenities and services you can integrate into your office. 
Rather than seeking out the cheapest virtual office imaginable, you can use a Virtual Office to bolster your business's infrastructure, allowing you to scale more effectively.
Mail forwarding
Through Alliance, we offer mail forwarding add-ons for any of our partners looking to keep a better handle on their incoming mail.
That said, we don't force anyone to pay for services they don't need.
Instead, we offer four separate tiers of mail forwarding designed for businesses seeing different amounts of incoming mail.
---
Read more: Unlock Full Flexibility with Business Mail Forwarding 
---
The first tier, monthly mail forwarding for $10 per month, is designed for new companies trying to find their footing. 
This option won't keep you fully updated on all the important documents you receive, but it will help you learn how our mail forwarding system works. Not to mention, you can always compensate with some extra trips to your Virtual Office center to pick up your mail. 
The following tier, biweekly mail forwarding for $20 per month, is for businesses still finding their footing but receiving too much mail to settle for monthly forwarding. 
In this case, you'll still likely need to make a few extra trips to your Virtual Office center to ensure you're never behind on important documents. Still, biweekly forwarding keeps you from missing more than two weeks of incoming business mail at a time. 
Our next tier, weekly mail forwarding for $30 per month, is best reserved for companies that are seeing a higher volume of incoming mail but are still unwilling to transition to the fourth and final tier. 
With the third tier, you shouldn't miss anything important because you're receiving your mail each week. Not to mention, weekly mail forwarding is a better deal than the previous two tiers. 
The final tier, daily mail forwarding for $70 per month, is for companies seeing a substantial amount of incoming mail.
These companies are unwilling to wait for weekly deliveries and instead insist on getting their mail as often as possible. If you're using this tier, there's a very low chance that you'll ever miss any important documents or time-sensitive requests because you're getting your mail so often. 
In addition, the final tier is far and away the best value for your money. 
The first two tiers cost about $10 per forward, whereas the third tier costs about $7.50 per forward. Alternatively, the fourth and final mail forwarding tier only comes to about $3.20 per forward.
As you can imagine, these savings keep you from having to pick up your mail and can be further reinvested into your company's infrastructure.
Workspaces and meeting rooms
Having access to workspaces and meeting rooms is paramount to the success of any hybrid-capable business.
From virtual address to physical address, there are rarely any spaces that are fully optimized for your operations. 
First, Alliance's Virtual Offices have access to easily reservable meeting rooms in case you're required to host a virtual or in-person meeting.
These meeting rooms come in a variety of different sizes.  
So, if you need to host a virtual meeting, you have a private and professional room that will prevent you from using an unprofessional background. 
Alternatively, if you need to host a physical meeting, Alliance has a variety of different-sized rooms you can choose from.
Available everywhere
Alliance has offices in every state and almost every city. This means that not only can you work from anywhere in the world with internet access, but you can also register your LLC anywhere you want.
Instead of using a purely digital address that gives you a business address in a state you're unfamiliar with and is unusable for business registration, allow Alliance to help you secure an address in the heart of a bustling central business district to improve your image and boost your business's legitimacy.
Safe
Purely virtual addresses aren't safe and physical addresses are too expensive. With a Virtual Office, you get the best of both. 
Alliance vets our clients to ensure no bad actors can use our services. We do this to protect our legitimate clients who are working hard to grow their operations.
With a two-step verification process, we collect an address and other personal information to guarantee that the only people who use our services are individuals that are serious about running a business.
Unfortunately, so many purely virtual addresses have no qualms with providing scammers or bad actors access to a virtual address. This can result in the other, often legitimate, businesses using the services being punished for the deeds of a single business that shares the address.
Making the switch from a virtual address to a physical address
As your business grows, you'll likely need a business address that reflects your growth. 
Switching from virtual address to physical address is often an overzealous response to a problem that could easily be solved by using one of Alliance's Virtual Offices. 
An Alliance Virtual Office gives you the prestige and convenience of having an office with the flexibility and cost-efficiency of a virtual address. 
---
Further reading
---
Alliance provides Virtual Office services and other tools for established entrepreneurs, new business owners, and everyone in between.
Don't make a premature switch from virtual address to physical address until you've looked through Alliance's Virtual Office locations and determined how much money and time you can save with our services. 
Contact us today to see how Alliance can help your operations scale, and be sure to check out our Virtual Office Blog for more!