---
Q: Is a Virtual Office right for my business? How can I tell if I should utilize a virtual office business address?
A: It depends on what your business does. A Virtual Office is a great way to save money and properly build your business infrastructure if you're running a digital-first business and don't need considerable physical space.
---
Before 2022, the future of remote and hybrid workstyles was unknown. Remote work was dwindling from pandemic highs, and employers and employees were at an impasse regarding whether returning to the office was a viable solution. 
Now, as more data is available to be analyzed, the impact of the pandemic and the necessity of remote and hybrid workstyles has never been more apparent. 
Although fully remote work isn't as popular as it was during the height of the pandemic, hybrid work has quickly taken its place as the most sought-after method of employment. 
According to a recently posted Gallup article, more than half of the employees who can work remotely are doing so in a hybrid capacity. 
In addition to this change, data gathered over the past year from the same article shows that hybrid workers are more connected to their company culture than entirely on-site employees, a surprising statistic challenging the belief that the only way to create a vibrant company culture is in the office. 
To accommodate hybrid workers, many companies are turning to a Virtual Office business address that meets their hybrid needs and keeps employees happy, content, and more productive. 
Today, we'll explore the ins and outs of a Virtual Office business address. 
First, we'll look at who a Virtual Office registered address is right for. Then, we'll look at the rare occasions in which traditional rentals better serve businesses.
Next, we'll determine whether your business can benefit from a Virtual Office. Finally, we'll close with Alliance's Virtual Office business addresses and how they provide you with all the amenities you need without sacrificing the flexibility of fully remote work.
So, if you've found yourself searching for things like "virtual registered office address Leeds" or other hyper-specific Virtual Office questions – you're in the right place.
Keep reading to see how your business can benefit from an Alliance virtual business address!
---
---
Who is a Virtual Office right for?
Before we dive into who a Virtual Office is right for, here is a quick definition of what the standard virtual office is. 
Remember that there are several different kinds of virtual offices, and not all will provide you or your company with the amenities and benefits you need. 
---
Read more: What is a Virtual Office and How Does It Work? 
---
Essentially, a virtual office is a service that allows individuals and businesses to register an LLC without securing a traditional, physical office location. 
That said, a virtual office that only provides you with an address isn't much of a Virtual Office at all. 
Alternatively, high-quality Virtual Offices are fully equipped to help your company access a prestigious and well-known address while offering you and your team access to coworking spaces, meeting rooms, mail forwarding add-ons, virtual receptionists, and more. 
As you can imagine, easy access to workspaces and meeting rooms is invaluable to your hybrid work efforts. Considering that even larger corporations like Logitech are finally admitting to the importance and longevity of hybrid work, it's a good idea to get a head start on securing access to a Virtual Office that offers tangible space for you and your team to work. 
So, who is a virtual office right for? 
Below, we've put together a small and comprehensive list of the kinds of companies that can benefit from using a high-quality Virtual Office.
Startups 
Small businesses looking to expand 
E-commerce companies 
Solopreneurs  
Fully remote businesses 
Startups
A Virtual Office is the ideal business address for startups because of the necessity of fast growth and easy scalability.
Renting traditional office space is wildly expensive. Considering that most startups focus on technological solutions and other digital mediums, these companies generally don't need a traditional office. 
By utilizing a Virtual Office, these startups can eliminate one of the priciest aspects of business ownership. 
Startups want to focus on expanding their business as quickly and efficiently as possible. Spending money on a traditional office, often before you've gone to market, is a massive money sink, considering the access to workspaces and meeting rooms is often useless. 
This isn't to say that startups should find the cheapest virtual office available, as that will only become more expensive in the long term. Still, it is to say that successful business owners understand the necessity of good investments. 
Rather than searching for the cheapest available option at every turn in launching a startup, you should be hunting for opportunities to get the most out of every dollar you spend.
With a high-quality Virtual Office, startups can retain the professionality and prestige of traditional space without sacrificing the flexibility and employee happiness of remote workstyles.
Small businesses looking to expand
Like the reasons why startups get so much use out of Virtual Offices, small businesses looking to expand get a lot of mileage out of using high-quality Virtual Offices for growth. 
Whether using the space to register for an initial LLC or using a Virtual Office business address as a satellite office is inconsequential. Both of these methods are tried and true ways to take advantage of the flexibility of remote operations while staying grounded in a centralized location. 
---
Read more: Satellite Mobile Office: Unleash Full Flexibility 
---
Using a Virtual Office as a satellite office allows you to tackle new markets without the historically high risks that were once associated with opening a new location. 
Now, you can use your Virtual Office to anchor your business to a new location with a prestigious address that the locals will be familiar with. 
In the past, businesses had to do enough market research to determine which locations were viable in new cities, then they had to ensure that they could hire enough employees in the new area unless they wanted to incentivize current employees to move, and finally, after doing all of that, there was no guarantee that the new location would work out, making it an incredibly high-risk venture.
Because you can now secure a high-quality Virtual Office for as low as $49 a month, those risks have been eliminated. This means you can set up satellite offices without risking much in as many locations as you see fit. 
Want a European office? It's no problem to register a Virtual Office business address in London. 
Outside of the benefits of using a Virtual Office business address as a satellite office, an office provides several logistic benefits.
One of the most difficult aspects of starting a small business that deals with any digital-first operations is becoming legitimate enough for new consumers to feel comfortable using your products or services. 
Due to the sheer number of scams Americans experienced over the past few years, most consumers are highly skeptical of new businesses. While this may be a reasonable reaction to the changing digital landscape, it doesn't bode well for new companies, especially if they're using a low-quality virtual address business address.
Consumers want to see an address they're familiar with, not a business sharing an address with a retail location in an unfamiliar area. 
Compare two similar businesses that use a high-quality Virtual Office business address and a low-quality virtual office business address, respectively. Consumers will almost always opt to use the company that appears more legitimate from a cursory glance online.
E-commerce companies
Virtual Offices are also ideal for companies focused primarily on e-commerce or other digital-first operations.
In the first two examples, there are rare situations where a Virtual Office just won't work. Alternatively, if you're running a fully online business, there's virtually no reason not to use a high-quality Virtual Office as your company's central hub.
Before we move on, let's take a quick moment to examine some of the benefits your e-commerce business can experience.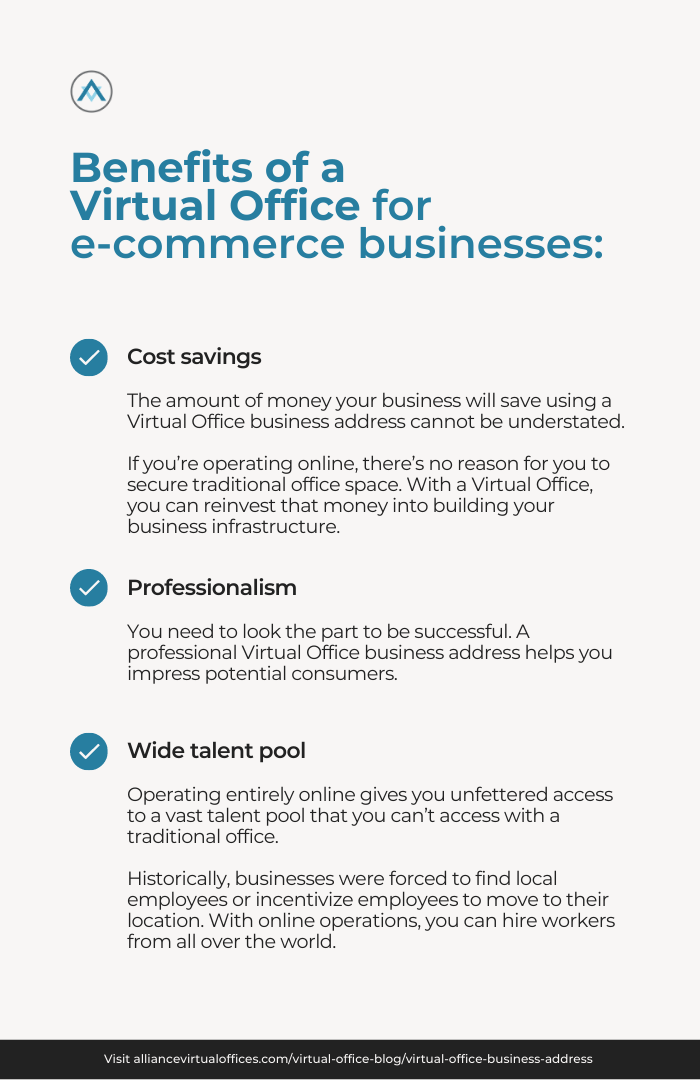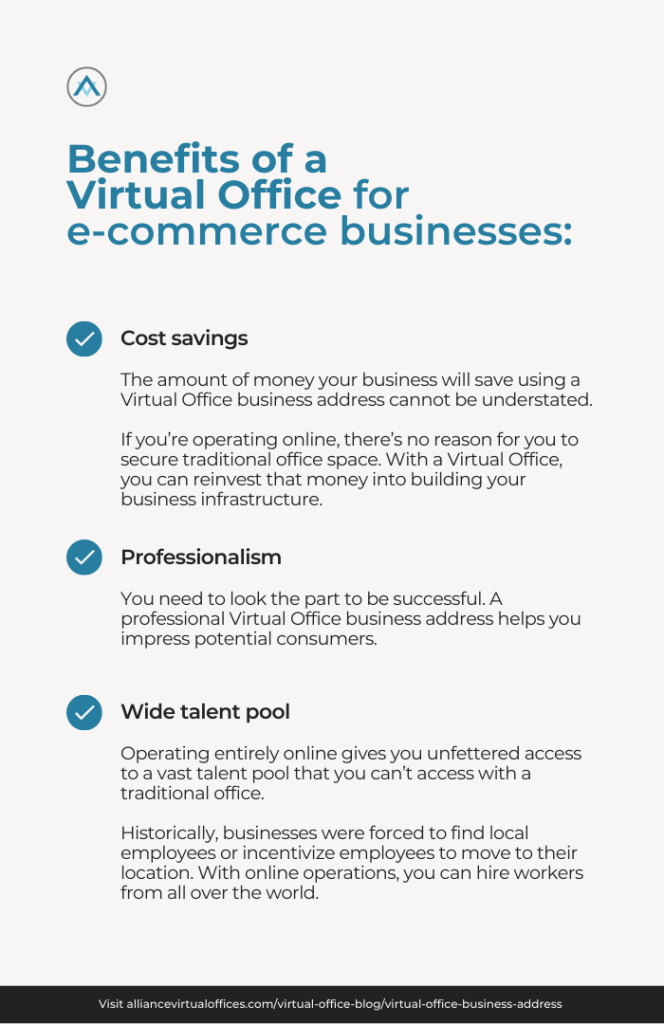 Cost savings 

The amount of money your business will save using a Virtual Office business address cannot be understated. 
If you're operating online, there's no reason for you to secure traditional office space. With a Virtual Office, you can reinvest that money into building your business infrastructure. 

Professionalism 

You need to look the part to be successful. A professional Virtual Office business address helps you impress potential consumers. 

Wide talent pool 

Operating entirely online gives you unfettered access to a vast talent pool that you can't access with a traditional office. 
Historically, businesses were forced to find local employees or incentivize employees to move to their location. With online operations, you can hire workers from all over the world. 
Your e-commerce company can secure a virtual registered office address in London just as easily as it can secure a virtual business address in the United States. Regardless of where you register, you must ensure you use a high-quality provider.
Solopreneurs
As a solopreneur, there's an excellent chance you will be working from home. 
While there's nothing inherently wrong with working from home, you cannot risk registering your LLC with your home address. 
Registering for an LLC immediately adds your address and personal information to the public domain. This opens you up to an unbelievable amount of spam and scam business mail. 
Instead, you can use a Virtual Office to protect your home address without forcing you to spend money on traditional office space. 
Keep in mind, this can work for almost any field. If you're going to be working from home – you should still use a Virtual Office to protect your information.
Fully remote businesses
Finally, a Virtual Office business address is ideal for fully remote businesses that occasionally need a work or meeting space. 
With the right provider, you only pay for what you need, which helps you get higher utilization without forcing you to secure traditional space. 
Workspaces give you and your team a place to break the monotony of working from home, while meeting rooms give you a private and professional space to host meetings of any size.
When is a Virtual Office not the best option?
Despite the widespread usage of a Virtual Office business address, some kinds of businesses aren't great for Virtual Offices. 
Keep in mind, the most crucial aspect of running a modern business is flexibility. If your business can't use a Virtual Office – that's okay. All you need to do is ensure you're using your workstyle to your advantage to help you improve your operations. 
---
Read more: Use Your Workstyle to Your Advantage 
---
A Virtual Office is not the best choice for companies that MUST sell in person.
For example, grocery stores, restaurants, and in-person retail companies simply won't have much use for a Virtual Office business address.
Similarly, a Virtual Office isn't right for businesses that demand in-person work from their employees.
Granted, demanding in-person work from your employees when you have remote-capable job opportunities is a fast way to decrease productivity, increase turnover, and generally harm your company's culture.
Not to mention, with repeated articles being published showing the earning abilities of hybrid and remote workers compared to in-office workers, it will get progressively more difficult to make worthwhile hires willing to work fully in-office. 
These kinds of demands may often backfire, but it is your right to oversee your business. If you prefer that setup, a Virtual Office business address likely isn't the right fit.
Is a Virtual Office right for your business?
A Virtual Office business address can support your growth by helping you build and solidify your reputation with a prestigious and well-known business address.
Similarly, it can also help you impress clients and investors by offering professional, quiet meeting spaces when needed.
Additionally, a Virtual Office business address allows you to optimize your flexible workstyle, making it easy for you to thrive while saving time and money so you can grow faster.
Consider the following questions when deciding whether to utilize a Virtual Office for your operations: 
Can my business operate remotely? 

This is the first question you'll need to ask before determining whether you want to use a Virtual Office. 
If your business can operate remotely, you should utilize Virtual Office space to help you get the most value out of every dollar spent without sacrificing flexibility. 
Remember, this isn't saying that you'll only operate remotely. With a Virtual Office, you can still access meeting rooms and coworking spaces when necessary. 

What could the money for a traditional office be better spent on? 

Take stock of your current operations and determine any weak points as well as areas you're succeeding. 
Once you have a comprehensive idea of your company's operations, you can make a more educated decision about utilizing a Virtual Office. 
If the money would go further in improving your business infrastructure and therefore preparing you for easier growth and greater scalability, you should use a Virtual Office rather than wasting money on traditional space. 

Do I need constant access to physical space? 

This question is trickier because you can utilize Premium Plus Virtual Office plans with frequent access to meeting rooms and workspaces that give you and your team a physical location to work. 
Instead, ask yourself if your business needs access to private physical space that's shared with no one else. If you genuinely need a space that's removed from your peers, private, and comes with storage space, you won't want to use a Virtual Office. 
Contrarily, businesses that want to meet weekly with local employees would get considerably higher utilization out of a Virtual Office than a traditional workspace. 

How important is my business's image? 

If you're a brand new business, you need to consider how you're perceived by potential and existing consumers. 
With a Virtual Office, you have access to a well-known, professional address that will improve brand recognition and help consumers, investors, and clients feel more comfortable with your company. 
Using small business hashtags and other digital marketing initiatives, you can easily get your brand into the public consciousness. The key is using an address these consumers feel comfortable taking a chance on. 

Is flexibility important? 

Here, the answer should be yes. Flexibility in the modern labor market is of the utmost importance, and an unwillingness to be flexible can quickly result in the slow demise of your operations. 
If you're focused on providing flexible working options for your employees and want the best working experience too, a Virtual Office allows you to do just that. 
 
---
Read more: Small Business Hashtags to Connect and Grow 
---
If you've read these questions and found yourself thinking that a Virtual Office would be right for your operations, it's time to consider one of Alliance's Virtual Offices. 
Alliance provides all the amenities associated with traditional office space while maintaining the flexibility that remote and hybrid workstyles are known for.
Alliance's Virtual Office business address
As you can see, a Virtual Office is right for most businesses.
That said, if your business requires large storefronts or factories, or if you just want to work in an office with a large number of employees, it's not right for you.
However, if that isn't you, there's a lot to be gained from using one of Alliance's Virtual Office business addresses.
Not only does Alliance provide our partners with access to meeting rooms and coworking spaces, but we also provide them with Live Receptionist access, Virtual Phone Numbers, and more.
Our offices are fully customizable, so you can integrate the applications and software that streamline your operations with ease.
Not to mention, Alliance's friendly, helpful, and professional staff make it easy to get help any time you're faced with technical difficulties or other problems that might arise.
With a Live Receptionist, you have friendly and professional receptionists ready to answer and screen all of your calls.
This allows you to focus on the more nuanced aspects of your business without risking upsetting potential customers because you were trying to multitask.
In addition, using a Live Receptionist means that you don't have to hire another part-time or full-time employee, saving you valuable capital that you can use to further improve your business infrastructure.
With a Virtual Phone Number, you can give your office a business number that matches your prestigious address.
Don't use the same phone for your business and personal needs. It will make cultivating a healthy work-life balance nearly impossible and result in a loss of professionality from the customers, clients, and investors who are aware of your lack of a dedicated business number.
---
Further reading:
---
Alliance provides Virtual Office solutions and other tools and services for entrepreneurs that are just getting started and established business owners hoping to tackle new markets.
Regardless of your specific needs, a Virtual Office business address is almost always the best choice for your company's long-term health.
Don't risk using a cheaper virtual office that doesn't provide you with any amenities, and don't throw your company into immediate debt through the use of physical office space. 
Instead, allow Alliance to help your business scale efficiently with a Virtual Office business address. 
Contact us today to see how Alliance can help your company grow, and be sure to check our Virtual Office Blog for more!