---
Q: Should I use a virtual address or a physical office for my business? Is there a way for my company to get the benefits of both?
A: Rather than using a wholly virtual address which may detract from your legitimacy or a prohibitively expensive physical office, consider using a virtual physical address for business. Through Alliance, you can secure a Virtual Office with the flexibility of a wholly virtual address while providing benefits and amenities associated with traditional office space.
---
As the pandemic continues winding down and states continue lifting the various restrictions they've been enforcing, remote and hybrid workstyles remain the most popular forms of work for those who have jobs that allow them.
According to a recent Gallup article, 60% of workers that can work remote jobs want hybrid positions. Considering that another 16% want fully remote positions, it's easy to see that flexible work styles aren't going anywhere. 
During the pandemic, workers were forced into these remote positions, often against their will. At the time, economists and experts alike assumed that remote work would be a passing trend and nothing more. 
This hasn't been the case. Workers want to use the extra time saved from commuting to focus on their wellbeing. 
To keep up with the influx of flexible workstyles and the desirability of remote work, many business owners have turned to using a virtual physical address for business.
There are plenty of excellent tips available to help you learn how to start a virtual business, such as asking for reviews and getting detailed referrals, but there aren't many resources that deal with how you need to design your business infrastructure to allow you to continue to scale in the years ahead.
In this article, we'll be discussing the downsides of using a purely virtual address, the downsides of using a traditional office, if there are any ways to get the pros of both without the cons, and finally, how Alliance's Virtual Offices function as a virtual physical address for your business.
If you've ever searched questions like "what is Virtual for business" or even "how do I get a virtual address for my business" – you're in the right place. 
Keep reading to get an idea of why Alliance's virtual physical address for your business is the best choice for your operations.
---
---
The downsides of a purely virtual address
Before jumping into the different downsides of using an entirely virtual address, let's examine what a Virtual Office is. 
Some advertisers use 'virtual address' and 'virtual office' interchangeably when in reality, this couldn't be further from the truth. 
---
Read more: What is a Virtual Office and How Does It Work? 
---
A virtual office is a service that is used by businesses and individuals to register their LLCs in a particular state without securing physical office space. Outside of this baseline feature, Virtual Offices should come equipped with a variety of amenities.
Unfortunately, some advertisers will attempt to sell you cheap or free 'virtual offices' that are nothing more than virtual addresses, often without a real address at all.
Remember, using a virtual address for business requires you to use an address that already exists and is tied to physical space.
This requirement prevents a majority of virtual addresses from being usable candidates. 
A truly virtual address isn't an address. Typically, it will simply provide basic software designed to support your business.
When using a purely virtual street address for business, you'll be forced to register your LLC with your home address, which is never a good idea.
When you register for an LLC, the information of the company you're starting is added to the public domain. This means that should you register the address with your home, that information will be added to the public domain too. 
Once your home address has been added to the public domain, scam businesses and spam messages have an easy way to send you entirely too much mail. 
Without considering the bad actors sending you mail, the sheer amount of business mail you'll promptly start receiving at home makes it nearly impossible to maintain a healthy work-life balance.
Add in the constant spam and you won't be able to parse through the legitimate or illegitimate mail you're receiving – making it very difficult to keep your business organized. 
Essentially, using a purely virtual address compromises both your security and privacy by forcing you to register your LLC with your home address while neglecting to provide you with any real amenities outside of software that you could find elsewhere.
In addition to the security risks and registration difficulties, using a purely virtual address makes your business look unprofessional, making it harder to grow. 
Think about it this way, scammers are everywhere. Earlier this year, the Federal Trade Commission published a study that claimed nearly $8.8 billion had been stolen from consumers in 2022. 
This number, up 30% from 2021, shows one of the few issues with relying so heavily on digital-first businesses and online shopping experiences: the ease of getting scammed.
Consumers are rightfully frightened of losing their hard-earned money, especially considering that most Americans have been or know someone who has been scammed in recent years. 
Because of this, the modern consumer is careful. 
When searching for a new company, they're going to search for the listed address, they're going to search for reviews, and they're going to try and glean any information about the company they're hoping to purchase from before doing so.
If you're using a wholly virtual address, this can be a problem.
First, if you're using a particularly cheap address, there's a high likelihood that other companies are using the same address. If this is the case, your company's reputation is at the mercy of the reputations of the businesses you're surrounded by. 
For reviews, the same problem can arise. If another business using the same provider has been outed as a scam, that information will show up when doing a cursory search for the company and address. 
Finally, even if no other companies have been outed as bad actors, a wholly virtual office is simply less trustworthy than a company with a well-known and professional address. 
Consider this: you are a consumer searching for a new product that not many companies carry. After a bit of searching, you've found two nearly identical companies.

The companies are the same age, carry the same product of the same quality, have a similar staff, and are both unknown – the only difference between the two businesses is the addresses.
The first company uses a wholly virtual address.  
When searching for this address, you see nothing except a retail store in a flyover state. After a further look, you're still unable to find anything about the address except for other, equally as unknown, companies seemingly sharing the address with the aforementioned retail store. 
The second company is using a Virtual Office. 
This time, your search is easy. You quickly find that the address is one you're familiar with and that other businesses in the same location are professional companies that may be relatively unknown but are nevertheless in a better location and inundated with positive reviews.
Unsurprisingly, you're going to go with the company using a Virtual Office for its virtual physical address for business. 
Now that you know what a purely virtual address is and the negatives associated with using one, let's look at the downsides of a traditional office.
The downsides of a traditional physical address
Where a purely virtual address is harmful to your operations because of a lack of amenities, a traditional physical address can be harmful because you're paying for too much, too often. 
Typically, a traditional business address is an office space or storefront. As you might know, the standard commercial lease length is usually between three and five years.
There are several downsides associated with spending the capital required to secure a traditional physical address. Below, we've put together a quick list of some of these problems.
Expensive 
Doesn't support remote operations 
No support 
No mail forwarding 
Often lack meeting space 
Expensive
One of the largest downsides is the cost of securing a traditional space. The price of renting an office is usually very high. 
The renter must pay a hefty security deposit that may include the first and last month's rent, monthly rent payments, monthly utility payments, and for regular upkeep and replenishing supplies.
As you can imagine, this will eat into your budget very quickly, slowing your growth and ultimately making it more difficult to scale. 
In addition to the high price, you often pay for services and amenities you're not using. If you only go to the office four days a week, you'll still be paying the same amount in rent, regardless of how often you're there. 
Paying for services you don't need is frustrating, especially when you're breaking the bank to do so.
Doesn't support remote operations
A traditional physical address isn't going to support your remote work.
Unless you have a specific business that can't make use of remote workers, a physical address doesn't help you cultivate a hybrid-friendly working environment. Similarly, considering the number of employees that are now demanding hybrid workstyles, your hiring pool will be much smaller than it would be with an online business. 
Remote operations are the perfect way to expand your hiring process while making use of the best talent in any location imaginable. There's no reason to forego this opportunity just to use a physical address you'll have to incentivize talented employees to move toward.
No support
With a Virtual Office, you have access to friendly on and offsite staff to help you through any technical difficulties you might run into. 
With a traditional office, this isn't going to be the case. 
It doesn't matter how much you know about technology; it's easy to get caught in a frustrating spot while you're in a hurry, and having access to high-quality IT resources is invaluable in the modern age. 
---
Read more: Outstanding Small Business IT Support Resources
---
No mail forwarding
Many traditional physical addresses do not offer mail forwarding. 
Mail forwarding allows you to work from anywhere in the world without worrying about whether or not your mail is safe and secure. With a traditional office, your mail will likely sit uncollected in an unhidden mailbox anytime you're away for a little while.
Even a virtual mailing address for business that functions as a mail forwarding tool is a better bet than using a traditional space because the mailing address will at least function as a mail forwarding tool. 
Not to mention, handling business mail forwarding with a virtual physical address for business is much easier than using a traditional space. 
---
Read more: Unlock Full Flexibility with Business Mail Forwarding
---
Often lack meeting space
Due to the small size of countless modern corporate buildings, you stand an excellent chance of renting out office space without dedicated meeting rooms. 
As a business owner, you'll be required to host the occasional meeting – virtual or in-person. 
Having a quiet, private, and professional location to host these meetings is incredibly convenient and will save you considerable capital in the long run.
Is there a way to get the pros of both without the cons?
Fortunately, there's a way to get the best of wholly virtual offices and the best of traditional physical addresses without incurring the risks of taking on either version.
Enter Alliance's Virtual Offices. 
We've put together a list of how one of Alliance's offices provides you with the amenities of both spaces without penalties.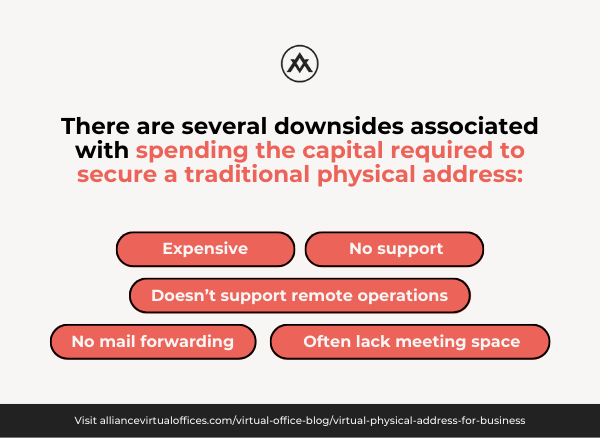 Physical address for business registration 
Protects home address, and security 
Mail forwarding add-ons 
Access to workspaces and meeting rooms 
Physical address
Alliance's Virtual Offices provide a physical address for LLC registration that you don't have to worry about.
We only partner with the highest-quality Virtual Office centers for our network, so any address you choose will be prestigious and well-known. 
We have Virtual Offices available in every state and almost every city.
Don't risk getting a frustrating letter back from the Secretary of State in the area you were hoping to incorporate that tells you you're unable to register because of an address technicality.
Instead, consider the benefits of using one of Alliance's addresses that pays dividends in increasing your legitimacy and reputation without risking frustrating LLC problems.
Security
Alliance shields your home address from the public domain, helping you continue to solidify your reputation while protecting your privacy. 
Additionally, Alliance's two-step verification process helps keep scammers out of our Virtual Office network and away from our services in general. 
 
---
Read more: Scammers Hate Us: Only Legitimate Businesses Use Our Virtual Offices 
---
The first part of this process is verifying an address. This can be your home or a personal PO box if you have one.
We go through this verification to ensure we're dealing with a real individual or business that can verify this information later. 
Then, after you've verified, we send you additional documents to that address that collects a bit more information and ensures that you are who you've said you are.
Due to the sheer availability of low-quality virtual addresses, scammers aren't going to use the services that require the collection of any personal information. There are just too many options available right now that require nothing more than a payment.
Mail forwarding
Alliance Virtual Offices' basic plan doesn't come with any add-ons. This is because we believe in customization and that no entrepreneurs or businesses should be forced to pay for amenities they aren't going to use.
Additionally, we offer four separate tiers of mail forwarding that you can cycle through depending on your company's unique needs at the time. Keep in mind, these prices might vary slightly by location but provide an excellent reference point. 
The first tier, monthly mail forwarding for $10 per month, is best for new businesses. This tier won't keep you very up-to-date and will require a bit of compensation in the form of picking up your mail when necessary. 
That said, it's a great way to get a feel for the mail forwarding system and is incredibly well-priced.
Next, biweekly, or twice-monthly, mail forwarding for $20 per month, is another tier better suited for newer companies or businesses experiencing a lull in incoming mail. This tier is also great for getting used to the mail forwarding system and helps you keep up with important incoming mail. 
Again, you won't be completely up-to-date and might miss some important documents, but if you utilize your Virtual Office center to pick up your mail when necessary, this will keep you reasonably ahead.
The third tier, weekly mail forwarding for $30 per month, is for when your company is finally starting to see some real volume. Typically, this comes in the form of incoming mail and higher revenue.
The third tier will allow you to stay informed and will likely keep you from needing to make too many trips to your Virtual Office center. Weekly mail forwarding ensures that you never go more than a few business days without receiving your incoming mail, so you shouldn't have any time-sensitive or government documents that fall through the cracks. 
Finally, the last tier, daily mail forwarding for $70 per month, is for companies that are seeing a lot of incoming mail and doing a lot of business. Daily forwarding keeps you updated on your incoming mail and prevents you from ever needing to visit your Virtual Office center to pick up your mail.
This last tier is also the best value for your money. The first two tiers cost about $10 per forward, the weekly tier costs about $7.50 per forward, but the daily only costs about $3.20 each business day.
Meeting rooms and coworking spaces
Each of Alliance's Virtual Offices comes with access to easily reservable meeting rooms and coworking spaces.
With meeting rooms, you're able to host any meetings necessary. You have access to quiet and professional meeting rooms that you can use to host virtual meetings without the use of a virtual office background. 
Similarly, for any in-person meetings, you can choose between a variety of different-sized rooms to meet the needs of whatever kind of meeting you need to host.
Coworking spaces are the perfect way to provide hybrid workstyles for employees. Additionally, having somewhere to go to escape the monotony of working from home is invaluable.
Alliance's virtual physical address for your business
A purely virtual address doesn't offer you the protection and credibility you need. A traditional workspace is too expensive and inflexible. 
Conversely – one of Alliance's Virtual Offices supports your business, regardless of your remote work style.
Through Alliance, you can get a bare-bones Virtual Office that allows you to slowly learn the ropes, customizing as you go; or, you can go with one of our Premium Plus plans with extra access to the meeting rooms and coworking spaces you need. 
---
Further reading:
---
Alliance Virtual Offices provides virtual office services for entrepreneurs and business owners alike. Additionally, we provide several other tools for businesses hoping to build proper business infrastructure that allows them to scale. 
Finding the right virtual physical address for business requires finding a Virtual Office that allows you to scale your business infrastructure with your operations rather than against them. A standard, purely virtual business address for LLC will work against you, and physical spaces just aren't effective in the modern labor market.
Contact us today to see how Alliance can help your business grow, and check out our Virtual Office Blog for more helpful information.