---
Q: What is an online business office? Does my virtual business need an office?
A: An online business office is a service that provides your company with physical space that you can use to bolster legitimacy and work when needed, along with several other amenities and add-ons. While having access to space is nice, your virtual business doesn't need an office, as you can get all the benefits of physical space through one of Alliance's Virtual Offices.
---
When presented with the opportunity to work flexibly, 87% of Americans will take the chance, a recent McKinsey study states. 
Some forward-thinking individuals thought that fully remote work would take over, and some less-than-forward-thinking executives felt that remote work would fade into obscurity, recent data suggests that both parties were incorrect. 
Rather than the remote work vs in-office argument being a strict dichotomy that demands one answer or another, the truth is a lot more delicate. 
Yes, the percentage of Americans currently enjoying fully remote work, which 5% of Americans enjoyed before the pandemic and soared to 60% or more during the worst of Covid-19, is still exponentially higher than it was before the pandemic. Still, this approximately 25% of individuals seem to be stagnating. 
Instead of a future that's fully remote or fully in-office, most workers are gravitating toward more flexible workstyles. 
To accommodate flexible workstyles, companies are now faced with the question of what kind of office space should be secured for their workers.
Should they use an online business office that requires high rent payments, security deposits, and more – or should they use a Virtual Office business address that provides all of the amenities of traditional space in addition to continued support for flexible workstyles? 
In this article, we'll look at the appeal of an online business office, we'll ask whether or not an online business office is necessary for virtual businesses, we'll take a look at the best address for online businesses, and finally, we'll compare Alliance's Virtual Offices to a standard online business office.
So, if you've found yourself online, searching for things like "online business center UAFS" or "online business center Canada Post" – you're in the right space.
Don't waste money on an expensive physical office before educating yourself on the innumerable benefits of using one of Alliance's Virtual Offices!
---
---
The appeal of an online business office
Before we look at the appeal of an online business office, let's take a moment to distinguish these offices from a standard Virtual Office. 
---
Read more: What is a Virtual Office and How Does It Work? 
---
An online business office is just like it sounds: a physical office secured by an online business, typically for legitimacy's sake. 
A Virtual Office is a service that allows individuals and businesses to register an LLC without securing physical office space. 
That said, there is a lot of variety in the quality of virtual offices available. 
Some virtual office spaces are nothing more than PO boxes or fake addresses. In some cases, these lower-quality spaces are nothing more than software and can't even be used for LLC registration, as most states require some kind of physical location. 
Alternatively, high-quality Virtual Offices come with access to coworking spaces, meeting rooms, a prestigious address, Live Receptionists, and more. The key is finding the right virtual business office address that meets your specific business's needs.
With this in mind, let's look at what virtual businesses may find appealing about an online business office. 
Despite continued shifts in the labor market and a working environment that values employee well-being more than ever before, some stubborn business owners are under the impression that they need an office to be taken seriously. 
This is verifiably untrue. Financial incentives for employers and employees have never been more closely aligned, as foregoing traditional office space for more modern, flexible work solutions saves both parties a lot of money. 
Nevertheless, some business owners feel that if they want to be seen as "legitimate" – they must secure physical space, regardless of how often it will be fully utilized.
Frankly, this just isn't the case anymore, but having an office can make it feel like you're making progress in your business. In addition, always having access to physical space provides your business with a place to work and meet when necessary. 
These benefits might sound nice, but in reality, you can get all the amenities associated with traditional office space with a high-quality Virtual Office. 
As more and more data continues to be collected showing that employees not only value flexible work but are willing to find new positions for it, businesses will be forced to accept the idea that paying for traditional office space simply isn't worth it anymore. 
The Great Resignation shifted the onus from employee to employer. Now, workers are realizing that not only can they find positions that allow them to work how they want to, but they'll also probably make better money doing so. 
---
Read more: Post-Great Resignation: How to Keep Employees From Leaving 
---
Rather than searching for an online business office in Dubai or in another major metropolitan area, consider whether or not you truly need a physical office for your operations.
Do you need an online business office?
With major media companies like CNBC publishing articles that claim fully in-office work is dead, businesses need to take a firm look at their operations and determine if an online business office is something they want to deal with.
In several ways, using a physical office is just a detriment to the success of businesses that operate virtually.  
Below, we've compiled a short list of ways that using an office for your online business can have long-lasting and negative effects on your scalability, turnover, and more.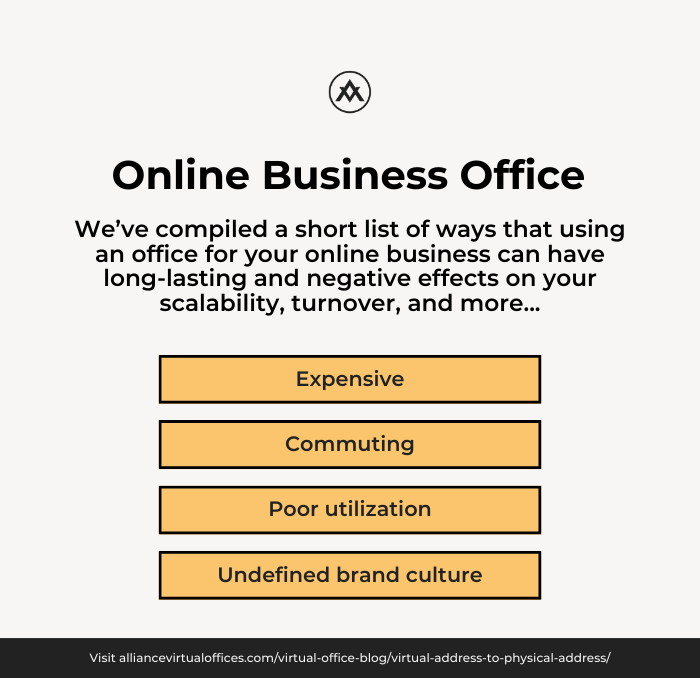 Expensive 
Commuting 
Poor utilization 
Undefined brand culture 
Expensive
Physical office space is expensive. 
You have to worry about security deposits, the first and last month's rent, insurance, hiring employees to staff the office, utility payments, and regular upkeep. And that is only if you're renting an online business office. 
If you're in a position to purchase commercial space, these costs don't go away. You'll be on the hook for utilities, regular maintenance work, additional (and more expensive) insurance, property taxes, and more.
As you can imagine, the money that you spend on rent could be better used to improve your business infrastructure and become a more scalable business.
Commuting
According to the 2021 US Census, a majority of American workers spent nearly 30 minutes on one-way trips to and from work, so nearly an hour traveling each day. 
Some workers aren't forced to spend the same amount of time on their commutes, but daily traveling will always come at a cost. 
There's no way not to lose money on a commute. Even if you aren't working at your online business office, you'll still have to pick up your mail occasionally.
Spending so much time traveling to and from work results in both opportunity costs and an easily avoidable financial burden. 
Utilizing a Virtual Office gives you more time to focus on expanding your business's operations. The money you save on gas can be used to bolster your budget or, over a long enough time frame, can be reinvested in your company.
Poor utilization
One of the largest issues with an online business office is its utilization. 
Sure, you can get some of your workers to come into the office occasionally, but when you demand five-day work weeks while still trying to offer a flexible work schedule, you will rarely encounter days when your entire staff is present.
Rather than trying to get everyone back to work every day, using a high-quality Virtual Office with access to coworking spaces and meeting rooms allows you to plan specific days when all your workers who can do so are required to attend.
This way, you can fully utilize the workspaces when necessary without fighting an uphill battle against employees that typically don't want to go to the office. 
An often-referenced issue that some companies have with remote and flexible workstyles is that keeping workers isolated detracts from company culture.
While that assumption might have merit, using a physical online business office is rarely the best solution, especially considering the high rates of burnout and other productivity-dampening problems associated with traditional spaces. 
---
Read more: Burned Out Workers Call Out Sick 63% More | 5 Stress Management Tips for Small Business Owners to Help Cope 
---
Workers want to socialize; they want to be around their peers. When you're using an office that isn't hitting full utilization, most employees will avoid coming to work out of fear of being the only one in the office.
Combatting this with specific days in coworking spaces or meeting rooms will not only give workers something to look forward to, but the knowledge that they're going to encounter their peers is often enough to reinforce the vibrant brand culture so many companies are currently striving to recreate. 
For newer businesses, the utilization is even worse. There's nothing stranger than a mostly empty office, so using your under-utilized office as an area to host visitors will tend to leave those individuals with an awkward impression or strange feeling.
Undefined brand culture
Determining your company's brand culture is paramount to determining what kind of consumers you'll appeal to and the best way to market to these individuals.
Rather than focusing all your energy on online office business ideas, you should try to understand what your business stands for, the culture you'd like to cultivate, and the strategies you want to use to reach consumers.
Remember, for years it's been known that consumers that share values with your brand will be more likely to use your products or services than a competitor with misaligned values. 
Don't just rush into the perpetual headache that is traditional office space. Take the time to cultivate a brand that stands for something – identify your niche, start nailing down your company's culture, and build from there.
The best online business address
An Alliance Virtual Office gives you all the legitimacy and prestige of a traditional office while keeping your business flexible. 
Below, we've put together another small list of the ways that Alliance can provide an online business office that isn't dependent on a standard office without sacrificing the benefits of flexible work.
Cost-efficient
Coworking spaces and meeting rooms
Mail forwarding
Additional services
Cost-efficient
Traditional office spaces are prohibitively expensive, but one of Alliance's Virtual Offices is a cost-efficient alternative.
We have plans starting at $49 per month – a far cry from the multi-thousand dollar rent you'll be paying in any major metropolitan area. 
Not to mention, we only charge you for what you use. Other virtual office providers try and charge a flat rate and make assumptions about the services you'll need.
Not us. If you're just getting started and don't need mail forwarding or access to physical workspaces, you don't pay any extra. 
Similarly, when you are ready to expand, Alliance makes it easy for you to update your plan accordingly. The easily reservable meeting rooms and coworking spaces provide you with places to work, break the monotony of working from home, and host meetings of any size. 
Additionally, Alliance has Virtual Offices available in every state and almost every city. This means you can get a well-known and prestigious business address for a fraction of the cost of traditional space.
Remember, in our attention-driven economy, image is essential. You want an address that gives potential consumers, clients, and investors an excellent first impression. 
Other providers use less-than-legitimate addresses like PO boxes or other virtual addresses that don't exist. These addresses will keep you from looking professional and might not even allow you to register for an LLC – as most states require an address tied to a physical location.
Coworking spaces and meeting rooms
Alliance's Virtual Offices also give you access to workrooms and meeting spaces. 
The coworking rooms provide employers and employees alike a private and professional place to boost productivity and be surrounded by like-minded peers. 
Working from home may boost productivity, but that doesn't mean it's without issues. 
Anyone who's spent any amount of time with remote work will tell you that working from the same place you eat, sleep, and relax can get very old very quickly, leading to unhealthy job burnout. 
With Alliance's coworking spaces, you have a specified area you can use to break the monotony and change your routine to allow you to refresh, recharge, and approach your work with renewed vigor. 
Even if you and your team are in the office five days a week, you're still paying for time in the office that you simply aren't utilizing. Because we only ask our partners to pay for the services rendered, you'll never pay for time in the office you didn't use. 
Meeting rooms confront a similar dilemma. 
Even with a physical online business office, there's a great chance you don't have the space required to host meetings of various sizes. Commercial space is expensive and small spaces still fetch a hefty premium.
In this situation, you have no choice but to utilize hotel conference rooms, crowded coffee shops, or worse, your home. 
Alliance allows you to negate this problem entirely, as all of our Virtual Offices come with access to a variety of different-sized meeting rooms. 
Whether you're hosting a virtual meeting or a physical one, Alliance provides you with the space you need to do so professionally.
Don't risk giving a poor impression to your attendees by using something like a public space or a conference room that hardly works. Instead, take advantage of Alliance's easily-reservable workspaces and meeting rooms.
Mail forwarding
At Alliance, we understand that no two businesses are the same. This is why we provide four separate tiers of mail forwarding to meet your company's needs, regardless of how established you are. 
---
Read more: Why Our Premium Mail Forwarding Is Standard 
---
Keep in mind, these tiers may vary slightly in price depending on where you're located, but the services rendered are the same throughout our network.
The first tier, monthly mail forwarding for $10 per month, is for companies just starting. Whether you've just launched your LLC or started a subsidiary, monthly forwarding allows you to familiarize yourself with our mail forwarding program while ensuring you never go more than a month without your incoming mail. 
That said, the first tier isn't frequent enough to keep you fully up to date with time-sensitive requests or other government correspondences, but you can always account for this by making trips to your Virtual Office center to pick up your mail. 
Next, biweekly, or twice monthly, mail forwarding for $20 per month, is another tier that's best for newer businesses or businesses with a low volume of incoming mail. The biweekly mail forwarding keeps you more up to date than the first tier, but receiving incoming mail twice per month could still lead to frustrating situations where you don't receive time-sensitive documents until it's nearly too late. 
Our third tier, weekly mail forwarding for $30 per month, is for companies starting to see more incoming mail. This tier will keep you relatively up to date and tend not to leave you in frustrating situations where you're late with time-sensitive mail, but it's still infrequent enough to ensure you never miss a beat. 
Finally, daily mail forwarding for $70 per month, is the final tier of our mail forwarding plan that ensures that your business never misses anything. 
Daily forwarding keeps you fully up to date, and because you can get your mail forwarded anywhere, it allows you to work from anywhere in the world. 
Out of all the mail forwarding tiers, the daily forwarding option is also the best value you can find.
The first two tiers cost about $10 every time your mail is forwarded, and the third tier costs about $7.50 for every forward. Alternatively, the daily mail forwarding costs significantly less, approximately $3.20 for every forward.
Additional services
Alliance Virtual Offices provides additional services for your company as well. 
Our Virtual Offices are fully customizable, meaning you can easily add new tools, services, and automation to your plan with ease. 
Our Live Receptionists provide you with friendly and professional receptionists that personally screen and answer all of your phone calls, preventing you from needing to multitask while dealing with the more nuanced areas of your company. 
In addition, the Live Receptionist allows you to skip out on hiring for an expensive position, which is a huge benefit at any point in your business's life.
Another tool that some entrepreneurs add to their offices is our Platinum Plus Plan. 
If you need access to the coworking spaces often, you can use this plan to pay a lump sum for additional access to the space.
Alliance Virtual Offices vs a standard online business office
Your online business doesn't need a traditional office. An Alliance Virtual Office gives you everything you need at a fraction of the price so you can grow your business faster and more effectively. 
Don't sacrifice flexibility for an office you'll rarely be able to utilize, and don't risk the negative effects of fully remote work on your employees, take a look at Alliance's Virtual Offices instead!
---
Further reading:
---
Alliance Virtual Offices provides Virtual Office services and more for established entrepreneurs and new business owners alike.
An online business office might sound like a good idea, but the usefulness of such an office is heavily debated. With a Virtual Office from Alliance, you get all the amenities of these traditional spaces while retaining the flexibility that workers crave. 
Contact us today to see how we can provide a solid alternative to an online business office, and check out our Virtual Office Blog for more.