---
Q: Should I search for cheap virtual office space? What's another alternative?
A: Seeking out the cheapest virtual office space will often lead to trouble later on, regardless of how much you save in the short term. Instead of using a cheap option, you need to find a Virtual Office that gives you the most value for the money you spend.
---
Gauging how the American public feels about remote work isn't easy. Motivations are split as some corporations see a financial benefit from a return to the office, and some corporations see a financial benefit from championing remote work. 
Despite these split incentives, as the data continues to be collected, the facts are clear: remote and hybrid workstyles aren't going away anytime soon.
According to a recent McKinsey survey, a whopping 58% of Americans have the opportunity to work from home at least once a week.
This is in line with additional data that suggests that, while fully remote work numbers are stagnating, though still exponentially higher than pre-pandemic numbers, hybrid work is quickly becoming the preferred work method for Americans everywhere. 
From the same McKinsey survey, 87% of respondents who are allowed to work flexibly will take it.
Partially because it's lonely working from home for long periods and partially because being lonely is still better than working in the office, hybrid workstyles are the natural evolution in a cycle that is slowly paying more attention to employee wellness and the benefits of happy workers.
To accommodate these flexible workstyles, many businesses are turning to cheap Virtual Office space to better help them meet the needs of their workers without paying for expensive office space that will rarely be fully utilized. 
In this article, we'll explore how a cheap virtual office space helps you save money, the difficulty associated with changing your address later, how Alliance's Virtual Offices set you up for consistent growth, and finally, how to weigh Alliance against other, cheaper and lower-quality, virtual office space. 
So, if you've ever found yourself searching online for cheap virtual office space near me, you're in the right place. 
Take a moment to explore the benefits of using one of Alliance's Virtual Offices before making any difficult-to-reverse decisions that may be a detriment to your operations.
---
---
How a cheap virtual office space helps you save
Before we start to look at cheap virtual office space and the ways that using this space can help you save capital that can be intelligently reinvested into your business infrastructure, let's define virtual office space. 
---
Read more: What is a Virtual Office and How Does It Work? 
---
A Virtual Office, at its core, is nothing more than a service that allows businesses and individuals to register their business without securing physical office space. 
That said, there are several different styles of virtual offices, and some are more effective than others.
Cheap, low-quality virtual offices are often attached to PO boxes or other addresses with no associated physical space. While these providers may occasionally offer your business mail forwarding or virtual receptionist services, there's no guarantee you'll even be able to register with the address they provide. 
Alternatively, some of the more expensive virtual offices attempt to charge individuals and businesses exorbitant fees to use services and amenities they simply don't need.
The idea is to find a high-quality yet cheap virtual office space that helps you save money that can be reinvested into your business infrastructure. 
Below, we've put together a small list of how using some of Alliance's cheap virtual office space can help your company save money.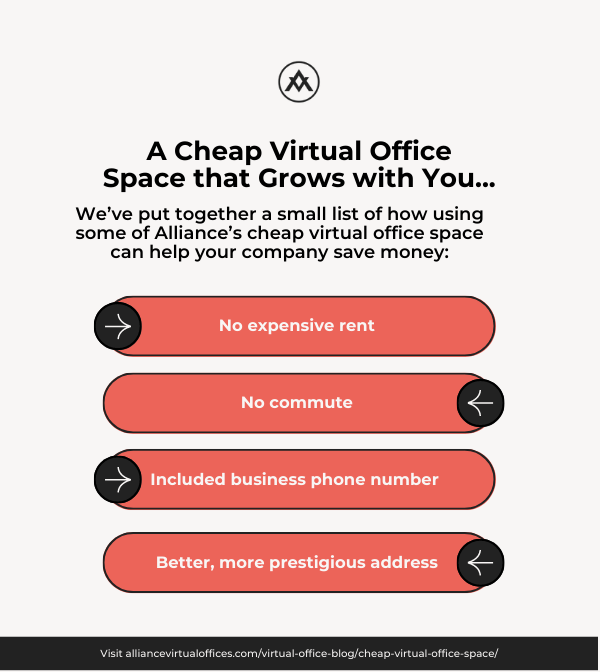 No expensive rent 
No need to pay high fees for meeting rooms or coworking spaces 
No commute 
Included business phone number 
Better, more prestigious address 
No expensive rent
With cheap shared office space, you don't have to worry about paying expensive rent. 
Alliance's Virtual Office Plans start as low as $49 per month, a far cry from the multi-thousand dollar rents you see in any major metropolitan area. Not to mention, because Alliance's network has offices in every state and almost every city, you can get secure office space in the same areas that would traditionally be prohibitively expensive. 
Outside of the sheer cost-savings, the length of Alliance's plans is another huge benefit that individuals and businesses can expect. 
Traditional commercial leases typically last anywhere from 3-5 years. When you account for the sizable security deposit, first and last month's rent, and monthly costs like rent, utilities, and general upkeep, the long-term costs quickly become untenable. 
Alternatively, Alliance's plans start at an easy-to-manage six-month minimum. 
Comparatively, the amount of money you're able to spend through the use of high-quality but cheap Virtual Office space cannot be overstated.
No need to pay high fees for meeting rooms or coworking spaces
One of the largest problems you'll face when using a lower-quality cheap virtual office space is the lack of access to physical workspaces and meeting rooms. 
The low-quality providers often use only a PO box or another less-than-legitimate address that won't allow you to register your LLC – much less give you access to private and professional workspaces. 
Unfortunately, this is the norm, as most virtual offices simply don't offer these spaces. 
Through Alliance, you have access to cheap Virtual Office space that saves you from paying expensive work and meeting space fees.
Even better, because Alliance's plans are so customizable, you only pay for the space you need, when you need it.
No commute
With one of Alliance's cheap Virtual Office spaces, you can work anywhere you want. This means you'll save a lot of money on your daily commute.
A recent Zippia survey suggests that the average American spends about an hour daily commuting. The same survey also suggests that nearly a quarter of Americans can negate this commute through remote work. 
When your business uses an affordable Virtual Office space from Alliance, you and your employees can remove approximately 4-5 hours of travel time each week.  
This equates to 16-20 hours per month, or 192-240 hours (about one and a half weeks) per year. That's a lot of time that could be better spent strengthening your business's operations and preparing for real scalability. 
In the modern labor market, flexibility is key. 
---
Read more: 3 Work Habits Every Business Owner Should Have (And 3 You Should Avoid) 
---
You might use a cheap virtual office space to avoid in-person meetings or to avoid working in-office at all, but even if you need to use your Virtual Office center now and again, the benefits seen from eliminating a daily commute are invaluable.
Included business phone number
Because Alliance's cheap Virtual Office space comes with a VoIP, or Voice-over-Internet Protocol, phone number, Alliance also saves on your business phone. 
In conjunction with a well-known and professional business address, a designated business phone number makes a real difference. 
You want to show potential clients, investors, and consumers that you're serious about your business and operations. 
The issue with some online businesses is that they occasionally feel more like hobbies than actual companies. With VoIP and cheap Virtual Office space, you can combat this impression by presenting your business as recognizable, secure, and legitimate.
Better, more prestigious addresses
Alliance's Virtual Office network is vast and well-vetted. 
Because of this, it doesn't matter where you're registering your LLC; there's always a professional and well-known business address available for your company to utilize.
Thanks to the sheer number of scams that Americans have experienced in recent years, many consumers are rightfully on edge.
They see an unfamiliar business and are immediately wary of that company's intentions. 
To combat this, companies can use Alliance's cheap Virtual Office space to secure an address that isn't just professional, but recognizable too.
This simple attention to detail and the extra care in securing a respectable address is often all it takes to turn an unsure consumer into a loyal customer.
Ultimately, the benefits of high-quality, cheap Virtual Office space are endless. But what happens if you choose the wrong address at the beginning of your business's journey and want to switch later on?
The difficulty of changing your address later
Some businesses still vehemently oppose allowing flexible and remote work for their employees.
This may be due to a desire to cling to tradition, the false assumption that accommodating remote and flexible workstyles will be more expensive, or the erroneous claim that the only way to build vibrant work culture is in the office. 
Regardless of the cause, the truth is that accommodating flexible workstyles is one of the first times that employer and employee financial incentives have aligned.  
From a recent Forbes article, remote employees save money via flexible work due to a lack of commuting and the ability to move to less-expensive areas to compensate for that lack of travel.
Similarly, businesses that are utilizing hybrid workspaces as opposed to traditional workspaces are seeing continued savings as well. 
That said, it's important for businesses that have decided to employ flexible work solutions to make smart decisions when choosing their cheap Virtual Office space. 
Using digital marketing tools like small business hashtags, business mail forwarding, and other virtual initiatives goes a long way, but the problems you'll encounter when using low-quality space only become more difficult to deal with as time goes on.
---
Read more: Small Business Hashtags to Connect and Grow 
---
If you choose the wrong address now, thinking you'll simply switch later, you're making a huge mistake. 
Consistency is a key aspect of establishing and growing your brand. You want an easily identifiable brand that isn't constantly changing major details like your business address.
Not to mention, the process of changing your business address requires time and effort and is a major hassle. 
First, you have to update your business information in the state you've registered for an LLC. 
This typically requires filing forms, sending them to your state's Secretary of State office, and waiting for a response. Even if you're able to file these forms digitally, you will still be forced to wait for the bureaucratic process to complete. 
Then, after making these changes, you'll need to update all of your branding materials to reflect this change.
This means the longer your business has existed before this address change, the more materials you'll have to update. 
Finally, after ensuring that your branding material matches your LLC's information, you'll have to ensure that all internet search results reflect this new information. 
Unfortunately, this is easier said than done. You can update all the relevant information on Google Business or other similar sites. However, any articles or press releases your business may have done beforehand will still reflect your business's older information. 
Changing your address later will cost you valuable time, effort, and resources to adapt to this change that would be better spent bulking up your business's infrastructure.
How an Alliance Virtual Office sets you up for consistent growth
During the pandemic, experts and executives alike swore up and down that remote work was nothing more than a fad, something that would quickly fade as workers were allowed to return to the office.
Years later, it became obvious that this simply isn't the case. 
This CNBC article from March of 2023 claims that fully in-office work is "dead" – that Americans will never willingly return to workstyles that force them to spend five days a week in the office. 
Considering that approximately 5% of Americans were working from home full-time before the pandemic and that that number has stabilized now at approximately 25% – the necessity for businesses to accommodate remote and flexible workstyles is clear. 
Thankfully, with a cheap Virtual Office address from Alliance, you can provide workspaces that retain all of the benefits associated with traditional workspaces without sacrificing the flexibility and freedom associated with remote work. 
Better yet, with such a wide network of Virtual Offices, you don't need to find "cheap shared office space near me" – because you can work from wherever you want.
An Alliance Virtual Office helps you grow consistently by allowing you to expand your plan as you grow. 
Instead of trying to gauge what you'll need six months from now, you can start with a bare-bones plan and slowly add amenities and add-ons as the need for these amenities increases. 
Below, we've put together a small list of some of these amenities that you might not need initially but can easily add as time goes on.
Live Receptionists
Mail Forwarding
Platinum Plus Plan
Live Receptionists
As your business grows, there is a strong likelihood that you'll find yourself searching for a receptionist to help you answer the phone and deal with customer and client calls. 
Hiring for this position is expensive and often unneeded, especially when you're still getting your footing as a business.
With one of Alliance's Live Receptionists, you can easily continue growing and receive more calls as you scale. 
This way, you can avoid hiring an additional employee without feeling obligated to multi-task while answering the phone. 
Our friendly and professional receptionists will nurture client relationships as they screen and answer your calls, ensuring you never miss a beat.
 
This keeps you from potentially upsetting clients, customers, or investors by being distracted during important phone calls. 
Better yet, you can add a Live Receptionist whenever you see fit.
Mail Forwarding
Cheap virtual office space that doesn't offer mail forwarding isn't worth your time or money.
At Alliance, we have four separate tiers of mail forwarding that are specifically designed for companies in different stages of growth.
---
Read more: Unlock Full Flexibility with Business Mail Forwarding 
---
Keep in mind, these prices may vary slightly by location, but the forwarding frequency remains standard. 
Tier 1 – Monthly Mail Forwarding/$10 per month
This first tier is designed for new businesses.
Monthly forwarding isn't frequent enough for your company to stay up to date on the mail you're receiving, but it is a great way to familiarize yourself with the mail forwarding process as well as your Virtual Office center. 
Tier 2 – Biweekly Mail Forwarding/$20 per month
Next, the biweekly, or twice-monthly, mail forwarding is designed for businesses that are slowly finding their footing. 
Like the previous tier, you likely won't be able to stay fully on top of your incoming business mail. Still, you'll grow familiar with the process, and you can compensate by occasional trips to your Virtual Office center to pick up pieces of mail. 
Tier 3 – Weekly Mail Forwarding/$30 per month
The third tier, weekly mail forwarding, is for businesses picking up speed but unwilling to try the fourth and final tier. 
Weekly forwarding is frequent enough to keep you relatively up to date and will ensure you never go more than a few days without accessing your mail. That said, it's still infrequent enough to cause a minor headache if you receive time-sensitive mail you weren't expecting in your weekly forward. 
Tier 4 – Daily Mail Forwarding/$70 per month
Finally, daily mail forwarding is geared toward businesses that are seeing genuine growth.
Daily forwarding means you'll never go longer than a couple of days without seeing your mail, and is frequent enough to keep you fully on top of any incoming business mail, time-sensitive or not. This tier is reserved for businesses that are serious about growth and dedicated to taking their operations to the next level. 
Additionally, the daily mail forwarding tier is the best value for your money. 
The first two tiers cost about $10 per forward, and the third tier comes out to about $7.50 every time you receive your mail. The final tier, however, only costs about $3.20 every time you receive your business mail.
Regardless of the plan you originally choose, you can easily switch to different tiers as necessary to keep up with your company's demand.
Platinum Plus Plan
If your business needs ample flexible work accommodations, you can utilize one of Alliance's Platinum Plus Plans. 
This provides you with unlimited access to work and meeting spaces, meaning you always have a place to go when you want to break the monotony of working from home.
Often, simply changing your routine and working in a new, professional, separate location is all it takes to stave off job burnout and some of the other negatives associated with working from the same place you eat, sleep, and relax.
What makes these benefits even more impressive is that you can do all of these things through Alliance's cheap Virtual Office space without ever having to change your business address.
Weighing Alliance against cheap virtual office space
A Virtual Office is a great way to save money and launch your business.
Don't choose a glamorized PO box you'll have to leave behind as you grow. 
Instead, go for Alliance's cheap Virtual Office space to ensure you and your business have all the options you need to stay consistent and expand.
---
Further reading:
---
Alliance Virtual Offices provides cheap Virtual Office space, Live Receptionists, and a suite of other flexible work solutions that allow companies to achieve true scalability without forcing them to secure physical space.
Don't get suckered into a low-quality virtual business address. Alternatively, utilize Alliance's cheap Virtual Office space to ensure your company has everything it could ever need to stay consistent, flexible, and ready for expansion.
Contact us today to see what cheap Virtual Office space we can help find for you and your business and be sure to check out our Virtual Office Blog for more!