---
---
Q: What are good hashtags for small businesses?
A: The best small business hashtags are hyper-specific to your niche. The more targeted your hashtags are, the easier it will be to connect with your ideal customer. If your hashtags are too broad, you'll end up competing with bigger businesses that'll blow you out of the water.
---
In the spring of 2022, the Head of Instagram, Adam Mosseri, made a startling announcement:
Many small business owners looked around in shock, asking themselves how something like this could have happened.
Don't you need hashtags to build your online following? If hashtags don't help you reach more people, then; what the heck is their point?
Many entrepreneurs who had built their entire marketing strategies around using hashtags scrambled to find answers.
This announcement might have created a lot of buzz, but it was old news for people who understood the platform. Of course – hashtags do not affect reach.
That's just common sense.
The panic continued. Rumors swirled that Instagram was doing away with hashtags entirely. The sentiment shifted, and people began to wonder whether hashtags were about to go the way of the dinosaur.
But are hashtags truly dead in 2023?
Don't give up on them just yet.
One 2022 study found that hashtags can increase your engagement by up to 100% on Twitter. Your chances of being retweeted also increase dramatically. Use more than 11 hashtags on Instagram, and you can expect almost 80% more engagement.
And although social media snobs might dismiss hashtags as "so 2021," no one can deny that they have become central to our culture.
Young people today even tend to use hashtags when they speak aloud, using phrases such as "hashtag winning."
Inelegant? Sure.
But one thing is certain – hashtags aren't going away anytime soon.
The truth is that even if you take their reach out of the equation, small business hashtags still have plenty to offer as you build your social media marketing strategies.
But why are hashtags still a big deal in 2023, and how can you use them to grow your small business without falling into the same traps as other entrepreneurs?
Let's find out.
---
---

Why are small business hashtags important?
So if hashtags aren't helping you connect with a wider audience, then; what's the point?
Essentially, the benefits of small business hashtags are restricted entirely to the search engine functionality of online platforms.
Hashtags help you find what you're looking for – that's it.
Hashtags cannot make your content magically pop up in front of people scrolling through Instagram or Twitter because that was never their purpose in the first place.
In other words, hashtags only come into play when someone actively tries to search for niches and content that matches your business.
This means that hashtags can be incredibly useful as you target your ideal customers – people who are already interested in your product. They may even be ready to hit that "purchase" button at the drop of a hat.
Even better, all traffic generated by hashtags is organic. It doesn't cost anything to add hashtags to your posts, and people find your content because they want to.
With hashtags, you don't have to worry about pestering users with ads that they never asked for – potentially turning them off your brand forever.
Ask any marketing expert, and they'll tell you that in the long run, organic traffic is almost always superior to paid traffic. With organic traffic, you're building a genuine online following filled with real people who are part of the same community.
These are the leads you want. In many cases, they become loyal customers for the rest of their lives.
Make no mistake:
Mosseri's announcement is significant.
But many people reacted with excessive pessimism, interpreting it as a total condemnation of hashtags.
What many pessimists fail to mention is that a hashtag can still help you reach people who are following that specific hashtag.
Check out a hashtag page on Instagram, and you may see a wide range of different posts depending on the popularity of the hashtag.
Using a popular hashtag means that your content will probably get booted off the front page within a few days – or even hours.
Use a less popular hashtag, and your content could remain on that page for months.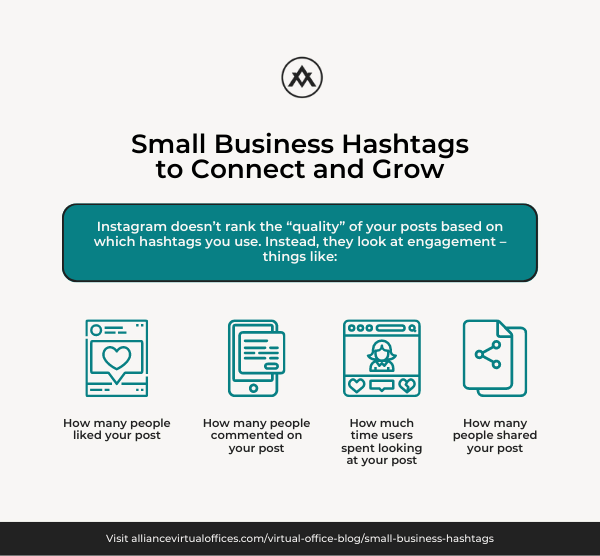 The key thing to remember here is that Instagram doesn't rank the "quality" of your posts based on which hashtags you use. Instead, they look at engagement – things like:
How much time users spent looking at your post
How many people commented on your post
How many people liked your post
How many people shared your post
These are the factors you should be worrying about if you want to increase reach.
Remember:
Content is king.
If you post something that you lazily threw together in a few minutes, slapping on dozens of hashtags isn't going to magically turn it into a high-quality post.
You'll need to create a more nuanced strategy with your small business hashtags. Copy and paste at your own risk.
With that said, small business hashtags have the potential to be incredibly effective when used correctly.
Small business owners are often innovators – people with new ideas that might change the world.
In other words, small business owners are trendsetters.
Hashtags allow you to popularize new ideas – even if no one has ever heard of them. The best news is that when you invent hashtags, you create a new online space in which you hold a monopoly.
If your product is successful, your new hashtag will grow in popularity with your audience while giving new customers an easy way to join the trend and purchase your game-changing products.
---

Why most small businesses get hashtags wrong
Unfortunately, there are many potential pitfalls associated with small business hashtags. Many entrepreneurs end up falling into the same traps, and your hashtags may even prove to be counterproductive.
Here are the most common mistakes when it comes to small business hashtags:
Trying to compete with bigger brands for popular hashtags
As an entrepreneur with a small business, you need to accept the truth: You're a small fish in a big pond.
Trying to compete with major brands for exposure is a real challenge – especially if you're using the most popular hashtags in your posts. Unless your content is truly amazing, you're probably going to be crowded out by bigger companies with more followers.
There's nothing wrong with using popular hashtags in your content, but be sure to mix it up a little with some less popular hashtags.
The more specific you can get, the better.
If you're selling coffee, you might be tempted to use #coffee and leave it at that. But if you're a small roaster, you're competing against virtually every other company involved in the global coffee business when you use this hashtag.
Ask yourself what makes your product unique.
Instead of using just "#coffee," you could use "#guatemela," "#robusta," "#singleorigin," "#organic," "#mediumroast," or any other attribute that sets you apart from the crowd.
This allows you to target a smaller but much less competitive audience. When you get into the truly specific niches, there's a real chance of connecting with customers who are looking for exactly what you're selling.
The problem with trying to create hashtags
Many marketing professionals create hashtags these days.
As previously mentioned, this allows you to turn a new brand into a hashtag, potentially making your business into the latest social media trend.
The problem is that this strategy can backfire spectacularly.
Here's the thing:
Anyone can use the hashtag you've just created… Including people who want to criticize your product.
The Australian airline Quantas experienced this firsthand when it created the hashtag "#quantasluxury." The goal was to have people use the hashtag when talking about the airline's amazing quality.
Unfortunately, the opposite happened.
Suddenly, "#quantasluxury" was trending for all the wrong reasons – with social media platforms being inundated with scathing comments about the airline's lack of quality.
This is just one example of why creating small business hashtags can be much riskier than people realize.
In addition, creating your hashtag is not enough. You also need to create enough of a buzz that people will start using and following the hashtag.
The dangers of using trending hashtags
Sure, popular hashtags might not be effective for small businesses because they force you to compete with a larger crowd.
But there's also another very important reason to avoid trending hashtags:
Some people hop on trends without taking the time to understand what they're about. This could prove to be your biggest mistake as a small business owner. Hashtags may refer to highly controversial things.
For example, the English soccer team Manchester City had a player called Gabriel Jesus. When they decided to run an online Q&A session featuring the player, they used the hashtag "#AskJesus." The results were not what they intended.
This is just one example of when a seemingly popular hashtag can damage your brand's reputation. There are many others.
Remember, even if hashtags are seemingly innocent today, they may be hijacked in the future. Within days, the hashtag could have a very different meaning.
It's important to research hashtags before using them to make sure you're not attaching your brand's identity to controversial ideas.
Overusing hashtags
When some people heard Mosseri's announcement about Instagram's hashtags, they reacted with a sense of relief.
Why?
Because they hoped that this would put an end to the rampant hashtag spamming across the platform.
Many people – including small business owners – believe that when it comes to hashtags, the more the better.
While this might be true to an extent, there are limitations to how far this goes.
Adding random hashtags that have absolutely nothing to do with your product is not going to help. Conversely, it could even damage your brand's reputation.
The only effect is that you'll show up on a hashtag page that is completely unrelated to your niche. People may see your content, but they won't interact with it or become new customers.
Many people find hashtags extremely annoying because their favorite pages have become inundated with spam.
When it comes to Twitter, excessive hashtags can damage your tweet's readability – decreasing the chances of engagement and sharing.
---

How to use small business hashtags for real growth
Now that you're aware of some of the most important hashtag traps, you're ready to learn about strategies for real growth: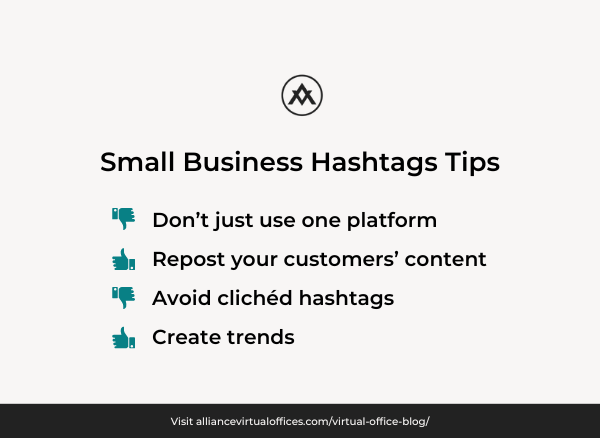 Don't just use one platform
Instagram is a major talking point these days due to Mosseri's announcement, but it's not the only place you can use hashtags.
There are plenty of other places you can use small business hashtags. TikTok is an obvious example, as are Facebook, LinkedIn, and Pinterest.
You can even use hashtags in your blog posts to boost your SEO ranking.
Twitter is another possibility, although this platform has become highly controversial due to the recent takeover by Elon Musk.
The controversial actions of the billionaire have scared many advertisers away, but many are willing to return if certain conditions are met.
On the other hand, some say that Elon's purging of bots on the platform has made Twitter a more attractive space for advertisers. After all, there's no point in spending money on advertisements for bots.
Even within Instagram, there is more than one place to post your small business hashtags. Reels are relatively new and can benefit tremendously from small business hashtags.
Repost your customers' content
Another extremely effective strategy is to use hashtags to repost your customers' content.
This tactic works especially well if you have turned your brand name into a hashtag. For example, many boutique streetwear brands repost pictures of their customers wearing their products.
First of all, it is very easy to use your new hashtag to find people on social media who are posting pictures of your products. You can then go through the options and repost the best pictures.
Second of all, this entire process requires virtually no work on your part. It's as easy as clicking on a pre-existing product and reposting it.
In other words, you can let your customers become your most productive marketing professionals by creating small business hashtags.
An even better strategy would be to sift through the options and choose content posted by people with a large number of followers. This helps you associate your brand with popular influencers – including up-and-coming stars who may one day expose your brand to millions of people.
Avoid clichéd hashtags
Whatever you do, be sure to avoid clichéd hashtags when posting content.
There are some hashtags out there that people have grown to hate. These include:
#Blessed
#Banter
#NoHaters
#NoFilter
#ThrowBackThursday
#GoodVibes
#Selfie
#Foodie
#OOTD
#YOLO
#TransformationTuesday
#Winning
#SorryNotSorry
Some of these hashtags are incredibly outdated, while others have been overused to the point where they have lost all meaning.
Either find more modern keywords or use options that are less universally hated.
Create trends
Creating keywords is one thing.
But you can go one step further by creating social media trends.
Some of the most effective marketing campaigns of our generation have been relatively simple viral trends.
An obvious example is the Ice Bucket Challenge, which was started by the Amyotrophic Lateral Sclerosis (ALS) Association.
Many celebrities joined in, and the trend helped the charity raise hundreds of millions of dollars within a few short months.
Another example is the #JifRapChallenge, which saw numerous rappers attempt to "spit a few bars" with their mouths full of peanut butter.
The possibilities are endless, and it only gets better if you think outside the box.
Of course, creating a viral trend is a serious challenge for even the biggest brands in the world – not to mention small businesses.
But with a little creativity, this strategy has the potential to uplift your small business to the same level as major corporations in terms of global visibility – and this is perhaps the true magic of social media.
---

Moving forward with your small business hashtags
By now, you should know that while hashtags aren't magic bullets that can automatically connect you with customers, they still have excellent potential in 2023 and beyond.
These days, it's easy to dismiss hashtags as being outdated. After all, they've been around for over 15 years. But for the foreseeable future, they are intrinsically tied to the way we advertise and express ourselves online.
---
Further Reading
---
Avoid common mistakes with small business hashtags while using them correctly, and you can make the most of this effective, free marketing tool while generating plenty of organic traffic.
To learn more about affordable options for small businesses such as Virtual Offices and Live Receptionists, visit Alliance Virtual Offices today.