---
---
Q: How much does digital advertising cost? What social media platforms should I focus on for my virtual marketing campaigns?
A: Social media marketing costs depend on the platform that you're using. In addition, your digital marketing costs can vary considerably depending on the size of your business. Your business should be focusing on the platform that has the most active users within your target audience. If you're selling to an older crowd, Facebook is a great option. If you're selling to teenagers, you'll probably want to create a TikTok account.
---
Digital marketing is one of the biggest assets for entrepreneurs and online businesses trying to build a brand.
As e-commerce numbers continue to explode, brand building is the only way for your business to stand out in a sea of competitors.
You need to consider several factors as you explore digital marketing opportunities and build your brand. Start with the platforms you'll be focusing on and the social media marketing costs associated with your initiatives.
Digital marketing costs can be expensive or cheap. The key is knowing how to properly allocate resources so that you're effectively spending money.
Trying to launch multiple social media advertising campaigns at once without researching the platforms your target audience is using is a great way to lose money. The social media advertising costs associated with such a strategy would be astronomical, and many of your advertisements wouldn't be seen by the correct demographic. 
Essentially, the best way to use digital advertisements to your business's advantage is with careful research, planning, and an understanding of the various social media marketing costs.
Below, we'll discuss what makes social media marketing so powerful, and how you can take advantage of this.
We'll look at an explanation of the various social media marketing costs by platform, how to choose the best social media marketing strategy for your business, and how to get the most out of the money you're spending.
---
---

Why is social media marketing so powerful?
Social media marketing is one of the most effective ways to advertise in the modern marketplace.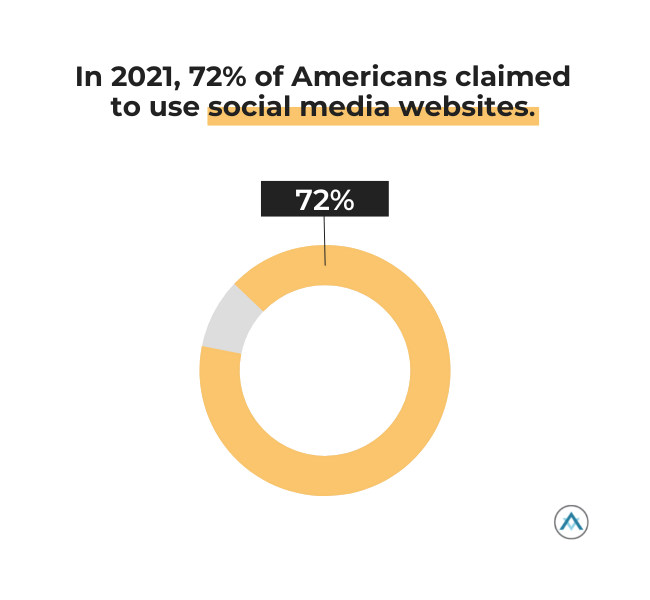 In 2021, 72% of Americans claimed to use social media websites.
With almost three-fourths of the American population using these applications, it makes sense that the advertisements on these sites are effective.
---
Read more: Social media use in 2021
---
Below, we'll take a look at some key features of social media marketing that make it such a force in the modern world.
Widest audience
Targeted advertisements
Deeper connections
Widest audience
Social media is uniquely designed to connect people from across the world. You can easily advertise to people you wouldn't be able to target with traditional forms of advertising.
Traditional marketing pitfalls evaporate with the use of social media advertising. You're able to connect with consumers all over the world without paying the fees associated with national marketing initiatives.
Exposing your business to tons of new customers results in much greater growth potential. If your online store is operating properly and can handle global shipping requests, you can easily capitalize on this international exposure.
Historically, global advertisements were prohibitively expensive and reserved for blue-chip companies like Ford or Coca-Cola. Despite so many people all over the world using these platforms, the social media advertising costs per month of launching such far-reaching campaigns are incredibly affordable by comparison.
Social media marketing costs might lead your business to run advertisements in specific areas rather than a global campaign. If this is the case, the wide audience of social media users allows you to reach your target demographic with ease.
Targeted advertisements
Social media marketing allows you to target your ideal customer much more accurately.
You can hone in on the people who are most likely to make purchases or connect with your brand. As a result, your money goes further, as you don't have to spend as much on advertising to people who aren't interested.
Allocating funds to effective platforms is the best way to get the most out of your social media marketing costs. Trying to advertise to every individual using social media would be incredibly expensive and ineffective.
Thankfully, the ease of collecting consumer data has created an environment that allows business owners to determine where potential customers are spending their time. You can then connect with those customers on platforms they feel comfortable with.
Deeper connections
Finally, social media marketing connects with people in a much more persuasive and consistent manner.
Rather than simply seeing your ads and moving on, your customers are consistently exposed to your brand with social media, leading to a much higher likelihood of your audience purchasing in the long run.
Additionally, your company's presence on these social media platforms can incentive consumers to interact with your brand directly, further increasing brand recognition and customer loyalty.
One of the best things a business can do while trying to build its brand or online presence is to communicate with customers on the platforms they're using. Engaging with customers makes them feel heard and increases the likelihood of repeat purchasing.
Advertising on these platforms is the best way to easily connect with consumers all over the world.
---
Read more: CMOS: Adapt Your Social Media Strategy for a Post-Pandemic World
---

How much does social media marketing cost?
The costs for social media marketing can vary quite dramatically depending on several factors, including the actual method that you'll be using for your marketing efforts.
Independent marketing strategies
If you create all of your content using an organic approach via posting from your business's account, social media marketing can be entirely free.
That said, this will require a massive amount of time and effort, meaning it isn't without opportunity costs. You might save money directly, but you may have been able to make more than you saved if you'd used a different strategy and focused on something else during that time.
If you're a sole business owner with technically savvy family members who are willing to work for you, it might be beneficial to hire someone who is already familiar with these platforms.
Additionally, if you're part of a group of entrepreneurs who are running a business together, you can assign one individual to constant posting and interacting with consumers online. This targeted approach is a great way to build your brand.
Trying to build a well-known and respected brand alone while simultaneously running a business is going to be very difficult. Free marketing is great, but not when it comes at the risk of interfering with your day-to-day operations.
Running advertisements
Running ads can be fairly cheap.
You can often run ad campaigns for less than $100 if you're simply promoting posts or running ads that you've already created.
The first step in determining your social media marketing costs is determining what kinds of advertisements you're able to run. Below, we've listed some of the most popular kinds of social media advertisements:
Photo advertisements
Photo advertisements are probably the most common kind of advertisements that you'll encounter on social media. Usually containing a single graphic that is designed to promote your business, you can run these photo ads on just about any social media platform.
Video advertisements
Like their photo counterparts, video advertisements are recordings or animations designed to promote your brand. Video advertisements are available on most social media platforms, but you might need to edit the video based on the specifications of the platform you're using to advertise. For example, you won't be able to post a 5-minute video on a platform that only allows one-minute videos.
"Stories" advertisements
Introduced to the world by Snapchat, a story is a short picture or video that is removed after 24 hours and attached to user profiles. Several social media platforms have implemented stories.
Playable advertisements
Playable advertisements aren't too applicable if you aren't selling a mobile game or virtual platform of your own. That said, a playable advertisement is essentially a pop-up ad that allows users to get a feel for the application's functionality.
Promoted posts
Promoted posts will regularly appear as users scroll through their feeds. A promoted post will also tell users that the post is an advertisement to avoid confusion. Promoted posts are available on a majority of social media platforms.
Collection advertisements
Collection advertisements are designed to show consumers your offerings while providing an easy way for users to navigate to your business's store. With a collection ad, your advertisement will take up more space to show more products, so this kind of advertisement can be a bit more expensive. Be aware that collection advertisements are often broken down by social media marketing costs per post – meaning your company is paying for each individual post.
Carousel advertisements
A carousel ad is essentially a comprehensive picture of your brand. This can include photos and videos that explain to consumers who your brand is, what you do, and what you stand for. Carousel ads are available on a majority of platforms.
Sponsored content
Sponsored content is a very effective method of digital advertising. With sponsored content, your business is producing a publication that resembles standard written content, but the article acts as an advertisement for your brand while providing relevant information for the consumer. Sponsored content can be advertised on any social media platform.
Depending on the platform, your social media marketing costs breakdown can differ greatly. We've compiled a quick list of some of the most popular social media platforms and the monthly costs a small business owner could expect to pay.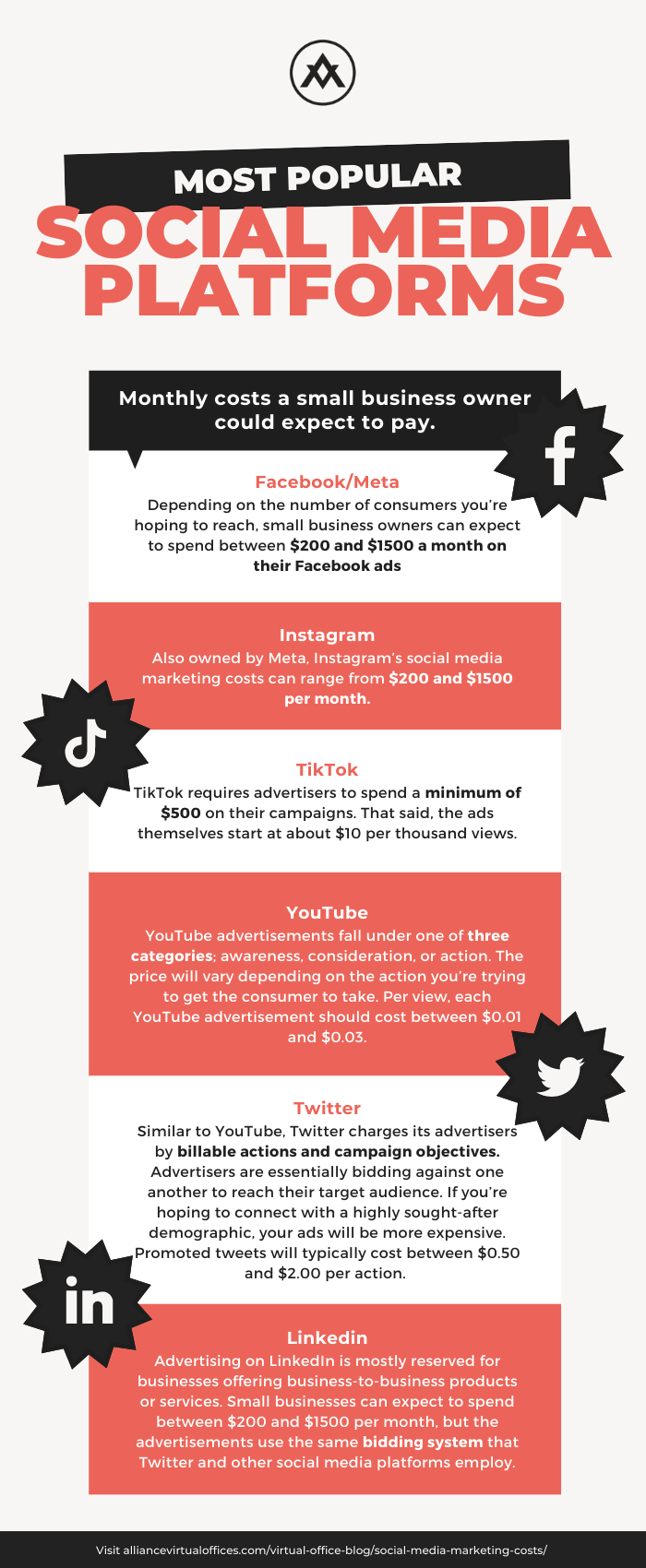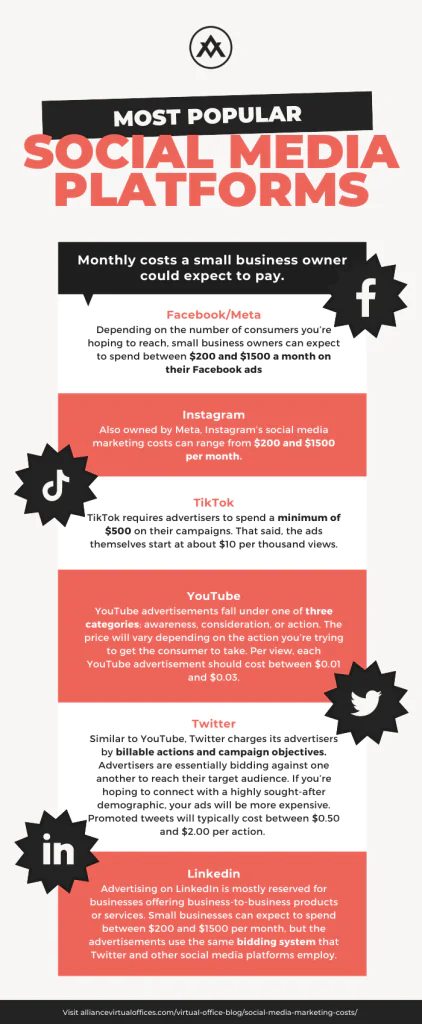 Facebook/Meta
Depending on the number of consumers you're hoping to reach, small business owners can expect to spend between $200 and $1500 a month on their Facebook ads.
Instagram
Also owned by Meta, Instagram's social media marketing costs can range from $200 and $1500 per month.
TikTok
TikTok requires advertisers to spend a minimum of $500 on their campaigns. That said, the ads themselves start at about $10 per thousand views.
YouTube
YouTube advertisements fall under one of three categories; awareness, consideration, or action. The price will vary depending on the action you're trying to get the consumer to take. Per view, each YouTube advertisement should cost between $0.01 and $0.03.
Twitter
Similar to YouTube, Twitter charges its advertisers by billable actions and campaign objectives. Advertisers are essentially bidding against one another to reach their target audience. If you're hoping to connect with a highly sought-after demographic, your ads will be more expensive. Promoted tweets will typically cost between $0.50 and $2.00 per action.
LinkedIn
Advertising on LinkedIn is mostly reserved for businesses offering business-to-business products or services. Small businesses can expect to spend between $200 and $1500 per month, but the advertisements use the same bidding system that Twitter and other social media platforms employ.
Remember, these are just the costs of putting already-created advertisements onto these websites. If you want to use an agency or hire an influencer to help push your product, you'll be spending more.
---
Read more: The Complete Guide to Influencer Marketing for Small Business
---
If you create the content for these advertisements, your social media marketing costs per month will be considerably lower compared to hiring an agency. Creating all of this content yourself may prove to be a massive, time-consuming ordeal.
Outsourcing small business social media marketing
If you don't have the time to run your digital marketing campaigns or create your business's content, outsourcing is a great way to keep your social media marketing costs for small business down.
If your digital marketing costs allow for outsourcing, you'll have to determine whether or not you'd like to go with a freelancer or an advertising agency.
Freelancer
Hiring freelancers is cheaper than using an advertising agency, but you have to know what to ask for. Depending on the scope of your project and the necessary experience, freelancers will typically cost around $45.00 per hour.
Advertising agencies
Advertising agencies will often offer package rates. These tend to start around $500.00 per month and will go up from there, often scaling into the thousands.
While using advertising agencies is effective, be sure that you know exactly what you'd like the agency to accomplish. Setting an advertising agency loose without a tight budget and clearly defined goals is a quick way to spend way more than you expected.
---

How to choose the optimal strategy for your business
As a small business owner, you need to optimize your investments.
If you've been using the internet for longer than a decade, chances are you've purchased something you never really wanted because of an attention-grabbing advertisement.
Over 60% of social media users claim to regret at least one of their online purchases. Targeted advertisements allow businesses to show products and services to individuals that fit within their target demographic.
Business owners hoping to cut down on social media marketing costs while still reaching consumers will find targeted ads incredibly effective. With this style of advertisement, your brand can connect with specific consumers — meaning you only pay for the ads that reach those individuals.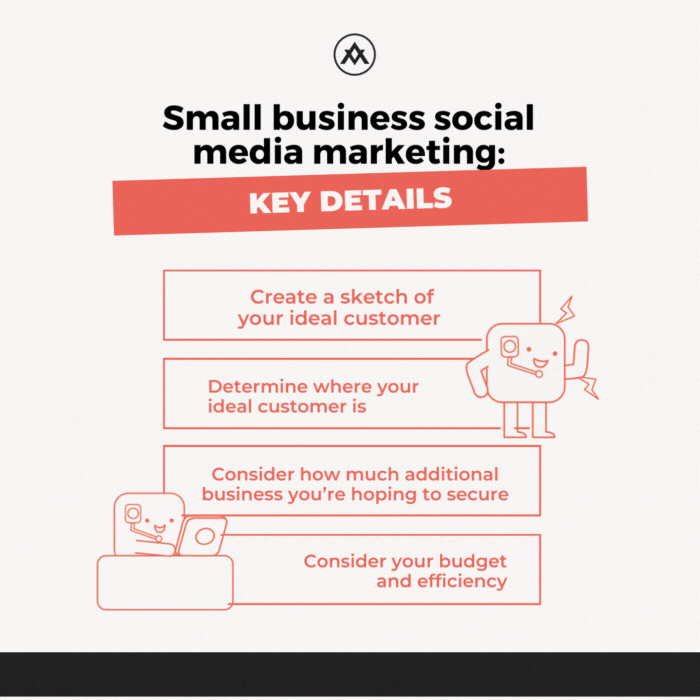 You want to hit the sweet spot where every dollar spent brings you significantly more earnings. To accomplish this goal, you need to consider these key details of small business social media marketing.
Create a sketch of your ideal customer
Determine where your ideal customer is
Consider how much additional business you're hoping to secure
Consider your budget and efficiency
Ideal customer sketch
If you're running a small business, you should have already created a customer sketch. Refer back to your sketch and explore all of the various social media marketing costs.
The profile you create should concisely define your brand's ideal customer and why that demographic should care about your product.
Determine where your ideal customer is
After creating a sketch, you need to determine where your ideal customer is spending their time. Part of what makes small business social media marketing so effective is the ability to adjust your advertisements and meet consumers where they feel comfortable.
If your target demographic spends their time on YouTube, allocate your advertising budget to campaigns on YouTube. If they're on Facebook, move your money there.
The idea is to spend as little as possible while reaching as many individuals that will care about your product as possible. With detailed analytics and copious data collection, choosing the right social media platforms to target should be a breeze.
Consider additional business
While it might be tempting to launch an enormous campaign, a flood of purchases might interfere with your business's daily operations.
Determine the additional business you're hoping to secure, build your business infrastructure out enough to handle the added volume, and avoid biting off more than you can chew.
Instead, start small. Use digital marketing to bring in small amounts of business, use the funds to strengthen your business infrastructure, then repeat the same steps but on a slightly larger scale each time.
Consider budget and efficiency
While hiring an agency to run your social media is expensive, it may be worth it if your business is already very lucrative. That money is likely to make itself back by freeing you up to grow your business in other ways.
By contrast, if you're a smaller business, it may be worth it to create and run your social media yourself.
Social media marketing costs can be incredibly fair or incredibly disarming. The secret is knowing what kind of advertisements your business needs, what you'd like to accomplish with your campaign, and using the available data in an effective manner.
Keep in mind that some digital advertisements are designed to bring awareness, some are designed to educate consumers, some are designed to bring more sales, and some are designed to incentive customer loyalty.
If you choose a clear goal, you'll put yourself in a perfect position to take advantage of various social media marketing costs.
---

Getting the most out of social media marketing costs
Social media marketing is one of the best marketing strategies in the modern business landscape.
There's no one-size-fits-all strategy for social media marketing costs.
Finding the right strategy for your business means analyzing your business's needs and tailoring your approach to optimize your time and money.
The most effective method of social media marketing is identifying your target audience, determining where those individuals spend their time, and meeting them on those specific platforms.
---
Further reading
---
Alliance Virtual Offices provides several solutions for established entrepreneurs hoping to expand their digital offerings or transition to a digital-first business model.
Our digital tools give business owners a cost-effective chance to focus exclusively on their operations without losing the amenities associated with traditional business models.
Alliance's Virtual Offices are available in all fifty states and provide business owners with a professional and well-known address, access to a physical workspace, easily reservable meeting rooms, and helpful and friendly onsite staff. Our Virtual Offices are designed for virtual business owners hoping to scale their businesses and expand their reach.
Additionally, our friendly and professional Live Receptionists are available to screen calls and deepen customer relations. Don't risk bothering a potential customer because you were trying to multitask while on the phone — let our virtual receptionists handle it while you focus on the core operations of your business.
Whether you're an established entrepreneur hoping to lower social media marketing costs or a fledgling business owner trying to learn the ropes of the digital-first world, Alliance Virtual Offices is here to help.
Contact us today to see how we can help your business create a strong, professional, and widely legitimate online presence.