---
---
Q: What is a central business district? Should I register my business within a central business district?
A: A central business district is an area within a city that is home to a heavy concentration of businesses and other commercial industries. Typically, a city's central business district is synonymous with downtown. While there are positives and negatives associated with registering your business in a central business district, a Virtual Office that uses an address within the district allows you to keep all the benefits with none of the negatives.
---
Finding a home for your business requires serious research.
You want to find an affordable location without choosing an area that will fade into obscurity in the coming years.
While land value typically continues to rise, your business's success cannot be tied to the intrinsic value of the property you're using. This is why leasing is such a popular alternative — but with long lease commitments and related operational costs, you still need to find a good location.
For many entrepreneurs, finding an address within a given city's central business district is something of a holy grail.
While incorporating within a city's central business district seems like the best possible thing for your business, there are several things you need to keep in mind before signing a lease that will only get more expensive over time.
Inflation continues to rise, economic fears continue to worsen, and small businesses seem to be suffering more than anyone else. With the market shaky and precarious, is it truly worth spending the extra money just for a brick-and-mortar location in your city's central business district?
This is one of the many questions we'll address in this article.
And if you've ever asked yourself, "What is the most impressive central business district near me?" you're about to find out the answer.
In this article, we will define a central business district, take a look at a central business district example, examine the pros and cons of being in a central business district, and determine how you can experience the positives of a central business district while eliminating the negatives.
---
---

What is a central business district?
One of the easiest ways to understand the central business district definition is to think about the differences between "downtown" areas and other residential districts.
A central business district is the part of any city that contains the main cluster of commercial buildings.
Typically, this is the part of the city we think of when we're talking about "downtown".
In just about any major metropolitan area you can think of, there's a central business district that houses a considerable number of businesses and office buildings.
Special central business district zoning limits the number of residential properties within each central business district, meaning it's not quite the same as residential sections of the city.
So while there might be some residential property in a central business district, these areas are dominated by office buildings.
Central business districts tend to garner a certain prestigious reputation. Because they attract big businesses, people assume that any business operating in a central business district must be professional and successful.
Below, we've detailed a few central business district examples with some general statistics about each location.
Chicago
Also known as "The Loop", this area is in the top three largest business centers in the nation. Although this central business district only occupies1.6 square miles, there are more than 300,000 individuals employed here.
Los Angeles
The central business district in Los Angeles sprawls over almost 6 square miles, contains several different residential areas, and is home to approximately half a million jobs.
New York
New York's central business district, Midtown Manhattan, is the largest district of its kind in the world and is home to several well-known landmarks like the Empire State Building and Times Square. Prior to the pandemic, it was estimated that over 2.5 million jobs were located within this area.
Washington D.C.
The D.C. central business district is the fourth largest district of its kind in the United States, hosting more than 700,000 jobs. Additionally, the White House is located within Washington D.C.'s central business district.
London, Canary Wharf
London is technically home to two separate central business districts, but Canary Wharf itself is particularly impressive. Home to approximately 1.5 million jobs, Canary Wharf only accounts for 2% of the available land in London.
Regardless of where each central business district is located, you can expect a heavy concentration of industry, a relatively small number of residential properties, and a centralized location.
---

The pros of a central business district
Central business districts have distinct advantages for businesses.
While the rent might be pricey in some of these areas, the heavy foot traffic and dense population will usually make up for it if you're in the retail business. Even if you aren't, having an easy area to display branding materials and other advertisements to a large number of consumers each day does wonders for raising brand awareness.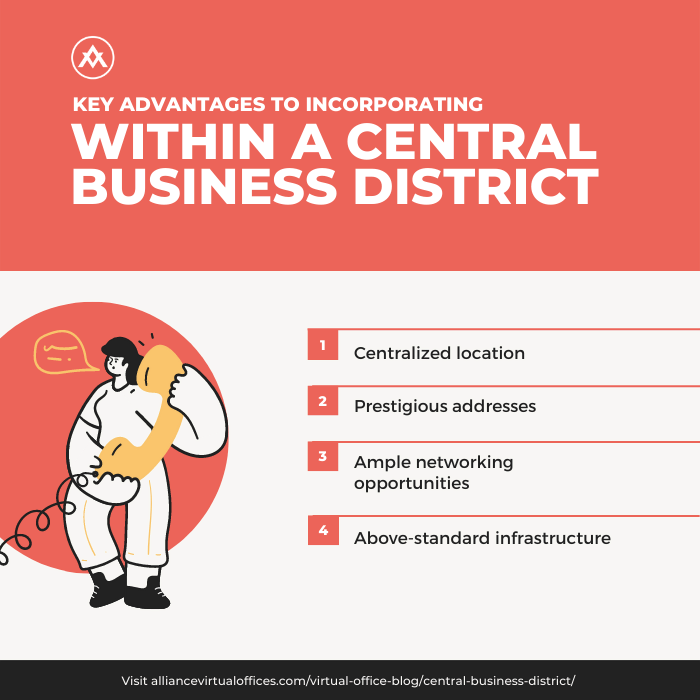 Below, we've listed some key advantages to incorporating within a central business district.
Centralized location
Prestigious addresses
Ample networking opportunities
Above-standard infrastructure
Centralized location
By definition, a central business district is always located downtown. Because downtown business is such a thriving market, you'll be close to all the action.
Prestigious addresses
Probably the most important benefit of incorporating within a central business district is its prestigious address. This grants your business legitimacy and professionalism.
Consumers, like the majority of other individuals, spend a lot of time online. When potential customers are looking for your business, a professional address in a well-known location goes a long way.
Think of it this way:
Consumers will inherently trust a financial services business that has an address in the New York financial district over a financial services business that is registered to a rural area in Kansas.
Ample networking opportunities
Proximity to other successful entrepreneurs and business owners is a huge benefit provided by central business districts.
Networking is a key aspect of any successful business or organization, and being surrounded by other like-minded professionals creates countless opportunities.
Keep in mind that networking doesn't necessarily mean approaching other professionals in your building and asking them to buy your product. Networking can be a simple conversation about business practices between two entrepreneurs in the same elevator.
The main reason a central business district is so beneficial for networking is the sheer number of casual chats and water-cooler conversations between professionals in the area.
Above-standard infrastructure
Because a central business district is typically the hub of industry in any given city, the infrastructure will be the most developed.
The central location combines with this robust infrastructure to provide business owners and employees with countless recreational activities. While the actual activities and opportunities will vary depending on the state you're in, having access to the "fun" aspects of the city helps maintain healthy work-life balance.
---

The cons of a central business district
Unfortunately, it isn't all good news with central business districts. Many of the positive aspects of a central business district can also be construed as negatives.
Below, we'll be taking a closer look at some of these negative associations:
Very expensive
Frustrating commutes
Can be disastrous for mental health
Downtown traffic
Generally, an overwhelming area
Prohibitively expensive
This is probably the most obvious downside. Procuring office space in a central business district is incredibly expensive. With constant demand from wealthy renters, prices tend to be astronomical in this kind of business center.
Frustrating commutes
If you're lucky enough to live within walking distance of your office building, the commute probably won't be that frustrating. For everyone else, spending more than an hour a day using public transportation gets very expensive, very quickly.
For example, the cost of riding the subway or using city-sanctioned buses in New York is $2.75 per trip.
While unlimited passes are available, you're going to be spending $33.00 for a seven-day pass, or $127.00 for a thirty-day pass. Both options require upfront capital and require you to make the long, arduous commute.
While this might not seem like a big deal for you, you also need to consider the financial limitations of your employees. Some might jump ship for more affordable living costs in a lower-paying, more rural job opportunity.
Can be disastrous for mental health
Burnout, a term coined decades ago by an American psychologist, is the result of unsuccessfully managed workplace stress, constant pressure to perform, and feeling trapped in your work.
In recent years, burnout has been largely attributed to poorly structured workplaces, in-office requirements, and other aspects of authoritarian management techniques.
With a traditional office rental, you don't have the luxury of working from home, because working from home with a traditional office rental is effectively throwing money down the drain.
Working in a high-pressure environment present in most central business districts can be disastrous for mental health, and in many cases can lead to burnout.
Downtown traffic
Outside of a frustrating commute, the incessant traffic in any major metropolitan downtown business center is a massive negative.
At the height of rush-hour in Midtown Manhattan, driving just one mile can take upwards of an hour and a half. Needless to say, securing office space in any central business district will require serious patience.
A generally overwhelming area
A central business district is the hub of all of a given city's activity. This creates high-pressure and sometimes alienating environments that are not for everyone.
While the idea of landing office space in downtown New York might seem like the most impressive move your business can make, it's important to know yourself before making such a large decision.
Not everyone thrives in the environment created by central business districts. Understanding this before finding office space could save you considerable time, effort, and money.
As you can see, some of the positives — like centralized locations and prestigious addresses — have both positive and negative aspects. The trick is enjoying the positives without br
Thanks to countless years of digital-first innovation, modern business owners have the luxury of registering their business with a virtual office, rather than a traditional workspace. Keep reading to see how a high-quality Virtual Office can allow you to keep all the positives of a central business district without any of the negatives.
---

Keeping the positives of a central business district without the negatives
Central business districts can be very beneficial for building your business's network and reputation.
However, they are also prohibitively expensive places and tend to involve a lot of traffic.
With a virtual office located in a central business district, business owners can experience pros without cons.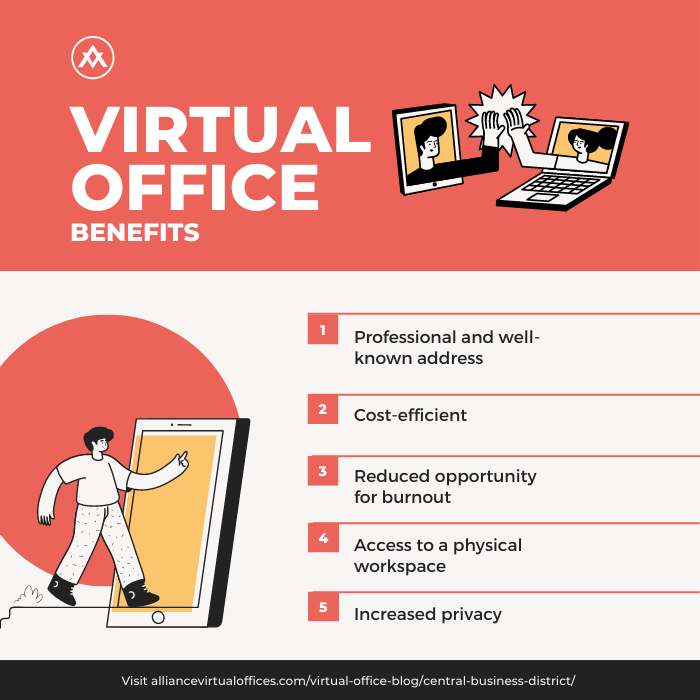 Below, we've detailed some ways that a Virtual Office can make the best use of a central business district – without introducing hours of traffic, high prices, or increased chances of burnout.
Professional and well-known address
Cost-efficient
Reduced opportunity for burnout
Access to a physical workspace
Increased privacy
Professional and well-known address
Alliance Virtual Offices has locations all over the country and in several different central business districts. You can pick an area that meshes well with your business and secure a Virtual Office with an address in the same location.
As e-commerce sales continue to boom, there are larger numbers of individuals being scammed than ever.
Unfortunately, the victims of these scams are almost always consumers, and a professional address is enough to remind these individuals of your business's legitimacy.
---
Read more: Time Away From Work? Set Your Business Up So You Can Step Away
---
Cost-efficient
One of the biggest problems with leasing a building in a central business district is the prohibitively high cost.
Commercial leases tend to be on the longer side, with minimums ranging from 3 to 5 years — depending on the location. Paired with the higher-than-average costs associated with central business districts, your business will be paying inordinate sums of money each year just to stay in business.
With a Virtual Office, you get all of the benefits of incorporating in a central business district at a considerably more cost-efficient price point.
Additionally, Alliance's plans apply a 6-month minimum for any of our Virtual Offices, which is much less commitment than the 3-year industry standard.
As the general public continues to feel uncertain about our economy, using a Virtual Office gives business owners a distinct edge over their competitors in traditional office spaces.
While we always think of land prices only going up, this might not be the case over the next few years as fears of a recession continue to mount.
While a central business district office location is something of a holy grail now, that might not always be the case. A Virtual Office gives you the chance to react to any possible changes in the market with flexibility and poise.
Reduced opportunities for burnout
A big part of what makes traditional employment so prone to burnout is the number of routines that a working individual must participate in each day.
First, you have to drive to work, then you have to work until lunch, then you have to work until you go home, then you have to make that same commute a second time with ostensibly worse traffic.
When all is said and done, a surprising number of people spend at least an hour on the drive to and from work alone.
Using a Virtual Office provides business owners and workers with a chance to break these monotonous routines.
Work from home and eliminate the commute – but take advantage of the physical workspace on the days when staying at home seems impossible.
Access to a physical workspace
While many virtual office providers offer nothing more than a glorified mailbox, all of Alliance's Virtual Offices are backed by physical workspaces, on-demand, and flexible.
Alliance allows business owners to experience the convenience of working remotely without giving up an invaluably professional workspace.
Our Virtual Offices provide the same networking opportunities that a central business district can offer without making you feel like you need to be in the office every day.
There's no good reason to use a virtual office that isn't backed by physical space, especially when so many of the mailbox virtual offices are attached to addresses that are located within retail locations.
With the internet at the fingertips of an increasing number of consumers, there's virtually no reason to risk customers confusing your business with an Office Depot.
Increased privacy
Alliance's Virtual Offices allow business owners to take advantage of the privacy of an office in a central business district without leaving their homes.
Many business owners are tempted to simply use their home addresses when they register their businesses, but doing so is a mistake.
Once your address has been used to register for a business, it's a part of the public domain. Once it's a part of the public domain, disgruntled customers, frustrated ex-employees, and spam mailers have an easy method of finding out exactly where you live.
With Alliance, you have the opportunity to keep your home private and avoid spam while still having access to a physical workspace.
---
Further reading
---
Alliance Virtual Office provides countless tools for entrepreneurs hoping to make a splash in the digital-first market.
An Alliance Virtual Office provides well-known, professional addresses in all 50 states, with several locations in various central business districts. This means that business owners get the chance to use addresses from these downtown districts without the long leases, high cost, and frustrating commutes.
Additionally, Alliance Virtual provides live receptionists for business owners that need help handling customer communications without having to hire another employee.
Don't risk upsetting a potential customer because you're trying to multitask while you're on the phone. Our friendly and professional live receptionists will screen all of your calls, providing a professional point of first contact for any callers.
With our meeting rooms, business owners can reserve spaces of varying sizes depending on the number of people they'll be meeting with.
This prevents you from having to host meetings in crowded coffee shops or expensive hotel conference rooms. Add our helpful onsite staff, and any technical difficulties that might arise while you're presenting can be easily rectified.
It doesn't matter if you're a new business owner hoping to learn the ropes or an established entrepreneur hoping to grow your business, Alliance Virtual Offices has you covered.
Contact us today and enjoy same benefits of incorporating in a central business district – with none of the downsides!