---
---
Q: Why are creative marketing ideas important for your remote business?
A: Creative marketing ideas help drive interest and attract customers in a new way that traditional marketing strategies often do not.
---
Creative marketing ideas are an absolute key to making your business successful. Traditional marketing is just not cutting it anymore, and customers are looking for more engaging and dynamic ways to participate in the marketplace.
There are plenty of examples out there to show just how creative marketing can be. 
However, not all of us are born creatives. We need the inspiration to create a successful campaign using creative marketing ideas.
Here we will discuss the benefits of creative marketing and give you some creative marketing ideas to try. With this information, you'll learn to harness your creative marketing ideas to help your established remote business soar.
---
---

Why are creative marketing ideas beneficial for business?
Creative marketing is taking the world by storm. More and more businesses are turning to the virtual world to engage in commerce or host meetings.
Creative marketing is beneficial because it catches your consumer where they least expect it. It brings attention to your business and can create meaningful relationships with your consumer base.
CNBC describes creative marketing as the "new frontier of marketing." Brands are increasingly expected to shift and meet the new demands of their consumers.
What does this data imply? It implies that there is increasingly more room for creative ways to market online.
In this increasingly online world, consumer expectations are changing to meet the new emerging standard. People want more engaged and personalized products and services.
A whole new world of potential is opening up. The consumer is looking to be treated as an individual. In the online world, this is more possible than before with brick-and-mortar stores.
People have grown tired of traditional advertising mediums. People feel jaded, as though they have already seen it all and want to be wowed.
Gone are the days of advertising in print through the local newspaper. People simply are not paying attention to those platforms anymore.
Now!
Creative marketing is vital if you are creating a new product launch. You will want to get your product off of the ground while working on building a long-standing relationship with your consumer base.
What does creative marketing include? Creative marketing can include anything from murals to memes. The whole point of creative marketing is to push the boundaries and experiment.
Are you looking to connect with your audience in a more meaningful way?
If you want to truly connect with your audience – the kind of connection you need to make a sale – you need to stand out with your creative marketing strategies.
Creative marketing approaches allow you to accomplish just this. You can better connect with your consumer base and make more sales through creative marketing.
But you are probably wondering:
What are creative marketing ideas for 2022?
---

Examples of creative marketing ideas
Now that you know why creative marketing is worthwhile, you might be curious to discover ways to improve your marketing strategy or marketing campaign.
This can be thought of simply:
According to Forbes, brands must take creative risks to stand out.
Many creative marketing ideas are already out there and yet to be imagined.
But what if you've hit a brick wall in your creative process and cannot think of more ideas?
We are here to help.
Creative marketing looks different from industry to industry. It is crucial to consider the niche in which you will need creative marketing ideas.
A smaller business could get away with more gorilla tactics. In comparison, a larger business would need to play by more formal rules.
What type of industry will you need creative ideas for? A creative marketing idea for banks will look different than a creative marketing idea for small businesses.
Let's dive into tangible creative marketing ideas that you can use.
Urban Marketing
Get creative with your surroundings and use them in your creative marketing campaigns. Consider local landmarks or everyday city objects that you can use to spark creativity and interest.
A great example of creative urban marketing is using a storm drain to advertise barbeque grills. Now that catches your attention
Ask yourself:
What are some specific marketing ideas that you can use in your local community?
Is there something in your community that is overlooked every day that could be used in a creative way to promote your business?
Mural or Piece of Art
A great example of a creative marketing idea is creating a highly-postable mural or piece of art and placing it somewhere people can see it.
For example, a brand might commission a large, visually exciting mural. People will see the mural and post it to their social media feeds, helping the brand connect with people in a new way. This type of organic sharing helps your business reach new people in a less aggressive format than traditional advertising.
This is a trendy idea for creative marketing for banks with the capital to invest in a large-scale art project.
This type of creative marketing supports your business as well as a local artist. It also adds beauty to your community and has the potential to inspire creativity in others.
Using a mural or a piece of art is a solid idea if you are looking for a great way to catch people's attention in a meaningful way.
However, be sure you obtain the proper permissions from your city so your business does not run into any legal problems.
Sidewalk Chalk
You could still choose to liven up your local block with some color through sidewalk chalk.
Sidewalk chalk is a catchy alternative to posters and flyers that is so creative that it just might catch the eye of a possible new customer.
After creating your sidewalk advertisement, you could even consider leaving the chalk outside of your business for people to play with on their own. This will engage the customers with your business and increase their likelihood of remembering it.
Unusual Sponsorships
Consider sponsoring something slightly unusual that will make consumers turn their heads.
A well-known example is Citi Bank sponsoring city bikes and calling them "CitiBikes."
Another lesser-known example is the donut company Krispy Kreme hosting and sponsoring a series of 5k running events. A donut company sponsoring an exercise event is sure to turn some heads.
Contest Marketing
Perhaps you are still left wondering:
How exactly do you attract customers?
One of the best ways to attract customers is to market to them in subtle, unexpected ways. Rather than use traditional marketing avenues, create content or events that draw the customers to your organically.
Contest marketing accomplishes just this.
That being said, you might also need to create marketing to promote your contest.
Sponsor an unusual contest
An example of a creative marketing idea is to sponsor an unusual event.
For instance, if a bank sponsors a hotdog eating contest, people will probably take note. This is a creative way to infuse comedy and personality into your marketing campaign.
Photo Contest
Another great idea for creative marketing is running a photo contest with your product. It is a wonderful way to engage people online while promoting your product content.
Video Contest
You could also consider a video contest.
Although not as many people would enter a video contest vs. a photo contest, they would have to put in more effort. This extra effort would make them more invested in your brand. Not only would you be reaching a possible new consumer, but you would also be reaching the entire following of that consumer.
Caption Contest
Post a photo and invite users to submit a caption for the photo. This strategy allows users to engage with your content, and you might end up with some pretty funny results.
Email Campaign
Another great example is running a conversational, informative, supportive email campaign. Rather than using your email campaign to sell directly, you can use it to establish a connection with your audience and position your brand as a friend.
It's also a great chance to make your business feel more personal. You can include a picture of yourself and the business address to provide a sense of closeness and personality.
However, email campaigns take a lot of time and effort that many businesses cannot afford to do themselves.
Thankfully, Alliance Virtual Offices can help you accomplish a spectacular email campaign through their virtual office services.
All of these are just ideas, however. The joy of creative marketing is that many ideas are yet to be born.
With these tools, you can create ideas for creative marketing for your specific business.
---

Social Media Marketing
According to the Pew Research Center, digital advertising continues to grow exponentially, driven by growth in advertising on mobile devices.
The key with content marketing is that you will want to create marketing that incorporates your product or service while not appearing too much like an advertisement.
There are creative ways to get your consumers hooked on your content without seeming too much like a solicitor.
Find things your audience is interested in, give them the content of interest, and have a call to action at the end of the content that refers them to your product or service. This way, your audience is gaining something by viewing your content.
If one of your lingering questions is how to engage in creative marketing with no money- this section is for you.
Using social media marketing for your brand is easily one of the most effective free forms of marketing. Creating engaging content can attract your target market without paying dime.
The consumer wants more than just content, however. They are looking for real creativity to lure them in.
You might be wondering:
What are some specific ways to make creative content online?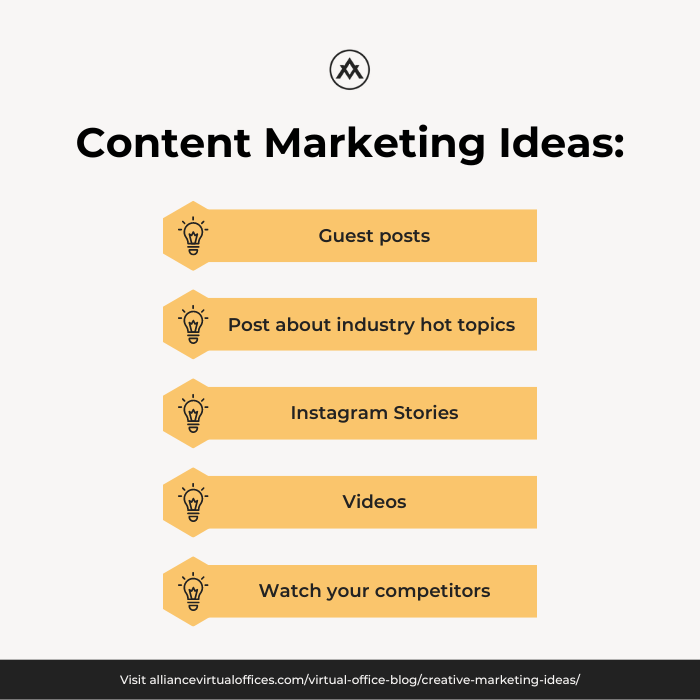 Guest posts
Guest posts are a great idea to catch your target audience's attention creatively. Guest posts help to humanize your product or service.
You could showcase some customers already using the product or service willing to provide a review. If you could convince an industry start to be your guest poster – even better.
Post about industry hot topics
A popular way to build traction is to use topics already trending in the marketplace.
Ask yourself:
How can you use relevant and trending topics in your industry to your product or service advantage?
Perhaps join in on trending hashtags or national food days that the internet loves to celebrate. By joining arms with consumers by following what is popular on the internet, you are closing the gap between the buyer and the business.
Instagram Stories
Instagram stories are the perfect way to flex your creativity since they are only up for 24 hours.
Trying something new? Why not try it out on Instagram stories?
The app allows you to add stickers and filters to flex your creativity even more so than before.
You can post spontaneously without worrying about perfection. Additionally, it allows for some transparency within your business to further connect with the consumer.
Videos
A popular way to use social media marketing creatively isby creating videos. Lots of people are posting pictures of products, but have you considered using video to make your product or service come alive?
There are so many creative filters and video editing techniques that can be used in such creative ways.
The world of social media marketing moves extremely fast, and it is important to stay up to date. You will want to diversify the platforms you are posting on and post consistently across all of them.
But here's the kicker:
Social media marketing is a form of social proof.
It says – "Hey, look at all of these people that engage with my product. You should too".
People do not flock to just everyday things, however. This is why having a creative strategy within your marketing campaigns is vital.
Watch your competitors
If you engage in social media marketing, staying on top of your competitors is essential. You won't want to miss a trend in the marketplace that would allow you to implement some of your creative marketing ideas.
Thankfully, platforms such as Facebook give you the ability to do this. You can follow your competitors and see the content receiving the most views and engagements.
For example, suppose you are looking for creative marketing ideas for real estate. In that case, you could check out the area's top accounts of real estate agents.

---
Read more: The Complete Guide to Influencer Marketing for Small Business
---

How to come up with creative marketing ideas
How does one think of their own creative marketing ideas?
Well, keep in mind your primary goal. Your primary goal is to stand out from the competition with the uniqueness of your creative marketing ideas.
The first step to making creative marketing ideas is determining your target audience. Creative marketing ideas for a bank will look a lot different than creative marketing ideas for a nonprofit organization.
Start by asking yourself the following questions:
Who are you trying to reach? With what platforms are you trying to engage?
Identify what these people like and where they spend their free time. After determining this, come up with a unique way to appeal to them.
If you are trying to target an audience concerned with health and lifestyle, you might not want to advertise next to a fast food chain.
It could be compared to a seed needing exactly the right environmental conditions to experience maximum growth.
A younger audience may be more engaged on a platform such as TikTok, while an older audience would be more engaged on a platform such as Facebook. The first key step is to determine your people.
Once you know what people you are targeting, consider their values. What is close to their heart?
Are these people hardworking professionals? If so, a conversational, informative tone is a good idea.
On the other hand, if your audience is meme enthusiasts, you might consider a more comedic approach.
By using creative marketing ideas, you can pull on the audience's specific values. You can then leverage those unique values in a new, unexpected way.
Finally, consider how you want to position your brand. What about your unique marketing approach that is going to draw people in?
What's the bottom line?
A marketing strategy that works well for one group might not necessarily land for a different group of people. It is the role of the marketing campaign to specifically target who they think will be most likely to buy their product.
Creative Marketing Ideas are the Future
Simply put, people are tired of seeing the same old marketing tactics day after day.
Traditional marketing approaches have grown significantly less effective as people have become used to them.
It's like when you put something new in your home. At first, a new thing stands out to you every day. However, after a few weeks of it staying the same, you hardly notice that it is even there.
---
Further Reading
---
The same thing goes for marketing. You need to engage in creative marketing if you want your service or product to be noticed.
Consider your audience and tailor your marketing to meet their interests and values. By considering your position, you can create new and exciting marketing campaigns that will boost your revenue.
Aligning creativity with marketing strategy helps businesses build strong and foundational customer relationships.
Traditional marketing is done. Creative marketing is the future.
While you get creative in your marketing, let us take care of the more mundane parts of the business. With a virtual office plan from Alliance Virtual Offices, you can enjoy having a virtual office address, mail forwarding services, access to meeting rooms, extra office space, and virtual live receptionist services.
Alliance Virtual Offices will leave you with extra creative space so that you can focus on your campaign.