---
---
Q: Is affiliate marketing worth it? What's a good program to try?
A: The barrier to entry for affiliate marketing can make it a daunting way for newcomers to make income. That said, skilled affiliate marketers can make serious money with the right program and approach. Alliance Virtual Offices' affiliate program is ideally suited to small business owners.
---
---
Widespread fears of a recession continue to smash the market. All across the country, people are rightfully concerned.
Numerous financial publications are offering tips on how to weather the coming storm, with advice ranging from optimizing your supply chain to finding additional streams of income.
Affiliate marketing is one potential income stream that has been growing in popularity in recent years. Businesses everywhere are turning to affiliate marketing to generate more revenue for their operations.
Since 2018, the affiliate marketing industry has grown by almost 50%.
Stats like this beg the question:
Is affiliate marketing worth it?
Those who are unfamiliar with this concept might even be asking themselves:
"What is affiliate marketing?".
Considering its continued growth and special rewards for successful affiliates, we can safely say that affiliate marketing is worth it.
That said, newcomers to affiliate marketing — especially individuals rather than businesses — might struggle at the beginning of their journey.
The key to true success with affiliate marketing is researching the market, properly leveraging your time and resources, and finding the best companies to work with.
In this article, we'll cover what affiliate marketing is, whether or not affiliate marketing is worth it, the best affiliate programs, and how Alliance Virtual Offices' affiliate marketing program is designed to help your business flourish.
Are you unsure about how affiliate marketing works?
Are you asking yourself, "is affiliate marketing a pyramid scheme?"
Don't worry — you're in the right place.
---
---

What is affiliate marketing?
Before you figure out the answer to "is affiliate marketing worth it?", you should take the time to familiarize yourself with affiliate marketing as a whole.
E-commerce industry reports estimate that global e-commerce sales will make up more than 20% of global retail sales by the end of the year. To capture market share in this exponentially expanding market, businesses use countless strategies to attract new customers.
One of these methods is affiliate marketing. Affiliate marketing is a marketing strategy businesses use to reach new audiences.
This style of marketing initiative works by having an individual or organization promote or suggest products and services. These individuals or organizations are known as "affiliates."
You've probably come across advertisements for products on platforms like TikTok or Instagram that feature celebrities or influencers showcasing a product with purchase links.
Technically, influencer marketing and affiliate marketing are two different things — but the concept of an individual using their social media following to showcase a product or service is the foundation of affiliate marketing.
Of course, these influencers are well compensated for their efforts.
---
Read more: The Complete Guide to Influencer Marketing for Small Business
---
The difference is that affiliate marketers don't have to be influencers to sell products.
Sure, being a wildly popular influencer with millions of followers certainly helps you achieve success as an affiliate marketer, but it's not the only way to make great money.
Essentially, affiliates are salespeople for businesses that run affiliate programs. In exchange for promoting these products, affiliates receive commission fees on every sale.
Affiliate sales are usually tracked through unique links or the use of affiliate-specific discount codes.
By now, you probably have a clear answer to the question: "is affiliate marketing legit?"
Now let's tackle the fundamental question:
Is affiliate marketing worth it?
---

When is affiliate marketing worth it?
Asking "is affiliate marketing worth it?" is an entirely different question than "is affiliate marketing hard?"
The truth is that newcomers tend to face a number of difficulties when they're first getting started.
Successful affiliates can easily make excellent money with their referral bonuses and commission, but newcomers might find themselves struggling to figure it out.
Although there might be a bit of a learning curve, the best businesses make affiliate marketing fun.
A good affiliate marketing program can provide significant income to individuals. According to Glassdoor, the average affiliate marketer has an annual income of about $59k.
So while the initial stages of affiliate marketing might require some extra effort, it's clear that affiliate marketing is an effective way of making money.
Individuals who wonder, "is affiliate marketing worth it?" might be worried about the initial slump. But there are many benefits to consider.
Here is a brief list of some of the benefits newcomers can expect:
Flexible
Quickly start earning
Low barrier to entry
Niche efforts
Flexible
With affiliate marketing, you can effectively make your own hours. This means that you can spend as long as you'd like on selling through your affiliate links.
If you focus on low-ticket items, you'll be forced to work more regularly and make more sales to keep up a steady stream of income. Alternatively, each sale is much more impactful if you're focused on high-ticket items.
Quickly start earning
People occasionally ask questions like "is affiliate marketing profitable?" These individuals may be skeptical because they don't realize just how quickly affiliates can get paid.
With the right program, individual affiliate marketers can find products that they can start selling immediately. Paired with the speed of digital transactions, these entrepreneurs are getting paid almost immediately.
Low barrier to entry
Selling lower-ticket items might require an initial investment to pay for general engagement tools. Still, you can get started with next to nothing when selling high-ticket items in niche markets.
The barrier to entry is especially low if you're selling a product or service you believe in. if you're confident enough in the company you're promoting, you can easily just strike up conversations with potential customers.
The beauty of affiliate marketing is the freedom you're awarded in coupled with the low entry costs.
All it takes is a little effort and a general willingness to put yourself out there. If you tick these items off your list, you can start making money with affiliate marketing without any kind of initial investment.
Niche efforts
If you're familiar with specific niche markets, you can partner with businesses within these niches that offer affiliate marketing programs. From there, you're in a great spot to make use of those programs.
The more you know, the easier it will be to sell the product. Similarly, if you're dealing with a niche market, you'll be speaking with other potential consumers with the same interest level.
Thanks to the power of digital branding, even solopreneurs can create a name for themselves as they strive for success with affiliate marketing.
---
Read more: Online Branding for Small Business: The Best Strategies
---
While it can be difficult for new affiliates to earn income with affiliate marketing, businesses can use this method for relatively easy sales.
Businesses have a much easier time participating in affiliate marketing programs than individuals. This is primarily due to how much easier it is for businesses to scale.
Businesses can make individual affiliate marketing salaries look minuscule. Because businesses tend to have far more reach and resources than individuals, they can easily make 6 or 7 figures a year through affiliates if they play their cards right.
Below, we've covered some of the benefits that companies can experience through using affiliate marketing. Keep reading for more!
High ROI
Round out offerings
Extended reach
Specific targeting
Low ongoing costs/excellent flexibility
High ROI
Affiliate marketing also has a very high ROI.
Because you're communicating to an established market, you can leverage your existing relationships and insights.
This means you can see high conversion rates for your affiliates with relatively little effort.
Round out offerings
It's also a great way to round out your existing offerings and profit off "packages" of goods and services without having to develop and market tons of new offerings yourself.
You can focus on what you do best and make bonus money on the side by leveraging your existing customers.
Extended reach
It's estimated that word-of-mouth advertisements drive about $6 trillion in yearly sales.
With numbers like that, it's no wonder businesses are getting more use out of affiliate marketing.
When affiliates are working for you, they're telling their friends, families, and coworkers about your products because it benefits them to do so. Affiliate marketing allows you to take advantage of the benefits of word-of-mouth advertising by organically incentivizing your affiliates.
Specific targeting
Another benefit is the specificity with which businesses can target their audience.
Offering affiliate marketing programs to the elderly is likely not going to be as effective as an affiliate program geared toward college students.
With the data businesses now have access to, your business can determine the exact audience you should approach with your affiliate program.
Targeting your audience on their favorite platforms is a much better approach than throwing money at advertisements on every platform.
Once you understand where your ideal customer spends their time, you'll have an easier time connecting with them.
---
Read more: Social Media Marketing Costs for Small Businesses
---
Low ongoing costs/excellent flexibility
Two of the most significant aspects of affiliate marketing through a business are the consistently low ongoing costs and the increased flexibility.
Unless you're selling highly specific products that require profound product know-how – you don't need to provide your affiliates with anything but information.
Considering how easy the onboarding process is, your business won't have any issues educating your affiliates about your offerings. This easy onboarding process is a direct result of the flexibility affiliate marketing provides.
Sure, there are many types of digital marketing that your business can employ, but that doesn't negate how useful affiliate marketing is.
You can often use affiliate marketing programs in conjunction with your other marketing techniques!
---
Read more: Unlock Your Business's Full Potential with E-Marketing
---
Hopefully, this information has provided the answer to questions like "is affiliate marketing passive income?" and will help you understand how to create or participate in programs that have a long-term net-positive effect on your business.
---

What's the best affiliate program for you?
Before you ask yourself, "is affiliate marketing worth it?" you should first determine what you want to achieve with your affiliate marketing programs.
Make the wrong choice, and you'll spend countless hours trying to sell products that you don't even care about. As a result, you likely won't make much money.
Make the right choice, and you'll quickly realize just how effective affiliate marketing is.
Alliance Virtual Offices' affiliate program checks all the boxes. Since Alliance itself is on the cutting edge of the latest future-of-work technologies and is already in the business of providing market-leading infrastructure support – making sales couldn't be easier.
As more businesses turn to e-commerce and other digital business structures, the need for high-quality workspaces, virtual addresses, and other digital technologies has never been more apparent.
We've found that small business owners are the most intimately familiar with the need for Virtual Offices and other virtual solutions, which is why our affiliate program is ideally suited to small business owners.
To better answer the question, "is affiliate marketing worth it?," we've put together a small list of key benefits of partnering with Alliance.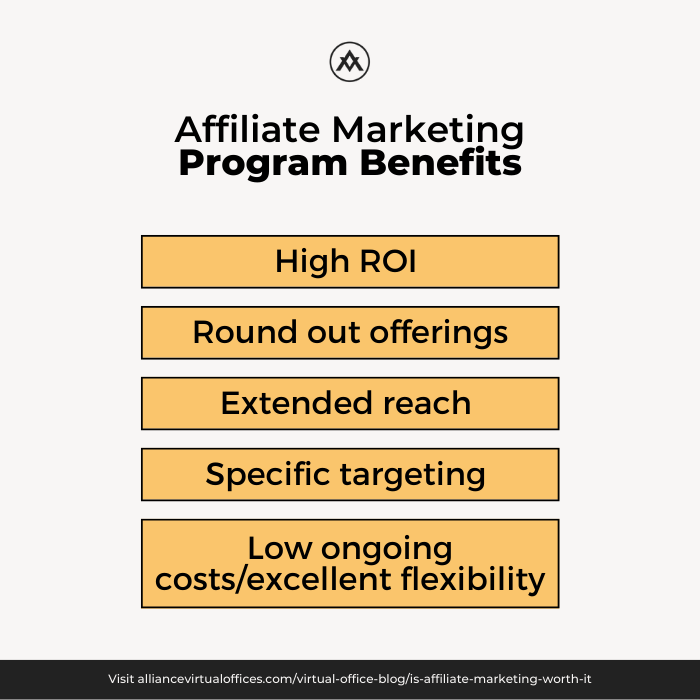 Flexible and versatile offerings
Competitive commission
Pre-written content
Proven brand
High-ticket items
Legitimizes operations
Flexible and versatile offerings
We offer highly flexible and versatile offerings that are beneficial for a wide variety of audiences.
This makes it easy to create content and market our services. Paired with the content we provide, you can use many different marketing strategies to promote our services.
Competitive commission
Another benefit that Alliance provides is our highly competitive commissions. We make it worth your time to make the sale.
Our lowest commission per sale is $30, but you can make up to $475 by selling our high-ticket services. Once you've started selling some of the higher-priced items, you'll quickly learn how beneficial this affiliate marketing program can be.
Pre-written content
Outside of the competitive commission and versatile offerings, we give our affiliates pre-written content that you can post to make the selling process effortless. Don't spend your own time and money developing content — because we've got you covered.
All you have to do is post, engage, and let the money roll in.
Proven branding
Alliance Virtual Offices is a well-known and professional brand.
From our ~90% positive TrustPilot ratings to our almost entirely positive reviews, Alliance's commitment to serving our clients is proven.
When affiliates can draw attention to so much positivity, selling high-ticket items becomes much easier.
High-ticket items
Competitive commission wouldn't be nearly as attractive if we didn't offer high-ticket items for our Affiliates to sell.
While $475 is the most that Alliance affiliates can make with one sale, we provide many other offerings that can be sold for upwards of $300 – meaning you have plenty of options to promote.
Legitimizes operations
Possibly the biggest benefit associated with Alliance Virtual Offices' affiliate marketing program is the fact that your customers will thank you for helping them find a Virtual Office or Virtual Phone Number.
When you help your customers connect with Alliance Virtual Offices, you continue improving public perception of your company!
---

Answering "is affiliate marketing worth it?" with Alliance Virtual Offices
Affiliate marketing can be a potent tool — especially for small business owners.
That said, finding the right affiliate program is the key to success. Alliance Virtual Offices offers the ideal balance of convenience and commission, making it easy to boost your income.
Still wondering:
"Is affiliate marketing worth it?"
We've put together a small list of Alliance Virtual Offices services that affiliates can sell for a sizable reward.
Virtual Office
Alliance's Virtual Offices are an integral aspect of countless remote businesses.
Our offices come with a professional and legitimate address that actually exist — unlike several of our competitors that only offer virtual addresses with no physical location.
Instead of paying for a glorified PO box, entrepreneurs can retain their privacy by registering their businesses with a Virtual Office address.
In addition, each office is backed by physical space, which means business owners always have a place to go when they want to break the monotony of working from home.
Virtual Office plans can net you anywhere from $65-$150 per sale!
Live Receptionist
Our Live Receptionist service offers clear benefits:
Your greatest commodity is time. If business owners are spending countless hours each day answering phone calls and shirking other minor duties, they will struggle to effectively scale their operations.
With a Live Receptionist, you don't have to think about the phone at all.
Instead, simplify your day. Allow our friendly and warm receptionists to personally screen and answer all of your phone calls so that you can focus on what matters.
Depending on what's included in the Live Receptionist bundles you sell; you can earn anywhere from $95-$475 per sale!
Virtual Phone
Virtual Phone Numbers are the perfect way to keep teams connected and build your business's brand.
There's no better way to keep your work-life balance in order than by having a designated work number. In addition, other businesses and prospective clients will appreciate the professionalism of having a work-dedicated number.
In addition to the legitimacy and connectivity that a Virtual Phone provides, our plans allow you to keep your teams' numbers hidden.
Selling Virtual Phone Number plans can net you anywhere from $30-$475 per sale!
Coworking Space
Coworking spaces are quickly becoming modern offices.
For digital business owners, having a place to meet with their employees or work outside of their home office is a massive benefit.
The benefits of coworking spaces are clear, and countless corporations are turning to coworking spaces and other hybrid offices in droves.
For each coworking plan that you manage to sell, you'll earn an easy $100.
As you can see, the answer to "is affiliate marketing worth it?" is an unequivocal yes!
For more information, check out Alliance Virtual Offices to see how you can get started!
---
Further reading:
---
Alliance Virtual Offices provides countless tools for everyone — from established entrepreneurs to hopeful, would-be business owners.
With our affiliate marketing program, businesses and individuals alike can take advantage of our pre-written content and healthy commissions for a reliable source of additional income.
For more information about Alliance's affiliate program, contact us today! And if you're ready to get started – click here to start earning!