---
---
Q: What is e-marketing? As a local business owner, do I need to worry about digital marketing?
A: E-marketing is any type of marketing strategy that focuses on digital platforms rather than traditional ones. Every business owner can benefit from the right style of e-marketing. Local business owners can use e-marketing to form deeper and more natural connections with current customers and grab the attention of locals that might not know about the brand.
---
E-marketing is the act of promoting a brand's products and services with the use of the internet.
While many business owners are under the impression that e-marketing is only worthwhile if your business operates virtually, this simply isn't the case.
American adults are spending more time online than ever. Reaching these individuals, regardless of whether you're an online business or not, is an excellent way to increase sales and drive growth. 
Independently, ecommerce is on track to account for over 20% of global retail sales by the end of the year, and ignoring this market is a great way to lose market share and alienate consumers. 
---
Read more: E-Commerce Trends 2022: What The Future Holds
---
We'll be looking at what e-marketing is, how local and virtual business owners can use e-marketing to help their businesses grow, and the most effective way to bring e-marketing into your business.
It doesn't matter if you're running a local business that wants more effective marketing techniques, or a virtual business hoping to find a better understanding of e-marketing; we've got you covered. Keep reading to see how e-marketing can help your business grow.
---
---

What is e-marketing?
E-marketing refers to any kind of marketing strategy that uses electronic platforms rather than traditional ones. Digital marketing gives business owners a way to reach the 85% of Americans that are online each day.
There are several e-marketing types, including:
Social media marketing
Search engine advertising
Content marketing
Influencer marketing
Email marketing
Social media marketing
Social media e-marketing strategies use social media platforms to connect directly with consumers.
In 2021, Pew Research reported that 70% of Americans are present on social media applications. E-marketing on social media platforms allows business owners to take advantage of the massive audience.
---
Read more: Social Media Use in 2021
---
Through social media marketing, you're able to increase brand recognition while allowing consumers to connect with your brand on a more personal level.
Search engine advertising
Using search engines is the foundation of any consumer's user experience online.
Search engine advertising is a method of e-marketing that shows your business's website at the top of applicable results pages.
Although this method does require your target audience to search for an appropriate keyword or phrase, a previous analysis of your ideal customer will give you commonly searched words and phrases that will direct consumers to your business.
Content marketing
E-marketing with created content can take several forms.
The product or service offered can be the focal point of the content or an advertisement that is almost subliminal.
Content marketing will often take the form of informative articles that provide information about relevant topics and questions, while proffering the advertised item as the solution.
This style of e-marketing can be incredibly effective, especially if your business is in a field that other entrepreneurs and consumers are interested in.
Influencer marketing
The rise of social media has seen an increase in the number of influencers with huge followings, many of whom will buy many products or services said influencer recommends.
While this style of e-marketing can be more expensive depending on the influencer, it's a great way to connect with loyal customers and offers a modern take on word-of-mouth marketing in the digital age.
Email marketing
Email marketing campaigns use email addresses you've collected, as well as information collected by the marketing company, to reach out to a high volume of potential customers at once.
These email e-marketing campaigns contact past customers, leads, and other consumers within your target audience. One of the biggest benefits of email marketing is that business owners aren't required to constantly monitor the process of each campaign.
Each of these e-marketing plan examples helps brands connect with consumers where they're spending most of their time: online.
---
Read more: 11 Cost-Effective E-marketing Types
---
The ability to target incredibly specific audiences on the platforms that they use the most makes e-marketing an effective way to build brand recognition and acquire customers.
---

How can e-marketing help your small business grow?
It doesn't matter whether you're a traditional business operating locally, or a virtual business utilizing a virtual office in another state, e-marketing is a great way to raise awareness and increase sales.
Local businesses
For local businesses, e-marketing can help you stay relevant by reminding local consumers of the services or products your business offers.
People who are leaving work and want to stop for food on the way home are likely to place their orders online, allowing restaurant owners to push ads that remind these workers of the food they're hoping to sell.
Reminding local customers of your business is setting yourself up for repeat sales, but it's also important not to overwhelm customers with obnoxious advertising.
Additionally, e-marketing helps you maintain customer loyalty by keeping your business connected to consumers on a human level. By sending your customers emails or posting on social media channels, you deepen the connection between your customer base and your business.
Virtual businesses
Perhaps more impressive are the benefits that e-marketing gives businesses that provide a variety of online offerings. E-marketing opens your business up to the entire world.
With e-marketing and a robust online presence, you're no longer limited by the local market. Often, the introduction of e-marketing efforts can bring your business exponentially higher revenue without forcing you to open physical stores.
That said, to properly take advantage of all the benefits that e-marketing can bring your brand, you'll need to ensure that your business infrastructure can handle the added volume without becoming overwhelmed.
Losing legacy customers because of changes in product quality, pricing, or lead times due to an increase in volume is essentially just replacing your old sales with new ones. Remember, the goal is to increase revenue, not exchange customers.
Strong analytics
Finally, e-marketing gives you much more insight into your marketing's impact and effectiveness.
Social media posts have impressions and other metrics that you can use to track engagement, including web traffic, stay-time, and average customer transactions.
Independently, detailed analytic services are available that allow you to quickly and easily understand what's working and why.
Traditional marketing requires your target customer to be in the right place at the right time. Whether that be in front of the television at the right time or passing a billboard on their way to work at the right time, it still involves chance.
E-marketing removes this chance by meeting consumers where they spend their time. Analytic services will tell you exactly where your target demographic is spending their time and the advertisements you could use to connect with them.
In many ways, modern marketing initiatives are unavoidable.
Even with a serious pop-up blocker and paying for subscriptions on the websites you stream from, advertisements are everywhere.
E-marketing strategies allow business owners to take advantage of this unavoidable phenomenon, without having to rely on physical customers for growth. Accessing consumers around the globe via e-marketing will scale your business quicker than any amount of additional brick-and-mortar locations.
Even for local business owners that aren't making the digital transition or operating businesses that aren't conducive to online operations, e-marketing deepens your connections with local customers and allows you to reach individuals that might be visiting or new in the city.
---

What is the best way to bring e-marketing into your business?
Bringing e-marketing into your business is relatively simple. With the sheer amount of time American adults are spending online, there's no reason not to begin this transition.
Below, we've detailed an actionable guide on how you can bring e-marketing into your local business.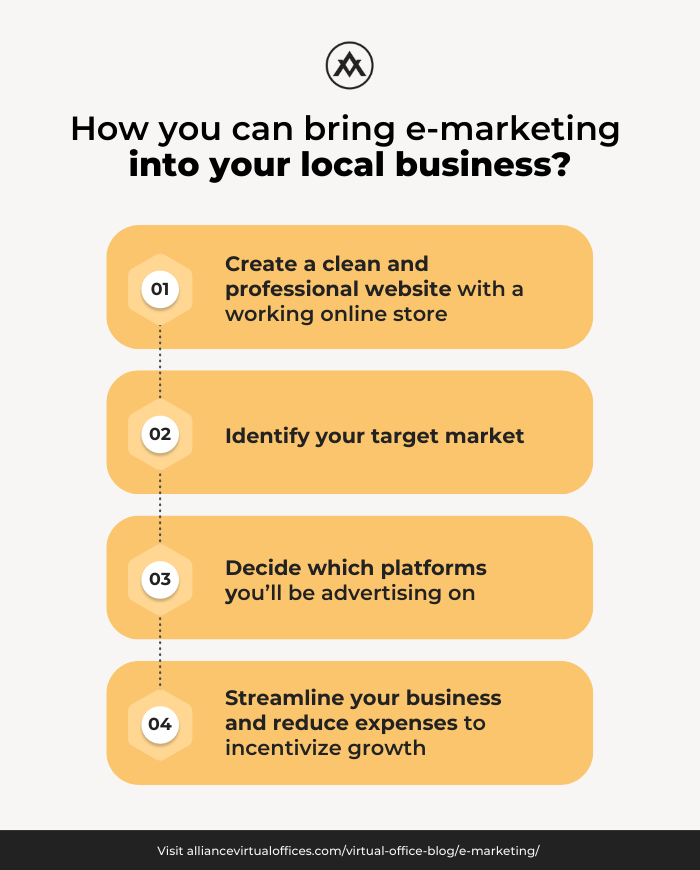 We'll go into more detail with each of these steps and explain how local businesses without virtual offerings can benefit from this e-marketing definition as well.
First, you'll need a clean and professional website with a working online store
Then it is time to identify your target market
Next, you'll need to decide which platforms you'll be advertising on
Finally, streamline your business and reduce expenses to incentivize growth
Professional website
Making a professional website can seem pretty daunting. And for business owners that don't spend a lot of time online, knowing where to hire someone to build your website for you might seem like a bigger obstacle than it should be.
Websites like Host Papa and AWeber are platforms that make creating and launching a business website easy.
Host Papa focuses on web hosting, but business owners can use the website to create entire websites from scratch with no programming knowledge at all.
With shared hosting plans starting for under $4 a month and a drag-and-drop website builder that even the most unskilled internet users could figure out, Host Papa is an amazing resource to help you build a professional and clean website.
Host Papa also offers a domain name service that your business can use to give your website and clean and memorable name. This service also lets business owners simply and efficiently add ecommerce and checkout options for customers to do their shopping online.
AWeber doesn't provide web hosting or website building, but it does offer effective digital marketing email initiatives and other e-marketing solutions.
AWeber uses simply designed and eye-catching email templates to grab the attention of consumers.
The drag-and-drop builder allows entrepreneurs to make emails with no prior technical knowledge and the landing page builder is a great way to get new leads, more sales, and detailed analytics.
Without a professional website, consumers have no way to connect with your business outside of social media platforms. While social media platforms have their benefits, a website acts as a central hub and is dedicated solely to your brand.
Without a website, consumers won't have anywhere to look at a catalog of your offerings or make online purchases.
---
Read more: The Best Affordable SEO Services for Small Business
---
Identifying target market
As a local business owner, you'll ostensibly have a general idea of your business's target market.
If you're unsure of whom exactly your target audience is, it's a good idea to get this information before you focus on e-marketing initiatives and digital marketing.
Traditionally, identifying target markets would consider physical location. While the physical location might still have some bearing on your e-marketing strategies, e-commerce makes connecting with distant customers easy.
One effective way to identify your target market is by taking a wide look at your business, who it appeals to, and your products or services offered.
Below, we've touched on three of the best ways to find your target market.
Market research
Use existing customers to gather feedback on your business's offering and accumulate as much information as possible on how those individuals feel about your brand.
List potential customers by demographic and behavioral identifiers. When you've deconstructed your target audience into easily checkable boxes, you'll be able to create a detailed workup of your target consumer.
Take existing research into account. If previous businesses have done similar research – use it to the best of your ability.
Scrutinize competition
Identify your competitors and classify them
Make a list of direct and indirect competition and clarify what your business does differently
After you've created this list with different distinctions for your competition, take a look at the other businesses' strengths and weaknesses and find out how your business can better connect with customers.
Examine your offerings
Examine the products or services that you're offering to consumers
Think about what kind of person would use these products or services, and make a detailed profile about your business's 'perfect customer'
With this approach, you'll have a comprehensive picture of the market and the exact audience you're hoping to reach.
Decide what platforms to advertise on
After you've created a website and identified your target market and audience, it's time to determine what platforms your e-marketing strategies will focus on.
With an existing customer base, the easiest way to do this is by asking your current customers about the platforms they're using. After gathering enough data to give you an indication of the most popular platforms among your customers, choose the platforms that are being used most often.
Alternatively, statistics about the internet and social media use are easily found online and cover several different metrics that you likely haven't considered yet.
With your target audience identified, determine the applications and platforms that the target audience is using the most.
If you're selling a product that appeals mostly to teenagers, you'll likely be best suited to posting advertisements on Tik Tok. If your products are appealing to an older generation, platforms like Facebook or even YouTube are going to be your best bet.
---
Read more: How to Use Tik Tok, Instagram, and Other Social Media to Launch a Business
---
The idea is to effectively allocate your resources. Running ads all over the internet might bring some brand awareness your way, but doing so is prohibitively expensive. If your target audience isn't active in any of the places you've run your advertisements, you've wasted money.
E-marketing campaigns can be pricey. By creating marketing materials and running them exclusively on platforms that are used by your target demographic, you're saving money and able to run further advertisements on the same platforms.
Streamline your business and reduce expenses
While reducing expenses is never going to sound like a bad idea, reducing your expenses for more effective e-marketing is an efficient and painless way to maximize returns.
The most efficient way to reduce these expenses while retaining the benefits of a traditional business is through a virtual office from Alliance.
While some businesses might not be suitable for a virtual office, a majority of businesses would benefit from foregoing a traditional office lease and allocating the saved funds to create a stronger digital presence.
A virtual office allows you to maintain your business's local presence, while freeing funds to reinvest in your growth.
Alliance Virtual Offices has locations available in every state and with the right virtual office, businesses that are local legends rather than e-commerce behemoths can take advantage of the various e-marketing types available.
With one of Alliance's virtual offices, you're getting access to a physically-backed space, easily reservable meeting rooms, a private and professional address, helpful onsite staff, and robust mailing service. This virtual office acts as the hub for your business's operations and opens the door for endless digital opportunities.
There is no rule that says your local business has to be a physical storefront without an online presence.
The businesses that can combine the loyalty and customer repetition of local operations with the effectiveness, speed, and scale of digital operations are the businesses that will succeed in the coming years. An Alliance virtual office allows you to make this a reality.
---

E-marketing, virtual offices, and local businesses
E-marketing is quickly outpacing traditional forms of advertisement.
Small businesses of all sizes can easily tap into this trend to bring in massive amounts of new revenue.
A virtual office is the best way to make the transition because it keeps your business local while freeing up funds to grow.
Local businesses might benefit from the brand loyalty of the individuals living near the business, but with a virtual office, you can retain that presence while markedly reducing expenses.
For modern small businesses to succeed, they need to embrace technological advancements and take advantage of the opportunities that the market is offering.
Utilizing a virtual office allows you to allocate more resources to more effective e-marketing campaigns. More effective e-marketing campaigns lead to stronger brand awareness, connections with more consumers, and by extension, higher revenue.
---
Further reading
---
Alliance Virtual Offices offers countless tools for traditional local business owners and virtual business owners alike.
Whether it's a business phone number to help connect your team, a Live Receptionist to give you more time to focus on core operations, or a professional meeting room to host meetings or employee training sessions, Alliance has a solution for all kinds of business owners.
Our virtual offices give established entrepreneurs the chance to surround themselves with other motivated business owners working towards similar goals.
By using a virtual office to register your business or change your business's address, you're able to keep your home address out of the public domain and retain as much privacy as possible.
Whether you're a local businessman hoping to take advantage of some of the opportunities this digital boom has provided, or a new entrepreneur hoping to learn the ropes, Alliance Virtual Offices has the tools your business needs for success.
Contact us today to how your business can use e-marketing to succeed.