---
---
Q: What's the difference between a secured small business loan and an unsecured small business loan? Should my small business loan be secured or unsecured?
A: A secured small business loan is backed by specific assets and collateral, so the rates and terms are typically better for the borrower. Unsecured small business loans are inherently higher risk and therefore are typically more expensive and better for the provider. The loan for your business depends largely on what your company is hoping to accomplish!
---
Having efficient access capital is one of the best ways to set your business up for long-term success.
Whether you're using lines of credit, small business loans, microloans, or another financial instrument, these options are all a great way to build small business credit while ensuring your company has the funds it needs to move forward.
Loans, in particular, provide an excellent way for businesses to make it through times of economic decline.
Consider the COVID-19 pandemic. When the economy took a nosedive, businesses everywhere were forced to find ways to access capital to try and make it through the period of uncertainty.
Newspapers were hit especially badly. Possibly due to widespread access to digital information or the constantly declining number of readers, almost 2,800 newspaper companies took advantage of the Paycheck Protection Program loans that the SBA started providing in early 2020.
This is only to say that using business loans to make it through periods of financial insecurity is a strategy as old as the business itself.
When you start looking into building your small business credit and securing small business loans, you'll quickly realize there are several different classifications of the loans your business can use.
You'll need to make this first distinction about your small business loan: secured or unsecured.
In this article, we'll take a closer look at unsecured loans, secured loans, which loan is right for your business, and how to use a secured or unsecured small business loan in conjunction with other digital tools.
So, if you've ever searched for something like "small business loan from a bank secured or unsecured debt," then you're in the right place and should keep reading!
---
---

What is an unsecured loan?
Building small business credit is paramount to the long-term success of your operations. One effective way to build this credit is through a small business loan, secured or unsecured.
Not only is your business credit used when dealing with lenders or other financial institutions, but solid small business credit can often result in lower insurance rates and better financial security.
---
Read more: How to Build Business Credit: Building Credit for Your Small Business
---
To better understand the difference between these two kinds of loans, you should first take the time to familiarize yourself with what an unsecured loan is first.
Searching online for things like "What small business qualify for SBA loans" is a good start, but until you can differentiate between secured and unsecured loans, you'll be making uninformed decisions.
An unsecured loan is probably the type of loan you're the most familiar with.
Unsecured loans are loans that are backed exclusively by trust in the borrower. In other words, the bank or lender provides the money because of your credibility, credit score, and other, sometimes intangible, things.
Let's take a closer look at the metrics lenders use to determine whether or not your business qualifies for an unsecured loan.
Credibility
Credit score
Intangible
Credibility
Before signing off on an unsecured loan, lenders want to check your business's credibility.
This includes speaking with previous lenders, checking references, and getting a feel for how your business is perceived outside of your small business credit score.
Credit score
Simultaneously, lenders will want to ensure that your small business credit isn't in an ugly spot.
Typically, your business will need a score of around 600 to qualify for an unsecured loan. If you haven't built much credit but have references and other lenders to vouch for you, you could probably get away with a slightly lower credit score.
Intangible
Outside of your business's credibility and credit score, lenders will also want to check various other metrics to determine whether or not your business can procure a loan.
These metrics could include determining how much of your line of credit is being used, payments on other microloans, credit card balances, and how your other account are managed.
---
Read more: Strategic Debt: How to Leverage Small Business Microloans
---
Because nothing is backing the loan, unsecured loans are typically a bit more expensive than their secured counterpart.
In addition, these loans tend to be more difficult to qualify for. The unsecured loans that are easy to qualify for tend to carry high fees and interest rates.
---

What is a secured loan?
The difference between a small business loan, secured or unsecured, lies in the underlying asset.
Unsecured loans have no underlying assets, but a secured business loan uses underlying assets as a form of collateral. Essentially, when your business gets a secured loan, it's offering collateral for the money lent.
Secured loans are easier to qualify for because they aren't as risky for the bank. If they know they can simply seize some of your assets if you refuse to pay, they aren't as worried about losing out on all their money.
To truly understand a small business loan: secured vs. unsecured debt, you need to take a look at the kinds of collateral your business might be able to use to qualify for a secured business loan.
While secured loans are historically the more attractive option, not all businesses have the required capital or assets to procure a secure loan. Occasionally, businesses need to show higher profits and boosted income before they can qualify for a secured business loan.
---
Read more: Small Business Cost Savings: A Simple Way to Grow Your Income
---
We've taken a closer look at some of the various kinds of collateral your business can use below.
Cash
Stocks or bonds
Real estate
Equipment
Vehicles
Raw materials
Invoices
Blanket liens
Cash
Unsurprisingly, cash is an excellent form of collateral that most lenders will appreciate. Getting a cash-secured loan might include putting your business's savings account up for collateral or using a lump sum of cash that the lender could liquidate should you fall behind on payments.
For most small businesses, a lack of capital is the reason they're looking for a loan in the first place. Cash-secured loans are a fairly safe kind of secured business loan, but most small businesses lack the capital to use this kind of loan effectively.
Investments
Stocks, bonds, CDs, corporate bonds, or almost any other traditional investment can be used as collateral for a secured loan.
As with using cash for a secure investment, many small businesses lack the investment portfolio to make meaningful use of an investment-backed secured business loan.
If you have investments but aren't sure they're enough to qualify your business for a secure business loan, using your portfolio as additional collateral is often a great way to get better interest rates and lower fees.
Properties
If you're a digital business owner, there's a strong possibility that you don't have access to any real estate. Even if you're a physical, brick-and-mortar business owner, there's a solid chance you don't own any real estate either.
That said, if you're a homeowner, you can technically use your home as the collateral for your business loan – but there is virtually no reason for you to do this. Alternatively, anyone telling you to use your home as collateral for a business loan doesn't have your best interests in mind.
If you do happen to own property you aren't living in, using real estate as collateral is a great way to get attractive rates from lenders.
Equipment
If your business operates in a niche and uses specified equipment to create your products, you could always use your equipment as collateral for a secured loan.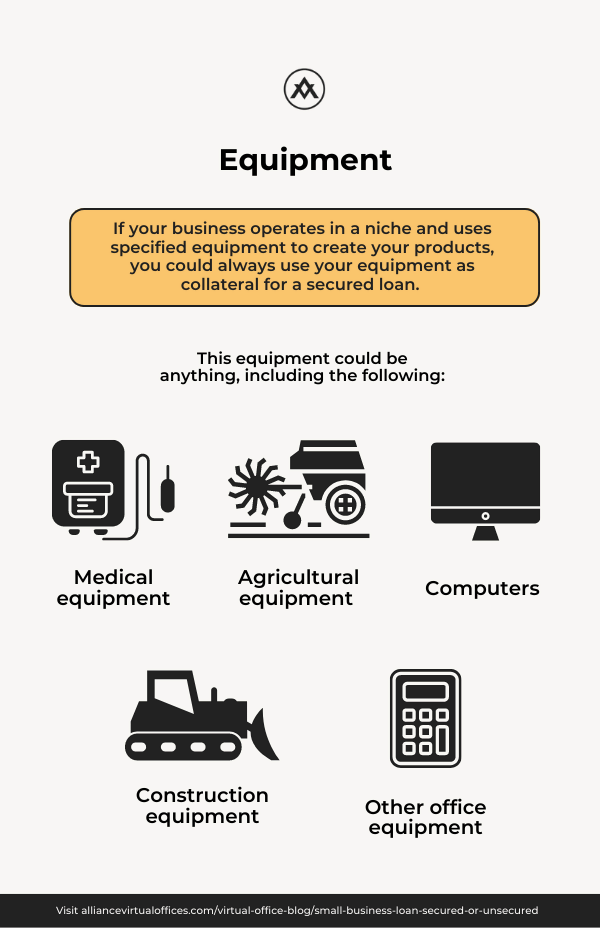 This equipment could be anything, including the following:
Computers
Other office equipment
Agricultural equipment
Construction equipment
Medical equipment

Basically, if it cost your business money, you can use it as collateral.
Vehicles
You shouldn't use any personal vehicles as collateral for a business loan. Realistically, you shouldn't use any personal assets to assist in your business ventures if you can help it.
But, if your business owns any vehicles, from cars to boats to airplanes, these vehicles can be used as collateral for a secured business loan.
Raw materials
In case you couldn't tell, just about anything a lender thinks they could have decent luck selling for a profit can be used as collateral.
If you've recently spent a sizable amount on securing raw materials to create your company's offerings, you could also ostensibly use these materials as collateral.
Invoices
Using invoices as collateral for loans has saved many small businesses from one tight spot or another.
Try as you might, getting all of your clients to pay on time every time can feel like a losing battle. Thankfully, many lenders and financial institutions will allow you to use invoices as collateral for secured loans.
Although invoice-backed loans are a great way to get out of a pinch if your business is cash-strapped, businesses can easily find themselves too dependent on invoice-backed loans to truly focus on growth.
Blanket liens
Blanket liens are secured loans that benefit the lender infinitely more than the borrower.
With a blanket lien, the lender has access to any of your company's assets should you fail to keep the terms of your loan. Generally, this kind of loan should be avoided.
Because they don't rely entirely on credit and reputation, secured loans are much easier to qualify for. That said, better credit scores will still yield more favorable terms, they just aren't always required.
---

Which loan is right for your business?
Getting a small business loan, secured or unsecured, will help you build small business credit that can be used to help you secure better financing rates later, better repayment schedules, and a more professional image.
To determine the right kind of loan, you first need to examine your business's immediate needs.
If you're in a sticky situation with payroll and desperately need money to ensure your employees are paid, getting an unsecured loan or a payroll loan is probably the best bet.
---
Read more: Payroll Loans for Small Business: Why Your Business Credit is Crucial
---
On the other hand, if you're hoping to commit the loan to research and development for a future product offering, you'll probably want to take the time to find a secured loan.
Once you know exactly what the money will be used for, determining whether you should get a secured or unsecured loan is easy.
For most businesses trying to build credit, a secured loan is the better option.
Not only is a secured business loan easier to qualify for, but it's also much more likely to be less expensive in the long run.
Secured business loans are often a better choice even when your business isn't actively trying to build small business credit. Because you offer collateral, you'll almost always get a lower interest rate on a secured loan than on an unsecured loan.
That said, an unsecured loan is a better option for many online businesses, as they likely don't have the same kind of material assets available.
This makes it more difficult to offer collateral unless you're willing to bring in personal assets, which should always be avoided if possible.
At the end of the day, the right kind of loan for your business depends largely on what you hope to accomplish with the capital and the capital and assets you have at your immediate disposal.
Just because a secured loan is typically the safest and most secure kind of loan doesn't mean that all small businesses will be able to get a secured loan.
Fortunately, there are several loans available for startups, solopreneurs, and small businesses. Using this list, business owners can easily search for the best loan that fits their business model.
Before you get any kind of small business loan, secured or unsecured, you should determine what your business hopes to accomplish with the money.
A detailed plan of action is an excellent way to stay on top of payments, reduce extraneous hidden fees or other charges, and build your small business credit.
When you take on debt through a small business loan, secured or unsecured debt is added to your balance sheet and becomes a major part of your company's financials.
With a detailed plan, you can offset this debt as quickly as is financially responsible while setting your business up for greater borrowing limits in the future.
For instance, if you're operating a digital business with no assets or spare capital, you won't be able to get a secured loan without bringing personal assets into the mix. Therefore, your small digital business would be better served by shopping around for an attractive interest rate on an unsecured loan instead of hunting for a secured loan that likely doesn't exist.
Alternatively, if you've owned a business for a while but are trying to pivot to digital sales to capture the growing ecommerce market share, using company assets to get a secured business loan to effectively corner a new market is a great idea.
It all depends on what you're hoping to accomplish and the assets and capital your business has on its balance sheet.
---

Using a small business loan, secured or unsecured, in conjunction with other digital tools
An unsecured loan is what most people think of as a standard loan.
A secured loan offers up collateral in case the loan defaults.
In most instances, a secured loan will be cheaper, but digital-first businesses may need to stick with unsecured loans due to a lack of assets and capital.
Part of succeeding in the modern labor market is understanding how to get the most out of your money. Focusing on digital operations is an excellent way to get the most out of your business.
If you're a digital business owner, you can use the tools at your disposal to save as much money as possible on your business's operations.
Hopefully, this will allow you to set aside enough capital for future secured loans or make the most out of the money you get through unsecured loans.
Consider a Virtual Office.
Historically, business owners were forced to get into lengthy commercial leases that could last between three and five years.
Now, business owners can use one of Alliance's Virtual Offices to get a professional and well-known address in any state they'd like, in just about any central business district imaginable.
Not to mention, our Virtual Office plans start at an easy to manage six months, so you'll never feel like you got suckered into a years-long lease you're not sure you can manage.
With the physical space each office is backed by, you can easily escape the monotony of working from the same space you eat, sleep, and relax in.
The easily reservable meeting rooms give your business the perfect place to host client get-togethers, investor meetings, and employee onboarding classes.
---
Further reading
---
Alliance Virtual Offices provides other countless tools for established entrepreneurs looking to build business credit and secure digital market share.
From Live Receptionists to Virtual Phone Numbers, Alliance has something for every business.
Getting a small business loan from a bank, secured or unsecured, is a scary feeling.
Determining which small business loan, secured or unsecured, is right for your business depends largely on what your business hopes to accomplish, as well as the assets, capital, and financials that your business can provide.
If your business lacks the capital or assets to get an attractively rated secured business loan, don't worry, you're not alone.
Instead, continue making your business operate as efficiently as possible. Make cuts to operational costs when appropriate, cultivate a collaborative and healthy working environment, and focus on customer satisfaction and increasing brand recognition.
If you focus on improving your business's infrastructure and making these changes, your business will quickly start working toward self-sufficiency.
The more efficient your business is, the more money you can save. The more money you can save, the better loans you will qualify for.
Regardless of which kind of small business loan, secured or unsecured, your business is able to procure, what matters is how your business uses the loan to build credit and improve your company's operations.
It won't matter that your business can easily get a secured business loan if you're wasting money, missing payments, or generally harming your business's credit score. All that matters is what you're able to do with the money your business is able to procure.
For more tips about how your business can effectively manage a small business loan, secured or unsecured, contact us today, and be sure to check out Alliance's Virtual Office Blog for other relevant topics and actionable tips that your business can use!