---
---
Q: What makes a good affiliate marketing program? How quickly can my business start earning with Alliance Virtual Offices?
A: A good affiliate marketing program must pay you well, provide offerings that speak for themselves, and make your life as easy as possible. Your business can start earning with Alliance's affiliate program immediately!
---
---
If you told a group of all-American businessmen in the 1950s that future 20-year-olds would one day make thousands of dollars each month just through affiliate marketing programs, they'd look at you like you had two noses.
Sure, those 50s businessmen might not have understood how affiliate marketing works, but today the modern labor market is more unique than ever before.
E-commerce is booming with no signs of slowing down. Additionally, experts claim that e-commerce will make up more than 20% of all retail sales by the end of 2022.
In addition, internet usage is sky-high. About 30% of American adults are almost always online, social media use is through the roof, and fears of a coming recession have everyone concerned about what the future might hold.
So how can modern business owners adapt to this constantly shifting landscape?
The key word here is adapt. Flexibility is more important than ever.
Companies that quickly react to shifts in the market set themselves up for long-term success.
Many businesses are turning to affiliate marketing programs to help them increase revenue, reach new audiences, and better connect with their current customers.
But what is affiliate marketing? How can businesses use affiliate marketing to their advantage, and how can small businesses find professional and profitable affiliate marketing programs?
Fortunately, we've answered these questions and more below. In this article, we'll cover what makes an affiliate marketing program worthwhile. We'll also cover Alliance Virtual Offices' affiliate marketing program, who Alliance's affiliate program is best for, and how the right affiliate marketing program can help your business scale.
If you're hoping to find an affiliate marketing program definition, you're in the right place!
---
---

What makes an affiliate marketing program worthwhile?
As the modern workforce continues to change quicker than ever before, it can be easy for business owners to feel constantly caught off guard. Business owners may also feel unaware of how they should be spending their time and money.
From abnormally high quit rates to the four-day-work-week debate, running a business is a much different task than it was even a decade ago.
---
Read more: Lazy or Lucrative? Pros and Cons of a 4-Day Workweek
---
Affiliate marketing is simply another answer to the ever-shifting, modern working world.
Before we determine what makes an affiliate marketing program worthwhile, let's take a second to look at what makes a good affiliate marketing program. Meaning – what exactly is affiliate marketing?
An affiliate marketing program is an arrangement where one business pays another business or individual to make sales on its behalf.
In the modern digital world, this is often as easy as giving affiliates personalized URLs and then giving them a commission on each sale.
This means that you can make an affiliate marketing program target specific audiences and easily keep track of the most successful affiliates.
An affiliate marketing program benefits the business or individual doing the selling because of the commission, positive impact on reputation, and flexibility of such programs.
An affiliate marketing program benefits the organization running the program because the affiliates act as second-party salesmen that only get paid when the product or service gets sold.
Now, let's take a look at what makes an affiliate marketing program worthwhile.
We've created a small list that details the key factors to keep in mind when determining the viability of an affiliate program. Find a program that has all of these factors, and you've found yourself a winner!

Pays well
Applicable offerings
Streamlined onboarding
Quality products or services
Pays well
First and foremost, a good affiliate marketing program has to pay you well.
You need to make enough per sale to make up for the effort you expend while marketing the product. If a business hardly pays you each time you convert, it probably isn't going to be worth the time and effort.
Take the time to familiarize yourself with the difference between high-ticket affiliate items and low-ticket affiliate items.
High-ticket items offer higher returns. Unless your business already attracts customers that buy low-ticket items, it's often cheaper and less time-consuming to focus on higher-ticket sales. In the end, they net you more money.
Ideally, you'll find a company that offers both lower-ticket items and higher-ticket items so that you can aim high but settle for smaller deals if that's how things pan out.
Applicable offerings
A good affiliate marketing program needs to have products or services that apply to your audience.
If you run a landscaping business, an affiliate program that sells wine probably doesn't make much sense.
That said, if you run a landscaping business but have built a social media following, you'd have a much easier time than a business with no social media presence.
Influencer marketing breaks all of the conventional affiliate marketing rules and allows individuals with no real experience or expertise to sell just about anything to anyone. Influencer marketing might seem frustrating from the outside looking in, but having an influencer sell your business's products is typically a fast way to garner attention.
---
Read more: The Complete Guide to Influencer Marketing for Small Business
---
A good way to determine whether or not the potential product or service applies to your current audience is to imagine your target customer as specifically as possible. Once you have a picture in your head, ask yourself what uses that individual would have with the offerings you're hoping to sell.
If the correlation is clear and you can easily see your target audience becoming interested in the items, go for it! If the correlation is unclear and you're unable to see why your target customer would need the product, move on or determine how you can produce content that could spark the initial interest in your customers.
Streamlined onboarding
A good affiliate marketing program should involve products that you easily understand. This will make it easier to create content around these products.
If you have to spend hours and hours educating yourself about the offerings and building marketing materials around them, chances are pretty high that you could have made more money in other ways during that time.
You want to find a company that gives you a cohesive explanation of its products and explains exactly how much you'll earn for each sale — without extensive training or other long-winded onboarding processes.
Small business owners typically won't have to deal with lengthy or frustrating onboarding processes as often as individuals will, but regardless of whether or not you're hoping to start an affiliate marketing program as a business or as an individual, you should always look for companies that allow you to start getting paid quickly.
Quality products or services
Finally, you can judge an affiliate marketing program by the quality of its products or services.
To ensure that you're dealing with a reputable business, take the time to research your potential partners.
Check out the business's website and its social media pages. Read Google reviews and Trustpilot ratings to get a feel for how the company is perceived online.
If the reviews are overwhelmingly positive, and it appears like a wide majority of the customers are happy with their purchases, you're probably dealing with a solid company.
If you find the opposite is true and you can only find negative reviews, a poorly designed website, or even a generally bad internet presence, you should probably move on.
Check out any affiliate marketing program website, and be sure to do your due diligence.
Because remember:
Low-quality products or services will reflect poorly on your business as well as the company you've partnered with.
Thankfully, you don't have to look very far for affiliate marketing program examples that meet these criteria.
---

Our affiliate program
You don't have to look anywhere else at all because Alliance Virtual Offices checks all of the boxes above.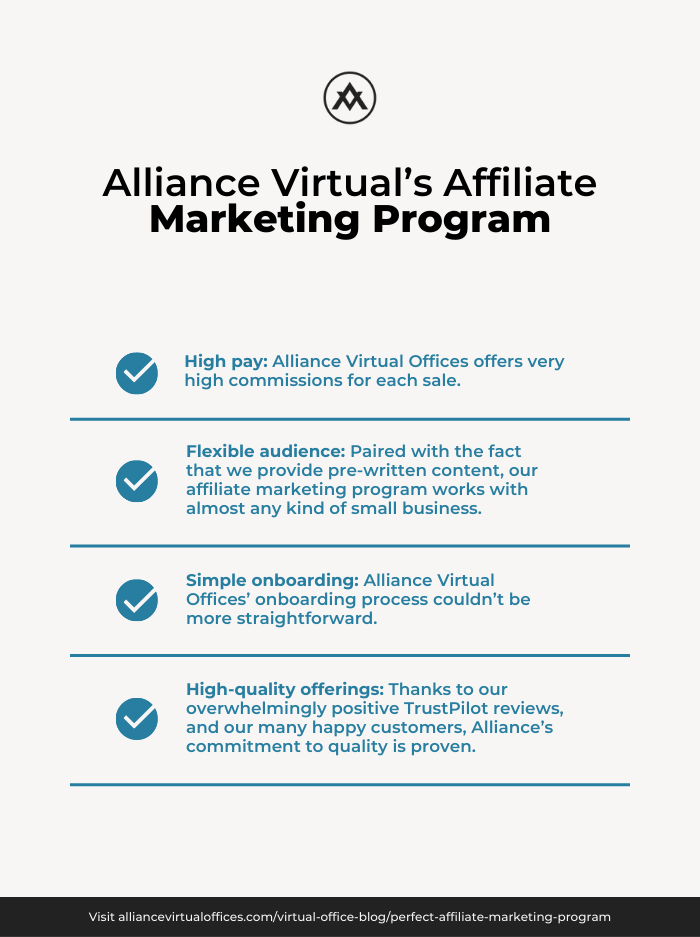 We've taken a closer look at Alliance's affiliate marketing program and explained how it perfectly meets each of the aforementioned criteria:
High pay
Flexible audience
Simple onboarding
High-quality offerings
High pay
Alliance Virtual Offices offers very high commissions for each sale.
Alliance has a nice mix of differently priced products, which means your business can easily focus on the higher-ticket items while keeping moderately-priced packages up your sleeve if you need to close a deal quickly.
The lowest an affiliate can make per sale is $30, but you can make up to $475 in a single conversion.
Not only does Alliance provide high commissions, but it also provides a wide variety of offerings. This means that your business always has another way to make a sale.
Flexible audience
Virtual Offices, Live Receptionists, and Virtual Phone Numbers aren't exactly niche product offerings. All businesses need an address, some help answering phones, and a way to keep company information private.
Paired with the fact that we provide pre-written content, our affiliate marketing program works with almost any kind of small business.
Social media usage continues to trend upward and general internet usage is also increasing. Digital businesses are becoming more common than ever before, and the value of online tools that businesses need to succeed couldn't be clearer.
---
Read more: Leveling Up Your E-Commerce Operations? These are the Most Effective Tools for E-Commerce Imaginable
---
Alliance casts a wide net and provides content with widespread appeal, making it easy for you to start making commissions without having to spend time and energy creating content.
Simple onboarding
Alliance Virtual Offices' onboarding process couldn't be more straightforward.
All you need to do is follow this link, provide some quick information, and download the guide that will answer any extraneous questions you might have.
Next, make your way here to go ahead and sign up!
High-quality offerings
Thanks to our overwhelmingly positive TrustPilot reviews and our many happy customers, Alliance's commitment to quality is proven.
Our Virtual Offices are fully backed by physical space.
They also provide business owners with a real address they can use to register their businesses, allowing quick and easy access to meeting rooms and coworking spaces.
They also come with a robust mail forwarding system, and our friendly onsite staff is always prepared to help with any technical difficulties.
Plus, our Live Receptionists and Virtual Phone Numbers both boast utility that speaks for itself.
Overall, Alliance provides industry-leading services and tools that are at the forefront of the modern digital workforce.
Selling these kinds of high-quality offerings reflects well on your business.
When your customers are overwhelmingly satisfied with their purchases through Alliance, they'll thank your business for the introduction.
Your company and Alliance benefit this positive reception, which means we have just as much incentive to continue producing high-quality offerings as you do to sell our high-quality offerings.
Now that you've had a chance to look at some affiliate marketing program examples and other affiliate marketing techniques, it's time to determine who our program is right for.
---

Who is our program right for?
Our program is suited to almost any business.
Below, we've gone over some of the ways our affiliate program is built to mesh with any other small business. Later, we'll cover some of the benefits associated with our Live Receptionists and Virtual Phone Numbers too.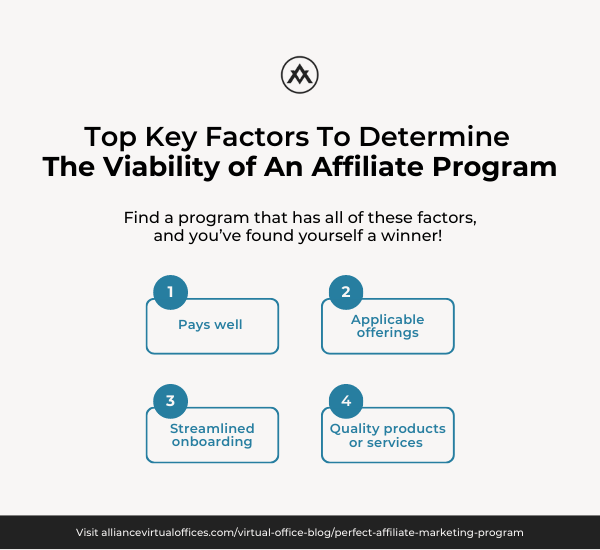 If your business is looking for any of the following, you know where to go.
Widely consumable content
Competitive commission
High ROI
Low startup costs
Additional KPIs
Positive branding
Appealing content
Virtual Offices and Alliance's other services stand to benefit nearly any business owner. This means you can uniquely position our services to resonate with your audience, regardless of what industry you're in.
Competitive rates and fair pay
Our high commission rates mean you'll be adequately rewarded for your efforts, regardless of your business's size and income.
Each business that decides to partner with Alliance is treated fairly.
It doesn't matter if you're a solopreneur running a one-man operation or a bustling small business with dozens of employees, you'll get the same commission on every sale you make.
Not only are our industry-leading commission rates incredibly competitive, but there are no minimum commitments, obligations, or commission caps associated with our program.
This means that you're heavily rewarded when you succeed but you aren't penalized at all if you experience a dry spell.
High ROI
Next, our pre-written content means that ROI is incredibly high. You can start at any experience level with almost immediate returns.
Several affiliate marketing programs expect their affiliates to create their content themselves. With Alliance, you just need to post.
Low startup costs
Low startup costs directly contribute to the high ROI associated with our affiliate marketing program.
Because you aren't forced to allocate resources toward creating content, you don't have to worry about the continued upkeep of using your affiliate link.
The low startup costs and high ROI make Alliance's affiliate marketing a perfect opportunity for businesses hoping to build additional revenue streams in preparation for the coming recession.
Additional KPIs
With tools like our affiliate dashboard, our partners have a simple way to check a variety of different marketing metrics.
In the digital age, information is everything.
Alliance Virtual Offices provides your business with an efficient way to see just how effective your targeted posts and affiliate content is.
Positive branding
If you've been paying attention at all for the past decade, the importance of branding should be painfully clear.
Your brand is your company's voice. The more consumers feel like they connect with your brand, the better off you'll be.
---
Read more: Online Branding for Small Business: The Best Strategies
---
Partnering with a professional and well-known brand like Alliance gives your business a leg up against its competition. Alliance's excellent reputation and high-quality products will only have a long-term, net-positive effect on your business's brand.
As you can see, our affiliate program works with just about any kind of small business.
Although businesses that don't have any digital operations might have a more challenging time using our pre-written content, it's still very possible to make in-person sales as you deal with everyday customers.
---

How our affiliate marketing program can help your business
A good affiliate marketing program needs to pay sufficient commissions, apply to your audience, and should be easy to create marketing materials for.
Alliance Virtual Offices' program checks all of these boxes and more, helping you and your business get a quick and easy start.
Thanks to our high-quality offerings, competitive commissions, and widely appealing content, our affiliate marketing program is geared toward helping any business increase its income.
We've covered the benefits associated with our Virtual Offices, but let's take a second to explain our Live Receptionists and Virtual Phone Numbers. Understanding the benefits of these services makes the value of our affiliate program even more clear.
Knowing how these tools are used will make it painfully obvious why businesses would want to use them.
Live Receptionists
Our Live Receptionists solve an age-old problem: answering the phone versus hiring an employee to answer the phone.
With our Live Receptionists, you don't have to worry about this issue. Don't risk frustrating potential customers because you're trying to multitask on your phone.
Instead, make use of our friendly and professional receptionists. They'll make sure each phone call you receive is personally screened and answered.
Our Live Receptionists represent a solid example of a tool that works perfectly for every business. It doesn't matter what kind of business you're dealing with – explaining the value of our Live Receptionists is simple.
Virtual Phone Numbers
A healthy work-life balance is paramount to both the success of any business and the health of the business's owner.
Our Virtual Phone Numbers provide an easy way to keep this distinction clear while adding to the professionality of any business's operations.
In addition, unlimited extensions make this an easy-to-scale option, and a dedicated business number allows you to retain privacy for you and your employees.
With high-quality offerings like these, the benefits of partnering with Alliance are clear.
Click here for more information about our affiliate program!
---
Further reading
---
Alliance Virtual Offices provides several virtual tools for established entrepreneurs, fledgling business owners, and everyone in between.
Our affiliate marketing program is a perfect way to increase your business's streams of revenue before we experience the coming recession. With our affiliate program, businesses are immediately granted excellent commission, pre-written and widely appealing content, and an incredibly high ROI.
An affiliate marketing program allows businesses and individuals to use their skills and audience to start earning money without a hefty initial investment.
Feel free to contact us today for more information about Alliance's affiliate marketing program and be sure to check out our affiliate's landing page here!