---
---
Q: How can I use small business content marketing to benefit my business?
A: The key to creating high-quality small business content marketing is identifying a niche, using owned media when possible, and targeting your ideal audience on the platforms they're already using. With enough research and work, the ROI on your content marketing is much higher than you think.
---
The past few years have shown that digital businesses are creating a space of their own within the broader retail industry. Industry reports show that in 2022 alone, the global e-commerce market is on track to total almost $6 trillion in sales.
However, outside of the blossoming e-commerce market, things aren't looking so exciting.
Fears of a recession continue to weigh heavily on the public's mind, and businesses are doing everything in their power to prepare for a lengthy economic decline.
So, how can business owners effectively position themselves to succeed when the economy is crumbling around them?
The answer is simple. Using small business content marketing in coordination with smart business planning can get any business through any kind of economic condition.
Like it or not, the future is happening online, with 95% of American teenagers using YouTube and a collective 62% visiting TikTok, Instagram, or Snapchat as well. 
The internet and social media are engrained in the minds of Americans. Outside of the astronomical number of teenagers that are frequenting these social media platforms, a whopping 30% of American adults are also online with alarming regularity.
With the internet taking on a larger role in the cultural zeitgeist and, at the same time, larger businesses erroneously cut their marketing budgets, small businesses are in the unique position to take advantage of the chronically online nature of the world in a less competitive environment.
In this article, we'll be looking at the basic definition of content marketing, the return on investment (ROI) of small business content marketing, how content marketing can help your business and the digital tools that can be used in conjunction with small business content marketing.
So, if you're hoping to create a small business content marketing plan, you're in the right place. Keep reading for more!
---
---

What is content marketing?
Small business content marketing is impossible to understand if you struggle to comprehend the basics of content marketing.
Essentially, content marketing is a form of inbound marketing that relies on content to attract leads to your business.
Rather than using bothersome advertisements or incessant popups, which will likely be stopped with an adblocker , you're using content to create a genuine connection with your consumers.
Inbound marketing is highly effective because it organically attracts interested prospects in a non-manipulative or pushy way — if a consumer stumbles upon your content themselves and feel drawn to what they're seeing, they won't feel pressured to make a purchase.
Paying for social media advertisements can get expensive very quickly, and the competition for these kinds of ads is fierce.
---
Read more: The Small Business Owner's Guide to Social Media Marketing Costs
---
Rather than wasting money on advertisements that are more than likely going to be skipped anyways, consider providing your customers with something that they find interesting instead.
Content marketing can take several forms, including:
Videos
Blog posts
Social media posts
Songs
Any content imaginable
Videos
The sheer popularity of platforms like YouTube and TikTok make it abundantly clear that consumers are more than happy to watch videos if the content is interesting.
What's great about small business content marketing is the level of freedom that you have when it comes to the content you're creating.
Your business could use videos that serve any of the following purposes to create an effective marketing initiative:
Explanation videos
Consider videos that explain your products or services to potential customers. If your offerings are interesting enough and align with commonly searched keywords, you'll almost certainly gain some traction.
Customer Content
Rather than creating content yourself, you could always incentivize consumers to create their own videos.
This could be as simple as posting customer testimonials on your business's social media page or as complicated as creating prizes for the person who creates the most popular video — the possibilities are endless.
History videos
If you or your business have an interesting past and you're comfortable sharing it with the world, this is a great way to foster a legitimate connection between your business and your consumers.
You could tell stories about how your brand got its start, obstacles you've overcome, or anything in between.
Interactive videos
These could be Q&As with submitted questions, live streams with consumers actively watching and interacting, or using customer requests to make videos about your offerings.
Interactive videos allow you to interact directly with your consumers, increasing brand loyalty and recognition.
Unrelated videos
At the end of the day, you can make any kind of video that you'd like to make. As long as your content isn't offensive and is geared toward showing potential consumers the value of your business, you can't make the wrong kind of content.
Guest content
As your brand grows, you'll likely be presented with opportunities to collaborate with other growing brands and influencers. The key is determining which influencers and other businesses provide your company with the best optics.
---
Read more: The Complete Guide to Influencer Marketing for Small Business
---
Blog posts
If you want to create a small business content marketing success through blogging, you're going to have to post consistently, network with other bloggers, and continue interacting with consumers.
Consistent posts give your audience something to look forward to, networking will help prepare you for future endeavors and occasionally help you find new clients. Interacting with customers helps cultivate that valuable consumer-company connection.
Having an active blog associated with your business is an excellent way to show potential investors, clients, and employees how serious you are about your business. In addition, a large store of created content will help you appear like a master of your craft.
Social media posts
Sure, it would be great if you could only post content to your company's website. However, today's consumerism requires meeting your audience on the platform where they spend their time.
Fortunately, today's business owners have years of virtual advertising data that they can use to help isolate their audiences. With the marketing data available, you can easily determine what platforms your target audience frequents.
---
Read more: Unlock Your Business's Full Potential With E-Marketing
---
Once you know where your target audience spends their time, you can funnel resources into creating content that is specific to that platform.
The best ways to start a following and gain traction on social media are through scheduled posts, regular interactions with your followers, keeping up with current trends, and creating topically relevant content.
Songs
This one is a little bit wackier, but when done right, it can be extremely effective.
If you've ever watched cable television for longer than half an hour, chances are high that you've heard some bizarre jingles and strangely crafted songs that businesses use during their advertisements.
Unfortunate as it might be, getting these jingles out of your head can feel impossible. Think "Nationwide is on your side".
If you're creative enough to think of a jingle that forces consumers to remember your business, there's no reason not to use it. Similarly, if you happen to be connected with a superstar like Justin Timberlake, you can always have him do the song.
Any kind of content imaginable
At the end of the day, your small business content marketing is only limited by your imagination.
You want your content to bring customers in, engage them, retain their attention, get them interested in future content, and assist you in creating as many lifelong customers as possible.
If you're still a bit confused which strategies work best for your company, we've got more small business content marketing examples coming right up!
---

The ROI of small business content marketing
Small business content marketing can help your business grow in several actionable ways.
Whether it's small business social media marketing initiatives or using your content to better identify with your target audience, a small business content marketing plan is all you need to see exceptional ROI.
From dialing in your audience to saving money, content marketing's ROI is nothing short of impressive.
Some of the clearest benefits associated with small business content marketing include:
Easy to appeal to your target audience
Establish and cultivate a relationship with your leads
Extremely cost-efficient
Social media use is only growing
Easy to dial in on your target audience
First, content marketing makes it simple to appeal to your target audience.
Marketing data can help you determine your audience's tastes, preferred platforms, and the times they're most active online. With this information, you can create content that speaks directly to your intended customer and release it at the most effective time of day to maximize your reach.
This preciseness helps your business invest exclusively in content for intended viewers, rather than waste time on those who are uninterested.
Establish and cultivate a relationship with your leads
Creating content that your target audience inherently relates to helps your business establish and grow relationships with your leads.
Not only does this help you move them through the sales process, but it also helps you retain more customers in the long run.
Customers that feel emotionally connected to your business will tell their friends and family about your business. Considering that word-of-mouth marketing accounts for approximately 13% of global sales, growing those relationships is important.
Extremely cost-efficient
Content marketing for small business can be extremely cheap.
Freelance websites like Upwork and Fiverr are great options to help you find reasonably priced labor, but the best option is to make the content yourself.
If you're willing to do the work, you can create endless content without paying a dime.
This is helpful in all situations but can be particularly beneficial in times of economic stress or recession. If you're responsible for your business's content, you will always have an avenue to market through.
Social media use is growing
Several sources have cited a large increase in American youth's social media consumption over the past couple of years, and those same sources expect global social media use to continue growing exponentially over the next few years.
Taking advantage of this continued growth and building an audience now means that you'll already have a dedicated audience as internet usage increases, meaning the individuals that are new to spending so much time will have an easier time finding your business.
---

How to use content marketing for your business
Good small business content marketing ideas are a dime a dozen. Everywhere you look, you're reminded of how necessary it is to chronicle your strategies, fine-tune your content, and stick to a plan.
To effectively use content marketing for your business, you need to create a detailed plan of action that explains the goals of your content marketing and clearly defines your Key Performance Indicators (KPIs).
Below, we've created an actionable guide that you can use to help you determine how to use small business content marketing for your business:
Familiarize yourself with your ideal customer
Craft a plan of action, prepare to record everything
Create content
Target your audience
Don't push, provide
Familiarizing yourself with your customers
The first step to creating valuable content marketing for small businesses is identifying what your ideal customer is looking for.
One way to do this is to create a comprehensive profile of your ideal customer.
Creating a consumer profile can help you get into the minds of your audience to better understand the type of content they search for and where they might search for it.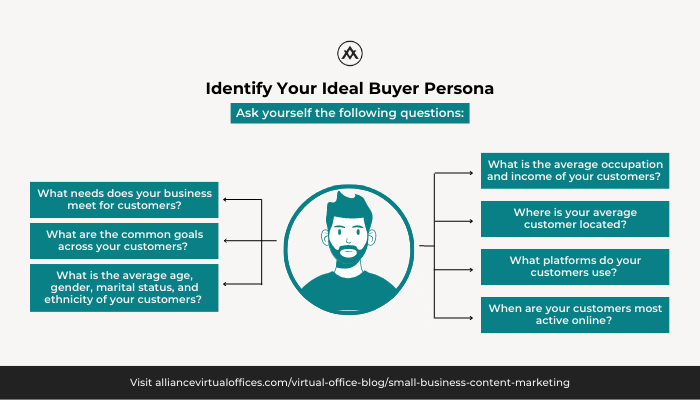 In this profile, you might consider trying to answer the following questions:
What needs does your business meet for customers?
What are the common goals across your customers?
What is the average age, gender, marital status, and ethnicity of your customers?
What is the average occupation and income of your customers?
Where is your average customer located?
What platforms do your customers use?
When are your customers most active online?
With these questions answered, it's time to create a plan for your small business marketing.
Craft a plan of action, prepare to record everything
You know where your audience spends their time; you know what questions your content is answering, and best of all, you know how to connect with your consumers.
The only thing left to do before you start creating content is to draft a plan of action.
Building a following online can be incredibly disheartening. However, creating a detailed calendar that schedules your posts, content releases, responses to consumers, and more gives you a better chance to improve your company's online presence.
The more detailed your plan of action is, the better off your business will be.
Independently of the plan, you'll also need to get ready to record as much data as possible.
Most businesses start on a few social media platforms as they're getting started. This isn't a bad idea, but you'll want to quickly isolate the most effective medium to focus your resources on posting there.
It's your responsibility to keep track of exactly how much engagement your posts receive on each platform, which platforms foster the most organic communication, and where your posts are seen by the most viewers.
These KPIs will help you understand where your resources need to be allocated ,as well as any other tweaks that might need to be made to your content.
Creating content
Once you're in the creation stage, it's essential to make content that answers your customers' questions or solves their problems.
The key here is providing value — you want to provide as much as possible to win their trust and keep them interested and use your expertise to walk them through the challenges they're facing.
Targeting your audience
While you can technically use whatever platform suits your business best, the most successful content strategies use the medium their audience frequents the most.
Resources like Google Trends and Google Analytics can help you determine key information about your target audience. Additionally, most social media websites have easily trackable engagement metrics that will help you determine which of your posts on what platforms are performing the best.
Don't push, provide
Finally, it's important to remember not to push your products or services from the start.
Small business content marketing is great, but not when the content is a thinly veiled advertisement that doesn't even pretend to inform the consumer. Using content marketing to incessantly push your offerings onto consumers will break the trust of the audience and cause them to tune out.
Instead, create a funnel of content that walks your audience through issues slowly, provides independent value, and delivers the suggestion that your products or services can help them in an organic, non-pushy way.
Small business marketing is tricky, but by using this guide and the tools you have at your disposal, you'll be able to create effective content in no time.
---

Digital tools to use in conjunction with small business content marketing
Content marketing for small businesses is an incredibly powerful tool. In fact, it's one of the most flexible, affordable marketing strategies and provides a very high ROI.
To implement small business content marketing for your business, focus on delivering value, not pushing your products.
It's worth noting that these small business content marketing strategies will work for physical and virtual businesses alike. Still, digital businesses are positioned to get a much higher ROI than physical businesses due to the sheer ease with which you can target markets.
Even if you're unwilling to transition to an entirely digital business, catering to the digital market is an excellent way to increase profits and market share.
---
Read more: Actionable Tips to Transition Your Business to a Digital First Model
---
Modern businesses are at a distinct advantage over their traditional counterparts because of the number of tools the modern business owner has at their disposal. You're no longer required to sign lengthy, expensive leases and make full-time hires for a single task — there are just more options now.
From virtual offices to Live Receptionists, as a modern entrepreneur, you're able to focus on your business's core operations without going through the hiring process. Plus, you're able to secure a prominent and professional address for your business.
Check out Alliance Virtual Offices' website today to see more digital tools that can help boost your content marketing ROI.
---
Further reading
---
Alliance Virtual Offices provides several tools for established entrepreneurs hoping to find a better understanding of small business content marketing.
Contact us today to see how Alliance Virtual Offices can help your small business use content marketing to weather any kind of economic shift!