---
---
Q: I'm ready to start a business. Can I start an LLC somewhere out-of-state, like Alaska? What are the benefits of an Alaska LLC?
A: Yes, you can easily start an out-of-state LLC. Starting an LLC in Alaska is similar to starting an LLC in any other state. An Alaska LLC provides several benefits, such as a corporate tax rate that's only between 2.00%-9.40% and excellent asset protection.
---
Starting a business is an exciting yet frightening venture.
You need to research your target market, create a detailed plan that explains your short and long-term goals, and set aside enough capital to get started — all while staying flexible and reactive to the market.
Modern businesses find themselves enjoying unique benefits.
Through the use of the countless digital tools entrepreneurs have at their disposal, overhead costs are low, startup costs are lower, and operations are more flexible than ever.
Forming a digital business or a physical business that caters to online operations is more straightforward than ever before.
Ecommerce isn't going anywhere.
Economists are predicting that over 20% of all global retail sales will be ecommerce transactions by the end of the year.
If you're a new business owner or you're planning on starting a business, you now have the distinct opportunity to participate in what is quickly becoming one of the largest markets in the world.
Before you get too excited, you need to determine where you'd like to register your new business.
The process of registering for an LLC is slightly different from state to state. Understanding the nuances of registering in each state will help you make a more informed decision.
You want to find a state that has attractive tax laws, good asset protection, and reasonable fees for your LLC. Alaska is an excellent choice.
In this article, we'll be taking a closer look at the standard LLC registration process, what that process looks like in Alaska, Alaska LLC filing fees, the best address for your Alaska LLC registration, and additional digital tools.
If you've been searching for the Alaska LLC fee or other similar LLC registration questions, you're in the right spot. Keep reading for more!
---
---

The basic LLC registration process
Before getting started on the Alaska LLC search, let's take a look at the basic process for registering an LL:
It doesn't matter if you're changing your sole proprietorship to an LLC or launching an entirely new business from the ground up — a Limited Liability Corporation is a perfect way to protect your brand.
It doesn't matter if it's a single-member or multi-member LLC — you still get the same tax benefits, legal protection, and flexibility.
---
Read more: How to Switch Sole Proprietorship to LLC Quickly and Easily
---
Note that your Alaska LLC will largely follow the same steps, but you should still be aware of the general process before you get started. At its root core, forming an LLC requires you to register your business with the federal government.
Below, we've listed each of the basic steps you'll need to take if you want to register your business. Keep reading for more!
Give your business a unique name
Before you do anything else, you'll need to come up with a unique business name.
Coming up with an average name isn't too tough, but creating a great name for your business is an art form.
Try searching for similarly named businesses online. If you want to be more specific, most states have a database you can use to check your name against existing businesses.
Consumers want to identify with your brand. Give them a name that helps them do so.
Appoint a registered agent
Next, you'll need to appoint a registered agent.
It doesn't matter which state you choose — you're going to need a registered agent regardless of where you're located.
A registered agent is someone you choose to designate as your business's representative.
---
Read more: What is a Registered Agent?
---
Most states require your registered agent to be over the age of 18, have an address in the state, and be available during your business's operating hours.
In several states, business owners can simply act as their own business's registered agent — but that is almost always a poor decision.
Your business's registered agent is responsible for government correspondence, notices of subpoenas, and other key documents.
Filling this position yourself takes valuable time away from your business and can lead to devastating clerical or logistical errors.
File your articles of organization
The next step is to file your articles of organization with the government.
Your articles of organization will include the following — regardless of where you file:
Business's name and address
Duration of the LLC
Name and address of the business owner
Name and address of the registered agent
The principal location that you're doing business
What your business will be doing
How your business is structured
Member or manager-managed?
Name and address of each organizer
Name and address of at least one managing member
Any other designations
Your articles of organization simply represent the important details about your business. Your LLC isn't official until this document is filed with the state in which you're incorporating.
These documents also explain how your LLC will be managed. You can file this document on the website of the state in which you're registering.
Get your EIN
Now that you've created a name, appointed a registered agent, and filed your articles of organization, it's time to get your EIN!
Simply put, your EIN — or Employer Identification Number — acts as your business's social security number.
You'll use your EIN to file annual reports and apply for business loans in the future.
---
Read more: Strategic Debt: How to Leverage Small Business Microloans
---
Now that you have a basic understanding of the LLC registration process, let's take a look at how that process is different with an Alaska LLC.
---

How to register an LLC in Alaska
For the most part, the process of securing an Alaska LLC is much the same as it would be in any other state.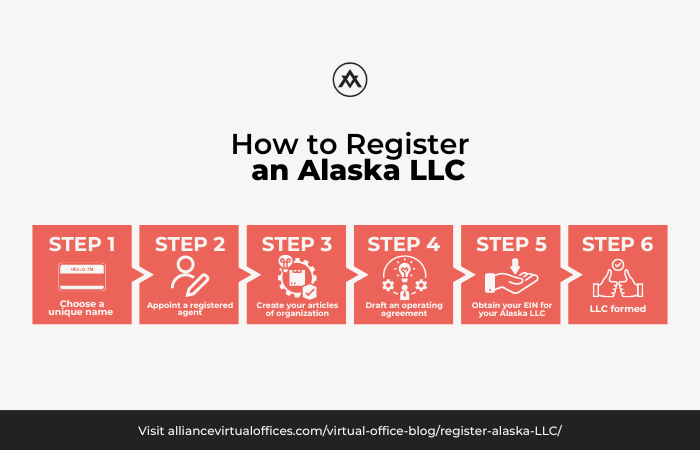 Below, we've created an actionable guide that details the steps you'll need to take to successfully file for an LLC in Alaska.
Choose a unique name
Appoint an Alaska LLC registered agent
Create your articles of organization
Draft an operating agreement
Obtain your EIN for your Alaska LLC
Choose a unique name
The first step to creating your Alaska LLC is choosing a unique name.
To help you create the perfect name, we've put together a small list of helpful tips that you can use when you're creating a unique name for your LLC! Alaska companies always need proper names for maximum success.
Symbolizes your company
You want to find something that exemplifies your business without sounding pretentious or silly.
Consider your brand
Pick a name that can be easily integrated into future branding and marketing initiatives.
Cater to the lowest common denominator
Don't use difficult-to-say or difficult-to-spell names.
Create a memorable name.
You want something that is going to stick out in the minds of consumers without being too absurd.
Plan for the future
If you're hoping to expand your product offerings, don't give your business too specific of a name.
For example, you don't want to start a business called "Teddy's T-Shirts" that focuses on t-shirts if you might one day start selling socks. Consider something like "Teddy's Tailored Commodities" or something else that is equally as inclusive.
Follow state and national guidelines
Your business's name can't be profane or immoral and it can't be too similar to any other companies
Include "LLC" in the business's official name
You don't have to include "LLC" in your branding materials, but you do have to include it in all of your official documents and filings.
Using these tips, you can create a memorable and symbolic business name that helps you stand out from your competition.
On the Alaska Department of Commerce website, you can use their corporation database to ensure that you've picked a unique name.
Here, you can search a business by its entity number — another phrase for EIN — or you can search corporations by name.
Once you've created a name and used the website to make sure it isn't taken, you can move on.
Appoint an Alaska LLC registered agent
Your Alaska LLC registered agent must follow the same general guidelines set forth by other states.
Per the DCCPED, your Alaska registered agent needs to be over 18, a resident of the state of Alaska, and capable of fulfilling the legal requirements.
This means that if you're a new business owner who isn't living in Alaska or a new resident of the state, you won't be able to act as your company's registered agent.
If your registered agent isn't able to maintain a valid physical mailing address, you'll be charged with non-compliance.
This is why you should simply use registered agent services like Inc Authority or Anderson to ensure that you remain compliant and protected from any clerical mishaps.
Alaska statutes make it clear that any corporation that fails to maintain an appointed registered agent for 30 days could be involuntarily dissolved.
Create your articles of organization
Now that you've created a name and appointed a registered agent, it's time to file your articles of organization for your Alaska LLC. Act quickly, because your business can't be officially open for business if these documents aren't filed.
Thankfully, the Alaska Department of Commerce has a list of detailed instructions that you can follow to file your articles of organization online.
Before you start filing, gather all of the necessary information so that the website doesn't time out. In addition, keep in mind that the $250.00 filing fee is nonrefundable, so proofread everything.
If you don't want to file online, you can send a hard copy of your articles of organization, or form 08-484, along with the $250.00 processing fee, to:
State of Alaska Corporations Section
PO Box 110806
Juneau, AK 99811-0806
After submitting this document via mail or electronically, you're one step closer to getting your EIN.
Draft an operating agreement
An operating agreement is a document that your Alaska LLC needs to create in order to provide a comprehensive picture of your business' functionality, finances, and leadership.
Only a few states require this document — and Alaska isn't one of them.
Despite this, there's no reason that your business shouldn't draft an operating agreement.
Your operating agreement will clearly define roles within your business and will help prevent issues down the line.
If you've created a cohesive management structure and clarified plans for later financial decisions, you're leaving little room for interpretation. This can make it more difficult for mistakes to fall through the cracks.
This agreement is designed exclusively to lay out how the company is going to operate.
Obtain your EIN for your Alaska LLC
Finally, it's time to obtain your Employer Identification Number for your Alaska LLC.
You can handle this last step on the IRS website.
Once you've made it to the site, you only need to apply for an EIN online.
This three-step process is completely free, and once you've obtained your EIN, you're ready to start doing business!
If you have any other specific questions about getting an EIN for your LLC in Alaska, check out these Alaska EIN FAQs and these general online EIN FAQs.
*Note: If you're the sole member of the LLC and don't want to be taxed as a corporation, you don't have to obtain an EIN. That said, it's highly advised that you do obtain the number, as you'll need it for things like business loans and business banking.
---

The best way to register an LLC in Alaska
Regardless of whether you're registering an LLC in Alaska as a local or from another location, a Virtual Office can help.
We've created a brief list of the various benefits associated with using a Virtual Office below:
Cost-efficient
Private
Register and operate anywhere
Onsite staff
Meeting spaces
Cost-efficient
A Virtual Office saves you money compared to a traditional office.
Consider this: the traditional commercial office lease starts at a minimum of three years. That's 36 months that you'll be required to pay rent, pay utilities, and keep your office stocked.
Compare that to one of Alliance's Virtual Offices. Our offices start at a 6-month minimum. You aren't on the hook for utilities, and you don't have to worry about keeping things arbitrarily stocked.
These savings make it easier for you to grow your business by giving you more capital to invest in other areas.
Private
Alliance's Virtual Offices are private.
If you register your business with your home address, you're knowingly putting your home address into the public domain. Once it's there, scam businesses, bad actors, and anyone else who wants it can easily access that information.
Outside of the safety concerns, the sheer volume of unwanted junk mail you'll receive at home makes retaining your privacy entirely worthwhile. By using a Virtual Office, you're keeping your address out of the public domain.
Register and operate anywhere
Virtual Offices allow you to register and operate from anywhere.
You can work remotely from home or from halfway across the globe – whatever sounds good to you.
When you're using one of Alliance's offices, the physical workspace is always available — whenever you need it.
You'll have a centralized hub from which you can focus your operations without sacrificing the flexibility that remote work is known for.
With Alliance's robust mail forwarding system, all your mail can be forwarded directly to you so you never miss out on key communications.
Onsite staff
It's comforting knowing that you have access to a friendly and professional staff.
One of the risks of using lower-quality digital addresses and providers that only deal in PO Boxes is that when you need help, there's a good chance you won't be able to find it.
Thankfully, our Virtual Offices don't encounter this issue – just look at our overwhelmingly positive TrustPilot reviews.
Should you have any questions or need any help, your Virtual Office staff is ready to provide friendly, attentive care.
Meeting spaces
Best of all, using one of Alliance's Virtual Offices gives you access to on-demand meeting spaces that you can use when you need somewhere to host meetings.
As a business owner, you're likely to be hosting these kinds of meetings fairly regularly. Pitching investors, client conferences, onboarding staff, and other various meetings happen often — and you don't want to be caught between a rock and a hard place.
Hosting a meeting in a coffee shop is disorganized, could pose security risks, puts your meeting at the whims of the public, and makes your business appear very unprofessional. Using your home to host a meeting is just as off-putting.
With a hotel conference room, you're typically spending a lot of money, the space isn't catered to the size of your group, and your meeting could go wrong if the conference room next to yours is too loud or unruly. Additionally, you have to make the reservations weeks in advance — which doesn't help much for short-notice meetings.
The easily reservable meeting rooms you have access to through your Virtual Office simplify your operations and add a layer of professionalism and legitimacy to your business.
The steps to creating your Alaska LLC are straightforward. The steps to making your LLC in Alaska successful are more involved.
Keep reading for additional tips about the digital tools you have at your disposal!
---

Additional digital tools to further benefit your Alaska LLC
Filing an LLC is a straightforward process that can be done from the comfort of your home.
Choose a business name, designate a registered agent, submit your articles of organization and operating agreement, and obtain an EIN – and you're ready to do business in Alaska.
---
Further reading
---
An Alliance Virtual Office is the best way to register because it protects your personal information and solidifies your business's reputation — all while supporting your remote workstyle.
Whether you live in Alaska or are looking to create a business entity from outside the state, a Virtual Office makes it fast and easy to get your LLC registered.