---
---
Q: Why do spam callers keep calling me?
A: If you're being completely inundated with spam calls, your phone number has probably been leaked to third parties. Anytime you enter your phone number on the web, you run the risk of it being leaked. Even the most reputable telecom companies may actually sell your phone number and other data to third parties, making spam calls very common in the modern era. 
---
In 2021, CNBC reported that Americans had lost almost $30 billion dollars to phone scams during the past year. 
If you own a cell phone, you're probably familiar with these spam calls and relentless scams. Maybe you've fallen victim yourself.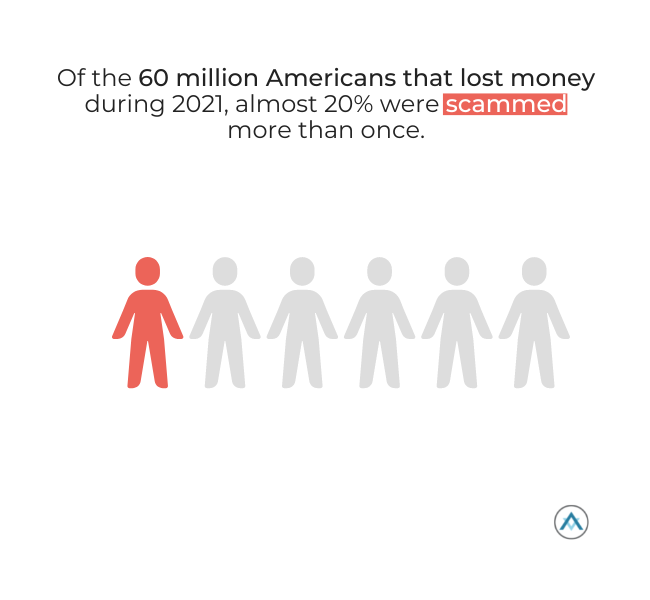 Of the 60 million Americans that lost money during 2021, almost 20% were scammed more than once. This means that scam artists are being extremely creative, constantly using different methods to catch people out. 
If you learn to avoid one type of scam, they change their tune and try another strategy.
It's a relentless battle – one that is threatening to overwhelm the FTC and telecom carriers in the United States. 
While we're not exactly sure why spam calls and scams have become so rampant, the pandemic seems to be the culprit.
Some believe that with so many people staying home and spending time online, spammers and scammers have seen this as an opportunity to increase their activities and target America's most vulnerable individuals. 
At first, it seemed like we were finally getting a break from robo calls since quarantines closed down call centers. However, after an initial slump, spam calls returned with a vengeance. Now they're more prevalent than ever before. 
And for the most part, spammers have been extremely successful – with more Americans falling victim than ever before. 
But as bad as this might seem, we aren't completely defenseless. 
The FTC is constantly suing companies for calling people without their permission. 
Cellular carriers have another trick up their sleeve which involves labeling certain numbers as "spam risk calls."
But what exactly is a spam risk call?
And are they really as bad as they seem?
What if you're missing out on real business opportunities by ignoring spam risk calls?
---
---

What are spam risk calls?
It doesn't take a genius to figure out the meaning behind spam risk calls.
If you see the words "spam risk" pop up on your phone, there's a likelihood you're being contacted by a spam caller. 
You might see variations of "spam risk," such as:
"Spam"
"Telemarketer"
"Scam Risk"
"Scam Likely"
"Potential Spam"
"Nuisance Likely"
"Fraud Risk"
"Potential Fraud"
But how does your phone automatically know which numbers are associated with spam risk calls? iPhone technology might be advanced, but it's not responsible for labeling these risky calls:
It's your carrier. 
Carriers use complex classification and clustering algorithms to identify spam indicators and spam-likely calls. This machine learning can be supervised and unsupervised. 
Despite their best efforts, scam artists leave behind plenty of clues for these algorithms to follow. Once the AI spots specific patterns in their traffic network, it can flag them as spam risks and add them to a database shared with the entire cellular network. 
The algorithm looks at a number of factors, including:
The origin of the call
The caller's reputation based on past feedback
The number of calls placed by a specific number
Whether calls are rejected by consumers
For example, if a number suddenly appears in the network and makes 50,000 calls in a single hour, the algorithm would almost certainly flag that number as "spam likely." 
The three largest carriers in the United States have all partnered with different providers of analytics engines to facilitate this machine learning process, including:
AT&T partnering with Hiya
Verizon partnering with TNS
T-Mobile partnering with First Orion
Last year, PEW likened the constant battle between spammers and regulators to a game of "Whac-A-Mole," stating that each time the authorities manage to crack down on one strategy, spammers simply switch to a new one. 
These new strategies include:
Sending messages straight to voicemail (without your phone ringing)
Spoofing local area codes near you, making you think it's someone in your state or city
The "grandchild scam," which involves demanding bail money for a grandchild who has been incarcerated (even though the grandchild was never charged with a crime)
According to PEW, it only costs $1,000 to purchase 3 million phone numbers in a given area. Even if one person falls for the scam and hands over $10,000, this represents a profit. 
Spam vs. Scams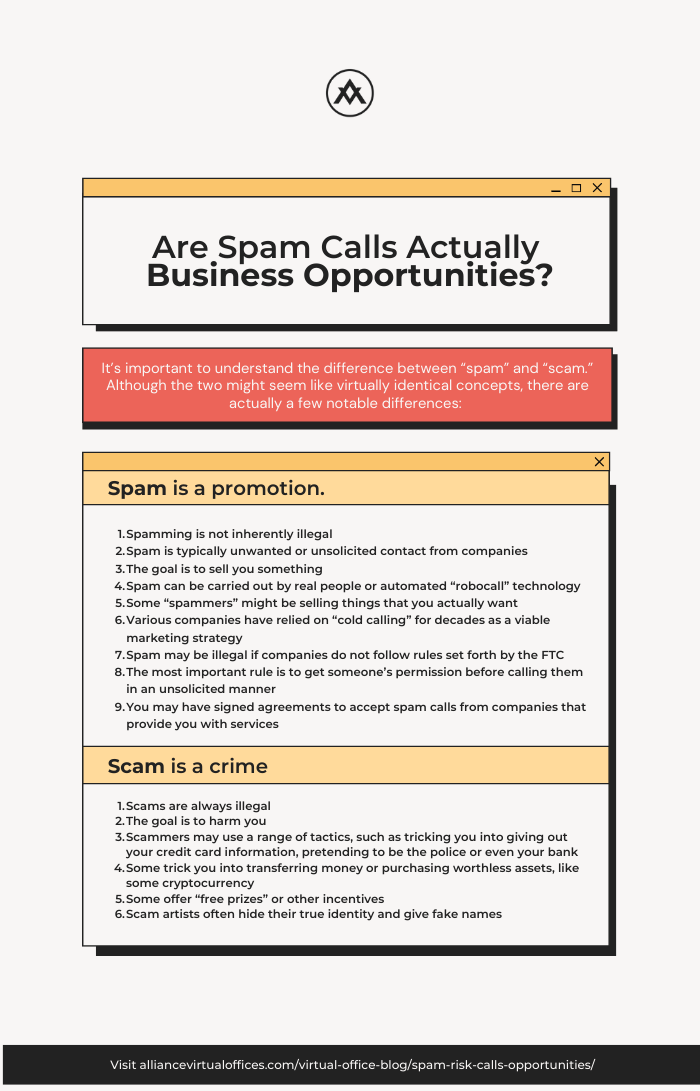 It's important to understand the difference between "spam" and "scam." Although the two might seem like virtually identical concepts, there are actually a few notable differences:
Spam
Spamming is not inherently illegal
Spam is typically unwanted or unsolicited contact from companies
The goal is to sell you something
Spam can be carried out by real people or automated "robocall" technology
Some "spammers" might be selling things that you actually want
Various companies have relied on "cold calling" for decades as a viable marketing strategy
Spam may be illegal if companies do not follow rules set forth by the FTC
The most important rule is to get someone's permission before calling them in an unsolicited manner
You may have signed agreements to accept spam calls from companies that provide you with services
Scam
Scams are always illegal
The goal is to harm you
Scammers may use a range of tactics, such as tricking you into giving out your credit card information, pretending to be the police or even your bank
Some trick you into transferring money or purchasing worthless assets, like some cryptocurrency
Some offer "free prizes" or other incentives
Scam artists often hide their true identity and give fake names
As you can see, spam is clearly not as bad as scams. While spam might be annoying, it is usually carried out by legitimate businesses who are trying to sell you something real. 
Spam can be illegal under certain circumstances, but scams are always against the law. 
This presents a bit of a catch-22. 
The only way to tell whether spam risk calls are fraudulent is to pick up the phone. But by doing so, you run the risk of being scammed. 
---

How spam risk calls hurt your business
But wait a second…
How do you know for sure that a "spam risk call" isn't a legitimate business trying to reach you with a lucrative offer?
Could some of these major carriers be making mistakes?
Could your spam risk calls be mislabeled?
The truth is that this is a very real threat, as machine learning systems are never perfect – at least not yet. Many companies have complained of being mislabeled as "spam risk" even though their activities are completely legal. 
But how does this happen?
One potential explanation is the tendency for modern people to reject calls without picking them up. 
When some people see an unfamiliar number, they might reject it instinctively. This means that some businesses get tons of rejected calls – even though they're completely legitimate.
An algorithm might see this and label the company as a spam risk, even though they're trying to sell real products or services. 
Other companies are incorrectly labeled as spammers simply because they make thousands of calls per day. While this might be slightly suspicious, the company might be operating at a large scale. 
Whatever the reason, incorrectly-labeled spam risk calls can have a major effect on your business – especially if you're trying to make deals with other organizations.
For example, you might need a supplier for a new product you're planning to sell. Maybe you need a manufacturer to actually build your new product. 
Perhaps you need another company to help you with certain aspects of your business, and you're waiting for someone to approach you with a contract offer. 
Your entire business model might be B2B, and you might depend on only a few sales per year with major companies. 
Maybe you've been waiting for months for leads for your B2B business – praying for someone to call you. But all you're getting is spam risk calls. Block these calls, and you could miss out on the leads you've been waiting for.  
Missing a single business opportunity because of a faulty spam identification algorithm can be extremely detrimental to your business. 
Run a quick Google search, and you'll find that many businesses are complaining of this exact problem. They are trying desperately to have the dreaded "spam risk" label removed from their calls, but it isn't always easy. 
Generally speaking, major carriers like AT&T believe that this is an acceptable cost in exchange for protecting their customers. If a few legitimate businesses are mislabeled, then so be it.
In other words, major carriers aren't going to improve their system anytime soon – which means that you need to take a slightly different approach if you want to avoid missing out on legitimate business opportunities. 
---

What is the solution?
Let's face it:
No business owner wants to pick up every single spam risk call they receive. 
If you answered the phone every time, you'd have to sit through hours of spammers and robocalls every day. 
And even if you finally managed to connect with someone offering a legitimate business opportunity, you'd have to spend even longer trying to figure out whether the offer makes sense for your company. 
Answering the phone constantly will quickly drain away your valuable time, making it almost impossible to run your business. 
In addition, it can be extremely stressful to hear the same scams and pre-recorded messages constantly throughout the day. 
This leads to a "no-win" situation:
On one hand, you can't afford to miss out on spam risk calls that could be mislabeled legitimate businesses. 
But on the other hand, you can't afford to waste your time answering every single call – blindly hoping that there's a valuable lead buried in the deluge of spam. 
Fortunately, there's a viable solution to this problem. 
Let someone else handle your phone calls. 
Yes, it's really that simple.
Hire a receptionist, and you can offload this time-consuming task onto someone whose entire job description revolves around answering the phone. 
Your receptionist will happily sift through the haystack of spam calls until they find the needle of a legitimate lead. 
Not only that, but they can take notes and record basic information that you can review before returning calls. If it seems as though a business opportunity doesn't really fit with your goals, you can cross that number off your list. 
This gives you more time to focus on growing your business, and it can help make your entire operation much more efficient.
Because let's face it – you didn't achieve entrepreneurial success because you're good at answering phones. You need to dedicate your time towards the skills you are proficient in, such as marketing, product development, negotiating deals, and so on. 
But one issue with a receptionist is their cost.
Not only that, but they need some kind of office space to answer your calls. If you're operating a remote business or you have a mobile service, you don't have anywhere to put your receptionist.
Does it really make sense to rent an office space for the sole purpose of hiring a receptionist? 
Of course not.
So you're back at square one.
Unless you use Alliance Virtual Office's Live Receptionist service.
Alliance Virtual Offices can connect you with a Live Receptionist who works remotely. For just $99 per month, these remote workers will answer your calls during business hours, without the need to rent an office space. 
Luckily, Live Receptionists can be just as effective as an in-house receptionist. Not only can they answer your calls, but they can also explain basic information about your business and take notes. 
From there, you can decide who you'd like to call back at the end of the day. 
This solution gives you the best of both worlds:
You can answer spam risk calls without actually sacrificing any of your valuable time. 
This could be the only thing that is holding your business back from true success. There could be a treasure trove of leads and business opportunities hidden among the deluge of spam risk calls you receive each day. 
With a price tag of just $99 per month, hiring a Live Receptionist through Alliance Virtual Offices is probably one of the most affordable investments your business can make. 
---

Moving forward with spam risk calls
While it's understandable if you'd like to steer clear of spam risk calls altogether, it's important to note that you may lose out on serious opportunities.
If you want to ensure that important leads aren't slipping through the cracks, consider a Live Receptionist service from Alliance Virtual Offices. 
---
Further reading
---
Alliance Virtual Offices has been providing companies with a range of services for many years, including virtual offices, virtual phone lines, mail forwarding, on-demand meeting rooms, and of course Live Receptionists. 
To explore your options in more depth, reach out to Alliance Virtual Offices and speak with one of our team members today.