---
---
Q: What is a Virtual Phone Number?
A: Virtual phone numbers utilize Voice over Internet Protocol (VoIP); a phone line forwarded to an IP address, rather than a traditional phone line. Virtual phone numbers are not bound by a specific location, making it easy to maintain a professional and local presence from anywhere. They are very popular with workers and businesses operating remotely. You can get one for $30/mo.
---
When setting up a new business, you might experience an overwhelming sense of unpreparedness.
There are expenses for office supplies, software packages, a website domain, advertising campaigns and not to mention juggling your schedule to meet with new clients.
Although all of these components could seem abundant or even unnecessary, they each play a role in setting your business apart from competitors.
---
So where should you start?
---
One of the most important factors for a business is communication, and in order to have a solid communication, you need a way for staff, clients, and customers to contact you without complication.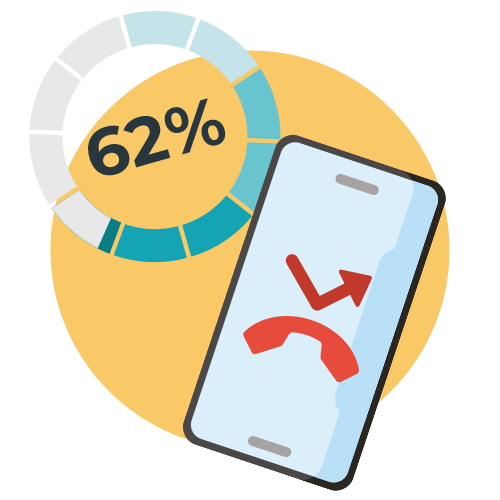 That's why having a proper business phone number is the foundation of a successful company.
You might be thinking, "Phone calls are anxiety-inducing and antiquated! This isn't the 90's, let me just text or email instead!"
In some cases, you are correct in thinking that texting or email would be the easiest and quickest option.
However,
Live channels like phone calls and chat have been found to be the most preferred, fastest and effective means of communicating with customers.
And luckily, setting up a business phone number is a simple, yet highly effective way to tell clients and customers that your company is prepared and legitimate.
While there are dozens of ways for you to quickly get a new business phone number, not all phone number setup plans are created equally. Many require you to sign up for expensive plans that, at the end of the day, do nothing but rack up your business expenses.
Even more, traditional phone lines are limited in how they can aid your company. Many do not come equipped with the most advanced business-related technology that actually make your company's operations run smoothly.
That's where a virtual phone line comes into play.
A virtual phone number is an alternative to traditional business phone numbers and has the ability to help you screen phone calls, offer insightful data analysis and much more.
Virtual phone numbers do not need traditional power networks to help you receive and make phone calls. Instead, they use private networks to reroute your calls through data points to landlines or mobile phones.
Here, we'll explain why it's important to consider a virtual phone number, what the benefits are, and what is in it for you.
---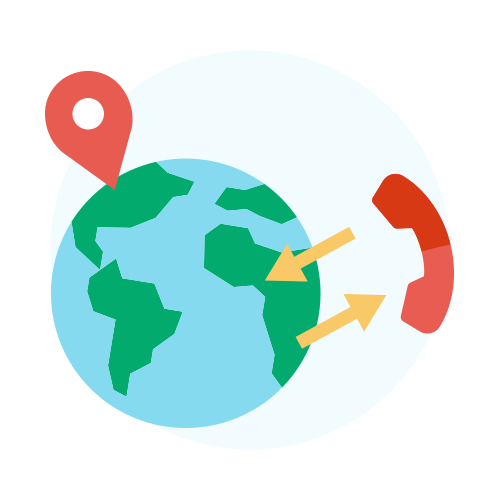 What Is A Virtual Phone Number?
A virtual phone number, sometimes referred to as direct inward dialing (DLD) or access numbers, is simply a phone number that is not associated with a telephone line.
Because of this, virtual phone lines are not bound by a specific location, making it easy to make and receive calls from virtually (pun intended) anywhere. That's why they are popular among many remote workers and remote businesses.
Virtual phone numbers utilize Voice over Internet Protocol (VoIP), which is essentially a phone line forwarded to an IP address, rather than a traditional phone line.
Using a VoIP system makes the number more widely accessible and convenient, particularly for those who are remote workers or operate virtually.
VoIP technology eliminates the need for lengthy phone contracts and allows users to make and receive phone calls using internet connection, without the need of a physical location.
Even more, many VoIP plans come with various other features like call screening, call forwarding, customer greetings to help personalize your company, and much more.
VoIP numbers also give you free reign to take calls on your own cell phone, computer, laptop, or any other device you have that is connected to the internet, which is perfect for professionals who are on the go.
Virtual phone numbers make it easier for you to stay connected with customers and clients and typically fall under these categories:
Types of Virtual Phone Numbers
Local phone numbers
Vanity phone numbers
Toll-free phone numbers
A local phone number is similar to a traditional phone line in that it requires you to have a physical address tied to it. While you can still use a fixed phone number through the internet and without a traditional phone plan, you will still need an address linked to it.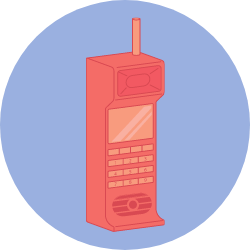 For example, if you wanted a location-specific number in a market your company is attempting to branch out into, you would need an office located in that area.
This can be a con for companies attempting to grow their business in larger markets, but don't have the funds to rent out a Los Angeles office space.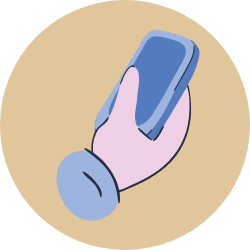 A vanity phone number gives you a catchy number that is easy to remember.
For instance, think about your local lawyer commercials. They typically have phone numbers that are simple to remember and may even be featured in the firm's catchy jingle.
A toll-free number is a national number that is free to use for the person making the call.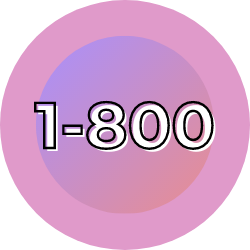 Have you ever seen an advertisement that features a phone number beginning with 1-800? The three-digit code at the beginning determines that this is a toll-free number and will not cost you anything if you call it.
---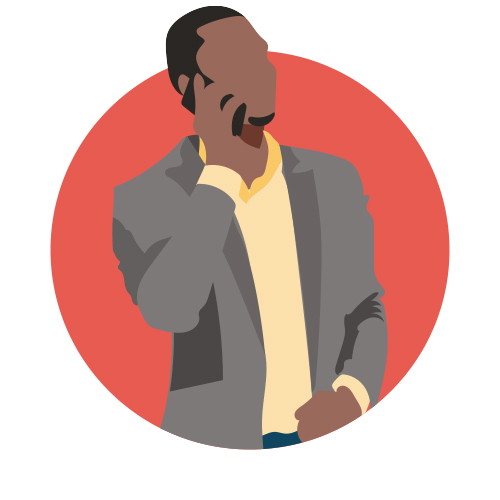 Who Needs Virtual Phone Numbers?
You might still be wondering whether a virtual phone number is worth it for your business.
But think about this:
Do you often find that you are missing important phone calls with clients?
Does it feel like the voicemails are piling up and your business is suffering as a result?
Is there a specific market your company wants to tap into without renting out an expensive office?
Are you eager to get your brand's name out there and establish yourself as a competitor within your industry?
Whether you're a one-person operation, part of a small company, a remote worker, or freelancer, a virtual phone number can help you keep your business running smoothly.
This is particularly important as the global workforce shifts to more virtual, remote arrangements and relies heavily on the use of cloud-based technology. Using this technology can help streamline your business, including how you handle phone calls.
With the workforce becoming increasingly distributed, you may find yourself relying more on technology to connect you to colleagues and potential clients.
This can range from video conferencing tools, virtual office capabilities, cloud technology, and more. Including a virtual phone number as part of this can make your operation not only more efficient, but also stand apart from competition.
For instance, say you're a real estate agent who is looking to do business in Downtown Los Angeles, it can be helpful to have a phone number that is associated with the area, even if you live outside of the city.
Or, if you're a professional who has just recently transitioned to a remote working in the past year, you may be missing calls that are still being directed to your office line. A virtual phone line allows you to reroute those calls to your home.
If you're a freelancer, contractor, or plan to continue working remotely for the foreseeable future, a virtual phone number also allows you to handle your business no matter where you're located. This also makes it easier for you to make international calls without the need of a foreign line.
Having a number associated with the market you are doing business in not only makes it easier to get your foot in the door, but it also helps legitimize your efforts.
Not only can remote workers, freelancers, and digital nomads benefit from a virtual phone number, so can: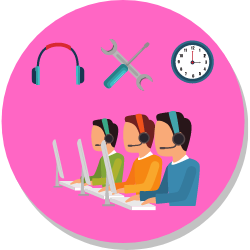 Call Centers
Call centers can use virtual phone lines that allow them to seemingly be located in one country at all times. However, many call centers are usually located across several countries.

---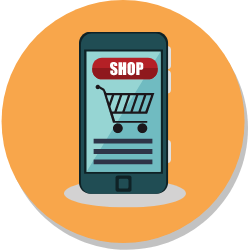 E-commerce Companies
If you're part of a firm that relies on online operations, you can use virtual phone numbers to help operate your business when working from home

For instance, if you need a phone number for your Fulfillment By Amazon business, you can use a virtual phone line to receive calls from customers without using your personal phone number

This can be applied to all e-commerce companies, even dropshipping companies that fulfill orders from customers, but do not stock the items themselveshis block. Use this space for describing your block. Any text will do. Description for this block. You can use this space for describing your block.

---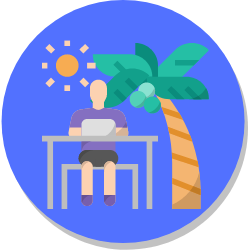 Digital Nomads
Digital nomads often work from various locations all over the world, and using a virtual phone number can allow them to stay connected with their clients wherever they are located using a single number, regardless of time zones or area codes.
Businesses can use a virtual phone number to not only better handle customer service needs that are essential to a well-oiled company, but also to collect essential data needed for marketing purposes.
For instance, you can use different virtual phone numbers and tie them to specific marketing campaigns. Using these various numbers can make it easier for you to understand which campaigns are most effective for your company, and which may not be as successful.
The perks of a virtual phone line aren't limited to just small companies or one-person operations. Companies of all sizes can benefit from adopting a virtual phone number to improve their customer service skills as well as their marketing initiatives.
---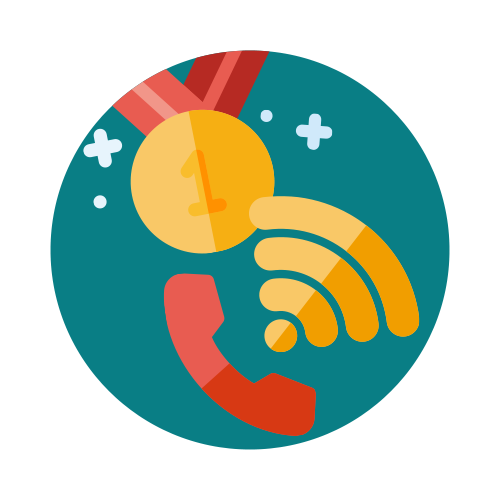 What Makes The Best Virtual Phone Number?
Now that you have a grasp on what a virtual phone number is, it is equally important to understand that not all virtual phone lines are created equally.
For the best possible virtual phone number, you should look to see if it offers the following features:
Super Fast Rerouting Capabilities
Super Secure Privacy Protection
Super Clean Data Reporting & Tracking
Super Affordable Prices
Super Fast Rerouting Capabilities
Whichever virtual phone line you choose, fast rerouting capabilities will be one of the most important features to look for. This is essential in order to ensure that calls are easily forwarded to various departments within your business, such as sales, customer support, and more.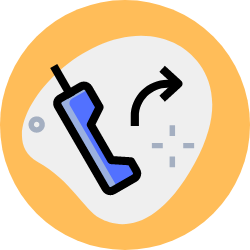 Efficient rerouting is also important for call queue groups or ring groups.
A call queue group is a group of users that can receive calls and allow the next available member to answer.
A ring group allows you to have multiple phones rings when one extension or number is dialed.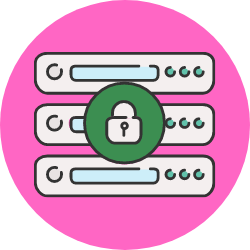 Additionally, having a secure and private network is absolutely crucial, particularly if you are operating remotely or with a distributed workforce.
Data from security venor Upstream revealed that smartphone users, or companies who pay the bills for work-related devices, lose millions of dollars every year due to mobile ad malware.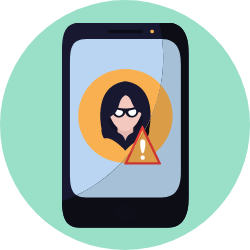 That's why investing into a secure virtual phone number is vital for a safe, encrypted network.
Utilizing a virtual phone number makes it so you do not receive unwanted phone calls to your home, and also ensures that your personal privacy is protected since handing out your personal number generously can be dangerous.
Super Clean Data Reporting & Tracking
Even more, virtual phone numbers can aid in data tracking that can improve your company's marketing strategies and overall performance.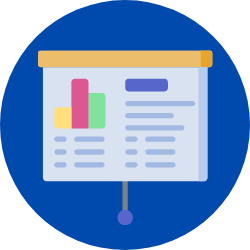 Understanding how individual marketing campaigns are performing will be crucial to improving your company's reputation and boosting business.
With Statista predicting that 53.9% of all retail commerce sales will come from mobile-commerce, it's important for any forward-thinking company to be ready to accommodate this growing demand.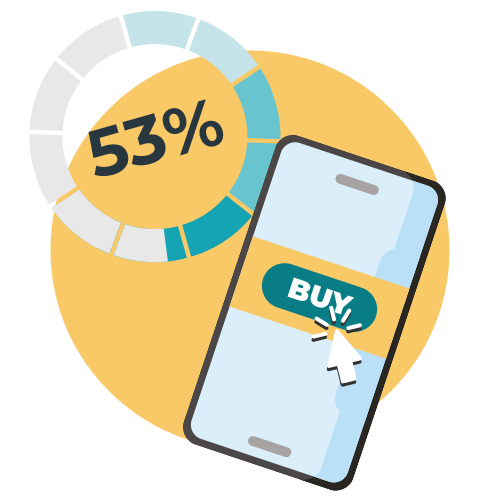 If your marketing team recently launched a specific campaign and wants deeper insight into how this strategy is performing compared to others, they can tie a unique virtual phone number to the initiative.
This makes it easier to track and potentially improve both marketing and sales strategies.
Even more, using these types of numbers also helps you keep track of the performance of your customer support agents.
This is absolutely necessary, as research from Grandview Research has found that customer experience management plays an important role in organizations solidifying their brand presence, improving consumer loyalty, and reducing the potential to lose customers.
While the biggest perks of having a virtual phone number is being equipped with the most state-of-the-art features, you should also look for traditional phone features in your plan, such as:
Top 10 Basic Phone Features
You Need for Your Business
Ensuring that your virtual phone system is equipped with all of these components, combined with the above-mentioned features, shows that your company is prepared, committed, and eager to grow.
But that's just the tip of the iceberg.
The benefits of a virtual phone number go beyond improving your company's daily operations — it can also help you cut down on costs.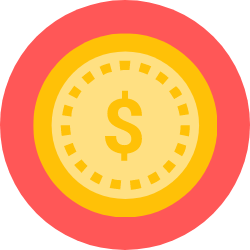 For starters, setting up and maintaining a virtual phone line is drastically cheaper than a traditional phone service. This is ideal for companies large and small looking to cut costs, particularly during a time when the economy is uncertain.
This is most important for small to medium-sized businesses, especially if you are a sole proprietor or an individual.
Think about this:
You just started your own independent law firm or real estate agency. You're looking at every corner of your business to see where you can cut down on expenses to help you down the path of profitability.
If you've ever been in this position, you have first-hand experience on how important it is for you to conserve your cash in order to be successful in the long run.
Knowing what factors make the most effective and efficient virtual phone number will help guide you when shopping around for a virtual phone line.
---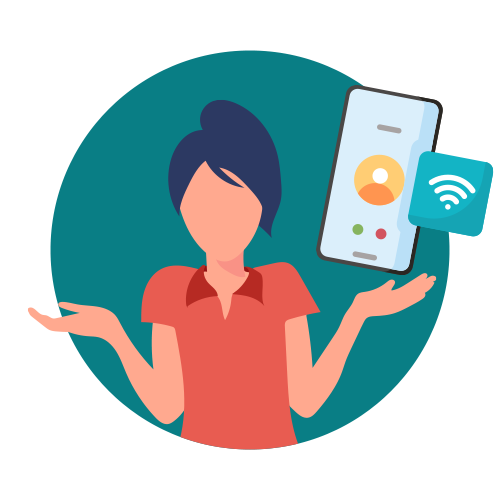 How To Get A Virtual Phone Number
Click Get A Number
Search by City, Area Code, or get a toll free number
Click Continue to checkout!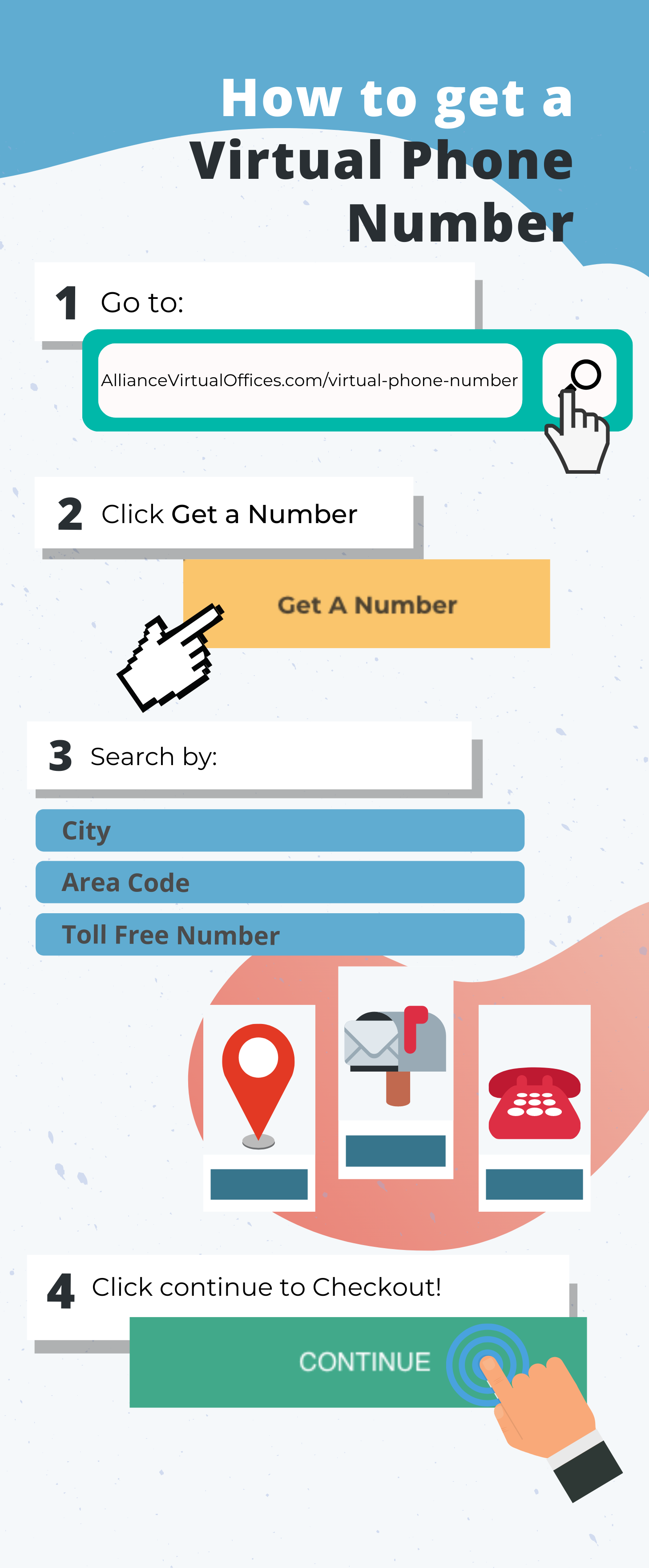 Have you settled on which phone features would most benefit your business? If your answer is yes, now you can start your search for the best company that will best service your needs.
You might be leaning towards getting one of the many free virtual phone numbers, which is enticing if your main priority is decreasing costs.
However, you run the risk of receiving little to no unique features that make having a virtual phone line so beneficial.
Once you've determined which features are of the utmost importance to your company's growth, then you can decide on a specific area code.
There are various reasons for having a certain area code. This can range from your company trying to tap into a new market, or being a digital nomad who is traveling overseas and wants to continue serving the city you are based in.
Whichever area code you choose, ensure that it is one that is beneficial to your company's bottom line and growth initiatives.
If for any reason you wish to keep a specific phone number, there is a method called "porting" that can help you convert an existing number to a virtual one. There are various companies that can help you accomplish this.
However, there are a few things to consider if you do decide to take the porting path:
There may be additional fees
Outstanding balances should not impact your porting ability
Canceling your old service before the transfer occurs can return your number to a pool of unassigned numbers for your old provider
Service may be disrupted during the transfer process due to having two active lines
Porting times can vary anywhere from a single day to three weeks
Having a temporary number in tow can be helpful in case the process takes longer than expected
While there are numerous businesses that you can get a decent virtual phone plan from, it's crucial to make sure that you know what tools will best serve your company in the most efficient cost effective way.
---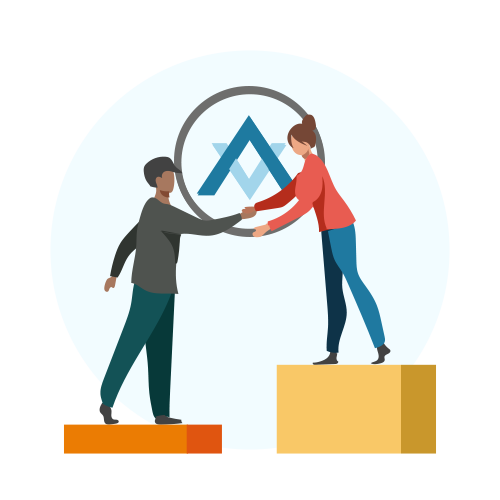 How Alliance Virtual Offices Can Help
If you've decided all of the most important features you want out of your virtual phone line, look no further than Alliance Virtual Offices.
Alliance provides some of the most diverse offers with our cloud-based VoIP phone system. Not only are our services secure, but you're guaranteed to be equipped with one of the most reliable virtual phone lines on the market.
With over 50 features, our plans make it easy for you to enhance your virtual or remote company.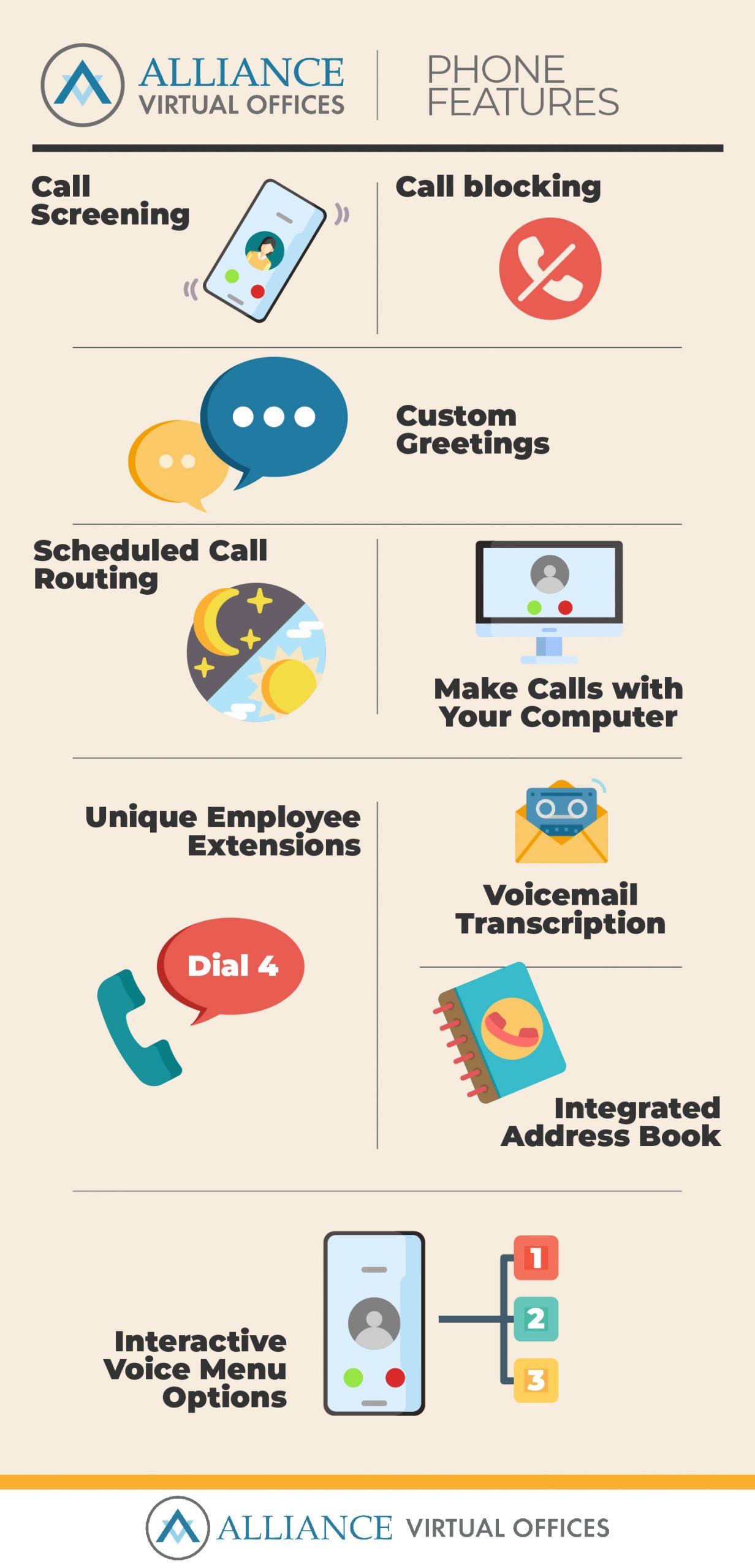 With an Alliance Virtual Phone plan, you can quickly equip your business with:
Call screening to identify incoming calls
---
With spam calls on the up rise, this feature allows you to easily identify unwanted calls and block them accordingly
---
Customer greetings to provide callers with basic information about your company
This can help answer simple questions a customer may have about your company, such as opening and closing times
---
Our plan comes with the ability route calls depending on your unique work schedule
For instance, calls received during business hours may receive a normal greeting, while calls after business hours will hear a different greeting informing the caller of opening times or alternative contact information
---
Make Calls with Your Computer
Using the Communicator app allows you to transform your computer into a phone, which can be handy when you need to make important calls hands-free
---
Unique Employee Extensions
Giving each of your workers an extension number ensures that calls are routed to the preferred team member, where they can set up their own unique voicemail and greeting
---
This allows you to read voicemail messages rather than having to listen to them
---
Interactive Voice Menu Options
Interactive Voice Response (IVR) menu options
---
This helps you keep track of your business contacts in one place, while also offering you the option to import new contacts from your email
And that's barely scratching the surface.
Alliance not only offers some of the most state-of-the-art virtual phone plans on the market, but you can also set up numerous other services to improve your business including a Live receptionist to enhance your customer service, daily operations, as well as your company's reputation.
Even more, you can also set up a virtual office with a recognizable virtual address that pairs perfectly with a new virtual phone number.
Using one of our virtual addresses and numbers allows your company to have the appearance of being located in some of the most iconic buildings in the world.
Want to build a reputation and network around Wall Street in New York City? There's a number and address for that with an Alliance Virtual Office plan.
Doing so can help you build business relationships in some of the most prestigious markets across the globe. You can even publish your business number on your website and 411 directories in local areas you are targeting.
When building up your business, cutting corners is not an option. That's why stepping into the world fully-equipped with our unique tools is absolutely essential for long-term growth.
---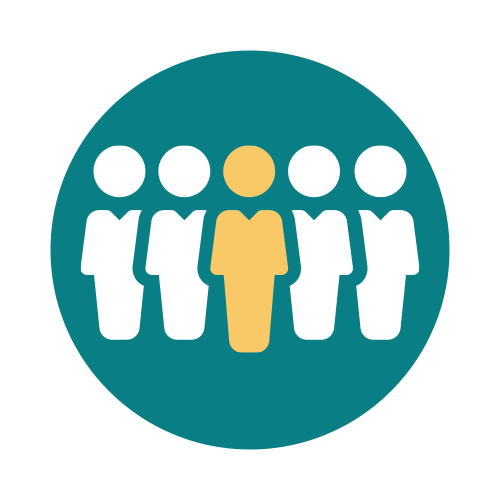 Ready To Stand Out From The Competition?
Starting and running your own business is a feat unlike any other.
Knowing the ins and outs of how to get your desired product or service out there is absolutely vital when it comes to climbing towards success.
So as you begin to gather all the necessary tools and resources you need to get started, do not forget about the services that could help give you a leg up from the competition.
Yes, a good marketing strategy, website layout, business structure, and more are all crucial to piquing the interest of potential clients and customers, but neglecting the smaller components of your operation can make or break your business.
Our culture has changed, and society wants to support companies with the human touch that often gets lost along the way. Outstanding customer service and communication skills are the identifying characteristics that make the ideal company now.
And the only way to fully master these skills is to have the tools that make this possible, including what some may say is old-school like a good phone number.
Having a virtual phone number is the extra touch companies need to show their audience that they are serious about serving their customers and want to do so in the most efficient way possible.
Not only does a virtual phone help you with your ability to stay ahead of your competition, it also shows your company's dedication to ensuring that they stay connected with their clients and customers.
Using a virtual phone number means it's easier for you to reroute calls, improve your marketing campaigns, cut down on costs, have a private network, and improve your reputation.
So what have you got to lose?
Check out what numbers are available for $30/mo.