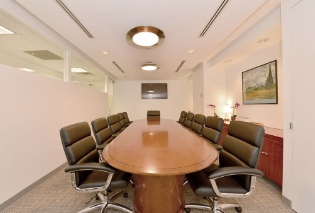 For virtual office users, startups, freelancers and travelling professionals, most of the time a home office works just fine.
But what happens when you need to meet a client? Or impress a potential investor?
You don't want them in your home – unless of course you're an interior designer living in a beautifully-kept showhome. A coffee shop might be the next best thing. It's free, and the coffee is good. But the downsides – wobbly tables, cramped corners, noisy chit-chat – don't exactly give the right impression.
So why not hire a meeting room for an hour or two?
It's professional, it's a real business environment, and it definitely sets the scene. No doubt your client will appreciate the effort you've gone to, and will recognise that you're serious about your business.
On the subject of cost, take a look at these examples (prices correct as of September 2014):
High-rise New York business center on 3rd Ave, meeting rooms starting from $65 per hour with Wi-Fi, phone access and AV equipment. A day office starts from just $11 per hour. More >
Smart business center in Boca Raton, with a shared lounge from $25 per hour or a private meeting room from $35 per hour. Day offices just $15 per hour. More >
Corporate offices in central Austin, TX with a large conference room from $43 per hour with phone usage, Wi-Fi, AV equipment, projector and parking. More >
That's just a flavour. Not likely to break the bank, right?
There are hundreds more meeting rooms for hire through the website, all of which can be booked online too. Here's a quick step-by-step of how to book your conference room online:
Choose your location and browse the meeting rooms available. Select your preferred meeting venue.
Enter your date and time frame.
Choose your style of meeting room and capacity. Add any additional services.
Click 'Submit'.
Fill in your contact details and billing information.
Once you have accepted the Terms of Service, click 'Continue'.
Your booking will be verified and payment processed. You'll receive a room reservation and payment confirmation.
You're all set! All that's left to do is attend the meeting and pay the remaining balance, if applicable.
If any problems are encountered with your booking, you will be notified within 24 hours from the point of booking.
Simple. And what's more, virtually all conference room venues offer a great cup of coffee too – so there really is no excuse to hold your next meeting in a coffee shop.
Goodbye wobbly tables, hello new business partnerships!