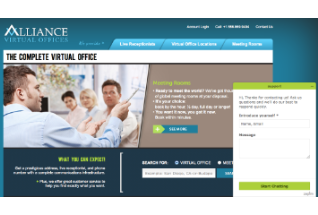 If you've paid a visit to the Alliance Virtual Offices website recently, you have probably been invited to chat with our customer service team.
During business hours, you'll notice a little pop-up box in the bottom right of your screen. Here you can type a question and engage in an online chat with one of our virtual office experts.
You can ask anything you want – within reason of course! We have a team of representatives who know the Alliance Virtual Offices services inside out, so you can challenge them to answer your virtual office questions.
Perhaps you're new to the concept of virtual offices and you want to understand how it all works. Maybe you've got a specific question about a building you've seen on our website, or you want help booking a meeting room.
Whatever your query – whether it's how to set up your VOIP phone system, how to pay with Bitcoin or how to send call answering instructions to your live receptionist – simply type in your question and we'll do the rest.
Why not give it a try?
And of course if you prefer to speak to the team direct, simply contact us toll free on +1 888.869.9494 or email services@alliancevirtualoffices.com. You can even drop us a message on Facebook.
We look forward to chatting with you!