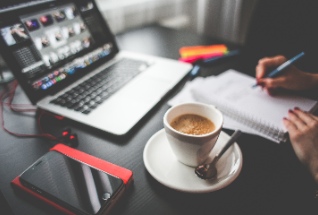 By 2020, it's estimated that 40% of the workforce will be freelancing.
That goes for full and part-time freelancers including contractors and moonlighters. With flexibility becoming the new currency and traditional job perks taking a back seat, these are exciting times for solopreneurs.
What's more, this burgeoning band of merry workers is uncovering more opportunities than ever before.
And we've got the stats to prove it. In 2014, Freelancers Union commissioned a survey alongside Elance-oDesk to find out more about America's freelancing community. In September 2014 it released its findings and, boy, were we shocked (in a really good way).
Here's the skinny:
34% of the American workforce – that's 53million people – are freelancing.
That's more than the total combined populations of 25 American states. Put another way, if those 53million freelancers all stood on each other's shoulders, they'd be taller than 10,000 Mt Everests.
The American freelancing workforce is adding $715billion to the economy every year.
32% of freelancers said they have seen demand for their services increase in the past year, compared to 15% who said they've seen it decrease.
43% of freelancers said they expect their income to increase in the coming year, while 11% expect a decrease.
77% said they make the same or more money than they did before they started freelancing.
36% of moonlighters, or part-time freelancers, have thought about quitting to freelance full-time. That equates to more than 4 million people.
80% of traditional workers said they would be willing to do additional freelance work if it was available. Only 20% said they wouldn't consider moonlighting.
There are barriers holding people back from freelancing. These include a lack of stable income (50%); difficulty finding work (47%); getting paid on time (31%); and paperwork and administrative overhead (13%).
However, technology is helping people find work. 65% said the Internet had made it easier to find freelance work; 42% have found and completed work entirely online; and 31% said they can find jobs online in less than 24 hours.
The research adds further proof to the belief that freelancing is growing fast. As more companies open up to the benefits of outsourcing and more skilled people go independent, the opportunities are set to expand.
Not to mention that this sector is pumping hundreds of billions of dollars into the U.S. economy. That amount of input can't go unnoticed, which suggests the freelancing community could be in for greater supportive measures over the coming years. This in itself could further attract more would-be independent workers into the fold.
Indeed, the report found that 77% of freelancers said the best days of the freelance job market are still ahead, and 65% believe freelancing is more respected than it was three years ago.
Plus, the research shows that younger workers are more likely to go freelance, which is only set to further expand the sector. 38% of Millennials (workers under 35) are freelancing, compared to 32% of those over 35.
All things considered, freelancing could well become a significant force in the future of global business. What do you think?
Check out the report in full here.
(Oh, and if working without walls sounds like your perfect career move, we've got a virtual workplace solution for that)