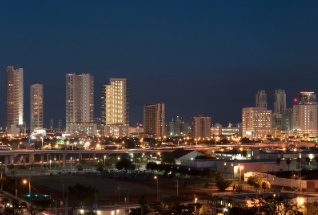 Whether you're really into art and are a dedicated, hardcore follower of all things that such an affinity would entail, Art Basel is a cool, relevant and generally interesting event held in a couple of different cities each year. It just so happens to be going full throttle as we speak, in the sexy southern city of Miami.
"Art Basel stages the world's premier Modern and contemporary art shows … Founded by gallerists in 1970, Art Basel has been a driving force in supporting the role that galleries play in the nurturing of artists, and the development and promotion of visual arts … Its worldwide reputation – earned over the last forty years – for showing work of the highest merit, and attracting the world's leading gallerists and collectors, has made Art Basel the place where the art world meets."
Where am I going with this? Please allow me to set the scene:
You're in Miami for the all too cool, hip and chic Art Basel event when you happen to meet and mingle with some potential clients/customers/partners/what have you. "It sure would be great if I had an ultra chic Miami business address to adorn my business card," you think to yourself. Turns out, wowing people with your Duluth office park address isn't quite so easy as one that's a hop, skip and jump from all the glitz and glitter that sunny Miami has to offer.
It just so happens that Alliance Virtual Offices has three killer Miami virtual office locations for your business pleasure, and we'd be hard-pressed not to encourage you to give them a look. Thanks to our massive collection of global virtual office locations, you can have that Miami address in literally no time flat. Just give us a call, and we'll have you impressing those new potential clients before you can say, "South Beach."