You can't always be in the office or sitting by the phone. So here's a definitive guide for Alliance Virtual Offices customers on how to set up a new voicemail greeting to welcome your callers.
First things first. Go to the Alliance Virtual Offices customer login section (need help doing this?)
Just for reference, you'll always find the 'Account Login' at the top of the page (pictured below). It's here that you can find your latest invoice, check your business details and make any adjustments to your account.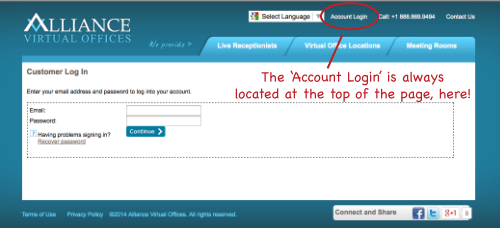 Here's a full explanation on how to login and find your account details.
Creating a Voicemail Greeting
Now you're all logged in, let's take a look at how to set up a voicemail greeting to welcome callers when you're out of the office.
In your Account, click 'My Virtual Phone'
Click the 'Greetings' button
On the 'Manage Greetings' page, click the orange 'Add a Greeting' button on the right hand side
You now have three options. Tick the appropriate radio button to record your greeting, as follows:
o   Text to Greeting: Type your message in the box provided, select a 'voice' from the dropdown list, and then test it by clicking the 'Preview' button. You can personalise it further by adding special sounds using the options provided.
o   Record from Phone: Record a personal message using your phone handset. Click the 'Click to Record a Greeting' button, enter your phone number and then click 'Call'. Begin recording after the prompt.
o   Upload New File: You can also record a personal message via other means, and save the file to your computer. Once you've done this, click the 'Choose File' button and then click 'Upload'.
Always preview your message before you save it to your system. To do this, click the 'Preview' button and ensure the volume is up on your PC so you can listen to the full message. Once you're happy with it, click 'Add' and then 'Save Greeting'.
You can add notes and assign a name to your greeting – such as 'My Voicemail'. You can also allocate it to a specific extension. Otherwise, leave the 'Restricted to' option set to 'All'.
Activate Your Greeting
Now that you have recorded a new voicemail greeting, make sure it's switched on and attached to the appropriate phoneline or extension:
In your Account, click 'My Virtual Phone'
Click the 'Users & Extensions' button
Find your extension, and then select the 'Edit Settings' button (on the right hand side)
Scroll down to the 'Voicemail' section and ensure the 'Status' is set to 'On'
If you wish to use a message you have already saved, select 'Standard Greeting' and then choose the nickname you set previously (eg. 'My Voicemail')
You may wish to include a prompt for callers to leave a message, in which case select the option to 'Play this message after my greeting'
From this page, you can choose whether or not to activate the Voicemail Transcription to text service, and you can also specify how you receive notifications of new voicemail messages – either by email or text message (SMS).
Take a look at all of these options and again, always test the service yourself once you've activated it.
As always, if you need further help with setting a voicemail greeting, just get in touch! Our customer support team is available throughout the working week and we're always happy to help.