---
---
Q: How much does a business answering service cost?
A: It's a lot cheaper than you'd think if you choose the right plan for your small business. Usually, the cost depends on how many minutes your business needs, with prices ranging between $125 for 50 minutes to $550+ for 500 minutes.
---
Let's break down 5 of the best answering services available by price and features.
You'll quickly learn…
Many small business owners typically hire a call answering service for their business needs, but there is a much better solution for you: live receptionists.
Though many believe live receptionists are pricier than call answering services, this is not true.
Live receptionists offer much more value for money and can improve a company's customer service experience, therefore boosting sales and customer loyalty.
---
Get Prices: Answering Services for Small Businesses
---

Answering Services for Small Businesses – an Overview
Good news.
You don't need to spend $1,000+ a month to deliver exceptional customer service for your small business.
Seriously…
Even if you're hiring an outsourced call answering service.
As a business owner, you already know that exceptional customer service is the cornerstone of any successful business, regardless of industry.
However!
As a business owner, you likely also know that time constraints and a full schedule means customer service can slip, or even fall by the wayside.
This is why you most likely looked into answering services for small businesses when you launched your company.
While answering services for small businesses are convenient, they don't really deliver much value for money.
This is especially true when businesses looked into alternative options, like live receptionist services.
Bear with me here.
While on the surface a live receptionist may seem pricier…
That really isn't the case.
Our table in the next section will illustrate this much better than anyone can articulate.
---
Live Receptionists vs Call Answering
Before we break down the price and features of answering services for small businesses, let's take a look at the difference between a live receptionist vs call answering.
A call answering service basically answers your calls. But it doesn't really offer much more than that.
Call answering services are flat rate answering service that is typically automated answering service. From personal experiences, most people would agree that automated answering actually decreases customer satisfaction.
When you look at call answering service pricing, you realize that these types of answering services for small businesses are cheap, but they don't deliver value.
---
Related: Compare Prices | Answering Services for Small Businesses
---
Granted, some services may offer recording and call forwarding, but these features don't really do much for an exceptional customer service experience.
A live receptionist, on the other hand, does much more than answer your calls.
Live receptionists can be a great tool to improve your customer service experience for the following reasons:
The service can be personalized and customized to your brand voice.
They can help you screen callers and capture leads.
They often offer access to local and international phone numbers.
They can book appointments.
They can answer customer queries.
They can place orders.
When it comes to getting more bang for your buck for virtual answering services, the choice is simple:
Live receptionists win.
This service typically includes a virtual assistant that is trained to perform a specialty answering service. Beyond phone answering, live receptionists serve as a point of contact between your customers and your business.
But, there are plenty of live receptionist services out there, so how do you pick the right one?
More importantly
How do you pick a telephone answering service that won't break the bank?
That's where our answering services for small businesses' price and features breakdown table comes in handy.
Our table compares 5 top companies that offer the best answering services for small businesses.
---
Answering Services for Small Businesses – Price and Features Breakdown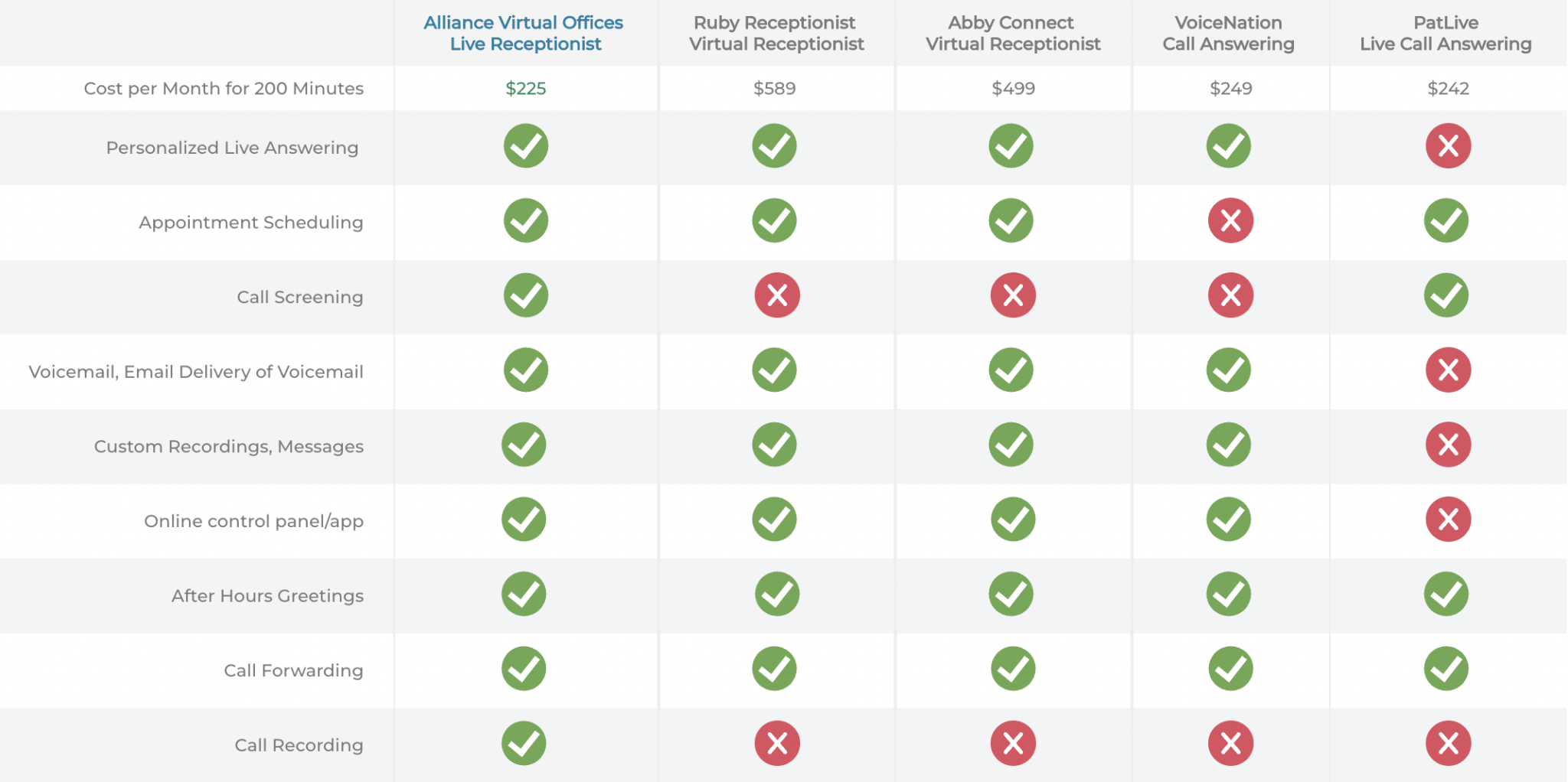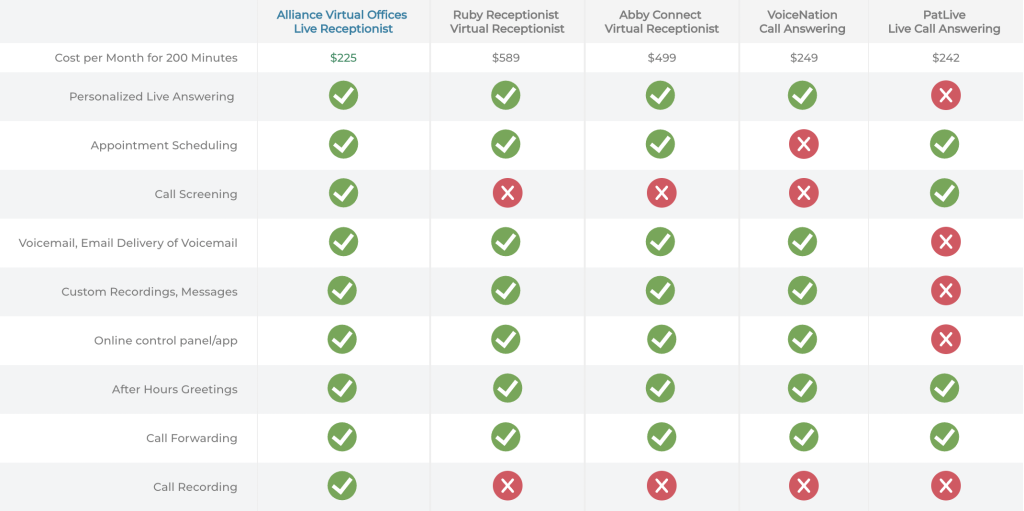 Why let an automated machine answer your calls when you can have a live receptionist greeting customers around the clock?
---
The Bottom Line
As you can see, live receptionists are not only affordable but also a very valuable answering service solution for small businesses.
Our live receptionist services can help your business succeed by capturing leads, improving your customer service experience, and enhancing your business image. All of these things translate into more sales, customer satisfaction, and loyalty, and increased revenue.
You can learn more about our live receptionist services, features, and plans here.
---
---
Related: View Virtual Receptionist Plans & Pricing
---
Exceptional customer service is the cornerstone of any successful business, regardless of industry.
However, if you're a busy business owner or entrepreneur, time constraints and a full schedule mean customer service can slip, or even fall by the wayside.
Not all businesses – especially those operating on a lean budget – can afford to employ staff dedicated to the customer cause. It's more likely that you're managing this area of the business yourself; juggling it together with all the other aspects of your business.
---
How much is a live receptionist?
LIVE RECEPTIONIST 50
---
$95

/ month
LIVE RECEPTIONIST 100
---
$145

/ month
LIVE RECEPTIONIST 200
---
$225 / month
The cost of your Live Receptionist will depend on a number of factors, including how many minutes of support you decide to pay for each month.
If it's your first foray into the world of Live Receptionists and virtual offices, you might decide to start with the minimum number of answering minutes available which is 50.
As the inquiries start to flood in and your customer base grows, you may scale up to 200 minutes which comes in at around. You might then increase this to 500 minutes after a year or so.
---
The fact is, the level of customer service you provide has a huge impact on how people interact with your brand and ultimately affects your bottom line.
---

According to a Microsoft report, 96% of people say customer service is an important factor in their choice of loyalty to a brand. Similarly, research by Accenture reveals that 33% of people who abandoned a business relationship last year did so because personalization was lacking.
---
If these statistics make you panic because you find you simply don't have time to answer every single call and inquiry day in, day out, you can rest assured: help is at hand.
A Live Receptionist might be just the thing you need. Expert organizers and multitaskers, they are highly skilled in answering calls, scheduling appointments, and lead capturing.
Oh, and all at a fraction of the cost of an in-house employee.
"Since using a Live Receptionist I've been able to focus more intently on other areas of my business, safe in the knowledge that no call will go unanswered!"
We want to help you differentiate all the services that are available, and many companies have overlapping names for different services. But we want to clear the air so you can make appropriate decisions for your company.
First, we will start by addressing the differences between call answering services, Live Receptionist, and service and support call center services.
---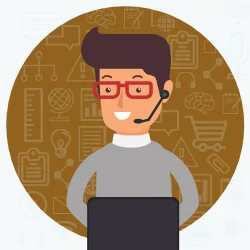 What is a Live Receptionist?
A Live Receptionist (sometimes referred to as a Virtual Receptionist) is a remote worker who carries out many of the duties an 'in-house' receptionist would.
They provide a more comprehensive and personal service than a simple phone answering service, and in some cases can provide more specialist industry-specific support.
Your Live Receptionist will make an effort to get to know and understand your business; they will learn how best to communicate with your customer, the tone of voice they should adopt when answering calls on your business' behalf and the language associated with your industry or specialism.
What does a live receptionist do?
Call Answering in your Brand's Image
Live Receptionists handle more complex call flows than a Call Answering Service. It's not just about answering the phone either. Operators answer calls in the name of your business, making the interaction more personal and 'on brand'. Forwarding calls on to you and taking messages also fall within their remit.
The amount of support your Live Receptionist will dedicate to your business really depends on how many answering minutes you think you'll need throughout the month. You might decide to start with 50 Live Answering minutes and add more as your business grows.
Schedule appointments
The fact that many businesses only operate on weekdays between 8 am and 5 pm means generally, customers are only able to book appointments over the phone 27% of the time. And even less if you're unable to get to the phone at any point during those hours.
Companies across a range of sectors, including medical, law, and finance, find the appointment scheduling service really useful. The ability to schedule appointments 24/7 significantly reduces the risk of your client going to a competitor.
Although virtual receptionist hours of availability vary from company to company, Alliance Virtual offers friendly and professional Live Receptionists during prime business hours of 8 am to 8 pm Eastern Standard time; this translates to 5 am – 5 pm PST and 7 am – 7 pm CST.
The process itself is transparent and streamlined.
You'll have access to a scheduling app that enables you to keep track of your calendar and receive handy notifications like confirmations and reminders throughout the day.
Order taking
In a content-fueled world such as ours, people expect to be able to place an order any time of the day or night through a number of channels. Although many people prefer to place an order online nowadays, there is still a demand for telephone transactions.

According to Hubspot, 41.2% of salespeople said their phone is the most effective sales tool at their disposal and that almost six in 10 buyers want to discuss pricing on the first call. However, Forbes reveals that poor customer service, including not answering calls, is costing businesses more than $75 billion a year.
A Live Receptionist will ensure no opportunity is missed by enabling your customers to place orders over the phone throughout the day – or night (hours vary by service provider), if you choose.
Friendly customer service
Above all, a Live Receptionist's job is to provide excellent customer service. Although some training is necessary, they do not require extensive training in product knowledge or technical know-how.
Their main purpose is to act as a friendly and professional point of initial contact for your business.
If you are a larger business looking for people to support customers on a more comprehensive level, a service and support call center might be a more appropriate option.
---
Call Answering Services
Call answering, call forwarding, and taking messages
In a nutshell, a call answering service is designed to handle high volumes of calls on your business's behalf. Thus, it is slightly less 'personal' than the Live Receptionist option.
Operators assigned to your business will gather key bits of information from the caller including details like name, phone number and what their query is about.
Any messages will be relayed to you shortly afterward via email, app, answerphone message or any other method of your choosing.
---
Service and Support Call Center
Complex calls
Call centers are scripted environments in which operators are trained to answer a combination of questions. Unlike a small business answering service or Live Receptionist, a call center is typically suited to larger enterprises that require a service that can handle all or most of their incoming sales or support calls.
As such, operators in a support call center require further training and a 360° understanding of a company's products and services. In this way, they are more akin to full-time employees.
The calls they take are usually more complex and longer in duration (typically lasting at least five minutes). In a call center, the operator will usually stay on the line until the query is resolved.
---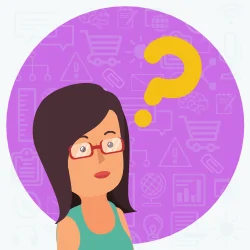 How do Live Receptionist Services Work?
Onboarding a Live Receptionist should be fairly fast and easy.
Although they are typically trained through their agency or employer, the more information and support you give them in the early days the better. This way, they'll quickly develop a good understanding of what you do and be able to provide a better service.
With this in mind, remember to keep them in the loop when it comes to any changes within the company. Staff absences and departures, tweaks to protocol – all of these things are important for your remote receptionist to know.
Once you've established a working relationship with them, think about which internal systems you want to grant them access to.
Remember: the whole point of a Live Receptionist is to take some of the weight off your own workload. These people are professionals who are highly skilled in customer service and you can trust them to get on with the job. As with any full-time employee, positive feedback goes a long way, so give praise where it's due. And don't be afraid to delegate!
Aim to make your Live Receptionist feel like part of your team by making time for face-to-face catch-ups via Skype and updating them regularly over email or on channels like Slack.
---
---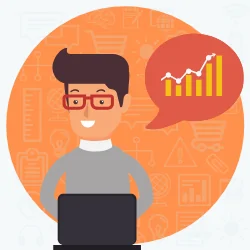 Benefits of a Live Receptionist
A Live Receptionist's role involves so much more than answering calls on your behalf. The benefits they bring to a business are numerous and very reasonably priced. Live Receptionists are becoming more popular as people look for flexible business solutions. But what does a live receptionist do?
Here are a few of the key benefits of a Live Receptionist:
Instant Brand Credibility and Trustworthiness

Establishes a Professional Business Presence

Dedicated Calendar Management and Appointment Scheduling

Boosts Lead Capturing and Qualification

Gives You a Time-Saving Advantage
---
Increased Credibility and a Friendly, Professional Presence
In a world where first impressions count (opinions are formed within seven seconds of the first interaction), it's vital that businesses come across as professional — especially at the first point of contact.
Professionalism can be communicated in many ways: through your website, through client reviews, but also through the way in which your business deals with customer queries.
It's not just about telephone manners either. It also has to do with how quickly you respond to inquiries.
As a business owner, you might not have time to deliver this level of service or respond quickly because your attention is focused on other areas of the business.
This is where a telephone answering service is really valuable.
Operators act as the 'face' of your business, communicating with clients in a professional and branded way. Having a dedicated person at the end of the line helps to build trust and encourages effective communication.
---
More Time to Work On Your Business, less time scheduling appointments
Seemingly simple tasks like managing your calendar can prove troublesome when you're a busy business owner; you end up catching up in spare moments or worse still, missing meetings altogether. With a Live Receptionist, you don't have to worry about double booking or accidentally skipping appointments because they will manage your scheduling on your behalf.
Your Live Receptionist will typically integrate with your current calendar app or help you set up a new solution tailored to your requirements. As they get to know your business, they will be able to highlight important events and send reminders.
---
Increased Revenue through Hands-free Lead Capturing
Live Receptionists can be hugely beneficial from an ROI perspective too. Not only can they save you time in administrative tasks, they can inadvertently end up making you money too.
Capturing leads quickly is what drives a business' growth, leading to increased customer acquisition and higher revenue. One of a Live Receptionist's responsibilities is to capture leads when you're too busy to do so yourself.
After a short while of working with you and with the right knowledge and training, they can even qualify leads before forwarding them to the appropriate person.
Research by Harvard Business Review indicates that many businesses don't respond to initial inquiries quickly enough and as a result, the customer ends up seeking a solution elsewhere. They found that companies who responded to a lead within an hour were seven times as likely to qualify it.
Enlisting the help of a Live Receptionist can ensure that no calls go to voicemail, increasing the chances of initial inquiries evolving into fully-fledged customers.
---
Adds time back to your day so you can focus on what matters
It's a pretty obvious one, but Live Receptionists save you a lot of time; time that would otherwise be spent on phone calls, calendar management, and other admin tasks. By nature, operators are incredibly efficient and organized.
Safe in the knowledge that all of these things are being cared for frees you up to be able to focus on growing your business.
They're just great people!
We can't vouch for everyone of course, but most Live Receptionists really are great assets to any business. They tend to strike the right balance between professionalism and friendliness and just focus on getting the job done.
Because most of them work for multiple companies at any one time, Live Receptionists tend to be entrepreneurial-minded and their ability to handle multiple tasks at once second to none.
"I don't know where I'd be without my Live Receptionist. Actually, I do — probably in some job I despise because my business failed due to lack of time and resources!"
---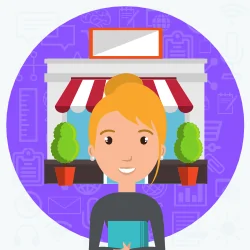 How do I know I need a live receptionist?
Some businesses might only need to utilize the services of a Live Receptionist on a part-time basis, whereas others might benefit from hiring one on a more full-time basis.
---
Take a look at the 10 questions below. If you answer 'yes' to at least one of them, it's highly likely that you could benefit from having a Live Receptionist for at least a couple of hours each month.
---
1. Are you constantly having to delete old messages because voicemail on your cell phone, landline, or VoIP phone is constantly full?
If yes, then a Live Receptionist who will make sure that every call is answered quickly could be just what you need. No more time wasted trying to decipher voicemail messages – hurrah!
2. Are you losing sales or not connecting with prospects because you miss that important call?
A tragic situation for any entrepreneur to be in. Live Receptionists can respond to inquiries speedily so that potential customers become loyal customers in no time.
3. Do you have to ignore calls because you're always in meetings, on calls or otherwise preoccupied?
Ignoring calls is one of the worst things a growing business can do, and only leads to disgruntled clients and lost leads. Live Receptionists are trained to handle calls on your behalf when you're too busy to get to the phone.
4. Do you get lots of calls from telemarketers, solicitors and robocallers? Do they waste your time?
Never fear – a Live Receptionist will (politely) tell them to go away on your behalf!
5. Are you often in a position where it's difficult to maintain the professionalism you desire when answering calls?
If you find yourself answering calls in a bit of a fluster, pass the responsibility onto a Live Receptionist. Professional to the core, they're equipped to handle anything and everything.
6. Are you frequently on a subway, in your car or another noisy area when you answer your phone?
It's a situation we all find ourselves in from time to time and it's far from ideal. Live Receptionists can dedicate their full attention to your clients and make sure nobody slips through the net.
7. Are you often distracted when you answer the phone, making it difficult to respond with the professionalism you desire?
Focus on one thing at a time and pass the job of handling calls to someone else (i.e. a Live Receptionist).
8. Do you have a desire to make sure clients see your company as a professional and well-established organization?
Even a business of one can come across as large and established with the right person at the end of the phone.
9. Are you spending so much time answering your phone that it distracts you from getting actual work done?
This is a common bugbear for startups and solopreneurs around the world. Place your trust in a Live Receptionist who can handle that side of the business for you.
10. Do you hate talking to people on the phone?
Some people just aren't made for talking on the phone. Live Receptionists, on the other hand, were born to do it — their telephone manner is second to none.
---
Examples of how specific industries use Live Receptionists
Compared to a simple call answering service, a Live Receptionist really gets to know the ins and outs of how your business operates, providing a more bespoke service.
Many virtual assistants are trained to support businesses across a range of industries, but in some cases they provide a specialty answering service. The onboarding process is very similar. As with mainstream Live Receptionists, the more information you provide them with from the start, the better.
---
Medical
An example of an industry that might require more specialist support is the medical field. For example, in this context, a Live Receptionist might need to provide assistance when a patient calls in the middle of the night.
In this situation, the operator might be trained to assess the severity of callers' problems and decide what action to take: connecting them with their doctor or leaving a message with the doctor to follow up the next day, for instance.
Live Receptionists specializing in the medical field might also be tasked with conducting follow-up calls with patients, including customer satisfaction calls or post-discharge calls. Clearly, the call center all needs to be HIPPA compliant.
---
Legal and Professional services
Many law firms, real estate businesses, and insurance companies use Live Receptionists to assist with the day-to-day running of their operations.
Response time, contactability, and communication are vital to the success of these kinds of businesses, and Live Receptionists provide all three of these to a consistently high standard.
---
Service-based companies
This includes IT companies, electricians, plumbers, and other contractors who, quite often, operate on a 24/7 basis. Many Live Receptionist services offer a 24-hour dispatch answering service designed specifically for companies of this kind.
Lead capture, call screening, and forwarding messages to the person on call are all part of the package. Ultimately, the business is in control of the process, including the methods used to screen and forward calls.
---
Manufacturing
Manufacturing is another industry where Live Receptionists come in handy. Agents will follow the business' protocol and extend their support to customers a little further by answering FAQs.
Of course, they will always pass queries that require an expert response to an appropriate member of the business's team.
---
Key takeaways
Every Live Receptionist Service plan is flexible and you can add or subtract minutes as your requirements shift and change.
Live Receptionists are expertly trained to communicate with your customers in a professional and friendly manner.
It's not all about answering and forwarding calls: Live Receptionists can capture leads and manage your calendar too.
When you factor in the money saved and customers accrued, Live Receptionists can be well worth the investment, which in itself is relatively small.
Most Live Receptionists work across a range of industries while some specialize in specific areas, e.g. medical.
We hope this guide to Live Receptionists has provided you with an in-depth understanding of the services they offer and how they can benefit your business as it grows.
From enabling you to focus on other areas to giving your business a professional edge, this service can have a significant impact — not just on the day-to-day running of your business, but its short and long-term growth and ROI.