---
---
Q: What should I do if I get laid off? What steps should I take to find a new position?
A: Getting laid off is frightening and may feel like the end of the world, but this isn't the case. First, you should review your severance package, if applicable, and update your LinkedIn and resume.
---
Getting laid off is a frightening feeling. Learning that you're losing your primary income source is scary, even more so if you don't have additional income sources if you're the primary caregiver for your family.
In layoff situations, it's easy to feel like you're the only person dealing with losing your job, even if you fundamentally know that isn't the case. Despite this, it's important to recognize that job cuts happen everywhere.
Just in 2023, Tyson Foods, Lyft, Whole Foods, and BuzzFeed have announced layoffs. Learning what to do when you get laid off is key to taking a layoff on the chin and using the experience to help you grow and professionally mature.
Sure, countless websites have guides to dealing with the emotional fallout of being laid off, but realistically, every individual's situation is different.
The layoff you're dealing with may look different from the layoff another person is dealing with, and getting information on how exactly they dealt with their situation may not help as much as you want it to.
In this article, we'll be taking a different route.
Instead of teaching how to deal with the emotional fallout of being laid off, we will show you what to do when you get laid off to help you bounce back into a more well-rounded professional.
First, we'll explore whether a layoff means your job is gone forever, then tackle how to find a new job. Next, we'll look at an alternative to traditional job hunting, and finally, we'll explain how being laid off can be a positive situation if you choose to look at the situation the right way.
So, if you're nearing retirement and wondering what to do when you get laid off at 50 or what to do when you get laid off at 60, you're in the right place. Alternatively, if you're just in a position where your company downsized and want a broad explanation of what to do when you get laid off from work, you're in the right place too.
Keep reading for more helpful information on layoffs and moving forward!
---
---
Does a layoff mean your job is gone forever?
Some entrepreneurs are under the impression that a layoff means your job is gone forever, but in some cases, this simply isn't the case.
Make sure you discuss with your former employer whether or not your job is still on the table, but regardless of their answer, understand that there's no point in waiting around for the company to reverse its decision.
Rather than waiting for things to change, make changes yourself.
Information that may help you prepare for future recessions and economic downturns is understanding the difference between inflation and a recession.
---
Read more: Inflation vs. Recession: What's the Difference?
---
Some individuals see high inflation, assume a recession is imminent, and start planning for an economic recession, only to miss out on further economic growth.
While inflation may lead to a recession, inflation itself isn't a recession. Understanding these small distinctions may help you understand the ebbs and flows of the market better, which will help you prepare for future downturns more effectively.
Essentially, layoffs do not necessarily mean that your job is gone forever. While a layoff typically involves a temporary reduction or elimination of jobs due to various reasons, such as financial difficulties or restructuring, it does not necessarily imply that the job will never exist again.
Nevertheless, it's important to use your time wisely and move on when prudent.
Below, we've put together a list of situations where a layoff may not necessarily mean a job has been permanently dissolved.
Specific circumstances
Skilled employees
New roles within the company
Never guaranteed
Specific circumstances
Layoffs are often a result of specific circumstances or challenges a company faces, such as economic downturns or changes in market conditions.
Once the company's situation improves or stabilizes, there may be opportunities for rehiring or reassigning previously laid-off employees.
Unfortunately, waiting for specific circumstances to change can take days or years, depending on the circumstances themselves.
Remember, countless investors from the 1990s are waiting for a Beanie Baby resurgence. Just because something saw a lot of attention and value before does not mean it will experience the same conditions again.
It's important to view these situations through an objective lens. If you had an extremely well-paid position that required little work and never felt like work, there's likely a reason the position was dissolved.
Skilled employees
Companies may rehire laid-off employees if they possess valuable skills, experience, or knowledge that would benefit the organization.
In such cases, laid-off employees may be given priority consideration when new positions become available.
For example, if you've been heading a successful PR department that suffered cuts, you may be in a position to be quickly rehired as soon as the company's external circumstances change.
---
Read more: Is PR for Small Business the Answer to a Recession?
---
If you're running an integral part of your employer's operations, you likely won't have to worry about layoffs. If you do wind up being laid off, you stand a better chance of being rehired once your employer realizes the work they no longer have access to.
New roles within the company
While the exact circumstances vary, some companies may provide options for laid-off employees to apply for different roles within the organization. This allows them to explore alternative positions or departments with openings that align with their skills and interests.
In some cases, this may be a demotion.
Remember, you don't owe your employer anything. If the restructuring involves taking a job that pays less and is objectively worse or outside your wheelhouse, don't be scared to strike out on your own.
A different position within the company doesn't mean you're guaranteed to receive your old position back when things turn around.
Never guaranteed
It's important to note that the potential for rehiring or job reinstatement after a layoff depends on several factors, including the company's recovery and the specific job market conditions.
However, keeping in touch with former employers, maintaining professional networks, and actively seeking new opportunities can increase the chances of finding employment, either with the same company or elsewhere.
It's easier to burn bridges than it is to build them. If you've cultivated a healthy relationship with your employer, don't let a layoff destroy that relationship.
Even if you never return to that employer for work again, you never know what connections and networking opportunities you can glean from connections you previously built.
How to find a new job
Once you've explored your severance package and determined whether or not you have a future with your former employer, it's time to learn how to find a new job.
This step doesn't change, regardless of where you are. Learning what to do when you get laid off in California is the same as learning what to do when you get laid off in Canada.
The most important step is moving forward.
Whether moving forward means finding a new job or striking out on your own, the important thing is ensuring that you go with something built to withstand economic recessions.
---
Read more: The Complete Guide to Making Your Business Recession Proof
---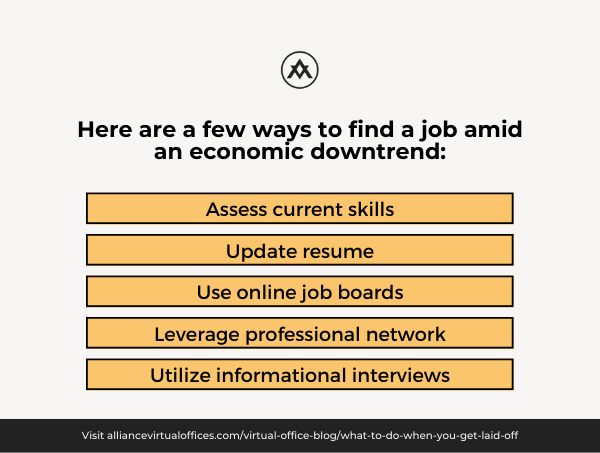 Below, we've explained how to find a job amid an economic downtrend. With this information, you can use a layoff to your advantage.
Assess current skills
Update resume
Use online job boards
Leverage professional network
Utilize informational interviews
Assess current skills
After you've experienced job loss and are trying to understand what to do when you get laid off, you must first assess your current applicable skills.
Begin by assessing skills, experience, and interests to identify the type of job or industry you'd like to pursue.
Consider your strengths, passion, and long-term career goals to narrow down your search and focus on positions that align with your aspirations.
This is an important step because all too often, individuals neglect their current skills to stay in an industry they hate because they're comfortable doing so.
Let your layoff help you explore other avenues. Take the time to truly understand what experience you possess that could be turned into marketable skills.
If you've been working in finance for years despite knowing that it's not something you're passionate about on good days, and on bad days it's something you despise, maybe you should think about other options before rushing back into a position with a new bank.
If you're good at crafts, consider selling crafts through an online store. If you're good at budgeting, consider starting a side hustle where you do budget consulting.
These may sound like paltry ways to make income, but the reality is that starting a side hustle and focusing on bringing in revenue may wind up more lucrative than any position you could've landed.
You'll never know unless you try.
Update resume
Next, you need to ensure that you look good for future employers.
Update and tailor your resume and cover letter to highlight relevant qualifications and experiences for each job application.
Customize your application materials to showcase how your skills and background make you a strong fit for the specific role and company you are applying to.
You don't need to explain a layoff on your resume, but you do need to explain that your time at a previous company has ended. In your interview, feel free to be candid with your explanation about your layoff, but don't feel obligated to share too much information on your resume itself.
Use online job boards
American workers have more tools at their disposal than ever before. Search for job openings by utilizing job boards, professional networking platforms, and company websites.
Create profiles on platforms like LinkedIn to connect with professionals in your desired field, join industry-specific groups, and stay updated on industry trends and job opportunities.
There are more opportunities than ever, and these job boards give you instant access to positions all around the world.
If you want something remote, you can find it via online job boards. If you want something in-person, these job boards have plenty of those options too.
Leverage professional network
Remember, building connections takes more time than destroying them.
Knowing what to do when you get laid off is often as simple as taking advantage of connections you've made in the past and leveraging your network to find better-paying and better-fitted positions.
Leverage your professional network by reaching out to colleagues, friends, and mentors who may have connections or insights into job openings.
Attend industry events, job fairs, and networking meetups to expand your network and make valuable connections that can lead to job opportunities.
This is another reason why it's so important to not allow your layoff to influence you to burn bridges you've created with your former employer. While you may not have access to your old job, the connections you built throughout your tenure with the company may provide you with unexpected networking opportunities.
Utilize informational interviews
Don't underestimate the power of informational interviews.
Request meetings with professionals working in your target industry or at companies of interest.
These conversations can provide valuable insights, and advice, and potentially uncover unadvertised job openings. Building relationships with industry insiders can give you an edge in your job search.
Much like the traditional stock market, an edge is vitally important to your success.
Is there an alternative to traditional job hunting?
If working for your previous employer has you feeling like you'd never like to have another traditional job again, you live in the best age for nontraditional work imaginable, so your options are endless.
Whether it's freelancing or starting a business, countless alternatives to traditional job hunting are infinitely more rewarding long term.
Identify skills
Research market demand
Create a business plan
Build a strong online presence
Network
Use a Virtual Office
Identify skills
Just like you would do if you were looking for a new position, the first step is identifying your applicable skills and categorizing them based on whether they can help you make a living or not.
Identify your skills, expertise, and passion to determine if freelancing or starting your own business aligns with your strengths and interests.
Assess whether you have the self-motivation, discipline, and entrepreneurial mindset required to work independently and handle the responsibilities of managing a venture yourself.
It doesn't matter what skills are necessary; the most important factors are whether they can help you provide for yourself and whether you like them more than your recent employment.
The internet is awash with content creators being paid for making noises on camera or using viewer requests to do ASMR. With the right framing, there is no such thing as a skill that isn't marketable.
Research market demand
Research the market demand for your skills or business idea. Identify potential clients, target audiences, or niche markets that could benefit from your services or products.
Understanding the market landscape will help you position yourself or your business effectively and identify potential growth opportunities.
The more research you conduct, the better off you'll be. You want as much information as possible before you strike out as a freelancer or launch a business.
With market research, you can see what's selling, where it's selling, and for how much. You can then use these trends to determine how to sell your offerings to specific audiences.
Create a business plan
Create a business plan or freelancing strategy that outlines your goals, target market, pricing structure, marketing strategies, and financial projections.
A well-thought-out plan will provide you with a roadmap to follow and help you stay focused on your objectives.
Remember, the more detailed your business plan, the better off you are. Essentially, the more scenarios you prepare for, the less surprised you'll ever be by a given situation.
Build a strong online presence
The next step is building a strong online presence. This goes for online businesses and freelancers alike.
Build a strong online presence to showcase your skills, services, or products. Develop a professional website or portfolio that highlights your expertise and attracts potential clients or customers.
Utilize social media platforms and online marketplaces relevant to your industry to promote your offerings and engage with your target audience.
Engaging with your target audience is an underrated and undervalued aspect of this process.
The more you interact with your target audience, the less they exist as your audience, and the more they become a community of fans.
With fans, you have more leeway. You can make mistakes, learn as you go, and interact with these individuals as you go through this process.
Fans are more likely to speak about your brand or services to their friends and family, and fans are much easier to convert into lifelong customers than traditional consumers.
Take the time and effort to build a real community for your brand and you'll never have to fret about marketing again.
Network
Network and establish relationships within your industry or target market.
Attend industry events, join professional associations, and engage in online communities to connect with like-minded individuals, potential clients, or mentors who can provide guidance and support.
Collaborating and building a strong network can lead to referrals and future business opportunities.
Use a Virtual Office
Utilizing one of Alliance's Virtual Offices is a great decision for both new business owners and freelancers.
---
Read more: How to Set Up a Virtual Business Address for LLC
---
Alliance can help you secure an LLC for your new venture and provide countless amenities designed to make your life easier.
Whether it's meeting rooms or coworking spaces to break the monotony of working from home or to exude professionality in meetings, a Live Receptionist to help you focus on more pressing matters, or mail forwarding so you can enjoy traveling while you get your business started, the options are endless.
It doesn't matter if you're freelancing or starting a business – take advantage of the tools you have access to.
Why being laid off is good if properly framed
Transitioning into freelancing or starting your own business offers an alternative to traditional employment.
It requires assessing your skills, researching the market, and creating a solid plan to position yourself or your business effectively.
Building an online presence, networking, and maintaining a professional network are crucial steps to attract clients, customers, and support for long-term success.
Although getting laid off may feel like a wholly negative experience, the right mindset can help you view the situation in a positive light.
Instead of feeling like you lost your job, think about the new opportunities you've been afforded. So many individuals will stay at jobs they hate perpetually because they're frightened of living without an easy paycheck.
Sure, the money may be difficult initially, and you might not succeed, but at least you tried.
If you look at your layoff like a door opening rather than closing, you can utilize the information above to help you find a new career you're genuinely excited about.
---
Further reading:
---
Alliance Virtual Offices offers countless services for established entrepreneurs, new business owners, and anyone else looking to take advantage of the online market.
If you're confused about what to do when you get laid off, you aren't alone.
Don't stress yourself out trying to rectify what's likely just an internal issue for your company.
Instead, try and think about why being laid off is good.
Contact us for more information about what to do when you get laid off and be sure to check our Virtual Office Blog for more relevant information about layoffs.