---
---
Q: What makes a business recession-proof?
A: Flexibility and an ability to "roll with the punches" is paramount when guiding your business through a recession. The key thing to remember is that recessions bring change. Adopt the right recession-proof strategy, and take advantage of new opportunities to grow during a recession instead of going under.
---
In 2020, The World Bank predicted that Covid-19 would plunge the global economy into the worst recession since World War II.
Seeing as we're all still chugging along as normal, it's safe to say that this prediction was incorrect.
Or was it?
Perhaps The World Bank simply jumped the gun. Maybe a recession is just around the corner. Perhaps this recession was delayed and not averted.
Don't let your address hold you back from success!
Upgrade your business image and ensure compliance with legal and financial requirements by getting a virtual office address from Alliance in the location of your choosing.

A virtual office provides you with a prestigious commercial address that can be used as your business address for LLCs, corporations, and other legal entities. It also helps you maintain your privacy and security, all while adhering to the laws of your state. With a virtual office from Alliance, you can establish your presence in any market.

Don't let your address limit your business's growth and potential. Get a virtual office address to take your business to the next level!
Maybe we're in a recession right now, and it's too early for anyone to notice.
Whatever you believe, it's clear that the US economy isn't exactly encouraging. Rising inflation rates and poor GDP numbers are becoming difficult to ignore.
And we all know how recessions affect businesses:
During the Great Depression, bankruptcy filings rose by 74%. During the 2008 recession, there were over 64,000 bankruptcy filings in the United States compared to just over 28,000 in the previous year.
Make no mistake:
Recessions can destroy even the most successful businesses.
So how do you create a recession-proof business?
It might be easier than you think:
Prioritize Flexibility
Modernize Your Business
Market Research
Cut Costs
Destroy Your Competition
Read along, and you'll not only learn how to keep your business afloat during the recession, but you'll also learn how to make it even more profitable during this time of economic uncertainty.
---
---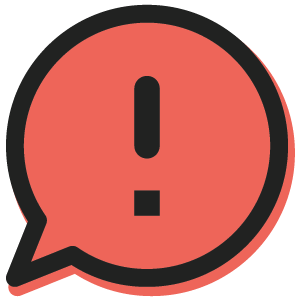 The Signs of an Upcoming Recession
But first…
Is a recession even going to happen?
This is a difficult question to answer – especially since everyone seems to have a different opinion on the matter.
Ask the Biden administration, and they'll tell you that the economy has never been better and that the possibility of a recession is laughable.
Ask conservative economists and commentators like Peter Schiff, and they'll tell you that we're already in a recession.
The fact remains that we have had two consecutive quarters of negative GDP. But what exactly does this mean?
Let's break down these two arguments in more detail:
Biden's Argument
Biden argues that we're not in a recession. For years, the standard definition of a recession has been two consecutive quarters of negative GDP growth. However, the Biden administration has essentially redefined the term recession.
They argued that the technical definition of a recession is not two-quarters of negative GDP, but rather a subjective, open-ended interpretation that involves a range of additional factors.
The Biden administration's key point is that the United States can't possibly be in a recession because of strong employment numbers.
But are these numbers really that convincing?
Some have pointed out that the Biden administration took credit for people returning to their jobs after the pandemic. These critics argue that these people were going to return to their jobs regardless and that these jobs were pre-existing.
On the other hand, the Biden administration claims that they created these new jobs and that people going back to work is a victory in job creation.
The Opposing Argument
The opposing argument is that inflation and unemployment make it clear we're already in a recession.
The government is constantly printing money, which leads to inflation. In addition, the pandemic did so much damage to the supply chain that it might take many more years to recover.
People are now having trouble buying new cars, PS5s, and many other goods. This is due to semiconductor shortages, cargo ships spending months waiting to unload products, and all kinds of other issues.
On top of that, we now have a proxy war in Ukraine that requires even more money printing while further incapacitating supply chains – especially in regards to grain and oil.
All of this affects the consumer. Inflation leaves the average American with less money to spend each month. And even if they can afford it, they can't buy many of the things they want because of empty shelves and supply chain issues.
This means that people are spending less money on a variety of goods, and they are becoming increasingly focused on the bare necessities:
Numerous companies that rely on relatively wealthy consumers to buy non-essential items now seem incredibly vulnerable. We're talking major names like Netflix, Apple, and Tesla.
These companies have been some of the biggest losers of 2022's stock market – a stock market that now seems shaky at best.
Without consumers purchasing these goods, the economy cannot continue to thrive.
And that's when a domino effect causes everything to come crashing down.
Consider what other people have said about the current state of the economy:
---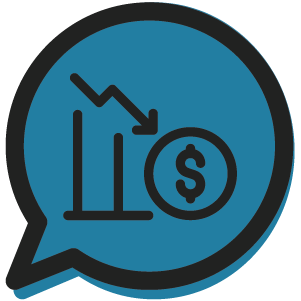 How Recession Affects Your Business
So what happens in a recession?
Unless your business is recession-proof, you can expect this coming tide of economic uncertainty to affect your enterprise in several ways.
Research has shown that businesses of all sizes struggle with a range of factors during a recession, including:
A decline in sales and profits
Mass layoffs become necessary
Spending cuts become necessary
Low credit access
Bankruptcy
Small-to-medium-sized businesses are especially vulnerable to bankruptcies, and the statistics don't lie:
Bankruptcy filings go through the roof during recessions.
The truth is that the vast majority of businesses suffer from a significant decline in revenue and profits during a recession.
Even if your business survives, it may be so crippled that it can no longer compete or grow to any discernible degree.
---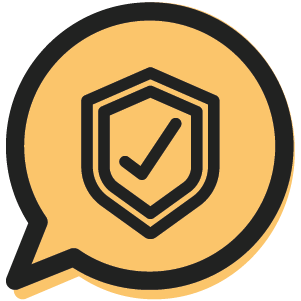 How to Make Your Business Recession-Proof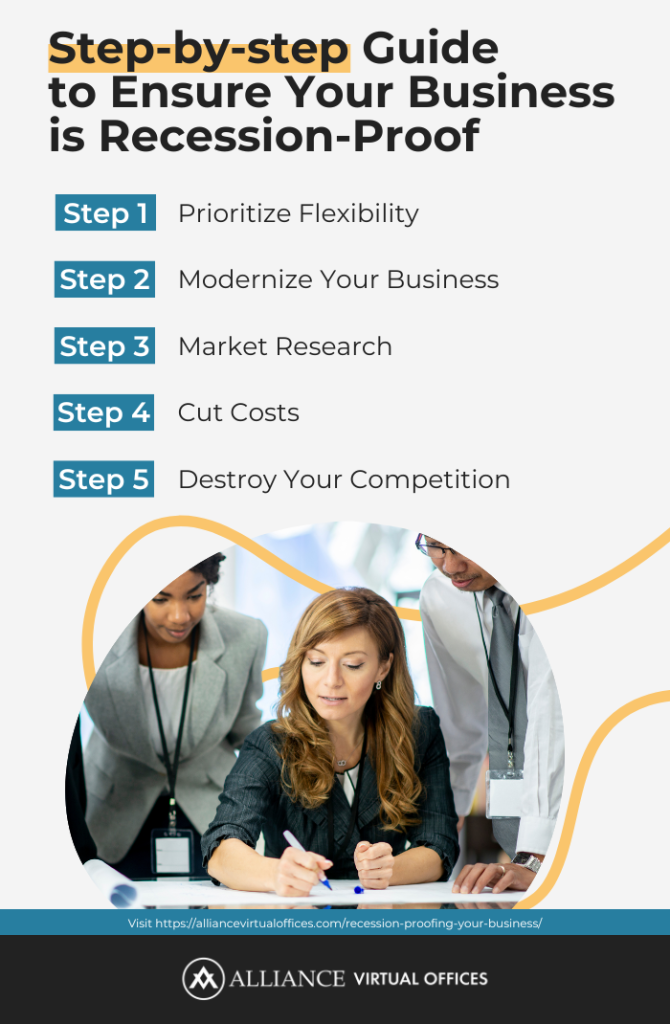 You can take several steps to ensure your business is recession-proof:
Prioritize Flexibility
Modernize Your Business
Market Research
Cut Costs
Destroy Your Competition
Now let's take a closer look at each of these points:
Prioritize Flexibility
The key to surviving a recession is to remain flexible at all times. The truth is that heading into a recession is like venturing into the complete unknown. You can make predictions, but you can never truly tell how the market is going to react to certain events.
Because of this, the most recession-proof businesses are those that are capable of adapting.
In many ways, this mirrors the way animals evolve. When faced with a serious hazard like a meteor impact or an ice age, only the creatures that are capable of evolving survive – perhaps by exploring new niches or feeding on different food sources.
In the business world, you can remain flexible in several different ways:
Have a revolving line of credit
Make sure your employees have a variety of skill sets
Don't be afraid to explore new opportunities and research new products/services
Diversify your investments
Remember, businesses that cater to necessities and "inelastic needs" are more likely to remain recession-proof. These inelastic needs include healthcare, food, and housing.
If you can offer new products and services that provide these necessities, it's much easier to remain recession-proof.
Once again, your ability to pivot in this manner all depends on your level of flexibility.
Modernize Your Business
Modernization is essential during a recession. If you haven't already established a strong online presence, now's the time.
Additionally, you should explore new online tools that can give you an edge.
For example, Alliance Virtual Offices offers a range of services that can cut costs while streamlining your business.
One of these services is a live receptionist. This type of receptionist operates remotely, which means you don't have to pay for a full-time employee. They're also available 24/7, which means you can promote excellent customer service while never missing a lead.
This is an obvious choice if your business is fully remote or you serve customers all around the globe. If so, then you should also consider Alliance's virtual offices.
With this option, you can choose to register your business in any state, thereby reducing tax obligations and saving money during this difficult period. You can also choose to register in a more reputable location, such as downtown New York or Silicon Valley.
Mail forwarding means that your home address never becomes overwhelmed with business-related mail, and you can promote a sense of privacy and security in your living space.
Alliance Virtual Offices also offers physical meeting rooms and flexible workspaces, allowing you to meet face-to-face with team members, leads, and shareholders when necessary.
Market Research
To remain truly recession-proof, you need to keep a close eye on the market.
Things can change very quickly during a recession, and it's sometimes impossible to plan for the future amid such uncertainty.
During hyperinflation, prices can fluctuate remarkably quickly.
In the Weimar Republic, the price of bread shifted from one hour to the next. When Venezuela was struggling with hyperinflation, shopkeepers refused to put price tags on their items because they were becoming drastically more expensive by the minute.
Despite these factors, you can plan effectively for the future if you take market research seriously.
Consumer demand shifts during recessions, and you need to be ready to take advantage of these changes. For example, if you're currently selling an expensive lawnmower, you might want to come out with a downgraded, budget-friendly version of the same product to cater to consumers during a recession.
There are countless examples of how market research can help businesses remain recession-proof, but it comes down to keeping an eye on the overall economy from one day to the next.
Cut Costs
Perhaps one of the most obvious ways to recession-proof your business is to cut costs.
You can cut spending with a variety of methods, including:
Lowering operating expenses
Early pay discounts
Automation
Downsize inventory
Tighten your budget
Reduce excessive packaging
Find cheaper raw materials
Lay off your least efficient workers
Cut back on energy usage
Remember, a "slash and burn" approach can harm your business in the long run and prevent it from surviving a recession. Cut costs strategically and do not panic.
Pay particular attention to your employees, and do not fire workers who are vital to your long-term survival.
Destroy Your Competition
During a recession, competition becomes even more intense.
This is because consumers are forced to become much more choosy due to budget constraints.
If there are 17 different types of cereal at the grocery store to choose from, consumers will almost always choose the most affordable option during a recession.
The other cereal brands have a higher chance of going bankrupt.
If you're operating in a highly-competitive niche, you need to adopt an almost militaristic, highly aggressive strategy towards your rivals.
While a "live and let live" approach might have worked during better economic times, it's now about the survival of the fittest. Anything goes in a time of economic strife – so don't be afraid to destroy your competition completely.
You can do this in several ways, including:
Poaching their most talented employees
Undercutting them
Become more efficient
Offer a better quality product
Offer a wider range of products
It's important not to break any laws when attempting these strategies. For example, poaching your rival's best employees can be considered "inducement" under certain circumstances.
You simply need to survive, and sometimes the only way to survive is to fight.
---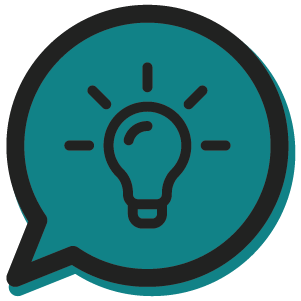 Tackling the Unknown
Remember, heading into a recession is like venturing into the complete unknown. Because of this, it's almost impossible to create a strategy ahead of time.
Past recessions and depressions can give us a general idea of what to expect, but we're flying blind here.
While you can certainly take advantage of several strategies to make your business recession-proof, sometimes it's all about rolling with the punches.
Those who adapt, survive.
It's that simple.
And let's not mince words here, a recession is extremely likely. Even some of the most optimistic media sources are now being forced to confront the reality of the situation – and it's not pretty.
Although this situation can seem daunting, it's important to remember that with an economic downturn comes great opportunity.
---
Further Reading
---
Think of Howard Hughes, Joseph Kennedy Sr., and all of the other entrepreneurs who made a killing during past recessions. That could be you.
Take advantage of these opportunities, make use of digital solutions, and nothing is stopping you from experiencing tremendous growth during this recession.
Check out Alliance Virtual Offices today for more information on game-changing services, like live receptionists and virtual offices.