---
---
Q: What tools are needed for affiliate marketing?
A: You don't need much to get started with affiliate marketing. What you do need is an effective, organized way of producing content. You should also invest in a tracking tool for your affiliate links. The goal is to determine what kind of content generates the most returns and make gradual adjustments to increase your profits.
---
---
Affiliate marketing may be more challenging than you think.
Although this strategy is often touted as one of the best ways to earn passive income online, not everyone experiences success.
According to some statistics, as many as 95% of new affiliate marketers fail to achieve any success. Many quit after a few months, and only a few stick with it over a long period.
The most important thing to realize is that brands want you to succeed. They're relying on you to help them sell their products.
Without affiliate marketers, many companies would be unable to find new audiences and expand.
The good news is that there are many tools for affiliate marketing that can help you achieve your goals.
Whether you're just starting or you've been an affiliate for many years, you can benefit tremendously by learning about these tools for affiliate marketing.
At the end of the day, affiliate marketing represents a genuine dream job.
It only requires a few hours of work per week, and it has the potential to provide you with serious levels of passive income.
Keep your eye on this dream, take advantage of the best tools for affiliate marketing, and never give up. Check off these boxes, and there's no reason you can't become the next affiliate marketing success story.
But why is it so important to approach affiliate marketing with a strategic mindset? What kind of affiliate marketing tools do you need to be aware of?
Let's find out.
---
---

Do affiliate marketers need to be strategic?
Affiliate marketing isn't something you jump into headfirst without any real strategy.
Sure, many people have experienced considerable levels of success with this method, and some have earned millions. But none of these affiliate marketing success stories involved blind luck.
You can't expect to post a few affiliate links on your content and expect to start raking in millions.
Just like any other marketing professional, you need to be highly strategic about almost everything you do.
Affiliate marketing is easy to get into because you don't need any products of your own. But you still need to sell those products – and this is arguably the most difficult aspect of any business.
There's a reason businesses are willing to pay affiliate marketers to sell their products:
It's because this process is so difficult that they'd rather simply get someone else to do it.
Here are some of the major challenges associated with affiliate marketing in the modern era:
Creating Effective Organic Content
One of the most challenging aspects of affiliate marketing is creating effective organic content. Organic content is almost always better than paid ads – at least in the long run.
Unfortunately, it takes time to create good content, and you'll need to wait for your audience to find it on their own. This can take years.
The problem is getting worse thanks to Google's ever-changing algorithm, which forces you to constantly adjust your content to maintain its ranking on the search page.
Affiliates need to be much more strategic when it comes to their organic content, and they now have to compete with ads and sponsored content on social media platforms.
Many affiliates today use a mixture of both paid and organic content to cover all their bases.
Consumers Are More Aware
Another major challenge is the fact that digital consumers are now hyper-aware of typical affiliate selling techniques.
A few years ago, you might have seen an influencer promoting a product and assumed that this individual genuinely believed in what they were selling.
Today, consumers are much more likely to take a pessimistic viewpoint, assuming that influencers are just trying to make a few bucks.
The same old selling techniques aren't having the same impact, and affiliates are having to get increasingly creative. Many consumers are tuning out of social media and completely ignoring people who try to sell them products as a matter of course.
This all means that your messages are more important than ever before. Trust has become essential.
Changing Social Media Patterns
People are abandoning older social media platforms and moving towards new apps. The obvious example is the slow death of Facebook, which is losing thousands of active users every single day.
These users are moving towards other apps such as Snapchat or TikTok, and affiliate marketers must be aware of these changes if they want to experience continued success.
Posting ads or affiliate links on obsolete platforms may prove to be a waste of time and money.
In contrast, you can establish an edge over your competition if you become one of the first affiliate marketers to make the transition toward newer, more popular platforms. Some of the best affiliate marketers post on platforms that no one else has even considered using.
Rising Marketing Costs
If you decide to choose paid ads, you can expect higher costs. Brands are starting to realize that there are only so many users on social media platforms.
Everyone is competing for the same customers, and these customers don't have an unlimited amount of money to spend on products. Recent statistics show that almost 90% of marketers don't think digital ads work.
About one-third of all paid ads are fraudulent, and investment in ad technology has been declining by 10% each year over the last five years.
CEOs are starting to wonder if digital ads are a waste of money, and it's not getting any easier when costs continue to rise. Larger brands are still spending big on ads, but some believe that the party might come to an end sooner rather than later…
Affiliate Marketing is Getting a Bad Reputation
A few years back, only insiders knew what affiliate marketing was. Nowadays, almost everyone is familiar with the term.
Worse still, many people associate a negative stigma with the entire concept. Truth be told, this bad reputation isn't entirely unjustified. Many affiliate marketers sell products that they don't even bother to research.
This leads to people receiving faulty, shady, or even non-existent products. Understandably, it's getting increasingly difficult to convince consumers that you genuinely have their best interests at heart.
Even people who hang on to every word of their favorite influencers become skeptical when they realize that affiliate marketing is taking place.
---

The best tools for affiliate marketing
The good news is that modern affiliate marketers have a multitude of tools at their disposal.
These tools for affiliate marketing can help you overcome many of the aforementioned challenges. Not only that, but they can help you make the most of the inherent benefits of affiliate marketing – namely, the passive nature of this income stream.
After all, it makes sense to automate and streamline as many processes as possible if the entire goal is to work less while earning more.
Let's go through some of these tools: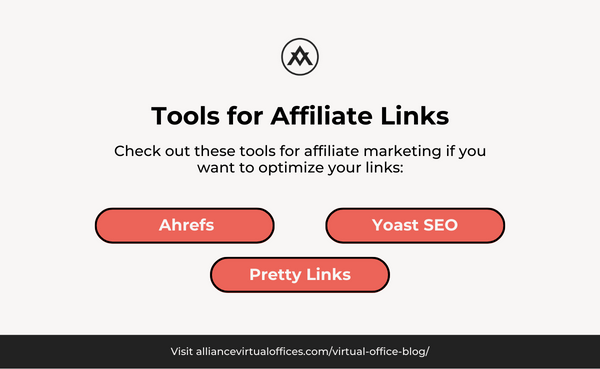 Tools for affiliate links
Check out these tools for affiliate marketing if you want to optimize your links:
Ahrefs: Ahrefs is one of the most effective tools for affiliate marketing. Although you can use it as a general SEO tool, this particular tool places a specific emphasis on backlinks. You can use this tool to fill your content with the most effective backlinks, thereby boosting your overall SEO scores and getting your content in front of more people.
Yoast SEO: Yoast is another popular SEO tool among affiliate marketers and content creators. One of the best aspects of this particular tool for affiliate marketing is its canonical link customization features. It also offers meta description customization, sitemap customization, and much more.
Pretty Links: Pretty Links is one of those tools that was tailor-made specifically for affiliate marketers. Using Pretty Links, you can optimize your links and redirects. With this tool, your links look better, and you can keep your affiliate links much more organized. Ask what most affiliate marketers use to cloak their links, and they'll probably say Pretty Links.
AI tools for affiliate marketing
If you're all about automation, consider these tools for affiliate marketing:
CAKE: CAKE offers solid affiliate marketing software that helps you optimize your campaigns in a seriously streamlined manner. The result is an increase in both traffic and earnings.
Jasper AI: Jasper AI effectively automates the entire content creation process. With a focus on blogs, Jasper uses AI technology to churn out copywriting content for pretty much anything you need. It can also write YouTube scripts and high-converting email subject lines.
Postaga: Postaga is an AI-powered email marketing tool. With this tool at your fingertips, you can automate the entire outreach process. This is a solid choice if you want to find new affiliate marketing partners.
Adscook: If you're interested in running paid ads as an affiliate marketer, check out Adscook for an AI-powered Facebook ad creator. This tool makes creating ads quick and easy, and it also gives you plenty of data to help you boost performance.
Mailchimp: Like Postaga, Mailchimp offers plenty of automation when it comes to email marketing. It's one of the most popular email marketing apps around, and it makes it easier to create high-converting emails.
Convertbot: If you'd like to add a chatbot to your affiliate marketing arsenal, Convertbot has you covered. With this tool, you can create a chatbot for your business without any coding skills.
Tracking tools for affiliate marketing
Tracking is essential for effective affiliate marketing. This means that tracking tools for affiliate marketing are crucial. Consider these options to boost your success rates:
Amazon OneLink: Amazon OneLink allows you to geotag your affiliate links. When someone clicks your affiliate links, they are automatically tracked and provided with the Amazon site that matches their geographic location. It's a simple tool, but it makes life more convenient for your customers.
AnyTrack: AnyTrack helps you learn more about where your affiliate links are coming from. You can also integrate this tool with Google Analytics or Facebook Pixel to gain even more valuable insights.
Voluum: Voluum is one of the most intricate tools for affiliate marketers. It provides serious marketing analytics power, giving you the ability to track, manage, and optimize all paid and organic traffic sources. The cool thing about Voluum is that it also offers a significant amount of automation.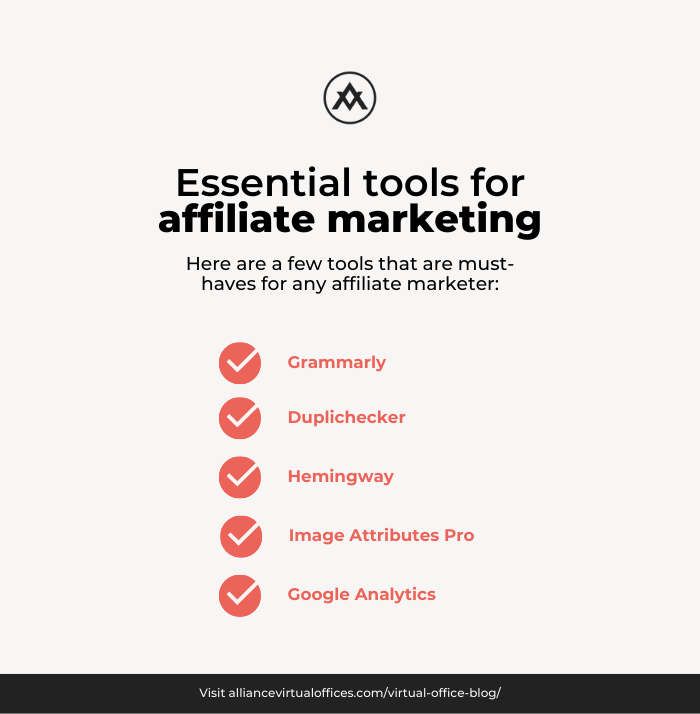 Essential tools for affiliate marketing
Last but not least, we have a few tools that are must-haves for any affiliate marketer. These might not be complicated tools, but they're worth having on your tool belt:
Grammarly: Grammarly is a solid grammar app that helps you avoid mistakes in your writing. You'll find Grammarly pretty helpful if you're doing a lot of blogging, and remember: Google punishes you for grammar mistakes.
Duplichecker: Google also ranks duplicates to try and ensure that plagiarised material isn't too high on the results page. With Duplichecker, you can figure out whether your content is too similar to existing content.
Hemingway: Hemingway is a distinct resource because it helps you write more "readable" content. It's a great, free tool that helps you get rid of bad habits like passive voice.
Image Attributes Pro: This simple little tool helps you handle one of the simplest (and yet most tedious) aspects of creating high-ranking content: Image attributes.
Google Analytics: You don't necessarily need to spend money on a fancy SEO app to learn what people are searching for nowadays. Google Analytics is free, and it can help you learn more about trending search queries on the world's biggest search engine.
---

Your affiliate marketing partner matters as much as your tools
Before we wrap things up, let's take a step back and examine something that is much more important than your choice of tools:
Your choice of partner.
Choosing the right company to work with is going to have a much greater effect on your success than your affiliate marketing tools.
You can buy all the fancy tools you want, but you're not going to have much luck selling a product that no one actually wants.
This is why you should consider partnering with Alliance Virtual Offices.
This company offers an extremely lucrative affiliate program that can generate hundreds of dollars from a single sale.
Even better, Alliance Virtual Offices provides you with all the tools you need for continued success.
One of the most important tools they offer is an almost never-ending stream of pre-written content that you can use to generate sales.
It's as simple as copying high-converting ad copy they've already written, putting in your affiliate links, and posting it.
But wait… what does Alliance Virtual Offices sell?
We're glad you asked.
Alliance Virtual Offices is one of the premier providers of Virtual Offices to businesses across the United States. Unsurprisingly, these kinds of services are in incredibly high demand.
Many are veering towards a remote-first model as businesses emerge from the pandemic.
This means that they're ditching the world of physical offices and letting their employees work from home.
Alliance Virtual Offices helps streamline this transition by providing Virtual Addresses and on-demand workspaces that businesses can book whenever they need to hold meetings.
This gives them the best of both worlds – providing them with all the benefits of a physical office without any of the costly downsides.
And as we head towards a recession, businesses are very concerned about cutting costs in the modern era.
Alliance Virtual Offices also offers other cost-saving services such as Live Receptionists and Virtual Phone Numbers.
These services are even more appealing for new businesses, as they can register a new LLC with a Virtual Address to experience serious tax benefits in corporate-friendly states.
Another strategy would be to register a new LLC with a Virtual Address that boosts its reputation, whether it's in downtown Manhattan or the hills of Silicon Valley.
The point is simple:
Businesses need these kinds of services, and they're an easy sell for any affiliate marketer.
If you're ready to move forward and partner with Alliance Virtual Offices, our program takes care of virtually every aspect of the process, from tracking affiliate sales to payment processing.
---

Moving forward with effective tools for affiliate marketing
The world of affiliate marketing continues to face notable challenges. Consumers are going to tighten spending as we head into an uncertain economic territory, and big brands are less optimistic about digital ads than ever before.
But here's the good news:
With the right tool for affiliate marketing at your disposal, you can overcome virtually any hurdle imaginable.
---
Further Reading
---
Thanks to companies like Alliance Virtual Offices, there are always going to be popular services that virtually anyone can sell.
Arm yourself with the right tools, partner with the right companies, and adopt the right mindset.
Do this, and there's nothing you can't achieve as an affiliate marketer.