---
---
Q: Which business is best after retirement?
A: Due to its minimal workload, low costs, and a range of other benefits, an online or remote business is the best option for a retiree in the modern era. 
---
---
If you're over the age of 55 in the United States, there's a 50% chance you're already retired. 
According to the Pew Research Center, this marks a notable trend – and a positive one. 
In the aftermath of the Great Recession, that number was down significantly. A rise in retirement numbers shows us that Americans once again feel financially secure enough to leave their jobs, sit back, and enjoy the fruits of their labors. 
But with all that said, there are many reasons why retirees might want a little extra cash – even if they feel confident about their finances upon retirement. 
If you're retired, you might have significant funds invested in the stock market through a retirement financial product like a Registered Retirement Savings Plan (RRSP). 
And while many investments are pretty rock-solid, it's never really clear what the stock market is going to do in a few years – especially in an era of skyrocketing inflation, rising interest rates, and economic uncertainty. 
And let's be honest: 
Some retirees just don't find it all that interesting to sit around and do nothing. 
They want to do something engaging – something productive.
For many people out there, starting a retirement business can be one of the most rewarding and fun things to do in life.
You might have spent your entire career wishing you had time to start a business. 
But this endeavor won't just be interesting – it'll also provide you with plenty of extra cash that you can use for vacations, new investments, and even medical treatments. 
A retirement business is unique in many ways, and you need to approach this undertaking with a very specific mindset. As a retiree, you will have different priorities and goals compared to a young, 20-something entrepreneur.
So… Should you start a retirement business? And if so, how do you even begin this process?
---
---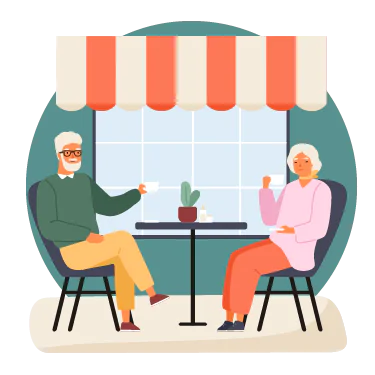 Why Start a Business in Retirement?
There are plenty of reasons why you might want to start a retirement business. 
Firstly, you might quickly learn that spending all day sitting on your couch isn't exactly the most interesting thing in the world. 
All that free time can be nice, but it can easily start to wear you down. 
In short, retirement can be boring. 
A retirement business allows you to channel all of that free time towards something productive and undeniably interesting.
You might have dreamt about starting your own business for your entire life. Perhaps you already have an idea of what type of business you'd like to start.
Well, now's your chance – and it's never been a better time to take that crucial first step. 
Secondly, your financial situation might not be as secure as you expected. 
Major names in the financial world like Morgan Stanley have predicted "modest returns" in 2022, during a time of considerable stock market volatility. 
The Federal Reserve is fighting a battle against inflation, shifting its policy, and reducing liquidity. But some believe that raising interest rates at this point is a case of "too little, too late."
If you're retired, there's a good chance that you have an RRSP or a similar financial product that is heavily linked with the stock market. 
These worrying predictions can be quite concerning for retirees, who may fear losing everything if another recession occurs.
It's no secret that the last Great Recession caused tremendous issues for retired individuals, forcing many to re-enter the job market in an effort to make ends meet. 
With these concerns in mind, starting a retirement business could be an excellent way to bolster your future plans with additional financial security. Even profits of a few hundred extra dollars each month can make all the difference. 
But make no mistake – your retirement business could end up being much more profitable than you ever imagined. In fact, a small, online business could potentially provide you with more money than you earned during your entire career. 
Retirement becomes a lot more interesting when you have more money to spend. Instead of sitting around the house all day, you can use these funds to truly "live the dream" during your twilight years. 
See the world! Purchase that dream car you've wanted since you were 13. Buy a mansion! Retire in a sunny part of the world. Shower your family with gifts – and make sure they have everything they need when you pass away. 
The possibilities are endless when you can draw funds from a profitable business. 
Last but not least, a profitable retirement business can also fuel further investments. Your side hustle might not provide you with an exorbitant amount of money, but it can give you a little extra cash to play around with. 
While the stock market is certainly unpredictable these days, volatility presents you with a number of very lucrative investment opportunities. You could buy stocks at a bargain price when the market crashes – reaping incredible profits as the economy recovers. 
When it comes to investing, there are always two sides to every coin. 
---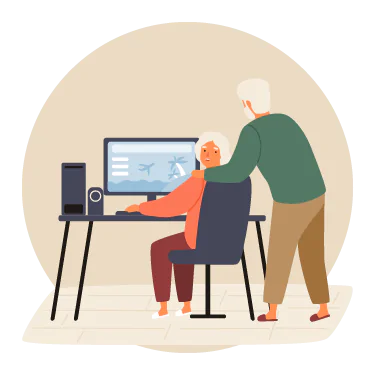 How Do You Start a Small Business in Retirement?
Starting your retirement business might be a lot easier than you think. 
That said, you still need to approach this endeavor in a very professional, careful manner. 
First, you need an idea. 
This is where a lot of entrepreneurs get stuck. 
While it's true that almost every idea has already been exploited to some extent, your goal is not to reinvent the wheel. Instead, you simply need to find a business idea that you can see yourself enjoying for the foreseeable future. 
A solid choice is to start with a hobby – something you truly love. 
Some of the most successful entrepreneurs simply turn their hobbies into businesses. Because they love what they do and they feel passionate about it, these entrepreneurs have an excellent chance of experiencing success. 
So if you're trying to start a retirement business, take a second and review some of your favorite hobbies. Do you have any passions that could be transformed into a business?
Once you have your idea, it's time to identify a niche in the market. 
A niche is an area that has not been fully exploited by other businesses. Some assume that ideas and niches are one and the same, but that's not always the case. 
For example, you might be incredibly passionate about dogs, so your idea might be to start a dog-related business. 
However, you might look at the market and identify a niche within the pet industry. Is there a lack of dog-sitting services in your local area? Or perhaps a lack of organic, chewable treats made specifically for puppies?
Once you've identified your niche, it's time to figure out your target audience. 
This is perhaps one of the most crucial steps, as it will affect your entire marketing and branding strategy. 
Your target market is your ideal customer – someone who wants to buy your products or services. 
Paint a detailed picture of this "ideal customer" in your mind by asking yourself:
What is their age?
Where do they live?
What is their income level?
The more details you can think of, the more targeted (and effective) your marketing strategy will become when you try to reach these customers. 
Speaking of marketing strategies, your next step will be to utilize a range of effective methods to reach your leads and convert them into paying customers. 
This is really a topic for a completely different article.
But we will say this:
In order to be successful in this area, you must build an effective brand. 
Your brand is what sets you out from the crowd, and it involves things like web design, logos, slogans, color schemes, packaging, business cards, and even the way you speak to your customers on the phone. 
For best results, your branding should be highly consistent across your entire marketing campaign – using the same color schemes, the same themes, and the same phrasing. 
When someone sees a social media post or a piece of web content from your business, they should immediately get a sense of your brand. 
We mentioned talking on the phone with your customers – and this is something you probably won't have time to do if you're trying to enjoy your retirement. 
Not to worry – you can easily enlist the help of a live receptionist with help from Alliance Virtual Offices. These trained receptionists operate in a remote call center, allowing you to communicate effectively with your customers without your home phone ringing constantly. 
Once you have these elements in place, it's time to register your business. 
In order to stay on the right side of the law, this step is mandatory in the United States. 
You have a few options here:
You can register your business as a sole proprietorship if you're looking for simple paperwork and filing requirements. You might also choose a partnership if you're running your business with another individual. 
An LLC is another solid choice, as this option offers certain tax benefits and legal protection against lawsuits. When choosing an LLC, run a quick search to find retirement business names that haven't already been taken. 
Whatever option you choose, you'll need to provide your address when registering your business. 
But here's the problem:
As a retired individual, the last thing you want is for your peaceful home to be targeted with endless phone calls, business-related mail, and random people showing up on your doorstep with questions or concerns about the products you've been selling. 
A much better alternative is to choose a virtual business address. 
With help from a service provider like Alliance Virtual Offices, you can choose whatever address you'd like.
In fact, you can choose an address in a major city like New York or Los Angeles to give your small business retirement plan a little more prestige. 
You can legally register your business with this virtual address, and from that point on, all mail will be delivered to the virtual address instead of your home. 
Alliance Virtual Offices will then store your mail or reroute it to your home if needed. 
Best of all, your own personal mailing address stays confidential, helping you protect your privacy and security while in retirement. 
---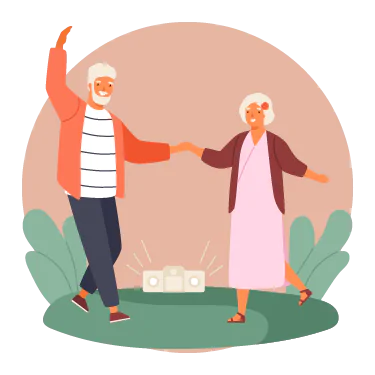 What are the Best Kinds of Businesses to Start?
You're quite spoiled for choice when it comes to retirement business ideas. 
We previously mentioned the benefits of choosing a business based on your hobby, but what about specific ideas to get you started?
If you need a little inspiration, consider these potential retirement businesses: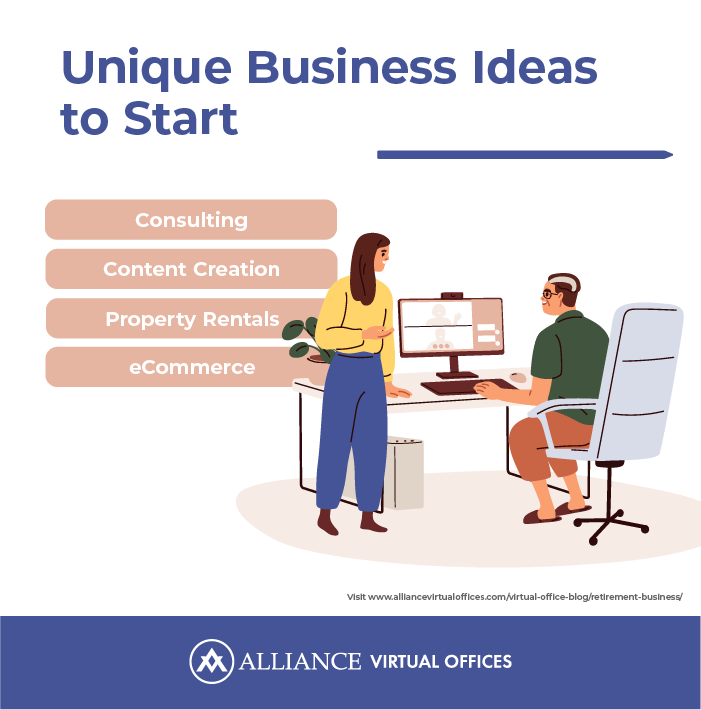 Consulting
Consulting is a massively popular retirement business idea for elderly individuals.
Why?
Because as a senior with a lifetime of experience, you're an ideal source of advice and guidance for younger entrepreneurs and businesses across the nation. If you have specialized knowledge in a particular field, it's time to put that expertise to good use. 
Consulting is also an amazing choice because it requires barely any startup capital. The "product" is simply you. You're selling your knowledge and experience, and these are things you already have. 
That being said, you might need to invest in marketing – especially if you don't already have strong ties to the business world. 
Content Creation
Most online businesses are in dire need of content. If you can string a sentence or two together, you might find yourself in particularly high demand. 
One of the best things about online writing is that it is extremely flexible and physically undemanding – both ideal factors to consider if you're already retired. 
Instead of working for another company, you can also start your own blog. 
Or why not start a YouTube channel?
The point is, content creation is a field that is constantly growing – and there's always space for one more creative individual. 
Property Rentals
Many retirees own property, and it often makes sense to use that property to generate passive retirement income. 
You can do this in a number of different ways, from short-term rentals to long-term rentals and everything in between. 
Airbnb is becoming incredibly popular these days – and for good reason. The potential for considerable profits is quite considerable with this mostly passive side hustle. 
Of course, you can also opt for a more stable, long-term approach and rent out a basement or a condo to a tenant. 
Either way, you're generating passive income with very little work. 
If you own your own home and you don't have space to rent out, consider selling your property and downsizing to a smaller residence. With the excess funds, you can purchase a separate property (such as a small condo) to rent out. 
With this approach, you can live comfortably in a smaller, more manageable home while simultaneously generating considerable passive rental income. 
eCommerce
If you're ready for an interesting challenge, consider eCommerce.
This type of business involves selling products online – and it's certainly not for the faint of heart. 
Truth be told, the eCommerce world is highly competitive, and you'll need to conduct extensive research into the ins and outs of this complex world if you want to achieve success. 
But if you're looking for a truly engaging side hustle, then eCommerce could be a perfect retirement business. 
Identifying a niche is especially critical if you're running an eCommerce business, and your goal will be to sell a product no one else has. 
For a more senior-friendly approach, consider selling handmade items on Etsy. This allows you to turn your hobby into a business – while also taking advantage of the digital world and its many opportunities for eCommerce profits. 
You might also want to consider dropshipping or affiliate marketing. 
Dropshipping is quite popular these days because it does not require you to physically store the products you're selling. Instead, you simply create a website that promotes and sells products sold by a third party. 
When a customer hits the "buy" button, the product is shipped from the third party – and you never have to lift a finger. 
Of course, you only take a relatively small commission from the sale, but dropshipping still has the potential to be an excellent source of passive income for seniors. 
Affiliate marketing is slightly similar, although you promote items through content instead of building a website. For example, you might have a blog post that mentions a specific product. 
This blog post would include an "affiliate link" that sends the customer to the product page. When the customer buys the product after using your link, you get a small commission. 
If the eCommerce world seems daunting, consider getting started with retail arbitrage. 
This method is very simple, and most seniors can make a few hundred bucks each month with minimal time investment. 
All you really need to do is keep an eye out while shopping. Whether you're at a local drugstore, Home Depot, or Walmart, check the sale section or clearance bin for deals. 
Next, check Amazon to see if anyone is selling these products for a lower price online. 
If you're looking at a genuine deal, buy as many of the products from the clearance bin as possible. 
Next, sell the products on Amazon or another eCommerce platform for a slight markup. 
It's really that simple – and this is a great way to learn the ins and outs of the eCommerce world without much risk. 
Look into Online Businesses
The above ideas can all provide you with excellent results as a senior entrepreneur, but generally speaking, you should focus on virtual, remote, and online businesses if you're retired.
This is because online businesses allow you to work from home, and they typically involve less hands-on work compared to brick-and-mortar businesses. 
Online businesses also allow for considerable flexibility, giving you the opportunity to jump on a plane at the drop of a hat – or spend time with family. 
In addition, online businesses are easy to set up and grow, and you won't have to spend years trying to get the operation off its feet. 
---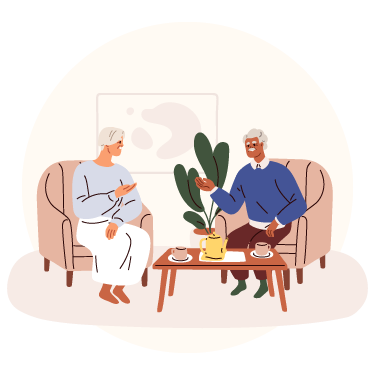 Conclusion
Retirement doesn't have to be boring – and you don't need to feel worried about your financial situation while you make the most of your twilight years. 
By investing just a little time and effort into a retirement business, you can feel confident about the next few years and generate considerable profits. 
Better yet, you'll have a real blast doing it, and in many ways, having fun is the most important priority for retirees. 
Further Reading