---
---
Q: What do freelance agents do?
A: Freelance real estate agents operate their own firms, taking on clients on a case-by-case basis depending on their unique needs and requirements. Although freelance real estate agents have considerable control over their businesses, they aren't quite the same as freelancers in different industries. If you want to start your own independent firm, you'll need to approach this undertaking with a careful plan. 
---
It's never been a better time to get into real estate. 
Despite looming interest rate hikes, the cost of borrowing is still incredibly low from a historical perspective, and homebuyers are pushing the housing market higher and higher. 
This market may be incredibly unaffordable in most metropolitan areas, but that also means that a lot of money is being made. 
As a real estate agent, you get a piece of those profits. 
In the first quarter of 2022, 70% of US metropolitan areas saw double-digit price increases. 
Make no mistake – the market is hot. 
In fact, a recent Gallup poll confirmed that real estate remains a much more lucrative investment choice compared to stocks.
But if your goal is to earn considerable wealth as a real estate agent (and why wouldn't it be?), there are many different paths available to you. 
You could work as an employee for someone else's business…
Or you could start your own business and become a freelance real estate agent. 
The latter option comes with a variety of benefits, and the typical freelance real estate job description involves:
Greater flexibility
More time at home
Greater control
Greater profit potential
But is this really the best way to make money in the real estate industry? 
And if so, how do you become a freelance real estate agent? 
---
---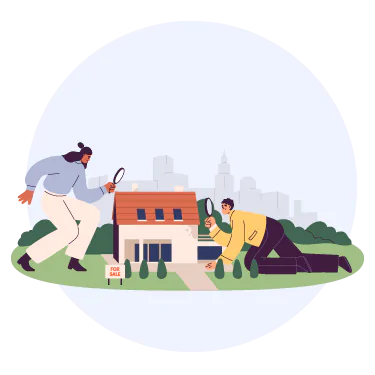 Why is Freelancing Different for Real Estate Agents?
The real estate industry is an obvious choice for many professionals who want to become freelancers. 
The industry as a whole is very unstructured, focusing more on people skills and marketing rather than a typical "9 to 5" desk job. 
You get to meet clients, visit amazing properties, and generally exert a considerable level of control over not only how you work, but also how much you earn. 
Your earnings do not simply reflect how many hours you worked, but rather the efficacy of your marketing strategies, your networking skills, and your overall determination. 
In other words, it's about working smart – not hard. 
But with all that said, freelancers in the real estate world are a unique breed.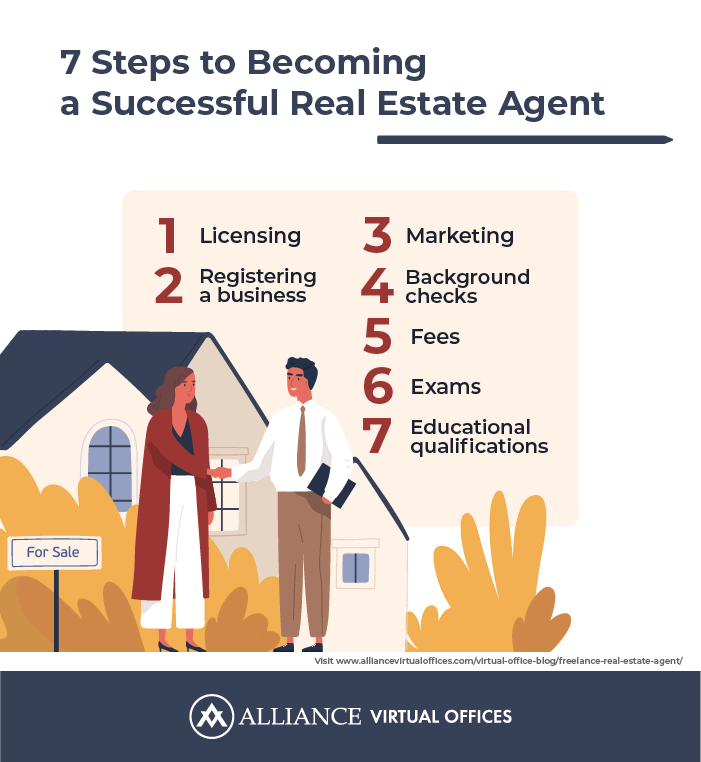 While a freelance writer or graphic designer can simply boot up a computer and start earning cash, a freelance real estate agent needs to go through several important steps, including:
Licensing
Registering a business
Marketing
Background checks
Fees
Exams
Educational qualifications
Make no mistake – the real estate industry is heavily regulated. 
This makes sense, as buying property is a complex process. If these regulations weren't in place, buyers and sellers would be vulnerable to all kinds of scams and legal issues. 
Although freelance real estate jobs have similar levels of flexibility and control compared to other types of freelancing positions, they still must adhere to a strict set of regulations. 
This is definitely something to keep in mind if you think going solo as a freelance agent is going to be as easy as being a freelance graphic designer or an online writer. 
Faced with the daunting prospect of becoming a freelance real estate agent, many choose the "safe" option:
Joining a team.
This offers a few notable advantages, including:
You get to learn from others
You get to share costs
Networking opportunities
On the other hand, going solo allows you to build your own personal brand, keep more commission for yourself, experiment with your own ideas, enjoy greater flexibility, and much more. 
Some might argue that going solo is best for established real estate agents who already know the ropes, but the truth is that even the most inexperienced real estate agents can be successful freelancers. 
But where do you even begin if you're ready to start your own real estate business?
We're glad you asked… 
---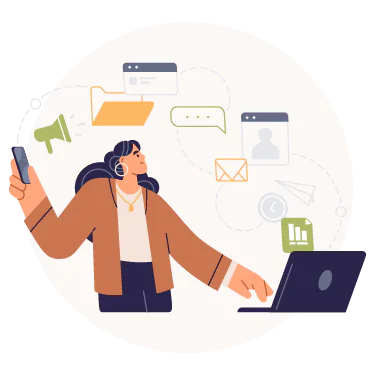 What Do You Need to Start Your Own Real Estate Business?
If you're wondering how to be a freelance real estate agent, the first step is simple:
You need to adopt a completely different mindset. 
If you were previously part of a team, it's time to remind yourself that you're about to start a business. 
This isn't simply a different way of finding clients – it's a completely different ball game that makes you responsible for everything, including:
Marketing
Branding
Legal issues
Registering a new business
Hiring employees (if necessary)
Accounting
Planning
Fees
Previously, many of these requirements may have been handled by the real estate company you worked for. But if you're starting your own business, you're going to have to deal with these issues yourself. 
Real Estate Broker vs. Real Estate Agent
Next, you need to realize that there is a considerable difference between a real estate broker and a real estate agent:
Real Estate Broker: A real estate broker has the qualifications necessary to own or manage a brokerage. They are also licensed to manage real estate and employ real estate agents. 
Real Estate Agents: These individuals are not qualified to operate independently. Instead, they must work with a broker, which usually means that they end up working for a real estate company. Although the rules differ from state to state, real estate agents are typically not allowed to operate legally without the oversight of a broker. 
Because of this distinction, the first step is simple:
Become a real estate broker. 
If you're wondering: "Can you be a freelance real estate agent?," then the real answer is no. 
You'll need to become a broker if you want to truly operate independently. 
This usually involves going back to school, taking exams, and earning your brokerage license. 
In some states, more than 80 hours of classroom study is required before you can take your exam. In addition, many real estate agents fail the exam on their first try. 
But before you can even take the test, you need to complete a number of years of on-the-job training as a real estate agent.
With that being said, the entire process can take under a year if you already have the required level of experience. 
You might also want to become a licensed realtor by joining the National Association of Realtors before you start your own independent real estate organization. 
Becoming a freelance real estate broker is highly advantageous if you're planning on going solo, because it means that you can cut ties with your agency. 
This in turn allows you to charge lower fees, as you won't have to provide any commission to your agency. As a result, it may be easier to attract clients and achieve success. 
Once you've earned your brokerage license, it's time to start planning out your business. 
You might want to start by working as an associate broker under another firm. 
While this might seem counterproductive if you can't wait to go solo, working as an associate broker allows you to learn from an established pro. 
By learning the ropes and watching a mentor, you'll learn valuable lessons that will help you run your own business more efficiently when you're ready. 
Create a Business Plan
Once you're ready to start your real estate business, you need a solid plan. Instead of jumping in headfirst, carefully hash out every little detail. 
Consider things like:
Do you want employees?
What niche are you going to target? (commercial, residential, condos, etc.)
What is your target market?
What is your marketing strategy?
What is your branding strategy?
What will your schedule be like?
How much money do you want to earn each year?
What makes you unique in the real estate world?
What's your competition?
If you're planning to go truly solo as a freelance real estate agent without any fees, you might want to start an "independent brokerage." 
This type of business offers a number of advantages over franchise brokerages, including:
Lower recurring fees
More control
Create your own branding and marketing
The issue here is that an independent real estate agent relies heavily on their reputation in the real estate world. 
But even if you aren't totally well-known in your local area, you can try a variety of strategies to bolster the reputation of your new brokerage and "fake it until you make it."
More on that later. 
After you've determined what type of brokerage you'd like to establish, it's time to choose the legal structure of your new business. Options include:
LLC
Corporation
Sole proprietorship
Partnership
An LLC or a corporation is a solid choice in the real estate world, as property transactions can easily lead to lawsuits when things go south. With a corporate legal structure, you cannot be held personally liable. 
This means that your own personal assets (like your house and your bank account balance) cannot be taken away if you lose a lawsuit. Corporations and LLCs also have notable tax benefits.
Sole proprietorships are very easy to set up, but you'll be on the hook for debts and lawsuits. Partnerships fall into that same general category, but you share liability with partners instead of shouldering the burden yourself. 
The next step is to register your business and obtain an EIN from the IRS. 
Finally, you'll need to consider your overall branding and marketing strategy when going solo. 
If you already have a stellar reputation as an excellent real estate professional in your local area, you might choose to use your own name for the new brokerage – something like "John Smith Realty" or "Jane Doe Real Estate." 
These straightforward names prevent you from losing that brand recognition you worked so hard to achieve while building your reputation as a real estate agent. 
Another important aspect of branding is your logo. 
You want something eye-catching, but not too complex. Remember your target market and choose a logo that speaks of professionalism and dependability.
Next, you might consider adding a tagline. Like all aspects of your branding strategy, your tagline or slogan should let everyone know what makes you unique. Why should people work with you instead of the competition?
---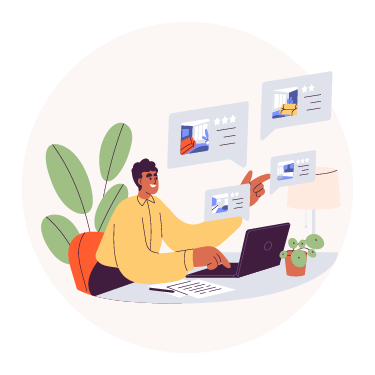 What Are the Best Tools to Help You Start Freelancing?
There are many tools that can be incredibly helpful as you pursue a career as a freelance real estate agent. 
The first step is to create your own website. 
Thanks to a number of affordable online templates and automated builders, this has never been easier. Remember your branding strategy, and you should have a stellar website in no time. 
You might also consider looking into CRM (customer relationship management) software. 
Email campaign tools are worth their weight in gold, and many real estate professionals rely heavily on email newsletters to maintain close contact with their clients. 
Lead generation software is a must, and this includes things like sales funnels, Facebook ads, Google Adwords, custom landing pages, and much more. 
Once you've put all of these tools into action, it's time to consider your SEO strategy. 
Otherwise known as Search Engine Optimization, SEO helps customers find your web content quickly and easily.
As a freelance real estate agent, you'll want to focus primarily on local SEO. 
This type of SEO strategy ensures you're targeting people within your geographic area – not people halfway across the globe who aren't interested in buying or selling property in your neighborhood. 
Local SEO relies heavily on specific, specialized factors, such as Google Maps optimization. 
A blog is another excellent tool, and this can really help you lay the foundation for success. 
While blogs don't generate leads as quickly as paid ads, they can help you attract organic traffic – which is of a much higher quality than inorganic web traffic. 
When you use paid ads, leads are being pelted with content they never asked to see. 
But with a blog, you can capture leads that are actively searching for web content relevant to your business. These organic leads are much more likely to get in touch and become clients. 
It may take months or even years before your blog starts generating noticeable leads, but it's always a good idea to get started. 
Remember, it's a good idea to post regularly if you're going to start a blog. Don't give up after only a few posts. 
In addition, you might want to invest in some straightforward tax software if you're serious about going solo. This helps you maximize profits and minimize taxes – which is often difficult to achieve if you're running an independent brokerage by yourself. 
Of course, you could also hire an accountant, and these professionals often help you save even more time while simultaneously keeping your tax obligations as low as possible. 
Remember when we talked about the importance of reputation when going solo as a freelance real estate agent?
Well, you can bolster your reputation in the industry with some deceptively simple strategies. 
First, let's back up and consider an important advantage of going solo. You no longer have to drive into the office, which means you can live wherever you want.
If you were previously working for a real estate brokerage with an office in a major city, you might choose to purchase an affordable, spacious home in a more rural location after going solo – perhaps a suburb or a town on the outskirts of the city. 
But here's the problem:
If your new independent brokerage is registered as having its headquarters in a rural location, your reputation could suffer a major blow. 
However, you can easily get around this problem by simply registering your new company at a different address. 
This is perfectly legal and legitimate, and it's known in the business world as a "virtual address."
Basically, all you need to do is work with a reputable service provider like Alliance Virtual Offices. They'll let you pick almost any address you can imagine. 
Why not pick a downtown address in the heart of the business district? 
Whether you live near New York, Los Angeles, or any other major city, choosing a virtual address can give your reputation a major boost. 
You can even have your mail sent directly to this virtual address – saving your home mailbox from being overwhelmed. 
In addition, a virtual address keeps your home address private, ensuring you don't get any unexpected visits from disgruntled or overly friendly clients. 
Another important consideration has to do with your business phone line. 
But if you're truly going solo as a freelance real estate agent, you may find it difficult to handle all of your important calls without the help of a receptionist. 
How does this work if you don't have an office where a receptionist can sit and wait for calls? Office rental space is incredibly expensive, and so is hiring a receptionist full-time. 
Again, there's a very simple solution to this problem – all you need to do is sign up for a Live Receptionist service. 
Also known as a "virtual receptionist," these trained customer service professionals answer your business phone line – and you don't have to hire them or rent out a physical office space.  
A service provider like Alliance Virtual Offices provides you with a business phone number, and your Live Receptionist will pick up whenever you're busy. 
These receptionists are trained to take down information, share information about your business, and provide you with the contact information you need to reconnect with important leads. 
This type of service is especially important for freelance real estate agents, since you might be busy for a number of reasons throughout the day. 
If you're currently showing a home or meeting with a client, you can't pick up the phone, and that could mean a potential sale lost.
When you're just starting out as a freelance real estate agent, you can't afford to let these leads slip through your fingers. 
And even if you do manage to pick up the phone despite your busy schedule, there's no guarantee you'll be in the right frame of mind to convert these leads. 
By delegating this task to someone who is trained to speak in a bright, cheerful manner, you can feel confident about this crucial aspect of lead generation. 
---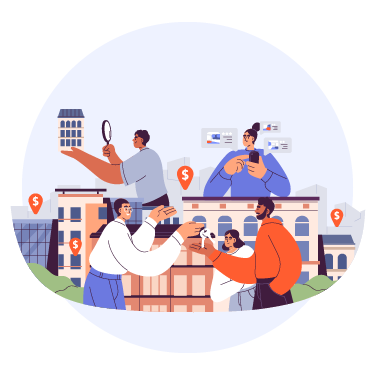 Take Action and Become a Freelance Real Estate Agent
The right tools are within your grasp. 
The path is set.
You have the skills and experience to make this happen.
There's only one thing left to do:
Take action!
The real estate industry is more rewarding than you ever dreamed possible, and it can be even more lucrative if you go solo. 
Fewer fees, more control, unparalleled flexibility… All of these benefits are possible when you reach out, seize the opportunities, and create your own business. 
Make your first move today – and while you're at it, check out Alliance Virtual Offices for plenty of tools that'll help make your dream business a reality. 
Further Reading