---
---
According to research by GEM, 69% of US-based entrepreneurs start their businesses from home. Given that this research was conducted prior to the coronavirus pandemic, it's likely that the percentage of home-based startups is currently at a much higher level.
Leaving aside COVID-19 implications and stay-at-home orders, it's easy to understand why so many people choose to launch a business from home.
It's free, convenient and some people find that they are more productive working at home than in an office setting.
And since 86% of U.S. entrepreneurial activity is motivated by opportunity, those benefits are hard to ignore.
However, although running a business from your home office might seem relatively easy, it isn't without its challenges.
Naturally, money is a large consideration when starting a work-from-home business.
A poll by Wells Fargo-Gallop reveals that 77% of startups rely on personal savings for their initial funds.
This is a good way to get your business off the ground, however building business credit in the early stages will enable you to reap the benefits of a good credit history.
---
Related: Answering Services for Small Businesses
---
Furthermore, you need to decide if you are actually going to 'start a business' — that is, establish your company as an LLC.
Telecommuting or Sole Proprietorship might be more in line with your plans and ambitions, for instance.
Either way, there are a number of things to consider, and we're going to explore a handful of them in this article.
---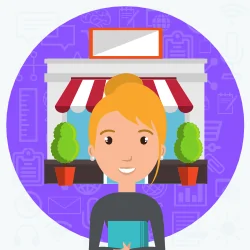 Starting a Business vs Remote Work
With so much jargon flying about, the conversation around starting a business can get a little muddied.
Remote working (also referred to as telecommuting) isn't the same as starting a business, for instance. Let's define the terminology so we're all on the same page.
Remote working / telecommuting / e-commuting
Since the COVID-19 outbreak, terms like remote work and telecommuting are now part of our daily lexicon.
But do you know what they really mean?
Telecommuting is a flexible work arrangement whereby the employee works outside of the office setting, usually from home, coffee shops, or a coworking space.
The individual communicates with their colleagues on the telephone or online via email or a collaboration tool like Slack (hence the term telecommuting).
The keyword here is 'employee'.
A remote worker isn't self-employed or a business owner; they work for an organization. If you want to work remotely from home while benefiting from being an employee in a business, telecommuting might be the option for you.
Because working remotely from home is becoming increasingly popular, there are lots of remote working jobs out there. This became particularly evident during the pandemic, as many firms switched to fully remote or hybrid home-office workplace policies.
You'll find many remote and home-based jobs on sites like FlexJobs, Remote.co, and Working Nomads.
Sole proprietorship
Typically, a sole proprietorship is for freelancers. It is a business run by one person and is relatively simple to set up. The downside is that a sole proprietor is legally responsible for all of the business's debts and it can be difficult to get investment because there's no legal structure that promises repayment if the business fails.
Partnership
A partnership is similar to a sole proprietorship in many ways but involves two people instead of one. Partners share ownership, invest equally and share the profits (or losses) of the business. Again, partners are fully liable if something goes wrong with the business.
Limited Liability Company (LLC)
An LLC is the most common form of business entity and, as the name suggests, owners are not held personally responsible should any financial faults occur. Owners' personal property is well-protected (as long as certain guidelines are adhered to) because the business is seen as a separate entity.
A few months or years down the line when the business grows and becomes more established, you might decide to 'incorporate' it.
---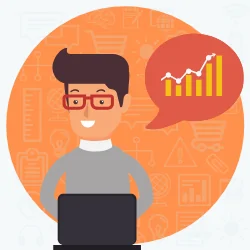 Important things to remember when starting your business
Once you've officially registered your business as an LLC, if that's what you decide to do, there are a few important 'next steps to consider and should be outlined in your business plan. The last three can apply to sole proprietors too.
Get a business license
After you've registered your company, the next step is to get your hands on a business license. Essentially, this is a permit that enables you to run your business in a certain location and is issued by a government agency.
There are two types: federal and local. The one you opt for will depend on the type of business you running and the activities you plan on carrying out, so it's important to do your research to find out which license you'll need.
Establish business credit
Establishing business credit that is separate from your personal credit history is an important step for new businesses.
In order to do this, your business has to be registered as an LLC or corporation.
There are a number of steps involved in getting business credit.
A few include: obtaining a federal tax identification number, having a corporate address and phone number, opening a business bank account, and getting a business credit card.
Build a reputation
Establishing a relationship with your customers from the beginning is important if you are to grow your business and attract the best talent as you do so. Cultivating a good reputation takes time, but there are some things you can do at the start to aid the process.
Integrity is key: keeping promises and admitting mistakes will go some way to securing credibility. Building a reputable online presence can also help — getting happy customers to leave positive reviews, etc. But it's also important to remember that your business has to look credible from the outside too.
This brings us nicely to our next point…
Virtual office membership
When you sign up for a virtual office, you'll get a legitimate business (and mailing) address and phone number that you can put on your website, business cards, and all other marketing collateral.
This is much better than using your residential address both in terms of marketing and security. What's more, it will instantly make your business seem more credible.
---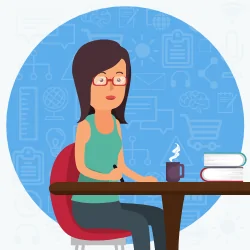 Challenges of working from home
Choosing to work from home online can pose certain challenges. Without coworkers around you, motivation — or lack of — can become an issue.
Isolation, a lack of separation between work and personal life, distractions from family and pets, and inappropriate training all pose challenges for the newly remote worker.
Another pitfall is the lack of a meeting place. Yes, there's always the local coffee shop, but that isn't exactly ideal. Especially if you need privacy.
That's where a virtual office membership comes in handy. You don't just get an address that helps you to build credibility etc. More often than not, you'll also have the option to hire meeting rooms by the hour and even use office space every now and again.
Virtual offices are also pretty useful when it comes to managing a remote workforce. Although technology has made it easier to lead a geographically dispersed team, nothing can replace the value of face-to-face interaction.
With a virtual office, you can schedule physical meetups with your team and conduct training on a flexible hourly basis.
---
Conclusion
We do hope that you've got a clearer idea of what you need to consider when starting a work-from-home business and are better equipped to make some of those important decisions.
There are a number of jobs that you can do from anywhere, so whether you decide to go down the telecommuter route or start your own business, you will be joining the millions of people around the world who work from home every day.