---
Q: Do I need a physical address for my online store? What kind of address should I look for if I don't need the storage space?
A: Yes, all businesses need a physical address for LLC registration. If you don't need the storage space, a Virtual Office is the best way to retain a physical address without purchasing traditional space.
---
The pandemic accelerated a trend that originally began in the early 1970s. Despite struggling to gain real traction, remote work was a niche aspect of the labor market for decades before skyrocketing in popularity at the height of Covid-19.
According to a Forbes article, as flexible workstyles shot to the forefront of the public consciousness, the pandemic accelerated digitization by 3-7% as ecommerce sales in the US touched almost $900 billion in 2021.
Unsurprisingly, this new interest in remote and flexible workstyles brought along and revitalized a slew of digital tools and services designed to help modern business owners streamline their operations.
In the past, securing physical office space was a prerequisite for any kind of business ownership. As economists predict continued growth for online businesses and ecommerce operations, those traditional prerequisites look considerably different.
With tools like Virtual Offices and coworking spaces, employers found they could offer flexible workstyles to their employees without sacrificing the camaraderie and working environment that traditional office space is known for.
Despite the ability to forego traditional office space, entrepreneurs today still need to consider the benefits of having a physical address for online business.
Today, we'll look at why you need a physical address for online business, how the world views your business address, the best address for online businesses, and finally, the solutions provided through Alliance's Virtual Offices.
So, if you've ever searched for questions like "What address do I use for my online business?" or "Do you need a physical address for an online business?" – you're asking the right questions.
So, does an online business need a physical address?
The answer is yes.
---
---
Why you need a physical address for online business
Before we dive into the different styles of addresses your business can use and the need for a physical address for online business, let's explore why physical addresses make such a difference.
According to McKinsey's American Opportunity Survey, Americans aren't just putting up with flexible workstyles; they're demanding them. For businesses that operate entirely online and provide only fully remote workstyles, this presents an issue.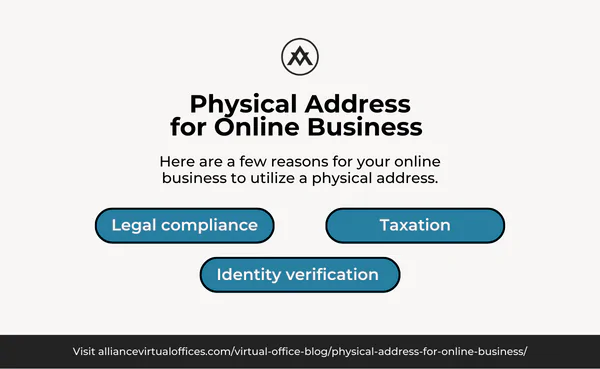 Below, we've put together a brief list of reasons for your online business to utilize a physical address.
Legal compliance
Taxation
Identity verification
Legal compliance
Whether you're running an online business or a traditional brick-and-mortar, most states will require you to register for your LLC with a physical address. 
---
Read more: Get a Virtual Address for LLC Registration 
---
Even if the state allows nonphysical addresses or PO boxes, you must ensure your online business complies with local, state, and federal regulations. 
Unfortunately, not all virtual address providers are created equally, which can lead to confusing situations down the line. 
Some providers will sell you a cheap virtual office or another lower-quality virtual address under the guise of helping you run your ecommerce business, neglecting to mention the fact that the addresses they provide are unusable for registering your LLC. 
In this situation, you'll often be asked to register your LLC with your home address, which should be avoided at all costs. When you register with your home, you're opening yourself up for an undue amount of headache and frustration.
Registering LLC adds all your relevant business information to the public domain. If you register with your home address, anyone inclined to look will have an easy way to find out where you live.
Your address's inclusion in the public domain may result in an unbelievable amount of spam mail being sent to your home, difficulty separating your work and home lives, and disgruntled ex-employees or customers having access to your personal information.
Essentially, registering with your home address blurs the lines and creates an uneven work-life balance. You don't want your online business to feel like it permeates every aspect of your life, especially when trying to relax. 
Using a provider that provides you with a physical address for online business combats this and will allow you to keep your home and work lives separate.
Taxation
Regardless of where your business operates, you'll need a physical address to help you with taxation. 
In most locations, a physical address is required to register with local and state tax authorities, allowing your online business to pay taxes in the proper jurisdiction.
Determining your tax liability is almost impossible when you're using a low-quality virtual address or another lower-quality virtual office. The regulatory bodies that dictate these payments don't view a vague idea of your company's location as valid.
These taxation laws and regulations vary heavily by jurisdiction, so using a physical address for online business allows you to create a centralized location, or an anchor, where you can easily determine what taxes you need to pay and when you need to pay them.
Even better, the fact that your business uses a physical address will make verification and communication far more straightforward.
With a physical address, especially one that has several mail forwarding options, you're giving tax authorities a verifiable location they can use to send your company official communications, notices, and other tax-related documents.
Identity verification
A physical address can be used as a form of identity verification, helping to establish the legitimacy of the online business. 
When you're trying to obtain licenses, permits, open bank accounts, or anything else that requires a steady address, a physical address can corroborate that information.
Most banks have no issue helping you bolster your business credit, but when you're using an address that might disappear tomorrow, they're far more unlikely to assist you. 
You can combat this with a physical address that verifies the professionality and prestige of your company.
The same goes for identity verification too. Some branches and licenses may require identity verification for official records or other relevant documents that you can easily handle with a physical address for online business.
This helps prevent fraudulent activities and enhances trust in your business's transactions.
It doesn't matter if you're hoping to start a brand new online business or launch a satellite office to help break into new markets, a physical address is a must if you want your operations to be taken seriously.
---
Read more: Satellite Office: Your Complete Guide
---
When you use a Virtual Office that provides a physical address for online business for a satellite office, you can appeal to the locals with a recognizable address without risking a large amount of capital for traditional space.
Remember, we're living amid the largest attention-driven economy ever seen. Your company's success must be seen as legitimate and prestigious as possible.
How the world views your business
According to CNBC, American cash flow that took a hit throughout 2022 is expected to be back in full force throughout 2023.
This is good news for larger internet companies and well-established businesses, as consumers are more likely to go with businesses they trust. For everyone else, this presents an opportunity to show consumers that you're serious about your operations.
American consumers lost almost $9 billion to various scams and confidence schemes in 2022.
Scams are ubiquitous, and consumers are rightfully nervous about making purchases from newer, unproven companies. 
This might seem unfair, but in reality, it presents the perfect opportunity for companies willing to go the extra mile.
Consider this: you're shopping for a hyper-specific product only two businesses offer.
Both of these businesses are unknown to you. They've existed for about the same amount of time, they have a similar number of employees, and neither business has many reviews.
When you search for the first business, you're greeted by a business located at an address you know. You've seen the address several times before; the other companies in the center are well-established and prestigious.
When you search for the second, you're greeted by countless other businesses, some now defunct, that have used the same address, and you recognize none of them. Upon further inspection, you realize the second business shares its address with a retail store in a flyover state you've never heard of.
As you might imagine, you will go with the second, better-established business.
How the world views your business is paramount to the success of your operations. With the wrong address, you may be scaring off consumers before they've ever made a purchase.
Instead of wasting time searching for "how to get a physical address for my business?" – take the time to understand why a physical address looks so much better than its wholly digital alternative.
Below, we've compiled another list of ways the world's view affects your company.
Brand building
Customer service
Credibility
Networking
Brand building
A physical address can help build a stronger brand identity for the business, as it provides a physical presence that customers and stakeholders can identify with.
If you're using a low-quality office that isn't tied to physical space, you have two options:
You can put your home address on your branding material. This is a bad idea for a plethora of reasons.
You can use a digital address on your branding material. Again, this is a terrible idea because there's no guarantee you'll even be able to use that digital address as time passes.
Outside of simply creating a stronger identity for your brand, a physical address for an online business allows your company to establish a local presence in the area you've decided to register for an LLC.
Many customers prefer local businesses to their national counterparts. With a local address, you can better connect with these consumers and create more concise targeting methods to reach other specific regions.
With the right physical address for your online business, you have a prestigious and well-known location you can add to your branding material. This results in increased brand awareness and customer engagement, which are necessities if you ever hope to reach true scalability.
Customer service
A physical address can serve as a point of contact for customers who want to inquire about products or services, make a complaint, or return an item.
Remember, perception is everything. You want to give potential consumers the idea that your company is always accessible.
With a physical address, you're giving your business a tangible presence that allows customers to feel more confident to engage.
Even if your business is operating wholly online, a physical address that consumers recognize as your hub for operations increases the perception of customer services and leads customers to view your company as reliable and responsive.
Credibility
A physical address can increase the credibility and trustworthiness of the business in the eyes of potential customers, as it suggests a level of permanence and stability. 
Even if you've found a state and locality that allows you to register your business with a PO box, that looks infinitely less long-term than a physical address.
A physical address lends credibility and professionality to an online business that can't be found with a standard virtual address or low-quality virtual office.
It reassures consumers, clients, and investors that the business is established and committed to maintaining a professional presence.
Networking
A physical address can facilitate networking opportunities with other businesses and stakeholders in the local community, leading to potential partnerships and collaborations.
If you're using a low-quality virtual address, you won't have access to physical space.
 If you're using one of these lower-quality addresses but want to work outside of your home office, you'll typically be stuck in public coffee shops, expensive coworking spaces, or other hard-to-access hotel conference rooms. 
Alternatively, high-quality Virtual Office companies that give you a physical address for your online business provide you and the other businesses using their services with access to coworking spaces and meeting rooms.
Because this space is accessible by other business people working to further their operations, you are provided with an opportunity to meet like-minded peers and motivated entrepreneurs.
The stronger your network becomes, the better your business prepares for anything.
What is the best physical address for an online business?
The best physical address for your online business is a Virtual Office.
---
Read more: What is a Virtual Office and How Does It Work?
---
We've put together one more list to look at the amenities and benefits associated with a Virtual Office below.
Cost-efficient
Flexible
Mail forwarding
Prestigious
Coworking spaces and meeting rooms
Cost-efficient
A Virtual Office is far more affordable than a traditional office or storefront rental.
A traditional commercial lease lasts 3-5 years and includes countless different ongoing payments and fees. You have a large security deposit you need to pay, monthly rent, utilities, general upkeep, and any other extraneous costs associated with keeping the office operational.
At Alliance, our plans start at an easy-to-manage 6-month minimum and can cost as low as $49 per month. A far cry from the multi-thousand dollar expenses associated with traditional space.
Flexible
A Virtual Office gives you the flexibility to work from anywhere, maintaining full freedom. 
When you use a traditional workspace, you're not able to travel as freely as you'd like because someone has to mind the store.
Similarly, when you use a low-quality office, you'll likely be using your home address, which also requires you to stay close by to deal with the incessant mail and other headaches associated with a home-address LLC.
Alliance's offices are tied to real physical space that you only pay for when you use them, but even when you aren't using the space, the business address remains static and allows you to travel freely.
Mail forwarding
Alliance's Virtual Offices protect your home address while offering convenient mail forwarding.
---
Read more: Our Business Mail Forwarding Service Costs Less Than You Think
---
 Unlike other virtual office providers, we will never force mail forwarding on you or your business. 
We have four separate tiers of mail forwarding that vary depending on the amount of incoming business mail you're receiving, and if you don't want mail forwarding at all, that's perfectly fine too.
Keep in mind, the prices below may vary slightly depending on where your Virtual Office is located.
Once monthly mail forwarding for $10 per month
Twice monthly (biweekly) mail forwarding for $20 per month
Weekly mail forwarding for $30 per month
Daily mail forwarding for $70 per month
As you can see, these tiers are built specifically for businesses at varying stages of their operations.
If you don't need frequent mail forwarding, you can try either of the first two tiers to get acquainted with the process.
Alternatively, when you start receiving a high volume of incoming mail, you can switch to the latter tiers to stay fully updated on all your important mail.
Prestigious
A Virtual Office helps you put your best foot forward, solidifying your reputation by centering your business in a prestigious business center.
Alliance's offices are available in every state and almost every city, so you have more than one address for your online business to choose from.
Coworking spaces and meeting rooms
A Virtual Office gives you access to meeting rooms and coworking spaces so you can work however you need.
Securing a business address for your online store is great, but not if that address doesn't come with access to physical space.
Alliance's coworking rooms allow you to break the monotony of working from home and give you a place to work with other like-minded peers.
Similarly, Alliance's meeting rooms offer an easy way to host in-person and virtual meetings while maintaining an air of professionality.
A physical address for an online business provided by Alliance
Even online businesses need physical addresses.
The best choice is a Virtual Office from Alliance.
A Virtual Office gives your business everything it needs to solidify its reputation and grow. 
Finding a physical address for your online business is key to your company's longevity. Employees want flexible work options, and the best way to reduce turnover and cultivate a vibrant working environment is through a high-quality Virtual Office from Alliance.
---
Further reading
---
Alliance Virtual Offices provides physical addresses for online businesses everywhere. It doesn't matter if you're an established entrepreneur or a brand-new business owner hoping to familiarize yourself with digital tools; Alliance has something for everyone.
If you've ever asked about a "physical address for my online business" – then you're halfway to understanding why physical space is so important, even for remote businesses.

Contact us to see how Alliance can give you a physical address for online business today!