---
Q: Why do I need a virtual business address to run my business from home? Can I successfully use a free virtual business address if I'll never need access to physical space?
A: You need a virtual business address to register your LLC successfully, as using your home address is dangerous and doesn't inspire confidence in anyone looking into your operations. You should avoid a free virtual business address as you'll have to change addresses sooner rather than later, and you're given no amenities through these free spaces.
---
Since the pandemic, small businesses and online companies have had a distinct advantage over larger corporations and well-funded startups.
Thanks to the surprising staying power of remote work, these larger companies have found themselves in a position where they're forced to choose between renewing expensive and under-utilized office spaces and transitioning to flexible workspaces.
For smaller businesses and online companies, this decision is much easier to make.
Corporations have to worry about large-scale public perception and the whims of investors. In contrast, online companies and small businesses can make decisions that directly benefit the scalability of their operations.
Through the use of Virtual Offices and other digital tools, these less-established businesses can retain the amenities and prestige of traditional office space without sacrificing any of the flexibility that remote and hybrid workstyles are known for.
That said, not all virtual offices are created equally, and some business owners may be duped into using a free virtual business address.
While a free virtual business address might seem attractive from a cursory glance, the truth is that using these offices will only cause further problems in the long run.
In this article, we'll explore why your business needs a specified business address, what a free virtual business address entails, a better solution for lasting success, and finally, we'll look at some of Alliance's offerings vs a free virtual business address for LLC registration. 
So, if you've ever found yourself searching for a free virtual business address and phone number or "free virtual business address UK," you're in the right place. Keep reading for more!
---
---
Why your business needs a business address
To register an LLC in any state, you will need a business address. Without a virtual business address, you'll be required to use your home.
Unfortunately, using your home to register your LLC is detrimental to your privacy, safety, and legitimacy. Your home just doesn't have the same professionalism as a prestigious and well-known business address.
Before we move on, let's take a moment to further explore some of the key issues with using your home to register for an LLC.
Privacy 
Safety 
Illegitimate  
Privacy 
To register an LLC, most states require you to use an address tied to a physical location.
This immediately prevents you from using PO boxes and other low-quality virtual addresses in most states, and typically results in business owners feeling like they need to use their home addresses instead.
When you register your LLC, the information listed is added to the public domain. This means that if you've registered with your home, your personal information is immediately added to the public domain too. 
Anyone interested enough in looking now has unfettered access to your name, home address, and more, and removing the information is inherently more difficult than its introduction.
Keeping a healthy work-life balance is difficult enough as it is. When you introduce an attack vector for spam messages, unsolicited marketing, and potential scams, keeping the two separate becomes infinitely more difficult.
The sheer amount of unsolicited mail you'll receive after adding your home to the public domain is worth avoiding registering with your home address, and using a free virtual business address usually results in doing so to save time.
You might consider using a separate space to register your LLC, but if you're going that route, there is genuinely no reason to use a free virtual business address in the first place.
In addition to the general privacy concerns associated with registering with your home, you're also introducing yourself, your business, and your customers to several safety concerns.
Safety
When your address is added to the public domain, nothing stops disgruntled customers or frustrated ex-employees from finding out where you live.
This might not be a common occurrence, but there is no reason to provide strangers with that kind of access to your personal life.
Not to mention, several businesses use the public domain to look for addresses they can send mail, unsolicited offers, and even salespeople in an attempt to increase their revenue.
Outside of unwanted visitors, using a free virtual business address that asks you to register your LLC from your home makes you an even larger target for lawsuits and other unwelcome legal actions.
The entire point of registering for an LLC is to protect your liability. You've registered your business to ensure that you and your family are safe from the woes of business ownership. 
When you register with your home, any legal notices or lawsuits will be delivered directly to your front door, which can make your living environment feel hostile or unwelcoming.
A large part of success in remote and hybrid work is separating where you work and live. Registering with your home address eliminates that separation.
Illegitimate
While privacy and safety concerns affect your well-being, the legitimacy aspect of using a free virtual business address that asks you to register with your home is equally as detrimental.
Hosting meetings is a large part of owning a business. Whether in-person or virtual, hosting these meetings requires a private and professional spot for you to use when necessary.
When you register with your home address, you aren't given access to meeting rooms that help make these meetings run smoothly.
Even if you're hosting exclusively virtual meetings, there's something infinitely less professional about hosting from your home rather than hosting from a designated space.
Similarly, if you're hosting in-person meetings, you have expensive conference rooms, crowded and public coffee shops, or even worse, your home to host these meetings.
Understandably, none of these spaces inspires much confidence in the individuals you're hosting.
Independent of the lack of physical space, consumers are naturally skeptical of buying from businesses with unknown addresses. 
According to the FTC, American consumers lost almost $9 billion to scams in 2022. Because of the ubiquity of these scams, most consumers are hesitant to purchase from a company that's run out of a random home unless they encounter you at a fair or another kind of face-to-face meeting.
A free virtual business address provider isn't likely to vet its partners or customers, meaning you may be associated with scam businesses through no doing of your own.
---
Read more: Scammers Hate Us: Only Legitimate Businesses Use Our Virtual Offices
---
Now that we've explored why you'll need a business address rather than registering your LLC with your home, let's look at what a free virtual business address provides.
What is a free virtual business address?
A free virtual business address often doesn't provide a real address for your business at all. They're just web addresses that prevent you from using them to register your LLC.
Cost efficiency and optimized profitability are paramount for any successful business, but some business owners confuse profitability optimization with trying to save as much money as humanly possible at every turn.
---
Read more: Everything You Need To Optimize Your Net Profit
---
The idea of finding a free virtual business address in the US or a free virtual business address in Canada may sound appealing because of the initial savings and the high price of real estate in these areas, but the truth is that you'll wind up spending far more in the long run by taking these shortcuts.
Rather than searching for specific situations where you can save as much money as possible, you should hunt for the best possible value. 
For example, using a free virtual business address for your business at the beginning of your entrepreneurial journey might save you a few hundred dollars in the short term, but the cost of your decision over time only grows exponentially.
Many newer business owners are drawn to remote work because of the increased profitability associated with flexible workstyles, but that doesn't mean you can simply ignore the logistic aspects of running a business on the premise of earning quick money.
First, your free virtual business address isn't going to give you access to physical space or other workplace amenities. This means you'll have to pay extra anytime you want to work in a private and professional location that breaks the monotony of working from home. 
Next, because of the lack of physical space, you won't be able to use your free virtual business address to register for an LLC.
If you are lucky enough to find a free virtual business address that is tied to physical space, which is highly unlikely, you won't have access to coworking spaces, meeting rooms, mail forwarding, or the other amenities that make Virtual Offices worth it.
Even worse, what's often advertised as a "free virtual business address near me" doesn't end up being free when you account for hidden fees and other unscrupulous costs. The providers of these free addresses have one motivation, extracting as much value as possible from their customers until those individuals realize how useless the virtual office software is.
Add in the fact that most free virtual business address providers expect you to register your business with your home address, and it's best to avoid this kind of provider altogether.
Finally, the worst part about using a free virtual business address is that eventually, as your business grows, you'll be forced to switch addresses to accommodate your growing operations.
This may be due to the blurry work-life balance that comes with registering an LLC from the same place you eat, sleep, and drink, it may be due to an increased need for legitimacy as your business grows, or you may just need a Virtual Office that helps your business scale.
Regardless of the reason, switching addresses is tedious, may result in lost opportunity costs, and makes the entire ordeal a stressful net negative.
Rather than taking a risk with a free virtual business address, look at the options that are the best value over time. Try to find providers that won't introduce hidden and random fees to your virtual address. 
Using a cost-efficient Virtual Office business address is worlds more effective than utilizing something free that equates to nothing more than software that makes remote work more streamlined.
Thankfully, there are better options.
The better solution for lasting business success
With the help of a Virtual Office, you can register your LLC without needing to use your home or another low-quality address.
---
Read more: What is a Virtual Office and How Does It Work?
---
An Alliance Virtual Office is a real office address that provides your business with countless amenities and protects you from having to register your business with your home address.
Below, we've compiled a small list of some ways that Alliance's Virtual Offices make a free virtual business address look like nothing more than a gritty way of extracting value.
Prestigious addresses everywhere 
Mail forwarding 
Coworking spaces and meeting rooms 
Onsite and offsite support 
Customization 
Additional services 
Prestigious address
Alliance has Virtual Office locations in every state and almost every city. 
With such a vibrant network of Virtual Office centers, entrepreneurs from all over the country can find a center that meets their needs and provides them with a private and professional place to work and host meetings. 
Better yet, Alliance only deals with high-quality centers, so all of our addresses are well-known and prestigious locations that will bolster your company's legitimacy.
In the modern age, attention is everything. 
If you're using a low-quality, free virtual business address, you stand the chance of scaring potential customers away before they've made a purchase.
You can combat this sentiment through the use of Alliance's prestigious and professional addresses. Launch your tech company in Silicon Valley or your financial services business in the heart of Manhattan – wherever you think your business stands to benefit the most.
Mail forwarding
At Alliance, we understand that not all companies need the same level of mail forwarding. 
Other virtual office providers force their clients to pay a flat rate that includes a certain amount of forwarding regardless of the need for this service. At Alliance, we do things differently. 
---
Read more: Unlock Full Flexibility With Business Mail Forwarding 
---
First, we don't force partners to pay for mail forwarding they don't want. If you're content to pick up your mail as often as necessary – we won't stop you. 
That said, we've also created four individual tiers designed for businesses in various stages of growth. Remember, the pricing of these tiers may vary slightly depending on the location of your Virtual Office.
The first tier, monthly mail forwarding for $10 per month, is designed for new businesses that are still finding their footing. This tier is infrequent, so it'll require periodic pickups to stay up to date with incoming mail, but it's a great way to familiarize yourself and your business with the mail forwarding process.
The second tier, biweekly, or twice monthly, mail forwarding for $20 per month, is also designed for newer businesses but provides a slightly more regular schedule. For the second tier, you'll still probably have to make the occasional trip to your Virtual Office center, especially if you're receiving urgent documents or other sensitive incoming mail. Still, you'll never go more than two weeks without getting your mail forwarded. 
The third tier, weekly mail forwarding for $30 per month, is for companies that are starting to heat up. Weekly forwarding is regular enough to keep you fairly up to date, and you'll rarely find yourself in a position where you need to pick up your mail. 
Weekly forwarding is best reserved for when the volume of your incoming mail is exponentially increasing, but you're unwilling to transition to the daily forwarding option. 
The fourth and final tier, daily mail forwarding for $70 per month, is designed for businesses that are seeing a ton of volume. The entrepreneurs using this tier can't afford to miss their incoming mail.
This tier will help prevent you from finding yourself in a situation where you're replying late to sensitive correspondences.
Better yet, the daily forwarding option is the best value available. 
The first two tiers will cost approximately $10 every time your mail is forwarded, while the third tier costs around $7.50. The fourth tier, however, comes out to about $3.20 for each of your mail-forwarding experiences. 
As you can see, at Alliance, we take our mail forwarding services very seriously.
Coworking spaces and meeting rooms
Each of Alliance's Virtual Offices comes with access to easily reservable meeting rooms and coworking spaces.
If you've ever worked remotely for any period, you understand how easy it is to get burnt out. 
Yes, you may be more productive and appreciate the freedom, but working from the same place you eat, sleep, and relax can get frustrating very quickly.
Through Alliance, you can easily combat these feelings of burnout. Rather than trying to host meetings in crowded coffee shops or use public locations to finish work, you have two different options that can meet any of your specific needs.
For hosting meetings, virtual or in-person, you can use our meeting rooms of a variety of sizes. 
Want to host a small, personal virtual meeting? No problem; you have a private and professional place to do so.
Similarly, if you're meeting with potential clients or investors and want to impress them with your operations, you can easily find a nice meeting room that will accommodate all your guests.
Support
Alliance provides onsite and offsite support to help you with any issues you run into with your Virtual Office.
With a free virtual business address, you won't have anyone to speak with should you run into any trouble. 
With Alliance, however, you've got friendly and professional onsite staff to help you with technical difficulties and any other questions about amenities you may have.
Additionally, our tech support is ready and willing to answer phone calls and emails to help you during your Virtual Office setup.
Phone calls are the easiest and quickest way to get support, but if you're not in the mood for a call or feel more comfortable using email, we've got you covered there, too.
Customization
One of the biggest benefits of Alliance's Virtual Offices is the sheer level of customization you have access to. 
You can get a bare-bones plan for as low as $49 per month if all you need is the business address, or you can get a Platinum Plus Plan if you're going to use the coworking spaces with any real regularity.
Regardless of what you need, Alliance is ready to help you customize your Virtual Office however best serves your operations. 
As of last year, nearly 40% of employers had extended some kind of flexible work arrangement to their employees. To compete with these other companies, you need to stay as nimble and reactive as possible to deal with any shifts in the market effectively. 
A fully customizable Virtual Office allows you to do this.
Additional services
Finally, we offer additional services that can support you as your work demands increase.
This means you won't have to go through the trouble of switching addresses down the road. 
Whether it's Live Receptionists or Virtual Phones, Alliance has a whole suite of services and tools designed to help your company reach true scalability.
Alliance's offerings vs a free virtual business address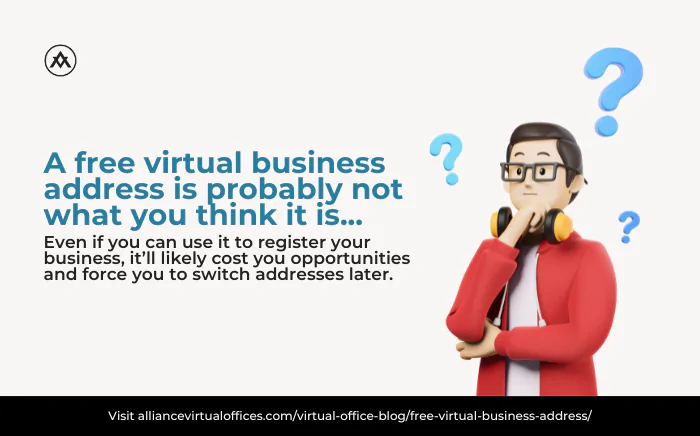 A free virtual business address is probably not what you think it is.
Even if you can use it to register your business, it'll likely cost you opportunities and force you to switch addresses later. 
There's just no reason to set your company up for failure like this. 
Alliance's Virtual Offices support you and your business, both now and in the future.
---
Further reading
---
Alliance Virtual Offices provides a variety of virtual office business address services to new entrepreneurs and established business owners alike.
Regardless of your industry, Alliance is ready to help your business grow and reach real scalability without the extra headache.
Don't risk using a free virtual business address that will only wind up causing you frustration in the long run. 
Contact us today to see how Alliance can help your business grow – and be sure to check out our Virtual Office Blog today.