---
Q: Do I need a business address for my online store? Can I just use one of the free virtual addresses?
A: Yes, all businesses need a specified business address. Using a free virtual address is a bad idea as you'll have to switch your address later, and free addresses provide no worthwhile amenities.
---
Based on information gathered in McKinsey's American Opportunity Survey, almost 60% of Americans can work remotely at least once weekly.
Over a year after the pandemic began winding down, this data is antithetical to the warnings from economists and other industry experts that claimed that flexible workstyles were nothing more than a fad.
Conversely, Americans want flexible workstyles more than ever before.
For larger corporations and already-established companies, this presents a bit of an issue.
C-suite executives must decide whether or not to renew their expensive leases and continue using high-priced offices that rarely hit full utilization or to forego traditional space altogether in favor of more flexible workspaces.
This transition presents countless opportunities for small businesses and companies that operate online.
Instead of wasting money on traditional office space, e-commerce entrepreneurs can register with a business address for online stores that provides all the amenities of physical office space without sacrificing the flexibility that modern workers need.
Today, we'll be asking if you need a business address for your online store, look at some of the problems associated with registering your business with your home address, explore the best business address for your online store, and finally, we'll close with a look at an Alliance virtual address.
So, if you've ever searched online for questions like "how to get an online business address," you're in the right place.
Keep reading to understand the benefits of registering with a business address for online store.
---
---
Do you need a business address for your online store?
The question of whether or not you need a business address for online store usage is common.
Searches like "What address do I use for my online business?" are common. Considering the ease with which entrepreneurs can start online businesses, it's a fair question because there were no other options outside of traditional space in the past.
Those traditional spaces still exist and are right for some businesses. However, online companies still trying to secure physical space rather than looking for alternatives are in for a rude awakening.
According to this recently posted Forbes article, one of the top three ways to succeed in modern business ownership is through unyielding flexibility.
Company owners want success, but many are unwilling to change their operations to fit the market's needs. 
Adaptability and a willingness to change are paramount to the success of your online store.  
Despite the different methods available for business registration and online operations, you'll still need a business address for online store ownership. 
By law, businesses must register with a physical address within the state they operate. 
PO boxes may work in specific locales, but the problems with using a PO box go far beyond simply registering your business.
When you register with a PO box, the image you present to potential clients, investors, and even customers isn't professional enough and may present missed opportunities from individuals who don't take your operations seriously.
In our attention-driven economy, image is everything. You can't risk being thought of as "just another ecommerce store," and using a PO box will give the public that perception.
This doesn't mean you have to purchase or lease a traditional office to make your company legitimate. As an online business owner, there's generally no point in paying the high prices associated with physical space.
If you can operate online without spending excessive capital on standard office space, you should start looking into a high-quality Virtual Office. 
---
Read more: What is a Virtual Office and How Does It Work?
---
With a Virtual Office, you can register your business at a professional and well-known address without securing physical space. 
If you're hoping to learn what address to use for online business practices, a high-quality Virtual Office is almost always the answer.
Even though your business is online, you'll need a physical address to register for tax purposes and to keep yourself safe.
While operating online will allow you to sell to consumers worldwide, you'll want to ensure you take the necessary steps to avoid being double-taxed.
Taxation is based on jurisdiction, and a physical address for online business ownership helps establish a concrete geographical location that is used to determine your taxation requirements.
Unfortunately, you can't register as an "online business." Outside of needing an address for taxation and safety purposes, online store owners need a business address to receive important documents from the US government.
Should you invest in a business address or use your home?
Throughout 2022, fears of skyrocketing inflation and other real-estate concerns left business owners feeling shaky.
Caught in between these widespread fears, many business owners found themselves in a position where they were unable to pay rent.
An Alignable poll presented by CNBC shows that nearly 50% of the surveyed businesses paid almost 50% more for rent than before the pandemic.
Fortunately, through the use of Virtual Offices, business owners no longer need to worry about high-priced rental payments that they may not be able to afford. 
Sure, there are hyper-specific situations wherein using a Virtual Office won't work, like if you need a lot of storage space or are in an industry that requires onsite labor. However, for everything else, there's just no reason not to use a flexible workspace.
For online stores, a hub for providing services, or even a satellite office, Virtual Offices allow you to retain the freedom associated with remote and hybrid work without boxing you into a long lease with expensive costs.
---
Read more: Satellite Mobile Office: Unleash Full Flexibility
---
That said, with lower-quality virtual offices, you may find yourself in an equally frustrating position where you're expected to register your business with your home address rather than a dedicated business address for your online store. 
There is no reason for you to ever use your home address for your online store or any other LLC registration. 
Below, we've put together a list of 3 key reasons you should avoid using your home as your business address.
Privacy
Security
Convenience
Privacy
When you use your home address for an online store, your personal information becomes readily available. 
Some states and jurisdictions might not add the information to the public domain, but many do.
Even if you're lucky enough to find a state that doesn't immediately add your personal information to the public domain, you're still at risk. This is because your personal information becomes available to the store and its employees, as well as any third-party vendors involved in the shipping and delivery process.
Unsurprisingly, this can increase the risk of fraud, identity theft, unwanted solicitation, and being inundated with marketing materials.
Putting your home address out into the world where anyone can access it erodes the barrier between your working and personal life.
When you're receiving an excessive amount of incoming mail to the same place you eat, sleep, and relax, it becomes challenging to cultivate a healthy work-life balance.
What's even more frustrating is that as your business becomes more successful, your privacy becomes more likely to be invaded.
Security
Using your home address for an online store can also make you vulnerable to physical threats such as burglary, theft, or stalking.
When you provide your home address to an online store, you are essentially making your home a public location that anyone can access through the internet.
Having your home address publicly associated with your business makes it incredibly easy for disgruntled customers, frustrated ex-employees, or anyone with nefarious intentions to locate you. If you're living with other people, be it your family or even roommates, registering your LLC with your home address puts everyone using that address in danger.
Like the issue with your privacy, the more successful your business becomes, the greater risk you're inviting. High-profile individuals and those living in an area with high crime rates are disproportionately affected by using a home address for online stores. 
Outside of these personal safety issues, using your home also puts your business at risk.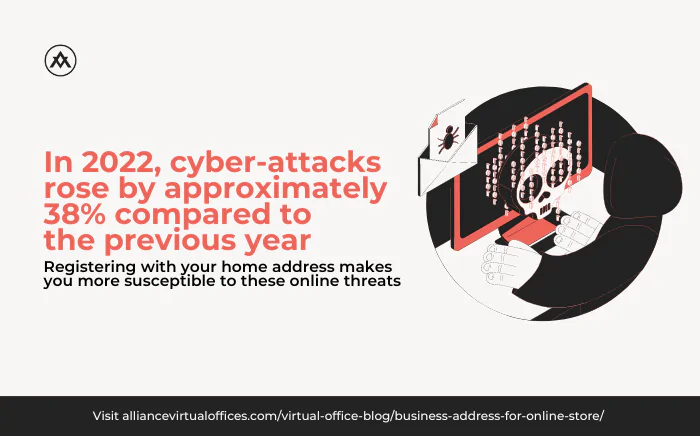 In 2022, cyber-attacks rose by approximately 38% compared to the previous year. Registering with your home address makes you more susceptible to these online threats. 
Once they know that you're living and working at the same address, cybercriminals can exploit this information to launch targeted attacks via phishing websites or other hacking attempts aimed solely at accessing your personal or business data.
When you keep your work and home lives separate, you're minimizing the chances of this kind of highly targeted attack. 
This may seem unlikely, but a Barracuda Networks report from 2022 states that small businesses are nearly three times more likely than their larger, more established counterparts to be targeted by hackers and cybercriminals.
Convenience
Finally, using your home address for an online store can be inconvenient if you frequently travel or move.
It can be time-consuming and frustrating if you have to update your shipping address every time you move, particularly if you order many items online.
Even changing your business address once is frustrating. Having to do it multiple times is a headache that just isn't worth having.
When you use a professional address you control, you make it easier to manage your online orders and ensure your packages are delivered to a secure location.
Essentially, using your home address is risky and isn't worth it if you're a serious business owner.
Rather than trying to save as much money at every stage of your business's life, you should view your address as an investment in your business.
Thankfully, through Alliance's Virtual Offices, you can make a high-quality investment into your business and still have leftover capital that can be reinvested in improving your business infrastructure and other operations.
What's the best business address for your online store?
Starting a business has never been easier, but that doesn't mean you should forgo some aspects of traditional business ownership in an attempt to save money.
A high-quality Virtual Office from Alliance is the best address for your online store. 
Below, we've compiled a brief list of some of the amenities you can expect when using one of Alliance's Virtual Offices.
Professionalism 
Private and secure 
Flexible 
Cost-efficient 
Coworking spaces, meeting rooms, and more 
Professionalism
A Virtual Office provides a professional address that can help establish your online store as a legitimate business. This can be particularly important if you are just starting out or if you operate your store from home.
Remember, there's nothing wrong with operating from your home – countless successful entrepreneurs do so; the issue is registering your business with your home address.
Using a Virtual Office business address for your online store gives customers the impression that you have a physical office or storefront, which can increase their confidence in your business. 
Not to mention, Alliance's network of Virtual Office centers ensures that the address you use will be professional and legitimate.
Private and secure
Using a Virtual Office address for your online store can help protect your privacy and your business's security.
Through mail forwarding, your mail can easily be sent to a secondary address that isn't your home, like a specified business PO box. This can help prevent unwanted solicitation or marketing materials from being sent to your home and can also help reduce the risk of identity theft or fraud.
Not to mention, Alliance ensures that all our partners are fully vetted. Our two-step identification process helps prevent scammers and other bad actors from using our services. 
---
Read more: Scammers Hate Us: Only Legitimate Businesses Use Our Virtual Offices
---
Because of the sheer number of Americans that were scammed in recent years, consumers are rightfully worried about purchasing from companies that don't look as legitimate as they'd like.
Using your home address or even other, lower-quality virtual offices can result in potential customers ignoring your company because your business address looks illegitimate.
Flexible
Virtual Office addresses can be used from anywhere worldwide, which is beneficial if you run an online store that caters to a global audience. 
Using a Virtual Office address can also be more convenient if you frequently move or travel, as you can keep the same address regardless of location. 
Part of the appeal of remote and hybrid workstyles is their perceived freedom.
When you use a Virtual Office, that freedom is palpable. Alliance has offices in every state and almost every city, and these offices have mail forwarding capabilities to help you get your mail wherever you are.
Cost-efficient
Using a Virtual Office address can be a cost-effective solution for small online businesses, as it can provide many of the benefits of a physical office address without the high overhead costs.
Virtual Office providers often offer a range of services, such as mail forwarding, phone answering, and meeting room rentals, which can help you run your business more efficiently.
Not to mention, Alliance's Virtual Offices can last as short as six months if you'd like, and our plans can cost as low as $49 per month.
Compared to the lengthy lease times associated with commercial space and the high rent costs, using a Virtual Office will allow you to heavily reinvest the savings back into your business.
Coworking spaces, meeting rooms, and more
At Alliance, you have access to easily reservable meeting rooms, coworking spaces, and mail forwarding, but you don't have to use these amenities if you don't need them.
Our mail forwarding service , specifically, is geared explicitly to whichever stage your business is in. 
---
Read more: Unlock Full Flexibility with Business Mail Forwarding
---
With four separate tiers, you can pick the mail forwarding option that caters to your business's needs. Remember that these prices might vary slightly depending on your Virtual Office location.
The first tier, monthly mail forwarding for $10 per month, is designed for brand new businesses. This tier isn't frequent enough to keep you fully up to date with your incoming business mail, but it's a great way to familiarize yourself with the system.
The next tier, biweekly, or twice-monthly, mail forwarding for $20 per month, is another tier geared toward newer businesses. Similar to the monthly option, you probably won't stay fully up to date with biweekly mail, but you'll be receiving it more frequently and will be better acquainted with when you need to make periodic visits to the center to pick up extraneous incoming mail.
Third, weekly mail forwarding for $30 per month is for businesses that are picking up speed. This tier is frequent enough to ensure that you aren't missing anything too important, and that if you do receive important correspondence, you're never more than a week late to receive it.
Last, daily mail forwarding for $70 per month is for businesses doing real volume. This tier is the best value for your money and ensures you stay caught up on your incoming mail.
All of these mail forwarding options are designed solely to help your business reach true scalability without sacrificing the freedom of remote work.
Using an Alliance virtual address
Your online store needs an address for legal reasons. While it might seem like it doesn't matter, investing in your address is an important part of setting up your online store for success.
You want a business address for online store ownership that shows your consumers, clients, and investors that you're serious about your operations. Additionally, you should be focused on making the best investments possible rather than trying to save as much money as possible in every transaction.
---
Further reading:
---
Alliance Virtual Offices provides business addresses for online store services and countless other digital tools to help modern entrepreneurs and business owners achieve scalability.
Don't waste your time registering for an LLC with your home address, and don't risk the potential fallout of using lesser-quality virtual offices, either.
Instead, take a look at the business address for online store ownership provided by your Virtual Office. 
Contact us today to see how Alliance can find the perfect address for online business ownership for you, and be sure to check out our Virtual Office Blog.