---
Q: Can I use my home address as a business address? What is a better solution?
A: No. You should never register your business with your home address. A better solution is utilizing a high-quality Virtual Office.
---
Before the pandemic, remote work was something that only a few employees could enjoy. Considering that more than half of American workers are unable to do their jobs from home, this makes sense. 
Sure, there were still pockets of individuals working from home, but during the pandemic, the number of workers who could work from home shot up to almost 60%. Businesses quickly found themselves in a position where to succeed, they needed to accommodate workers that wanted flexible workstyles.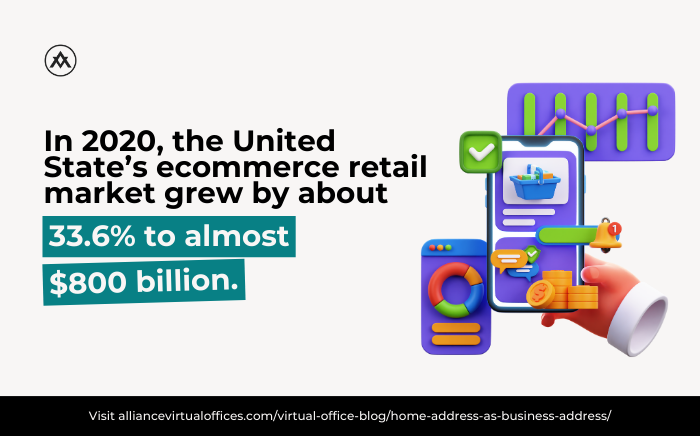 Ecommerce numbers had a similar boom too. In 2020, the United State's ecommerce retail market grew by about 33.6% to almost $800 billion, and throughout 2021 and 2022, eclipsed $1 trillion.
To adequately capture market share while keeping employees happy, businesses now use nontraditional addresses and other flexible working options.
Whether it be Virtual Offices or shared coworking spaces, the labor market looks much different than it did even three years ago.
Now, new entrepreneurs are in a position where they're often forced to decide whether or not using home address as business address in Canada or anywhere else is right for them. 
High-quality Virtual Offices will never ask an entrepreneur to make this choice, but unfortunately, not all Virtual Offices were created equally. 
In this article, we'll be asking why people use their home address as business address, look at the downsides of using your home for your business address, try to determine a middle ground, and finally, look at how you can secure a prestigious physical address for your online business.
So, if you've ever found yourself asking, "Can I use home address as business address?" – you're in the right place.
Keep reading to understand the dangers of using a residential address as a business address now!
---
---
Why do people use their home addresses for their businesses?
According to Forbes magazine, the pandemic accelerated digitization by 3-7 years.
Unsurprisingly, this has led to an environment where not everyone is on the same page.  
Whether it's unfamiliarity with the insurance system or a lack of information about state-specific tax laws, the speed that remote work blasted into popularity has caused many individuals and businesses to find themselves woefully unaware of the correct practices for ecommerce and online business ownership. 
---
Read more: Small Business Insurance Doesn't Have to Break the Bank  
---
Another example is new entrepreneurs and hopeful business owners using a home address as business address. As you may imagine, when you register a home address as a business address for online stores, you're asking for trouble.
Below, we've compiled a list of some reasons individuals think this is a good idea.
Convenience 
Cost savings 
Privacy 
Flexibility 
Convenience
One of the main reasons people choose to register their businesses with their home addresses is convenience. 
You live there, you likely do most of your work there, and it's easy to assume that registering with this address will save you time and effort. 
Typically, the individuals looking for this convenience are new businesses or entrepreneurs hoping to get started as easily as possible.
This is also particularly true for small business owners who may not have a separate office or commercial space.
Using a home address as a business address simplifies the registration process and eliminates the need to find and pay for a separate business address. 
This may sound great, but convenience often comes at a price.
Cost savings
Another reason why people choose to register their businesses with their home addresses is to save costs. Renting or buying a separate office or commercial space can be expensive, especially for new and small businesses. 
Standard commercial leases last anywhere from 3-5 years, and the costs associated with securing these spaces can be astronomical, particularly for new business owners without access to a lot of capital. 
First, you must consider the security deposit, which is often around $4000 according to research presented by Business News Daily. Typically, this security deposit will cost anywhere from one to three months of rent. 
Then, you have to worry about monthly rent, any upgrades you want for your space, brokerage fees, and monthly utilities too. 
This adds up to a hefty amount of capital that some entrepreneurs simply don't feel they can afford.
Privacy
Some misguided business owners may choose to register their businesses with their home addresses for privacy reasons.
Using a separate business address may require the owner to provide personal information they may not want to disclose. 
In their minds, using a home address allows them to keep that personal information confidential.
Flexibility
Registering a business with a home address can also provide greater flexibility. 
Business owners can choose to work from home or in a different location. They may have to pay extra for these different working locations, but to them, that's a better deal than paying for expensive space that provides no flexibility.
Many equate remote and hybrid workstyles with freedom, so the ability to work from various locations is invaluable. This is particularly true for businesses that require a lot of travel or for those that need to be onsite with clients.

These are the benefits of using a home address as a business address, but what about the downsides?
The downsides
The benefits of using your home address as a business address may make it seem like a good idea, but in reality, this couldn't be further from the truth. 
You'll notice that there aren't any well-established businesses using residential addresses as satellite offices, and for good reason. 
---
Read more: What is a Satellite Office? Everything You Need to Know
---
A satellite office is a business's secondary location, often used to find new customers and secure market share. Typically, businesses will use traditional commercial space or a high-quality Virtual Office to handle these endeavors. 
If large corporations were using residential addresses to corner new markets, that would mean there is a financial incentive for doing so. Since this isn't the case, you can assume the opposite. 
Below, we've put together another brief list of some downsides of using a home address as a business address.
Lack of professionalism
Risk to privacy
Limited space
Difficulty separating work and personal life
Lack of professionalism
Using a home address as a business address can give investors, clients, and customers the impression of a lack of professionalism. 
This may be particularly true for businesses that must project a certain level of credibility or authority. 
Consider this: you're looking for a business to handle specific financial services and can only locate two separate companies. One of these companies is using a residential address.
In contrast, the other uses a professional and legitimate address in Manhattan. You will obviously go for the established option in New York.
Potential clients or customers may be less likely to do business with a company that uses a home address.
In 2022, the FTC estimates almost $9 billion was stolen from consumers. Because of the influx of online scams and other digital thefts, consumers are rightfully nervous about spending their hard-earned money at companies they aren't familiar with. 
When using a home address as a business address, you lack the legitimacy that other, more prestigious business addresses provide.
Risk to privacy
Some business owners are under the impression that using a home address can protect privacy, but typically, it puts it at risk. 
Unless you're specifically registering your business in a state that allows for anonymous LLCs, registering your company will result in your business's information being added to the public domain.
When this happens, all of your company's information, including the address of the business, is easily accessible by anyone who feels inclined to look. 
This means that when you register your home address as a business address, you're putting your safety at risk. Outside of the safety risks associated with registering your address this way, it may also result in unwanted visitors or mail, such as salespeople or junk mail.
Limited space
Using a home address for a business can also limit the amount of available space. 
This can be particularly true for businesses that require storage, inventory, or equipment.
Operating a business out of a home may require additional investments in storage or other facilities.
Difficulty separating work and personal life
Registering a business with a home address can make separating work and personal life more difficult. 
This can be particularly true for small business owners who work from home. 
Remote work is great and arguably more productive than its traditional counterpart, but this doesn't negate the isolation associated with spending all of your time at home. 
Working in the same location you spend all of your downtime can quickly result in job burnout, forcing workers to search for new positions. When using your home address, you're stuck with public coffee shops, coworking spaces you must pay full price for, or expensive hotel conference rooms with lengthy waitlists. 
It can be challenging to maintain a work-life balance when your business is always in the same physical space as your personal life. 
As you can see, using a home address as business address isn't all it's cracked up to be. Using a residential address instead of the countless tools you have at your disposal is a quick way to put yourself in a frustrating position with your work.
Thankfully, other options negate the need for residential space and provide you and your business with countless amenities.
Why a Virtual Office is the best choice
Instead of using your home address, consider a Virtual Office.
---
Read more: What is a Virtual Office and How Does it Work? 
---
A Virtual Office is a service that allows individuals and business owners to use a prestigious address without securing physical space. 
That said, there are many different styles of virtual offices, and some aren't as nice as others.
Below, we've compiled a list of amenities you should search for when securing a Virtual Office.
Best of both worlds 
Affordable 
Flexible 
Access to coworking spaces and meeting rooms 
Solidifies business reputation 
Protects your home address 
Mail forwarding 
Networking opportunities 
Best of both worlds
A Virtual Office gives you the best of both worlds while minimizing the negatives associated with both work styles.
Virtual Offices give you the freedom and flexibility of remote and hybrid workstyles while simultaneously giving you the camaraderie and legitimacy of traditional space.
In addition, your Virtual Office provides ways to avoid the burnout and isolation associated with remote and hybrid work while also allowing you to save capital compared to renting commercial space.
Affordable
Virtual Offices are affordable.
At Alliance, you can get a Virtual Office plan for as low as $49.99 per month and have an easy-to-handle 6-month minimum.
Compared to the multi-thousand-dollar security deposits and hefty rent and utility payments, a Virtual Office saves a ton of money. 
Some entrepreneurs try to save as much money as possible at every turn in creating their businesses. This sentiment is noble but misguided.
Rather than saving as much money at every turn, business owners should focus on getting the best value for their money possible.
Using a home address as a business address may be prudent in the short term, but the opportunity and long-term costs of using a residential address make it far more expensive in the long term.
Flexible
Virtual Offices are flexible.
With one of Alliance's offices, you can choose a business address in every state and almost every city. Then, once you've set up a worthwhile business address, your Virtual Office makes it easy to work from anywhere in the world.
Many individuals equate remote work with freedom. A Virtual Office solidifies this equation by allowing entrepreneurs to create a centralized hub for the bulk of their operations while simultaneously allowing these workers to enjoy truly remote work anywhere imaginable.
Coworking spaces and meeting rooms
Through Alliance Virtual Offices, your office comes with easily reservable access to meeting rooms and coworking spaces that can help you host meetings of any size while providing you with a perfect workspace to use to break the monotony of spending so much time at home. 
Our meeting rooms come in a variety of sizes and are perfect for both in-person and virtual meetings.  
With a home address as a business address, you don't have anywhere reasonable to host meetings. Sure, you can use your home address for virtual meetings, but even that looks unprofessional and doesn't inspire confidence in potential investors, clients, or consumers.
Similarly, when you are working exclusively from home, a place to break your routine is paramount to your long-term success.
With our coworking spaces, you can take advantage of a private and professional workspace whenever you start to feel crowded by your home office.
Prestige
In our modern, attention-driven economy, image is very important. 
With a Virtual Office business address, you can show others your business is in a center filled with well-known and prestigious businesses. 
When you use a home address as a business address, the impression you give to outside interests isn't necessarily good. However, when you're using a business address that everyone is familiar with and home to other well-established and professional businesses, people may be more willing to give your company that first try.
Privacy
A Virtual Office protects your home address. 
Don't rely on state-specific LLC guidelines to stay anonymous. Instead, use a Virtual Office that keeps your personal information, like your address and phone number, out of the public domain.
Mail forwarding
Mail forwarding is paramount to the success of any Virtual Office. 
Some providers try to include a certain amount of mail forwarding, regardless of whether your business needs it. At Alliance, we allow our partners to create plans that may not include mail forwarding while also providing four separate tiers.
---
Read more: Why Our Premium Mail Forwarding Is Standard
---
These four tiers include the following but may be priced slightly differently based on locations.
Monthly mail forwarding for $10 per month 
Biweekly, or twice-monthly, mail forwarding for $20 per month 
Weekly mail forwarding for $30 per month 
Daily mail forwarding for $70 per month 
Each of these tiers is designed with various business stages in mind, so you can cycle through these tiers as your business grows without ever risking extensive capital.
Networking
One of the biggest benefits of using a Virtual Office that provides coworking spaces is networking. 
At your Virtual Office center, you have the unique opportunity to be surrounded by like-minded entrepreneurs solely focused on pushing their companies to the next level.
You can take advantage of these by meeting these entrepreneurs in an environment where everyone is working and furthering your interests, and theirs, through simply engaging in friendly conversations.
Securing a physical address for online business
It can be tempting to register your business with your home address. 
That said, it's seldom worth it. The problems that will crop up are innumerable, and switching business addresses can occasionally require a lot of logistic back and forth with your state government. 
A Virtual Office is an affordable way to get all the benefits of a professional business address while maintaining flexibility.
---
Further reading:
---
Alliance Virtual Offices provides Virtual Offices and other additional tools and services for new companies, established entrepreneurs, and everyone in between. 
Don't risk the headache of using a home address as a business address. It's difficult to shift addresses, and you may run into legitimacy and professionality issues when trying to secure new customers.
Instead, contact us today to see how Alliance can help put you in a high-quality Virtual Office so you can avoid using a home address as a business address!