---
Q: Do I need a physical address for my online business? Can I just use my home address as my online business address?
A: Yes, a physical address makes your business look legitimate and professional. You shouldn't use your home address because it's dangerous, unprofessional, and gives consumers a poor impression.
---
Finding an address for online business use is something that's transformed in recent years. 
Yes, virtual offices and remote work existed for years before the pandemic, but the popularity achieved by flexible workstyles, and, by extension, Virtual Offices and flexible workplaces, during Covid-19, made it clear that not only could anyone start a business – but they could do it from home.
Despite industry experts and other professionals swearing that the remote work explosion would be short-lived and that the return to in-office work would be quick and painless, the opposite has proven true.
According to McKinsey's American Opportunity Survey, a surprising 87% of surveyed workers claim that when they have the chance to work flexibly, they take it. 
Paired with widespread concerns over a commercial real estate crash, these numbers show that flexible workspaces stand a real chance of becoming the norm for businesses everywhere.
For established businesses and heavily funded startups, this presents a quandary. Should these larger companies renew leases on rarely fully utilized offices, or should they transition to flexible workspaces where they can focus on full utilization without exorbitant rent payments hanging over their heads? 
For online small businesses, other ecommerce operations, and new entrepreneurs whose main options are using their home addresses or securing an address for their online business, these questions are far easier to answer.
In this article, we'll ask if you should use your home address for your online business, ask what you should look for in an address for an online business, explain how the right address can help your business grow, and finally, we'll look at how to use Alliance for a business address for online store ownership. 
So, if you're hoping to find a physical address for online business without breaking the bank, you're in the right place. 
Keep reading for more!
---
---
The downsides of using your home address
Before we explore the best addresses for your online business, let's take a moment to cover some of the downsides of using your home address. 
---
Read more: Should I Use My Home Address for My Business? 
---
If you're wondering whether you can get away with using your home address to register your business, the answer is an unequivocal "no." 
Keep in mind, this isn't to say that you can't run your business entirely from the comfort of your home, but it is saying that you won't be able to get very far with a residential address as your business address.
Below, we've put together a brief list of some of the issues and downsides associated with using your home as your business's address.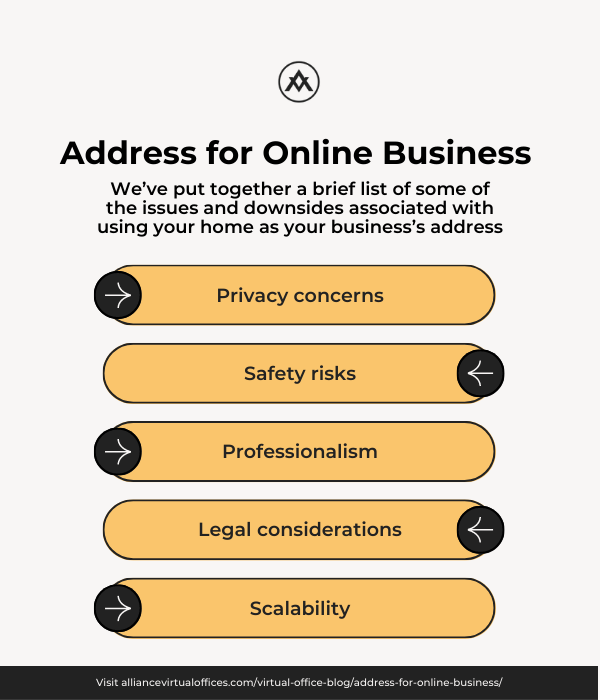 Privacy concerns 

Using your home address for an online business means that anyone who visits your website or interacts with your business will have easy access to your personal information, including your home address. 
As you can imagine, this is a major privacy concern, as it may make you vulnerable to identity theft or other forms of fraud. 
When you register a business, most states add the information to the public domain. This means that when you use your home address for registration, that information is added to the public domain too. 
This leaves you open to incessant spam mail, scammers making cold calls, and other less-enjoyable kinds of solicitation. 

Safety risks 

Sharing your home address online can also put you at risk of physical harm. 
When your address is so readily available, you never know who is going to look you up. 
Disgruntled customers, frustrated ex-employees, or even generally bad actors having an easy way to access your home address is always cause for concern. 
Outside of your physical safety, using your home address also exposes you to cyberattacks and other confidence schemes that threaten your customers' data. 
According to Forbes, small businesses are three times as likely to be targeted by cybercriminals than larger corporations. When you're using your home address, these bad actors have an easy attack vector to target your business's information and your data too. 
If your customers' data is breached, rebuilding the lost trust and dealing with rebranding will cost far more than simply securing a trustworthy virtual address. 

Professionalism 

Using a home address for an online business makes your business appear less professional. 
In 2022, Americans lost almost $9 billion to scams. Unsurprisingly, this has resulted in countless consumers being very cautious about trying new businesses with an unproven track record. 
Customers may be hesitant to do business with you if they perceive you as operating out of your home rather than a dedicated business location. 
This isn't to say you can't run your business from home. With flexible workspace, you can run your business from anywhere you like. However, this is to say that you shouldn't use the home address because of the way potential customers, clients, or investors will perceive your company. 

Legal considerations 

Depending on where you live, there may be legal requirements for businesses to have a physical business address. 
In some states and jurisdictions, your home address may not meet these requirements, which may result in fines or other legal issues. 
Not to mention, there's no better way to blur the lines between your work life and your normal life than opening yourself up to receiving legal notices and other government correspondences at your house. 

Scalability 

If you plan on growing your business in the future, using your home for your LLC address for online business may not be practical. 
As your business expands, you may need to move to a larger space or hire employees, which would require a separate business address. 
Starting with a dedicated business address from the beginning can help you avoid headaches like these down the road. 
Remember, as a business owner, you shouldn't be trying to save as much money as humanly possible at every available turn. Instead, you should focus on finding solutions that provide you and your business with the most value possible. 
 
As you can see, there are several downsides associated with using your home address. Thankfully, we're ready to help you find the perfect return address for your online business.
What to look for in an address for your online business
It doesn't matter if you're hoping to start a new business venture, transition from a physical office to a more flexible option, or launch a satellite office. 
---
Read more: What is a Satellite Office? Everything You Need to Know 
---
With the right address, you can launch a vibrant satellite office that can garner interest from locals and your existing customers alike.
Thanks to the flexibility of a business address for your online store, you can work from anywhere you want, and that goes for satellite offices too. 
Your business's location is far more important than email addresses for online business. Once you've settled on an address, changing that address becomes infinitely more complicated than simply picking a good provider initially.
Below, we've put together a brief list of what you should look for in an address for your online business.
Professionalism
Mail handling
Location
Flexibility
Professionalism
An address for online business owners should show your customers and business associates that you are a legitimate and reputable business. 
The modern market is driven almost entirely by attention, and a lack of attention is one of the worst things that can happen to any business. 
If you're using your home address or a lower-quality address, there's a great chance that potential customers will ignore your company on sheer principle. Thanks to ubiquitous scams and innumerable shady businesses cropping up, consumers need to see evidence of your professionality. 
Think of it this way: imagine you're searching for a hyper-specific tech product you've been unable to find for months.
Then, you come across two businesses that provide the product you've been searching for. Both of these businesses have existed for the same amount of time, are relatively unknown, and are offering the product you're seeking for similar prices.
When you search for the first business, you're greeted with a residential address in Kansas. You're unable to determine anything else about the business except for the neighborhood the "office" is located in.
When you search for the second, you see that the company is located in the heart of Silicon Valley. The center this business is in is filled with other, better-known businesses that have proven track records.
Based on this cursory search alone, you'll almost definitely purchase from the more established seeming business, despite knowing that both companies are of similar age.
Like it or not, a professional address is paramount to your business's long-term success and can help you reach a broader market faster than using your home address.
Mail handling
You'll need to have access to your mail as you grow your business.
A good mail forwarding system is crucial to keep your business running smoothly.
---
Read more: Our Business Mail Forwarding Service Costs Less Than You Think
---
With a company like Alliance, you are guaranteed access to our mail-forwarding add-on regardless of where your office is located. Some providers insist on including mail forwarding in their virtual office packages, but this is a waste of money for businesses that don't need their mail forwarded. 
Even better, Alliance provides four separate tiers of mail forwarding that accommodate your business as it grows. Keep in mind, these prices may vary slightly by location.
Monthly mail-forwarding for $10 per month
This tier is designed for new businesses. Monthly forwarding isn't regular enough to keep you up to date on important incoming mail, but it will allow you and your business to familiarize yourself with the ins and outs of using the mail forwarding service.
For the cost of a fast-food meal, you can get a feeling for how the forwarding system works and see how often you might like to have your mail forwarded when you move up a tier or two. 
Biweekly mail-forwarding for $20 per month
Biweekly forwarding is also built for new businesses but keeps you slightly more up-to-date than the first tier. If you're traveling frequently or are on vacation, this tier may be right for you.
Weekly mail-forwarding for $30 per month
When you start seeing a higher revenue volume and more incoming mail, you may consider switching to weekly mail forwarding. This tier will keep you relatively up-to-date and won't require many visits to the center to pick up your mail. 
Daily mail-forwarding for $70 per month
Finally, daily mail forwarding is designed for businesses making a high volume of sales and bringing in a lot of business mail. With daily mail forwarding, you'll never miss any important documents or government correspondences, and this tier provides you with the most value for your money.
The first two tiers cost approximately $10 per forward, while the third tier costs about $7.50 each time you receive your mail. For daily mail forwarding, you only spend about $3.20 every time you have your mail forwarded.
Remember, you should be looking for ways to maximize value rather than trying to save as much money at every junction.
Location
You need to find an address that allows you to register in whatever state you choose. 
This helps with branding and local growth while also allowing you to leverage state laws to grow your business faster. 
With the right address for online business, you can pick a state with attractive tax laws, favorable regulations, and a wide audience. 
Flexibility
You should choose an address that gives you access to work and meeting space when you need it so you can work however you choose. 
Without access to coworking spaces and meeting rooms, you're forced to use public coffee shops and other unsafe networks to do your work unless you want to spend money every time you want to break the monotony of working from home.
Flexibility is one of the most important qualities that modern businesses can possess. With the right address for online business, you can handle any vicissitudes in the market with ease and set your company up for long-term success.
How the right address supports your growth
Fortunately, using one of Alliance's Virtual Offices supports your business's growth and allows you to achieve true scalability without breaking the bank for traditional office space. 
A recent CNBC article warns of an impending commercial real estate crisis, and with the tools that modern entrepreneurs have at their disposal, there's no reason not to utilize the amenities provided by a high-quality Virtual Office.
---
Read more: What is a Virtual Office and How Does it Work?
---
With a Virtual Office, you can keep all the benefits associated with traditional space, like legitimacy and professionality without losing the flexibility associated with remote workstyles.
Trust and prestige 
Higher efficiency 
True scalability 
Countless amenities 
Unending customization 
Trust and prestige
Alliance's Virtual Offices build customer trust and help you win more business.
Alliance has offices available in every state, so you can be sure that you'll find a location that meets any requirements you may have in mind.
Higher efficiency
Alliance allows you to run your business more efficiently, which helps you to get more done and grow faster. 
With access to coworking spaces, you have a private and professional location to work where like-minded peers surround you. This allows you to break the monotony of working from home while also giving you an excellent place to network. 
Working from home is great, but there's no denying the isolation that comes from working in the same place you live day after day. Remote work is meant to provide you with more freedom, so keeping yourself stuck in one location rather than branching out and using the amenities you have at your disposal will only be harmful over time and may lead to job burnout.
True scalability
The right address for online business sets you up to scale by giving you a central location that enables you to work remotely without sacrificing anything.
Some business owners are under the impression that the only place you can cultivate a vibrant work culture is in the office, but this couldn't be further from the truth.
With a Virtual Office, you have access to meeting rooms that you can use to host team members on specific days while building a strong infrastructure and culture simultaneously.
Rather than worrying about poor utilization of a traditional office, you can set mandatory meeting dates with your team that everyone is expected to attend. And if some members of your team aren't local, Alliance's meeting rooms have video conferencing capabilities that will keep anyone from feeling unincluded.
Countless amenities
One of the biggest benefits associated with Alliance's Virtual Offices is the access to countless amenities. 
You have easily reservable meeting rooms, coworking spaces, mail forwarding, and more. All these amenities are specifically designed to help your company understand what it takes to achieve real scalability. 
Even better, Alliance's helpful and professional onsite and offsite staff are readily available to help you deal with any technical difficulties or other frustrations you may experience.
Unending customization
At Alliance, we want all of our partners to create long-lasting and healthy businesses.
To do that, entrepreneurs need flexibility on our part when it comes to designing their Virtual Offices.
Rather than creating one plan with flat rates that includes some amenities and not others, we allow our partners to determine exactly what they need and pay for nothing else. 
By allowing our partners to customize their Virtual Offices, we ensure that each office is designed to cater to your business's needs.
Using Alliance for an address for online business
Finding the right address for your online business can make you more successful and unlocks faster growth. 
Look for an address like those provided by Alliance that supports your flexible workstyle while simultaneously solidifying your reputation.
Finding an address for an online business is much easier than you may have imagined. A high-quality Virtual Office from Alliance is prepared to offer you all the amenities you can imagine of traditional office space without sacrificing the flexibility and freedom associated with remote work.
---
Further reading
---
Alliance Virtual Offices provides Virtual Office services and a slew of other digital tools for established entrepreneurs and new business owners alike. 
If you're hunting for an address for your online store, look no further. Alliance's Offices are built to accommodate even the neediest of businesses. 
Contact us today to see how Alliance can help find an address for online business owners and be sure to check out our Virtual Office Blog for more!