---
Q: What are Opus Virtual Offices? Does Alliance Virtual Offices provide a better service?
A: Opus Virtual Offices is a competing virtual office provider, but Alliance Virtual Offices remains the best choice for entrepreneurs looking to scale their businesses. 
---
When people began working remotely during the pandemic, many economists and professionals chalked it up to a short-term experiment, confident that American workers would return to in-person work as soon as Covid-19 subsided.
Years later, that hasn't been the case. 
According to Gallup, fully remote work is slightly decreasing, but hybrid work has steadily risen throughout 2022. 
As a business owner, you should search for virtual office providers that offer access to meeting rooms and coworking spaces to take full advantage of the benefits associated with hybrid work. 
Since remote work is declining and hybrid work is gaining traction, virtual businesses and businesses attempting to expand their operations will need to accommodate employees however possible. 
For virtual business owners, this is as simple as finding the right Virtual Office.
With all the information swirling around online, it's hard to find the right provider that meets your needs. In this article, we'll compare Alliance Virtual Offices to Opus Virtual Offices, a competitor, to show you how Alliance provides the best Virtual Office.
First, we'll explore what an Opus Virtual Office is; then, we'll look at Alliance's Virtual Offices. Next, we'll determine which option is better, and finally, we'll explore what makes Alliance stand out. 
So, if you've ever caught yourself looking for Opus Virtual Office reviews, look no further. We'll dive deep into Opus's operations and offerings to explain how Alliance's service is a cut above the rest. 
Keep reading to see why you should avoid Opus Virtual Office and opt for Alliance. 
---
---
What is an Opus Virtual Office?
Before we look at an Opus Virtual Office, let's first take a moment to explain what a Virtual Office is. 
---
Read more: Virtual Office Services MUST Include These Key Features
---
A virtual office is a service that new or existing business owners can use to secure a business mailing address for their companies. This allows entrepreneurs to start businesses at a fraction of the cost of leasing a traditional space while allowing established business owners the opportunity to corner new markets through satellite offices. 
---
Read more: Satellite Office: Your Complete Guide 
---
With the right Virtual Office, you can register your business in any state and almost any city you'd like. Similarly, with the wrong virtual office, you might not be able to register your business at all. 
When you're looking for a Virtual Office, there are a few factors you should be searching for to ensure you're getting the most out of the money you're spending.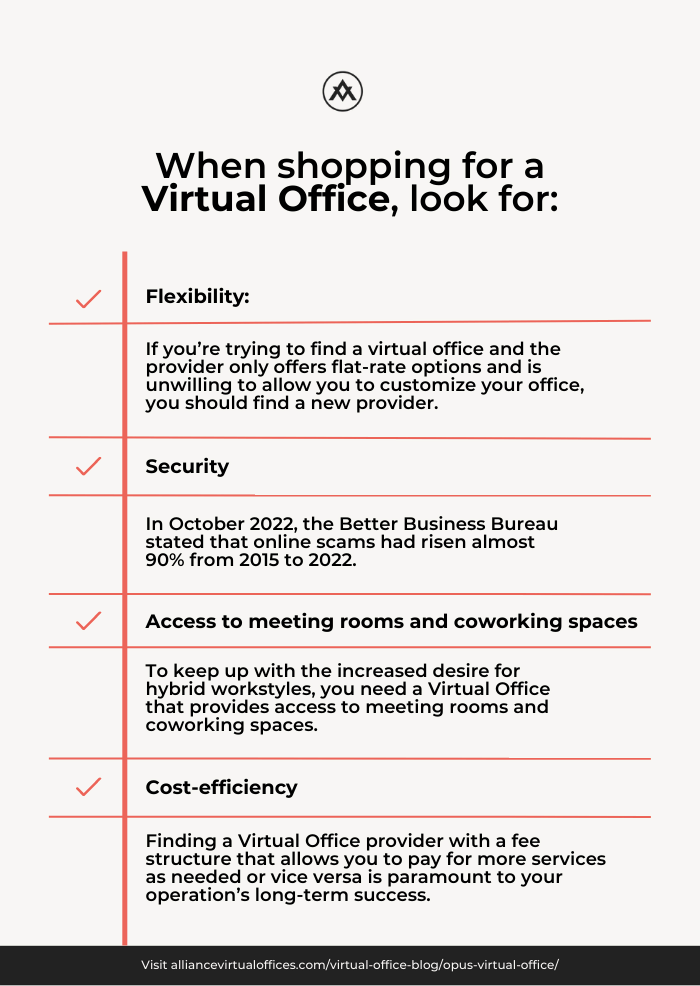 Flexibility 
If you're trying to find a virtual office and the provider only offers flat-rate options and is unwilling to allow you to customize your office, you should find a new provider. 
Flexibility is key. Business owners need to be able to react quickly to the shifts in the market, whether that's upgrading some services or downgrading others. 
You should find a provider that gives you total control over your Virtual Office. Why pay for services you don't need or aren't using? 
Security 
In October 2022, the Better Business Bureau stated that online scams had risen almost 90% from 2015 to 2022. 
With the increase in scams, consumers are now permanently on edge. If a consumer hasn't been scammed personally, they almost undoubtedly are familiar with an individual that has. 
Naturally, this causes consumers to be hesitant to trust online businesses. If you use a low-quality, less-than-professional provider, you will suffer the consequences if another business using the service is outed as a scam. 
In addition, your Virtual Office should act as the hub of your business's operations. You need an office that is guaranteed to keep your mail safe. 
Access to meeting rooms and coworking spaces
 To keep up with the increased desire for hybrid workstyles, you need a Virtual Office that provides access to meeting rooms and coworking spaces. 
Some virtual offices are nothing more than PO boxes or retail locations that aren't able to provide you with any location to do in-person work or meetings. 
Business owners need to use Virtual Offices that provide this access to get the most out of their spending. 
Cost-efficiency 
Finding a Virtual Office provider with a fee structure that allows you to pay for more services as needed or vice versa is paramount to your operation's long-term success. 
In the past, traditional office leases lasted from 3-to-5 years and required a hefty upfront security deposit, monthly rent, monthly utility, and other extraneous upkeep charges. 
You want a Virtual Office that's low-cost when necessary, but that allows you to spend more for more services rendered should you need them. 
So, what is an Opus virtual address? 
Opus is another virtual office provider with addresses across the United States. 
They offer physical addresses for business registration, branding materials, and mail forwarding to your home. 
Not to mention, they have over 650 locations.  
Opus hits each state in the continental United States, but quite a few cities still haven't made the list. Additionally, Opus doesn't have any global locations outside of an office in Puerto Rico and a few offices in Canada. 
Opus Virtual Office also offers plans at $99 per month, all of which include a virtual receptionist. 
This means that regardless of whether or not you need a live receptionist, you'll pay almost $100 monthly for the service. 
At Alliance, we think there's a better way to do things.
What is an Alliance Virtual Office
At Alliance, we value flexibility and customization. Our Virtual Offices are built to help innovative businesses scale faster.
---
Read more: What is a Virtual Office and How Does it Work?
---
We focus on helping entrepreneurs create robust business infrastructures that scale with their operations. 
According to data compiled by economists and published by CNBC, workers are expected to have around 30% of their total workdays remotely. This is why we value flexibility so much.
Without access to physical workspace and meeting rooms, businesses will have to rely entirely on remote work. As the percentage of remote workers steadily decreases while the percentage of hybrid workers continues to rise, it's clear why companies need to focus on providing both options for their employees. 
Below, we've compiled a list of some things that make an Alliance Virtual Office stand out.
Professional, prestigious address 
Mail forwarding options 
Secure and safe business address 
On-demand work and meeting space in every location 
>1000 locations across the country 
Plans start at $49 per month 
Prestigious address 
Alliance's Virtual Offices provide your business with a prestigious address that you can use for more than just business registration. 
With other providers, you risk getting a virtual address that hosts several businesses in a retail location or other unprofessional appearing addresses. As consumers continue to be wary of scams and scam businesses, you can't risk potential customers making value judgments about your company because of your address.
Not to mention, if your provider does let a scam business fall through the cracks, your business also suffers from the fallout. Because so many consumers have either been scammed or know someone that's been scammed, they're inherently on edge. 
Seeing that you share an address with a company that was recently outed as a scam business is a great way to scare off potential sales. 
At Alliance, we have a professional and secure identification process that prevents scammers from using our services. 
---
Read more: Scammers Hate Us: Only Legitimate Businesses Use Our Virtual Offices
---
The first step of our process is address verification. 
Anyone using our Virtual Office services is required to provide an address to show that they're a legitimate business.
By verifying addresses, we're keeping out scammers who want the address for criminal purposes.
Second, we verify documentation. 
After we've gathered the address, we then use that address to verify documentation. This includes the address and other personal information.
Doing this adds a second line of defense by ensuring that the first address given is legitimate and used.
Scammers aren't too keen on giving up personal information. By enforcing a verification process, we're able to keep all of our legitimate partners safe.
Mail forwarding 
Alliance's Virtual Offices come with optional mail forwarding tiers depending on your business's needs. If you live close to your Virtual Office or have another reason not to need mail forwarding, you can always just pick up your business mail from your Virtual Office center. 
This allows businesses to only pay for what they need. Instead of offering one flat rate that offers more of one service and less of another, we allow businesses to choose exactly how much of and what kinds of services they'd like to integrate into their Virtual Offices.
Our mail forwarding is no different. We've created four separate tiers you can choose from depending on the volume of business mail you receive. 
Keep in mind, these figures may vary slightly depending on where your Virtual Office is located. 
Once monthly mail forwarding – $10.00 per month
If you're just getting started or in the process of setting up a satellite office, and you want to have your mail forwarded to a particular address so you don't have to pick it up, this is the option for you. 
Twice monthly, or biweekly, mail forwarding – $20.00 per month
For businesses that aren't receiving a high volume of mail but don't want to worry about making trips to the center, this is a good choice. 
Keep in mind, if your business is dealing with any kind of litigation or waiting on time-sensitive mail or other government documents, these first two tiers probably aren't frequent enough to keep you fully compliant. 
Weekly mail forwarding – $30.00 per month
For businesses that are experiencing a higher volume of mail but not high enough to justify daily forwarding, this is the tier for you. 
Weekly mail forwarding will help ensure you aren't missing time-sensitive documents or other essential correspondences, and it's still on the lower end of the price spectrum. 
This is a great tier for businesses picking up steam and seeing increased customer interest. 
Daily mail forwarding – $70.00 per month
Receiving mail daily is a great way to never get behind with any of the important documents your business receives.
Daily mail forwarding is best reserved for well-established businesses that see a high volume of customers consistently.
Not to mention, the daily tier is by far the best value. 
For the first two tiers, you're spending $10.00 every time your mail is forwarded. For the third tier, you're spending $7.50 each time. 
Through daily forwarding, however, you only pay between $3.11 and $3.69 per forward, depending on how many business days are in a given month. 
Mail forwarding is important, but it's more important to allow business owners to decide how frequently they want their mail forwarded.
Secure business mail address
Alliance properly vets all of the centers we use for your Virtual Offices. We ensure that our Virtual Office centers have friendly and professional onsite staff available for any technical or logistic questions you might experience.
Once we've decided on a location, the first thing we do once we've added the center to our network is open a line of communication. 
At Alliance, we don't want our partners worrying about sensitive documents or business mail being susceptible to bad actors. 
By using high-quality centers and quickly opening a line of communication, we're able to provide secure Virtual Offices while bolstering onsite support.
Workspaces and meeting rooms
Hybrid workstyles continue to grow in popularity while fully remote work is slowly losing its steam. 
Workers want to be able to use workspaces and meeting rooms when necessary. Remote work is great, but feeling trapped at home will quickly lead to job burnout if left unattended. 
Through Alliance, you have access to easily reservable meeting rooms and coworking spaces. 
If you're hosting meetings, virtual or otherwise, our meeting rooms are a great way to accommodate however many guests necessary. 
If it's a virtual meeting, you might want nothing more than a private and professional room that's free from distractions. 
If it's an in-person meeting, you might want a room for a half-dozen people for the entire day or a room for twenty people for half a day – whatever kind of room you need, we can find it. 
Having access to easily-reservable meeting rooms is great, but sometimes you just want a place to work that isn't your home or a crowded coffee shop. Coworking spaces provide that. 
When utilizing a coworking space, you work in the same location with like-minded professionals striving toward similar goals. 
This means that outside of providing you with quiet, professional, and private places to work, we're providing you with opportunities to network as well.
Over 1000 locations nationally
You can pick an Opus Virtual Office from any of their 650 locations in the U.S., but through Alliance, we have over 1000 choices for you to pick from in the same country.
Alliance has Virtual Offices in every state and almost every city, so wherever you need to register your business – we're there.
Plans at $49 per month
Instead of charging one flat rate, regardless of what your Virtual Office needs, Alliance has plans starting as low as $49.00 per month. 
With this lower cost-of-entry, business owners can secure a Virtual Office, register their businesses, and then start tinkering with the various tools and services we offer in addition to other tools and services at their disposal. 
This way, you can determine what works best for your operations. There's no one-size-fits-all Virtual Office, and at Alliance, we understand that.
That's why our fully-customizable Virtual Offices are the best choice for any established entrepreneur or new business owner looking for a digital address.
Which is better?
Remote work isn't going anywhere. 
Granted, hybrid work might be more common than fully-remote positions, but the age of working from home has just started.  
Almost 20% of Americans began working from home between 2019 and 2021. As the benefits of working in hybrid or remote positions continue being showcased, it's wise to position your business in a way that allows you to take full advantage of the benefits of remote and in-person work. 
So, which Virtual Office will allow you to do this? 
The clear choice is Alliance Virtual Offices.
No Opus Virtual Office promo code can compensate for the added flexibility and freedom of an Alliance Virtual Office.
Below, we've explored just how Alliance stacks up against an Opus Virtual Office.

More locations
Simply put, Alliance offers far more locations than Opus Virtual Office does. With over 50% more Virtual Office locations, Alliance makes it easy for you to find the perfect home for your business.  
Better pricing
 We offer more flexible pricing than Opus. Our Virtual Offices start as low as $49 per month and allow business owners to determine which services they want to use and how often they want to use them. 
Customization 
Alliance's Virtual Offices are fully customizable. Instead of paying a flat rate for services you don't want or need, Alliance will let you add a Live Receptionist if you'd like while determining which mail forwarding tier you'd like to try – if you want to try either. 
Your Virtual Office is the hub of your company's operations. Why pay for a virtual office that doesn't allow you to pick and choose the services you want? 
The future of work is flexible. Alliance understands this. 
Meeting rooms 
Not all of Opus's centers have available meeting rooms, which means you might be unable to use your virtual office to meet with clients. 
Alternatively, all of Alliance's Virtual Offices come with easily reservable meeting room access.
Moving forward with your Virtual Office from Alliance
If your business is looking for a way to solidify your reputation, add a layer of security to your remote operations, and support your remote workstyle, Alliance Virtual Offices is the best solution. 
Compare Opus Virtual Office customer service to the full-time support available through Alliance. The choice is simple. 
Not to mention, Alliance's Virtual Offices can fully integrate with several different tools and services. 
Through Alliance, you might consider one of our Live Receptionists to help you stay on top of any customer calls you might receive.
This prevents you from having to multitask and allows you to focus on the aspects of your business that allow you to grow. 
Our friendly and professional Live Receptionists personally screen and answer every call, so you don't have to worry about a thing.
In addition, Alliance's Virtual Phone Numbers are a great way to add another layer of legitimacy to your business.
You already have the professional business address. Why not add the dedicated business phone number as well? Unlimited extensions mean you can quickly onboard new team members without risking their privacy. 
---
Further reading
---
Alliance Virtual Offices provides Virtual Office services and other modern work tools for established entrepreneurs, new business owners, and everyone in between. 
If you've already got an Opus Virtual Office login, it isn't too late to switch to one of Alliance's Virtual Offices! 
Contact us today to see how Alliance can help you get set up with a high-quality Virtual Office today, and be sure to check out our Virtual Office Blog for more tips.