---
Q: What is the difference between Davinci Virtual Offices and Alliance Virtual Offices? Which is the better choice for my business?
A: Davinci Virtual Office is a competitor of Alliance Virtual Offices. Where Alliance is transparent and clear about its pricing structure, Davinci is a bit misleading. Where Alliance is flexible, Davinci is steadfast. Alliance Virtual Offices are the best virtual office for your business because Alliance provides legitimacy, flexibility, customization, and total transparency – all at a cost-efficient price.
---
What was once thought of as nothing more than the traumatic response to a global pandemic has quickly morphed into something transforming the labor market landscape.
Hybrid work increased in 2022, and it's anticipated that 55% of workers that can work remotely will be enjoying some kind of hybrid workstyle before the year ends.
Onsite work isn't returning to the forefront of public consciousness anytime soon, with a surprising 90% of workers saying they have no intention of returning to the office full-time.
To keep up with this transition to remote and hybrid workstyles, there has been a whole slew of technological advancements for modern business owners and entrepreneurs to take advantage of.
One of these advancements is the Virtual Office.
Today, we'll look at a Davinci Virtual Office and determine how it compares to one of Alliance's Virtual Offices. Then, we'll determine which provider is right for your business.
Finally, we'll look at your Alliance Virtual Office and explore the various tools and services you can integrate with your plan.
So, if you're already using a Davinci Virtual Office or have been trying to contact Davinci Virtual Office customer service for a while to no avail – you're in the right place.
Keep reading to see what makes Alliance Virtual Offices the best choice for business owners and entrepreneurs to create long-lasting businesses that are built to scale.
---
---
What is a Davinci Virtual Office?
Before we start our own Davinci Virtual Office review, let's take a moment to explain what a virtual office is.
A virtual office is a service that businesses and individuals can use to secure an address for business registration without renting physical office space or using a home address.
---
Read more: What is a Virtual Office and How Does It Work?
---
In addition to providing an address for business registration, a virtual office should act as a hub for your business's operations. Unfortunately, not all virtual offices are created equally.
When looking for a virtual office, it can be easy to go solely for the cheapest option under the pretense that because you're saving money, you're doing the right thing.
Consider this, the cheapest virtual offices may use a PO box or another nonexistent address that would prevent you from registering your business. Not to mention, several other issues might arise through these cheaper providers that will cost you a lot of money in the long run.
We're not saying that you shouldn't try and save money, just that you should worry about getting the most value for your money rather than thinking short-term. There are plenty of other ways to save money without relying on a service that will lead to wasted time and effort and ultimately become more expensive in the long run.
---
Read more: How to Run a More Cost-Efficient Business in 2023
---
When looking for a Virtual Office, you want one that grows with your business and continues to meet your needs.
Now that you have a renewed vision of what the best Virtual Office looks like, let's look at a Davinci Virtual Office solution.
Davinci is a provider with a wide range of offices throughout the United States and abroad, so there are several Davinci Virtual Office locations from which to choose.
The plans at Davinci Virtual Offices start at $49 per month, depending on location.
They offer a physical address that includes work and meeting space, and they offer mail forwarding too. These are nice options, but not when you have to pay a flat rate or are unable to customize aspects of your plan.
Lastly, Davinci doesn't have an unlimited meeting room and workspace plan for growing businesses to take advantage of. Unfortunately, that isn't an issue that a Davinci Virtual Office promo code could fix.
If you hope to create a hybrid working environment, this will cause problems.
What is an Alliance Virtual Office?
At Alliance, we understand that remote and hybrid workstyles require a different approach than traditional, in-person styles.
In the past, authoritarian management styles were the norm. Flexibility and innovation weren't considerations, there was one manager for an entire team, and speaking to administrators outside of that single individual was often seen as disrespectful.
Now, a more collaborative mindset has become the norm.
---
Read more: This Mindset in Business Can Double Your Success
---
Collaboration and decentralization are key for remote and hybrid workers. Instead of giving several remote workers one point of contact, delegating decision-making and cultivating a culture with open communication is much wiser.
Alliance Virtual Offices knows this and makes an effort to provide Virtual Offices that can cater to any business owner's needs.
Below, let's take a moment to explore some of the most important features of one of Alliance's Virtual Offices.
Legitimate address
Mail forwarding
Secure location
On-demand workspaces and meeting rooms
Over 1000 locations
Plans start at $49 per month
4.3 stars on Trustpilot.com
Prestigious address
Alliance only adds highly professional and respected Virtual Office centers to its network. So, no matter where you're looking for a Virtual Office, we provide an address that boosts your company's legitimacy and professionality.
For virtual businesses or satellite offices, a prestigious address is necessary.
Scams are heating up. Because of this, consumers are permanently on edge when shopping online, especially when trying out a new business.
Most consumers have either been scammed or know someone who's been scammed, so it only takes one suspicious seeming detail to prevent some customers from making a purchase.
If you're using an unprofessional address that makes it clear you don't have a physical office building, it is likely that consumers will pick something else.
Remember, especially in the early stages of your business, image is essential. If you portray your business as a professional company with a well-known business address, you'll be treated that way too.
Mail forwarding
Alliance also offers mail forwarding to your home address or anywhere you might travel, allowing you to keep your residential address private while operating remotely.
Even better, mail forwarding isn't included for a flat rate. Instead, we've created four different tiers of mail forwarding you can use for your business, depending on the volume of mail you're receiving.
Keep in mind, the pricing on these mail forwarding tiers may vary slightly depending on where your Virtual Office is located.
Once monthly mail forwarding – $10.00 per month
This is an excellent starter tier for new businesses trying to get a handle on their operations.
Granted, once per month isn't enough to stay on top of important correspondences or government documents, but you can always periodically pick up the mail in person.
Twice monthly, biweekly, mail forwarding – $20.00 per month
Biweekly mail forwarding is for businesses that are slowly seeing an increase in volume. Twice per month still isn't often enough to stay on top of your business mail without periodic pickups as well.
If you're going on vacation or your business is seeing a lull in volume, the twice-monthly tier is a good option to be reasonably up-to-date without paying for a more constant tier.
Weekly mail forwarding – $30.00 per month
This tier is reserved for businesses that are seeing a high volume of mail, but not high enough to warrant daily forwarding.
With weekly mail forwarding, you likely won't be missing any important documents or government correspondences, and you should also have ample time to respond to anything time-sensitive.
Daily mail forwarding – $70.00 per month
Mail forwarding on every business day is the best way to ensure you never miss anything.
Daily forwarding prevents you from missing time-sensitive documents or other government correspondences and keeps you updated on everything.
$70.00 per month might sound expensive, but the daily tier is by far the best value for your money.
The first two tiers, monthly and biweekly, charge business owners $10.00 each time their mail is forwarded. The weekly tier is a bit less expensive, charging business owners $7.50 each time their mail is forwarded.
Alternatively, the daily forwarding tier costs business owners between $3.11 and $3.69 per forward, depending on the number of business days in the month.
Secure location
Alliance provides a safe, secure business address that does more than solidify your business's reputation.
Your Virtual Office's address allows you to keep your home out of the public domain. Some business owners are okay with registering a business at their home address, but that should be the last thing you do.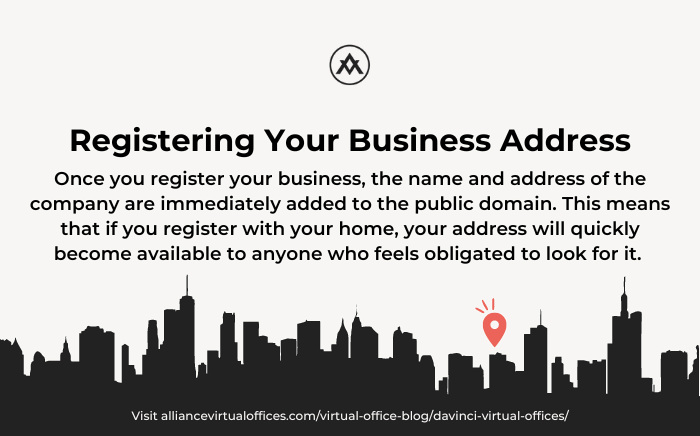 Once you register your business, the name and address of the company are immediately added to the public domain. This means that if you register with your home, your address will quickly become available to anyone who feels obligated to look for it.
Additionally, you're protected from the fallout of other scam businesses.
When using a cheaper virtual office, you don't know how well the providers vet their partners.
If a provider registers several businesses to the same address, but one is outed as a scam business, then every other company with the same address related to the scam business will suffer greatly.
Thankfully, Alliance properly vets our clients with a two-step process to prevent scammers from using our services.
---
Read more: Scammers Hate Us: Only Legitimate Businesses Use Our Virtual Offices
---
This process starts with address verification.
We ask any potential partners to provide us with an actual, physical address to prevent potential fraudsters from signing up.
Next, once they've provided an address, we send physical documents to the same place for signatures.
Taking these two steps stops scammers from using Alliance simply because the process requires personal information that scammers aren't willing to provide.
Workspaces and meeting rooms
One of Alliance Virtual Offices' biggest benefits is access to easily-reservable meeting rooms and coworking spaces.
As remote work falls out of style in favor of hybrid, more flexible styles, securing a Virtual Office with access to ample space is paramount to your company's long-term success.
1000+ locations
Alliance has locations all over the country, more than 1,000 to be exact.
With locations in every state and almost every city, it doesn't matter where you want to register your business – we've got you covered.
Plans start at $49 per month
Starting a business used to be an expensive and time-consuming endeavor. Business loans, securing a physical workspace, finding local and talented staff, and other logistic concerns created an environment with a high barrier to entry.
Even the commercial leases were prohibitively expensive and long-lasting. Add in the security deposit, monthly rent, monthly utilities, and general upkeep, and it's no small wonder that anyone was able to start a business.
With Alliance, this isn't the case.
Alliance provides a cost-efficient Virtual Office that's much more affordable than a traditional rental while also giving you the freedom to work anywhere in the world.
Trustpilot.com rating
Your Virtual Office provider should have positive reviews. If other customers are happy, there's a great chance you'll be happy too.
Alliance has an average of 4.3 stars on Trustpilot.com, putting us ahead of our competition.
Which is best for your business?
Americans worked from home before the pandemic, but since Covid-19, the number of individuals with remote or hybrid workstyles has skyrocketed. Forbes claimed that over 15% of Americans started working from home between 2019 and 2021.
As you know, working from home is slowly being replaced by hybrid workstyles that provide the best of both worlds. This is why you need the best Virtual Office you can find.
Alliance Virtual Offices is the clear choice.
Transparency

Alliance Virtual Offices is wholly transparent from start to finish. We keep our pricing structure listed and easy to read on our website and make a point to drive home customization.
We don't want to milk each partner for as much money as possible as soon as they register; we want a long-lasting relationship wherein we both benefit for years to come. Transparency helps us achieve this.

Flexibility

Through Alliance, you can hire workers from anywhere in the world, work from anywhere in the world, and even get your business mail from anywhere in the world.
When your business is flexible, you can quickly react to shifts in the market before your competition. Alliance aims to provide that flexibility to business owners.

Support

Alliance offers unparalleled support, both in-person when using your Virtual Office's amenities and online when working remotely.
We ensure that all of our Virtual Office centers have professional and friendly onsite staff willing to help you with any technical or logistic difficulties you might encounter.
When you're online, we have tech support waiting to answer phone calls, and if you're uncomfortable calling, we will happily respond to emails too.
Unfortunately, the Davinci Virtual Office customer support isn't as strong.

Different plans

Not all businesses need unlimited access to work and meeting spaces, just like not all businesses need daily mail forwarding. With other virtual office providers, you typically only have one plan to choose from, but not with Alliance.
We offer a platinum-plus plan that provides you with unlimited access to workspaces and meeting rooms. Don't ever feel trapped in your home again; with Alliance, you always have a quiet and professional workplace when necessary.

Activation process

Alliance's unique activation process with business mail ensures your private mailbox is completely set up before use. This prevents you from spending the first day in your office troubleshooting extraneous issues.
We allow you to make the most of your Virtual Office from day one. Davinci doesn't include this feature.
As you can see, Alliance's Virtual Offices are the clear choice.
Moving forward with the best Virtual Office
If your business is looking for a way to solidify your reputation, add a layer of security to your remote operations, and support your remote workstyle, Alliance Virtual Offices is the best solution.
Not only is Alliance a cost-efficient alternative to traditional office space, but with plans that provide full access to meeting rooms and coworking spaces, it also provides the amenities of those traditional spaces.
Outside of being a cost-efficient and professional choice, your Alliance Virtual Office is fully customizable.
Some virtual office providers will load you up with amenities you don't have any use for and charge you a flat-rate, regardless of how useful those extra tools are.
At Alliance, you only pay for what you need.
Want to add one of our Live Receptionists? That's easy, and you can pick from a couple of different plans too.
Additionally, with a Live Receptionist, you don't have to stress about answering your business calls because you have friendly and professional live receptionists handling them for you! Our receptionists personally screen and answer each call, allowing you to focus on the more nuanced aspects of your operations.
How about a Virtual Phone Number to use as your business phone number on branding materials on your website? Again, not an issue.
Now you have a professional and private phone number to use in conjunction with your Virtual Office. And, with unlimited extensions, you can easily onboard new team members whenever the time is right.
With a virtual phone, you can separate your personal and business lives without having to spring for an additional phone.
---
Further reading:
---
Alliance Virtual Offices provides Virtual Offices and other services to modern business owners, new entrepreneurs, and anyone in between.
Instead of going for the cheapest option you can find, using a Davinci Virtual Office, or dealing with other competitors, consider using Alliance to help you position your business for long-term growth and success.
Contact us today to see how Alliance Virtual Offices can provide more than a Davinci Virtual Office, and be sure to check out our Virtual Office Blog too!