---
Q: What is a Regus Virtual Office? Is there a better alternative?
A: A Regus Virtual Office is a provider that offers virtual office services to businesses nationwide. While securing a Regus Virtual Office might seem like a good idea, there are better alternatives, like Alliance's Virtual Offices.
---
The work-from-home movement began long before Covid-19 descended on the country, but it wasn't until the shelter-in-place orders and business closures started that remote work shot to the front of the public consciousness.
According to Forbes, less than 6% of American employees worked from home full-time before the pandemic. However, between 2019 and 2021, that number shot up to almost 20%.
Now, as the pandemic continues fading away, the idea that remote work was just a fad is fading away too.
Businesses have realized that remote workers are more productive than in-office employees, that offering remote work decreases employee turnover, that remote and hybrid workstyles save an inordinate amount of time, and that offering remote work is more cost-efficient than keeping up with an entire physical office space.
This increase in reliance on remote work has presented countless opportunities for entrepreneurs and smaller business owners. With virtual offices, individuals and businesses alike can secure business registration anywhere they want – without securing physical office space.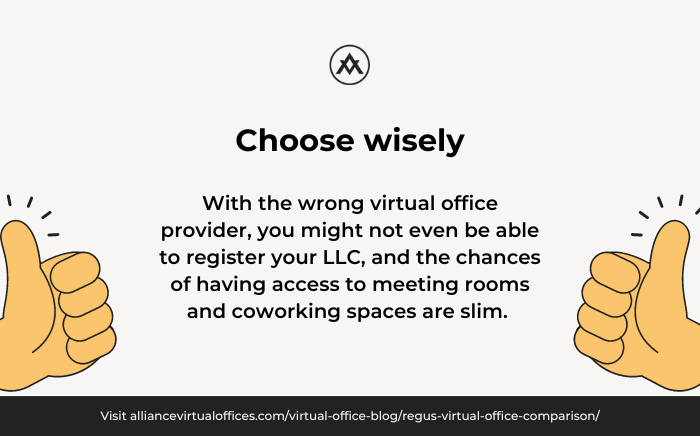 Unfortunately, not all virtual offices were created equal. Some providers lack transparency, refuse to allow customization, and occasionally, aren't even using actual addresses – preventing you from registering an LLC with their services.
In this article, we'll look at a Regus Virtual Office to see how Alliance stacks up against the competition.
First, we'll explore what a Regus Virtual Office is; then, we'll look at Alliance's Virtual Offices. Next, we'll determine which is the better choice for your business, and finally, we'll see what other kinds of services and tools you can integrate with an Alliance Virtual Office.
So, if you're busy searching for a "Regus Virtual Office near me" – then keep reading before you continue.
---
---
What is a Regus Virtual Office?
Before we start looking into Regus Virtual Office reviews or what a Regus Virtual Office login looks like, let's take a moment to explore what a virtual office is.
Essentially, a virtual office is a service businesses and individuals can use to register a new business without securing physical office space. Alternatively, established businesses can use a virtual office as a satellite office to effectively scale their operations.
---
Read more: What is a Virtual Office and How Does it Work?
---
More than simply providing a business address for LLC registration, a high-quality virtual office provides access to workspaces, meeting rooms, and several other amenities designed to help your company grow.
That said, lower-quality and less-transparent virtual offices aren't necessarily set out to make your life easier.
With the right virtual office provider, your business can easily secure an LLC in any area imaginable, cultivate an environment of collaboration with your team, and provide you with amenities to keep both hybrid and remote employees happy and loyal.
With the wrong virtual office provider, you might not even be able to register your LLC, and the chances of having access to meeting rooms and coworking spaces are slim.
Many business owners approach finding a virtual office with one goal in mind: saving money.
While this is generally not a bad idea, your virtual office should be the hub for your company's operations and business infrastructure. Instead of trying to find the cheapest virtual office, you should be looking for the best virtual office for your specific business.
Don't risk your company's long-term future, as there are plenty of other ways to save money, especially with branding materials and marketing strategies moving forward.
---
Read more: Online Branding for Small Business: The Best Strategies
---
Now that you're familiar with what a virtual office is and what you need to look for when searching for one, let's dive into what a Regus Virtual Office is.
As you might've assumed, Regus is a virtual office provider.
If you're looking for a Regus Virtual Office, you will be presented with a couple of choices. 
---
Regus offers the following levels of service:
Business address
The business address tier works solely as a mail forwarding address. You can use this business address for your business mail and have incoming mail sent to the same address.
This option should work for business registration but provides virtually no other amenities. Essentially, this is an expensive PO box.
Virtual office
Regus's virtual office plans are slightly more effective. You get everything from the first level of service and two additional amenities that can be used in specific situations as well.
First, the virtual office level gives business owners access to their global business lounge network.
Additionally, this level introduces and makes available call-handling services.
Virtual office plus
Finally, Regus's virtual office plus plan is a step in the right direction.
This option provides all of the previously mentioned amenities in addition to five days of monthly meeting room or coworking space usage.
Despite this option having more amenities than the previous levels, the virtual office plus plan is much more expensive. Any services you use on top of those allotted five days will incur additional charges. 
---
The Regus virtual office cost varies depending on which level is chosen and where the office is located.
On that note, Regus's website claims that they have locations in every major city and town.
Unfortunately, they're not very transparent about pricing.
Some of the plans, but not all, have baseline pricing available, but Regus doesn't show how much it costs to use additional amenities or how much it costs for each plan shown.
That lack of transparency is part of the reason they average only 2.3 out of 5 stars on Trust Pilot. Many of the negative reviews mention extra charges, lack of transparency, and issues with accounting.
Because your virtual office will play such a central role in creating and cultivating your business, it's best to work with providers that understand the importance of transparency and flexibility.
If you want to get the proper pricing on one of Regus's offices, you'll have to either call the Regus Virtual Office phone number, find another way to get in touch with one of their agents, or begin filling out the virtual office forms on their website.
What is an Alliance Virtual Office?
Now that we've looked at some of the problems with a Regus Virtual Office, let's find out what an Alliance Virtual Office is.
An Alliance Virtual Office is a legitimate virtual office that provides your business with a prestigious address that can be used for LLC registration and more.
Below, we've covered some amenities and benefits that set Alliance apart from its competition.
Prestigious address
Mail forwarding
Secure and safe
Coworking spaces and meeting rooms
1000+ locations
Cost-efficient
Prestigious address
Part of Alliance's allure is how we only partner with high-quality virtual office centers to ensure that our clients only use the most prestigious and well-known addresses available.
In the digital-first age, many consumers treat online businesses with a healthy amount of skepticism.
Considering the sheer number of online scams last year, this isn't a bad thing.
Through Alliance, you don't have to risk using a lower-quality virtual office address that could scare potential customers away. Your virtual office address can easily be well-known enough to attract new customers rather than repel them.
Here's an example; imagine two tech startups that offer the same product, have existed for the same amount of time, and have similar teams with no one well-known working for either company. Now, imagine that the only difference between these two businesses is their address.
The first startup wanted to save as much money as possible, so it secured an address in Kansas. This address is home to a few other unknown businesses and a retail store.
The second startup secured a virtual office in the heart of Silicon Valley. This address is home to a few other well-known tech companies and there's not a retail store in sight.
As you can imagine, consumers will instantly feel more attracted to the tech startup based in Silicon Valley and surrounded by other technology companies.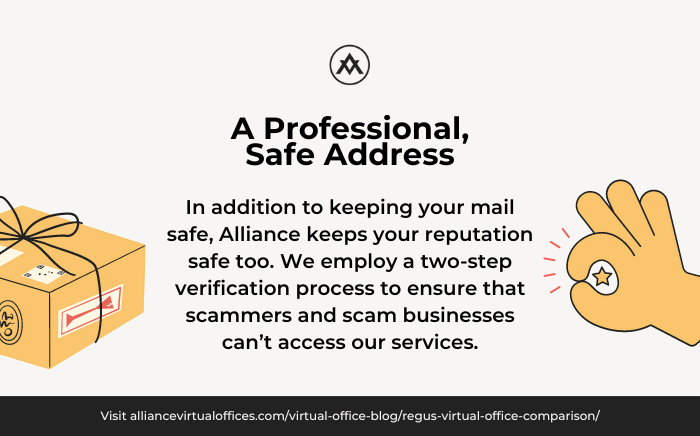 When your business is just getting started, a prestigious business address is one of the best ways to legitimize your operations without springing for physical office space in the heart of a central business district.
Similarly, if you're using a virtual office for your business's satellite office, the well-known address and local phone number will help you appear more familiar and welcoming to locals in the area.
Mail forwarding
Alliance also offers mail forwarding to your home address, allowing you to keep your residential address private while operating remotely.
Mail forwarding helps you stay on top of important government correspondences like summonses, subpoenas, or pending lawsuits without constantly traveling to your virtual office center, wasting time and energy.
Even better, Alliance allows you to customize your mail forwarding to fit your business's specific needs.
We've created four separate tiers of mail forwarding that you can use depending on the volume of your business mail. This helps businesses pay for the mail forwarding they need and nothing more.
Keep in mind, the pricing and frequency of mail forwarding may vary slightly depending on where your Virtual Office is located.
Once monthly mail forwarding for $10.00 per month
For newer businesses just starting out or for use during vacations or periods of absence. You probably won't be able to stay on top of time-sensitive mail, but if necessary, you can always make some trips to your virtual office center to compensate.
Twice monthly, or biweekly, mail forwarding for $20.00 per month
Biweekly mail forwarding keeps you slightly more up-to-date but still is better served for newer businesses or companies that receive little incoming mail.
Once weekly (4x/month) mail forwarding for $30.00 per month
When your business receives a higher volume of incoming business mail and sees a higher volume overall, switching to the weekly mail forwarding option is a good way to stay relatively on top of your mail without committing to the daily option.
Daily mail forwarding for $70.00 per month
The daily forwarding option is reserved for when your business regularly sees a high volume of incoming business mail.
You can't risk the weekly option because of the sheer amount of mail your company is receiving and you have too many customers or clients relying on you to only get your mail forwarded four times each month.
Not to mention, the daily forwarding option is the best value for your money. The first two options cost $10.00 per forward, and the third comes out to $7.50 per forward, but the daily mail forwarding option costs your company between $3.12-3.69, depending on the number of business days that month.
Secure and safe
Alliance Virtual Offices provides a secure and safe business address that solidifies your business's reputation.
The virtual office centers in our network are staffed with on-site professionals and keep the facilities and your business mail safe.
With Alliance, the only people who can access your business mail are yourself and individuals you have pre-approved with your virtual office center staff.
In addition to keeping your mail safe, Alliance keeps your reputation safe too. We employ a two-step verification process to ensure that scammers and scam businesses can't access our services.
---
Read more: Scammers Hate Us: Only Legitimate Businesses Use Our Virtual Offices
---
The first step in the process is address verification.
We have any individual or business using our virtual offices provide an address to prove they're legitimate. This can be a house or a mailing address, but it must correspond with other information provided.
The second step in the process is document verification.
In this step, we send physical documents to the addresses provided by our potential clients. This ensures that individuals and businesses are unable to use random or fake addresses.
We have our customers provide a legitimate address and then go on to prove that that address is a location they can access. After verifying the document's address and other personal information, we're ready to start the process.
Other virtual office providers are more concerned with landing their next sale than protecting their existing clients.
At Alliance, we want our customers to lead highly successful businesses for as long as possible. Because consumers are already so on edge regarding scams, your business can't afford to make mistakes.
If you use a low-quality virtual office and another business at the same office is outed as a scam, every other business using that address will suffer.
Coworking spaces and meeting rooms
At Alliance, we offer on-demand work and meeting space in every location. It doesn't matter where your virtual office is; you've got access to all the space you need.
Our meeting rooms provide a great place to host virtual or in-person meetings. With various sized rooms, we can accommodate however many people necessary.
Don't risk giving potential clients or investors a poor impression by hosting meetings in crowded coffee shops or at your home. Instead, use one of Alliance's private and professional meeting rooms to give all of your attendees a good impression.
Working from home might provide you with unlimited flexibility and the ability to make your schedule as you see fit, but it can also get very isolating.
When you're working from the same place you spend most of your time, it's hard to effectively separate your time and cultivate a healthy work-life balance.
Through the coworking spaces Alliance provides, you can break the monotony of your daily routine and spend your time in a professional coworking space with other motivated professionals.
Even if you only want to use the space a couple of times per month, there's no better way to refresh and recharge than working in a professional and public setting with your peers.
1000+ locations
Alliance has over 1000 locations all over the United States and several locations outside of the US too.
With this many locations, you can register your business wherever you want, regardless of whether or not you live anywhere close. Sure, you probably shouldn't register a business in an area you've never visited, but Alliance provides enough flexibility if you see fit.
Other virtual office companies boast about having several virtual office locations, but many of these virtual office locations don't come with access to coworking spaces or meeting rooms.
However, at Alliance, all our virtual office locations have access to easily reservable meeting rooms and coworking spaces.
Cost-efficient
Our plans start at $49 per month, making Alliance far more affordable than a traditional rental while also giving you the freedom to work from anywhere.
Comparatively, while difficult to ascertain, the Regus Virtual Office cost is almost always higher.
You can secure a virtual address for about $10 cheaper at Regus, but even Alliance's bare-minimum $49 plans come with far more amenities than the cheapest Regus option.
Alliance Virtual Offices is a cost-efficient alternative to traditional office space and provides the best value for your money when it comes to virtual offices too.
Which is better?
One of the biggest problems with running a physical, in-person business is the limited access to talent.
If you want to make good hires, it can be difficult to find the right person for the job in a 50-mile radius, and incentivizing an individual to move for your company can be costly and high-risk should something not work out.
Alternatively, running a digital business provides you with a nearly unlimited pool of potential hires. According to Gallup, a whopping 70 million American workers can do their jobs entirely remotely.
When you account for the number of workers you have access to outside the country, your hiring pool keeps growing.
This is why it's so important to stay ahead of the curve and find the right virtual office for your company.
So, is a Regus Virtual Office a better choice, or does one of Alliance's Virtual Offices make better sense?
We offer more transparency, more additional services, and better communication.
Not to mention, Alliance offers more control on your end with fully customizable plans.
You can choose how often you'd like to work in your virtual office center or how often you'd like to use the meeting space rather than commit to a set number of days at the beginning of the month.
Should you want unlimited access, we offer a platinum-plus plan that helps you save money and gives you all the access you need.
Customizing your Alliance Virtual Office
If your business is looking for a way to solidify your reputation, add a layer of security to your remote operations, and support your remote workstyle, Alliance Virtual Offices is the best solution.
Unlike a Regus Virtual Office, your Alliance Virtual Office will come with full transparency and ample access to whatever amenities you need.
With Alliance, you can integrate several different services and tools into your virtual office to create the perfect environment for your company's specific needs.
Whether it's additional Alliance services or other digital tools, your virtual office is built to be customized.
With one of Alliance's Live Receptionists, you can start saving money on hiring and stop worrying about answering the phone.
---
---
Read more: Outsourcing Reception Services Saves up to $163 Million
---
Don't risk upsetting or ignoring customers because you're trying to multitask. Instead, allow our friendly and professional receptionists to personally screen and answer all of your calls.
With a Virtual Phone Number, you can give your business with a well-known and professional address a local phone number to help bolster your legitimacy.
Protect your privacy, and with unlimited extensions, you can also protect your employees' privacy.
---
Further reading:
---
Alliance Virtual Offices provides virtual office services and several other digital tools and services to established entrepreneurs, new business owners, and everyone in between.
Instead of searching for cheaper virtual offices or using a Regus Virtual Office, make your money work for you with one of Alliance's professional and prestigious virtual offices.
Contact us today to see how Alliance can help set your business up for long-term success, and don't forget to check out the Virtual Office Blog for more information!